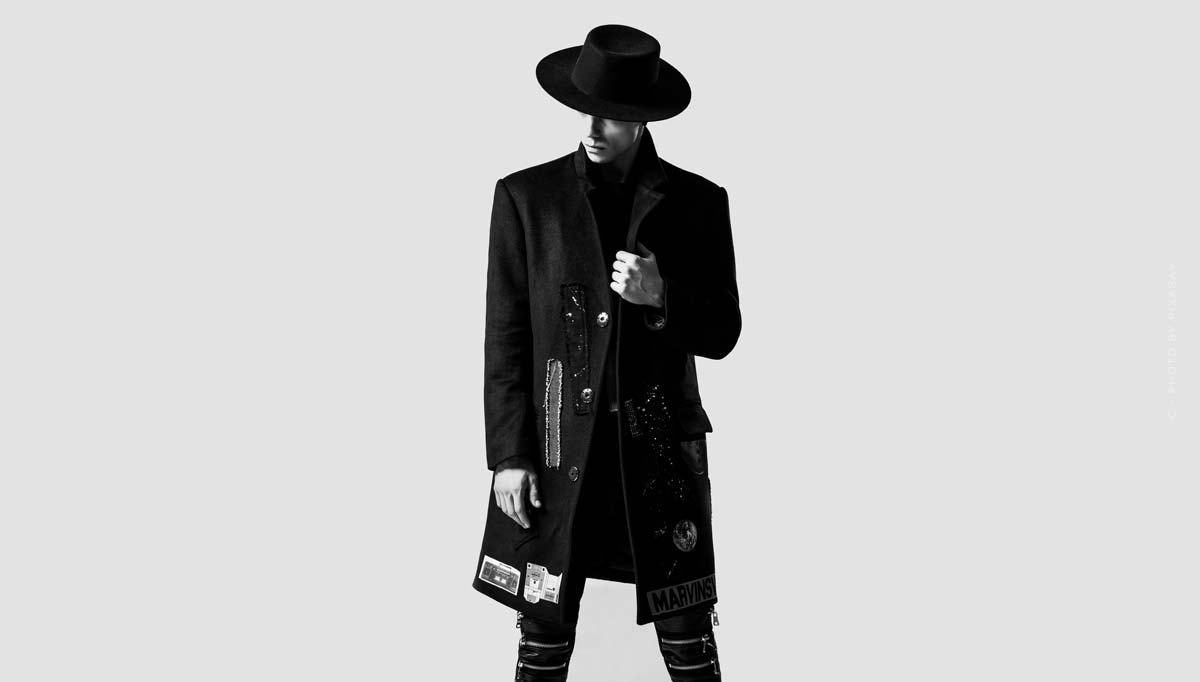 Jeremy Meeks: Ex prisoner with blue eyes becomes a model
The model with the ice-blue eyes and the bad boy image. Jeremy Meeks has made many wrong decisions in his life. But getting into the model business was certainly not one of them. The former inmate leaves his criminal past behind in 2014 and signs a modeling contract. The start of a career that loosened up the traditional fashion industry. But the bad boy whose mug shot went around the world can be different. As a loving father, he now moves in Hollywood circles, can count celebrities among his closest friends and has led the one or other public relationship. If life gives you a second chance, then use it.
The most beautiful prisoner in the world:
Millions of young women and men dream of a career in the modeling industry and sacrifice a lot for it. However, more than ten years of prison experience, a tattooed face and a drug past certainly do not belong in a model's portfolio. The set card of Jeremey Meeks also looks like that of a supermodel. The American became an internet celebrity in 2014 purely by chance and got a modeling contract while he was still serving a prison sentence. How can I do that? Meek's career starts with a harmless police photo that a policeman posted on Facebook after the arrest of the then 30-year-old. The photo went viral and quickly demanded Jeremy Meek's release by thousands of people worldwide. Give the pretty boy a modeling contract, they say.
Criminal past: drugs, weapons, gang wars
But his piercing blue eyes and cool gaze cannot hide a terrible past, clouded by drugs and violence. Meek's childhood is marked by crime and gang wars. While his mother was still pregnant with him she took heroin and served several sentences in prison. When his mother can no longer care for him, he moves in with his sister Leanna. But even she cannot give the boy a sheltered childhood. The wrong friends and a disturbed family environment lead the then 15-year-old into gang crime at an early age. During his life Meeks is said to have been shot five times.

Second chance: Model career, celebrity friends
In 2014, Jeremy Meeks was serving a 27-month prison sentence for illegal possession of firearms when a police officer posted his photo on Facebook. After that everything happened very quickly. Thousands of fans turned to the bad boy and praised him to model heaven. Because of these surprising reactions a judge gave Meeks a second chance and shortened his prison sentence. While he was still serving his last months in Californian prison, Meeks signed a modeling contract with the hip agency White Cross Management. From now on everything was to change. The boy, who had never been paid any attention, ignored by his family, should expect an exemplary career.
Trademark Bad Boy
Meek's criminal gang career may be behind him but the bad boy image haunts him forever. A smile of the now 36 year old is hard to catch and also his whole appearance makes some people sit up and take notice. Nevertheless he is one of the best booked Male models of the century. The nice boy from next door is wanted in vain by Jeremy Meeks. But that's not what the labels of today are looking for. Constantly looking for new, interesting people, Meeks revolutionizes the world of the beautiful and rich. With his looks and his criminal past he is breaking down doors and showing how to do things unconventionally. But how much Bad Boy is still in the ex-prisionor? And has he really shed all his criminal energy?
From criminal to model
Watch the video to see how former inmate Jeremy Meeks made it onto the catwalks in Milan and Paris.
After two failed relationships finally the great love?
Even though Meeks often made the wrong decisions in his life and he certainly has no picture-book childhood to show for it, he proves as a loving father of two children that there is another way. He and Melissa Meeks were a couple for ten years until she divorced the newcomer model in 2018. The couple has an eleven-year-old son, named Jeremy Junior, who Meeks proudly presents on his social media channels. Shortly after, a liaison between Topshop heiress Cloe Green, daughter of Philip Green and the model became known. Although the relationship lasted only one year, it produced another son, Jaydon Meeks Green, in 2018. After two failed relationships it became quiet around the bad boy for a long time. Until now. Since a few weeks rumors are spreading that the model has something to do with reality TV starlet Jessica Rich (35). Neither Jessica nor Jeremey commented on the rumors yet, but they have been seen together in Los Angeles quite often. Whether friendship or romance, a love story with a happy end is granted to the former bad boy.
References
After Meek signed a modeling contract in 2014, he could hardly escape from orders. Everyone wanted to work with that special man. After a few campaigns and shootings he finally celebrated his catwalk debut in 2017 at the New York City Fashion Week. There he ran for Philipp Plein and Tommy Hilfinger, among others. The bad boy has also made it onto the covers of various fashion magazines such as Preme Magazine. With his 1.6 followers on Instagram, he shares his story, deals with his past and presents himself as a proud father. In addition, he actively supports the Black lives matter movement. Now the former jailbird is also trying his hand at Hollywood. In a new thriller he tries his hand as an actor. Not much is known about his future role, but the role as a villain would certainly suit him well.
Fashion Concept GmbH: joint collection (2019)
Tommy Hilfiger
Philipp Plein
What makes a (super)model?
Supermodels like Eva Herzigová or Heidi Klum fulfill the (external) clichés of a model in many ways. Perfect measurements, clean skin and full hair. But the supermodel as it used to exist, does not exist anymore. The demands on the model, how she has to look like, generally how she acts in the world have changed. Herzigová, for example, even goes one step further and calls the activist Greta Thunberg a supermodel. The status of a model and its definition are at a turning point. A model is no longer just an empty canvas, but a person with a voice.
"Models today receive more attention for what they are – and what they say," said Eva Herzigová (source: Süddeutsche Zeitung)
Influencer Marketing
Even supermodels like Eva Herzigová, Heidi Klum or Naomi Campbell use the possibilities of digital presentation in the age of Instagram and Facebook. Through clever posts and a well-considered marketing strategy, they are gaining attention and are better known as influencers than ever before.  The word "influencer" is not a modern invention of marketing, but a business model that has worked for thousands of years, also known as "recommendation marketing". A recommendation means that people (with influence) have an effect on other people through positive opinion making. People who receive the recommendation will usually stick to it, once the willingness to buy is given.  The goal of successful marketing is to introduce products or services to a previously determined target group through interesting and creative content and to motivate the target group to act.
Virtual Influencer: The future of tomorrow?
Lil Miquela, Zoe, Ella, Bermuda, Daisy Page, Shudo. What do these six people have in common? They are successful influencers and models on Instagram and Co. They are considered the new discovery in social media. But what makes them so special? They are not alive. The pixel-creatures only exist online and thus fool some people. Their whole appearance seems so real that even big fashion brands book the influencers for shootings and fashion shows.
Models, Blogger, Indluencer and now virtual models
The trend of virtual influencers is a phenomenon of the 21st century. After Facebook and Instagram came the bloggers, real people who exploit the platforms to their advantage and entertain their fans on various topics. At the latest since the advent of digital photography and Photoshop, the difference between real and fake can no longer be seen anyway. The advantage of a virtual character: He can be everything and very fast! The developers behind the virtualities create an answer to a prominent demand. In elaborate miniature work a story around the person is invented, character traits are cultivated and pixel by pixel new marketing possibilities are created. In this way, new opportunities open up for the fashion world.
Controversies and dangers
If people are already able to design virtual people whose fiction you can't even look at, where are the limits and does this change influence the traditional, already critically eyed model world? Are the digital newcomer models a competitor to the real supermodels of the 90s, like Naomi Campbell or Heidi Klum, as well as the hip models of the 21st century, Gigi Hadid or Haily Bieber? But the effort of a virtual model should not be underestimated. Because behind the perfect appearance and the unmarked life are several hours of hard work. Moreover, digital influencers are not cheaper than real ones of their kind. Besides the development costs, the team behind all the steps of Shudu and Co. must not be forgotten. Italians, design specialists, marketing managers and so on. However, this development does not pose a threat to the demand for real models, says Cameron Wilson.
Advantages of virtual influencers at a glance
They are immortalized, the career could take decades, even centuries
Companies can build their own virtual models / influencers
Managing brand image
Messages which are to be conveyed to the target group can be better controlled
Appearance and personality can be tailored to specific industries
Any background can be mounted
inexhaustible workspace
no short term hype – seven digit financing reasons into the Tech start UP brother (Creator of Lil Miquela)
in the future, more art figures from different industries will populate the social media
Virtual Influencer booking
Virtual influencers are becoming more and more popular, and in a few years they could possibly take over the entire fashion market. But where do I go as a label to book a digital influencer? Meanwhile there are several agencies that specialize in virtual avatars and models or influencers.
CM Models is the first model agency in Europe with virtual influencers. Hip digital influencers like Ella and Zoe can be booked there. Ella is the first digital model of the agency and is in the starting blocks of an ambitious career. Two beauties followed her: Zoe and Linda. While Zoe is already running her first fashion show at the Russian Fashion Week, Ella is becoming a hip Instagram Influencrin.
https://fivmagazine.com/wp-content/uploads/2020/09/jeremy-meeks-model-ex-haftling-mann-hut-mantel-shooting-schwarz-mode.jpg
682
1200
Lisa-Marie
/wp-content/uploads/2020/07/fiv-magazine-news-instagram-youtube-tiktok-influencer-fashion-interior-jewelry-real-estate-tips-help-logo.png
Lisa-Marie
2020-09-26 07:00:42
2021-07-08 11:39:32
Jeremy Meeks: Ex prisoner with blue eyes becomes a model