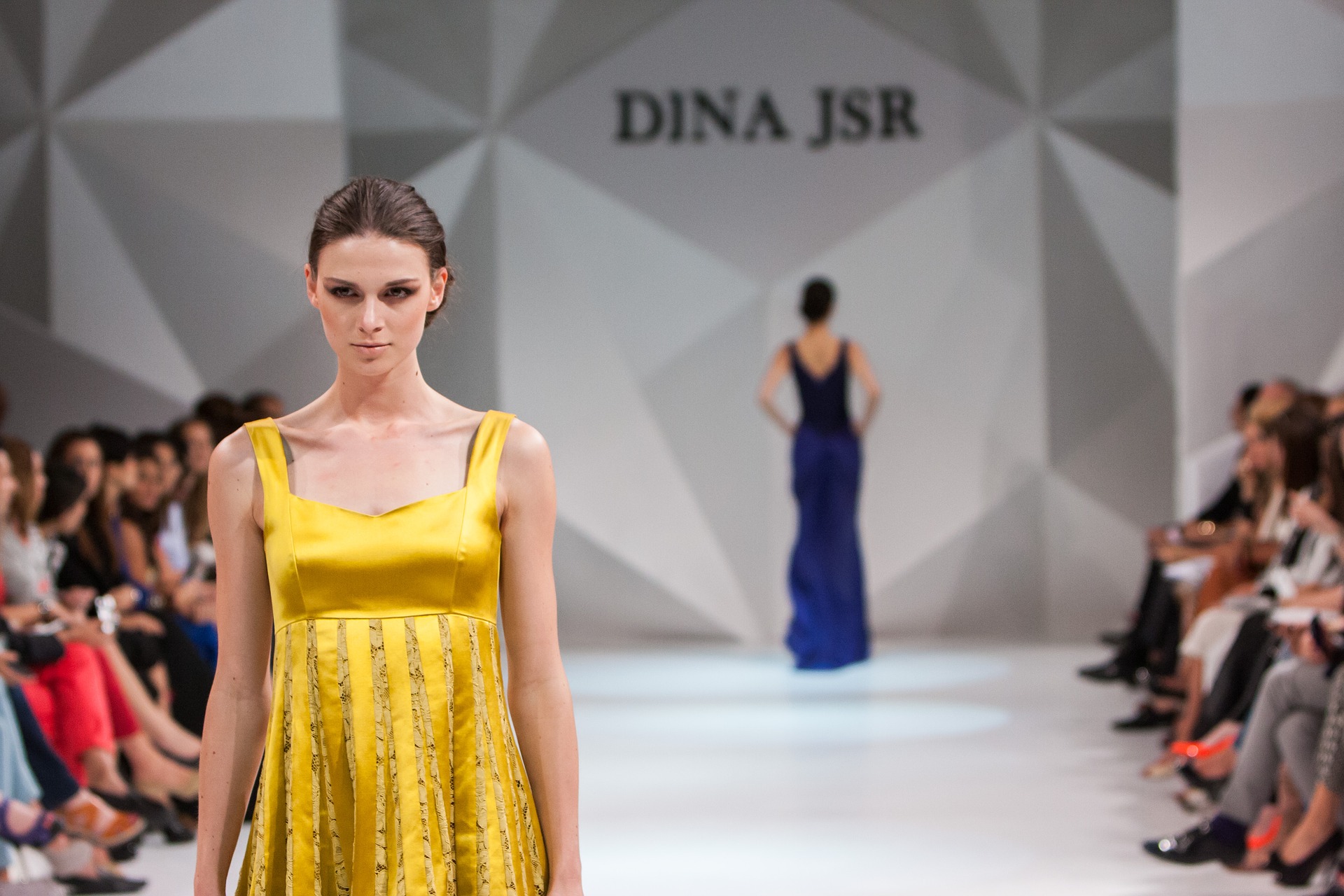 Model: Requirements, application, model agency & tips! 33 questions to Stephan Czaja
Becoming a model – Stephan Czaja, owner of CM Models gives us answers to all important questions today! The new season of Germany's next Topmodel is on and hundreds of thousands of young girls are following Heidi Klum's show. Stephan takes us behind the scenes of haute couture, advertising and casting today. What do you need to be a model? How much do you earn as a model? How important is Instagram for models? Everyone is talking about the candidates for the GNTM again, the show gives young girls a good insight, but what's it really like? We want to know how a modeling career starts and what is important.
Model: Requirements, size and lifestyle
Stephan Czaja is owner of CM Models, author of The Model Book, he brokers luxury real estate and has one of the leading social media agencies in Germany. If anyone knows what he's doing, he does! We were able to meet him today between two appointments for an interview. CM is one of the leading agencies in Germany with jobs all over Europe but also in USA and Asia. They work with companies like Hermès, Prada, CK, Dior, Nike, Levis, and many more.
FIV – My first question: What do you think makes a good model?


Germany - Spain - USA
Stephan Czaja – discipline and ambition! Beautiful looks, talent for the catwalk and fashion shows, photo shoots, commercials, that everything can only be checked later. That's why the discipline of a model is at the beginning of all. That means punctuality, reliability and stamina.
Added to this is ambition, that is the own, independent will to improve constantly. The competition is fierce, especially when a model later goes to the big fashion capitals, to Paris, New York, Shanghai or Milan.
Modeling abroad: Paris, New York, London, Shanghai
FIV – So Paris, New York, Shanghai are the big destinations for models?
Stephan Czaja – As a model who works professionally and wants to make a living from it, it is very advantageous to have worked in these cities for a certain time. It's not only about jobs, but also about international experience and of course photo shootings with the top photographer. The more experience, the more different photo series, the better for the model. The own model portfolio becomes stronger and stronger by new photo shoots and therefore models get bigger jobs.
In cities like Shanghai, London but also New York there are the big advertising campaigns, haute couture shows, brands – For models, cities like New York, LA, Paris, Milan, London but also Shanghai and Hong Kong are the place to be.
FIV – How does a model get jobs abroad? Are they individual campaigns or do you spend more time on location?
Stephan Czaja – After the build-up during his school time and after the first jobs, models who meet the requirements of size and proportion usually go to a city for 2 to 3 months. This is called "On Stay". Young models then live in model shared flats, attend many castings every day and ideally get their first jobs. This is also where you can get the leading brands in fashion such as Hermes, Burberry, Dior, Prada, Givenchy and many more.
We as an agency pay and finance these trips, later on they are billed. So there is no risk for models. In return, we expect exactly the qualities I mentioned at the beginning of the interview: discipline and ambition.
Photo: Dolce & Gabbana fashion show in Milan, Model Linn Fausten @ CM Models / Women Milano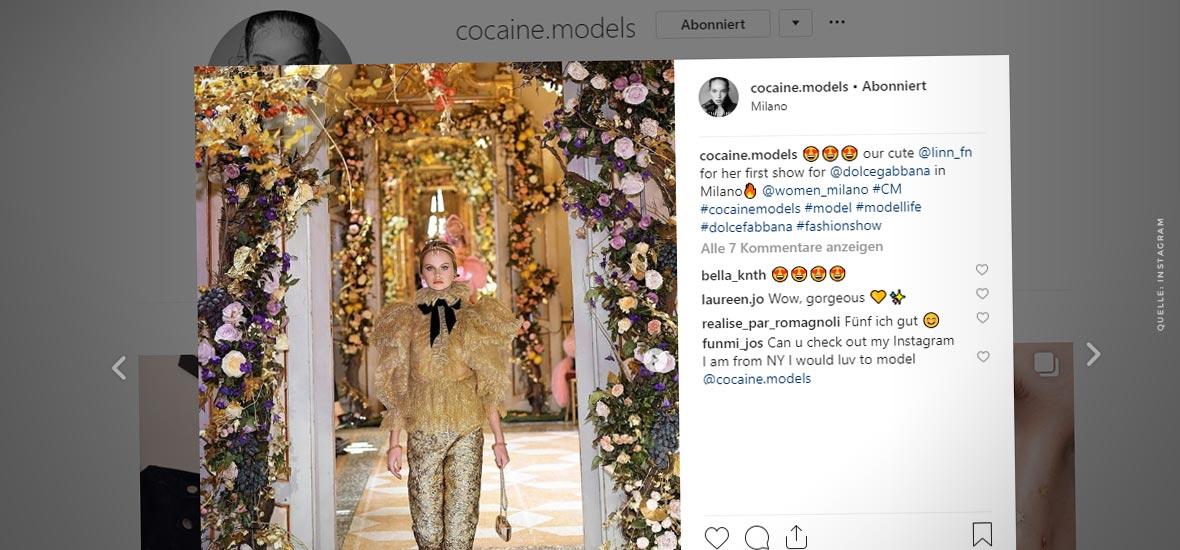 Model scouting: What's the point?
FIV – If you are looking for new faces for your modeling agency, you will surely have a few factors to consider when choosing and deciding. What do you pay attention to when scouting young models, when you see and meet a potential model in the agency, or in other words, how do you recognize a good model as a model agent?
Stephan Czaja – Scouting is all about body size, facial contours and figure. Discipline and ambition are unfortunately not apparent at first glance! In those few moments when you see someone who wants to become a model, it is primarily about figure and proportion.
Minimum size and proportions are always the first requirements. After that it is all about the contours of the face but also all the subtleties and special features that everyone has. From striking faces, to extraordinary faces, freckles, the taunt of the skin, long and short hair or even tooth gaps. During the quick evaluation there are many interesting details that make a model unique, for us as Model Scouts.
Accordingly, the decision-making process in agency meetings is often long, for example after a casting with 100 models. In the end, everything plays a role in the selection and selection process. In the second round we get to know each other at the introduction in the model agency. Here you talk to each other in detail, models get to know the agency, the bookers but also the cooperation. At the same time you learn a lot about the model, the personality, your own ambitions and of course your appearance. Here you want to see the famous "fire in the eyes" as an agency, so that you realize that the person in front of you really wants the job.
FIV – About the performance in your agency I have a few more questions about your personal tips. But before that I would like to know, should you as a model rather "look special" or "rather average" to be successful?
Stephan Czaja – For the majority of models, the typical ideal of beauty is fulfilled. Extremely extraordinary is special, but is hardly ever booked by customers in regular business around commercials, online shops, campaigns, showrooms and fashion shows.
"Good looks" are better received than the "extravagant"
In the end, as a model you don't live from extravagant photo shootings and video productions like you see in TV shows. There are no paint cartridges injected, there are no wild animals at the shooting and no, there is never a "nude shooting" like on TV. The real model life is different!
You earn most of the money as a model with "typical" photos for online shops, campaigns or even commercials. Accordingly, the appearance must not be too "extreme" or extraordinary, or deviate from the typical ideal image that we all carry within us. If you take the taste of all people together, the majority of people have a "typical" image of beauty in terms of appearance and proportions.
Apart from that, in real life, a natural, sympathetic appearance, in combination with the right body size, always wins in the end.
90-60-90: Ideal measurements or ?
FIV – Speaking of convincing, when you think about the "perfect measurements", you immediately have the typical 90-60-90 in your head, which everyone knows. Are these really the perfect measurements for female models and is this a general misconception?
Stephan Czaja – I am asked this question more often, dream measurements or not? In fact, nobody has ever thought up these proportions and said, this way it is perfect! These proportions are derived from our general ideal image, in short: Who do we find attractive?
However, if you look at the cut of people, as mentioned before, and put all beauty ideals on top of each other, then for most of them a proportion of 90-60-90 for women is far ahead in the ranking of attractiveness. Accordingly, we take women, with similar proportions, as attractive in the media.
But it is interesting to note that the proportions are not set in stone, they are relatively independent of body size.
This opens the market for smaller models with chances for castings and jobs
An example: Bikini Shootings are often booked for smaller models, here again the proportions or the relation of body to face plays a role. With smaller models, female curves look even more beautiful. Accordingly, the 90-60-90 is more a synonym for the typical "hourglass figure", whether Cara Delevingne or Jennifer Lopez. Beauty ideals also change when you leave the continent.
Another example: In Asia and cities like Beijing, Shanghai and Seoul, the most successful models are between 171-176cm, which makes them a full 4-5 centimetres smaller than in Europe or America.
Application, goals and personality
FIV – How many applications do you receive as a model agency per month?
Stephan Czaja – Many, very many. In a month, let me make a short projection, there are about 100 to 150 applications a day, that means up to 3.000, 4.500. The applications come from all over the world, from New York to London, Hamburg to Shanghai. Our agency invites 5 to 10 applicants for interviews or video calls. A model contract in our agency will then be given to 2 to 4, which means "only" 2 to 4 new models per month. Why? Because as international management we build career plans, where do you start and how do you reach your goal as a model in 2 or 3 years. The better and more intensive the management, the faster it goes. We want the best of the best, after all, in the end it's about worldwide commercials, Fashion Week in Paris, On Stay in New York, photo shoots in Hamburg, showroom in Milan. Right from the start, a lot of responsibility for young models.
For me as a model agent and even more so as owner, it is extremely important that young models understand the seriousness. If you start modeling at the age of 15, 16 or 17, you have a long way to go. Many people are not aware of this, they want to be on the cover of Vogue within a few weeks and if that doesn't work, they stop again. It's extremely frustrating as a modeling agency, that's why you're so extremely selective when it comes to casting and applications.
So if you get a model contract after application, introduction and casting, you know that he or she has the right qualifications. The next steps are then: personality and model portfolio to convince clients.
FIV – With so many applications, isn't the market already saturated? Is an application still worthwhile at all?
Stephan Czaja – It's like everywhere else, if you want to make it to something, you have to try a lot! If you start modeling with the attitude that the competition is too big, you definitely won't make it. It's not only like that with modelling, it's the same with football, as a musician and singer or even as an actor. In the end you need ambition, discipline and a good agency or club that provides you with the right contacts, training, opportunities, castings and jobs.
FIV – Apart from the appearance and characteristics of the model, when is the perfect age for models to start?
Stephan Czaja – For me personally, the perfect age to start modeling is between 15 and 17 years. But here it does not start immediately 100%, school has priority. School education is extremely important for models, no matter if it is about texts you have to learn for a commercial, English for small talk with the team around photographers, creative directors and fashion designers, but also mathematics, after all you are an entrepreneur. The smarter, the better! That's why good model agencies make sure that you get a good degree. After that the world is open to you. The smarter you are, the further you can get. Because as a model you also live on follow-up bookings. If a client likes you, you get another job and another one. Be likeable, convincing on set, that will get you further. But until then, 1 or 2 years will pass until the final graduation with the build-up of experience and visual material in small steps. So to speak, the basic set to make it later in the big cities like New York.
FIV – That's why so few models manage to get a contract in the end, right?
Stephan Czaja – Right. After all, we want to take very good care of our models so that they can develop free from all the work behind the scenes. For us, this means models who can live well from their job and constantly experience new things. In fact, the time as a model is so intense and interesting that you can never convey all the facets in an interview! When I think about it, at the age of 17 I went to Paris for the first time, a little later I went to Milan for the first time during the holidays, as soon as school is finished, the real model life starts: Shanghai, Fashion Week Paris, photo shooting in Hamburg, catwalk in Düsseldorf. At the age of 19, 20, you have already experienced so much, so much to tell – a real dream job.
FIV – How does such a setup work, quickly described?
Stephan Czaja – If you come to a big model agency like ours at the age of 15, the first thing you need to do is to achieve good results in school. At the same time, your model portfolio will be built up step by step, with the aim of having diverse and multi-faceted photo shoots. Once you have a model portfolio together, which can stand up to experienced models in casting, it is a pity. You do not become a top model overnight. School, build up your portfolio, gain first experiences on jobs, career plan, graduation, foreign countries. Your big goal sort is to be able to live well from this job at 21 years, 22 years! The one who goes with the attitude has the best chances.
photo: new male models / spring @ CM Models

Model agency advantages
FIV – If you summarize the support of a modeling agency, what is the most important thing a modeling agency gives to a model?
Stephan Czaja – Network. As an independent model you could never build up the contacts that a model agency has through years of work and the many employees. This is about creative director, fashion designer, marketing director, managing director, advertising agencies, the whole administration behind it, shootings with photographers, the list is very long and we are not yet on tax issues, invoicing, dunning, travel planning, calculation of usage rights, partner agency abroad, financing of travel, etc.
As a model you have to make it within a few years, you don't have forever, so it's only possible with a good and strong model agency behind you, which takes care of everything important as management. A model's job is to stay disciplined, have fun at work, have positive charisma and and of course professionalism, it's about stressful travel, tight schedules and of course the pressure behind you when in the end a whole campaign depends on your performance as a model. While the advertising agency has prepared everything important in the background, you are in the focus of the whole production during the photo shoot as a model. In the end, the overall success of a campaign depends to a certain extent on your performance. That's why it's so important to build up the team, gain experience, take time for yourself, so that you can grow bit by bit to get the big jobs.
If you make an effort and stick with it, you get a great fork, you can discover the world, get to know many people. As I said, modeling is a real dream job.
Minimum size: Runway (fashion show) and Commercial (advertising)
FIV – How tall does a model have to be to runway in a fashion show?
Stephan Czaja – For catwalk and fashion show the typical, known measurements of models are extremely important. The more top-class the brand, the more international the location, the more uniform the measurements of models. The reason is quite simple, fashion shows are meant for a buyer to see and order or buy new collections. Even if there are celebrities in the audience and influencers, the most important people for fashion designers are buyers, because they buy collections in large quantities. Of course, influencers and celebrities are also important as brand ambassadors, but before the outfits are on sale, it is buyers who bring business to the designers. Only if they are later available in the trade can they be bought by private individuals. Accordingly, it is said: Focus on the collection.
So the focus is on the fashion and not the model. A fashion show therefore requires the typical measurements that are known in the world of modeling. In countries like Germany, a female model usually needs a minimum height of 176 cm for the runway. Since female models usually wear high shoes, men must be at least 186 cm tall accordingly, for a harmonious image of the group.
If we are then on a fashion show in New York, Milan or Paris, the measurements are even more strict. On the one hand the height, female models must be 178 cm tall, maximum 180 cm. Men have to be 2 cm taller accordingly, 188 cm to 192 cm, max 194 cm. In addition, in the big fashion metropolises of this world, the hips of women also play a major role. For female models, it should be a maximum of 90 cm. In cities such as Tokyo or New York and Paris, even 89 cm is often demanded as the maximum.
Even though there is a lot of hype about diversity, 99% in the paid fashion market moves exactly around these measures.
FIV – For models there are two areas, the high fashion but of course also the large area of advertising, how big must a model be when it comes to advertising (commercial)?
Stephan Czaja – Nice that you ask this question! Because there is not only the High Fashion and Haute Couture, another big part of the industry is in advertising. Here, size is not the most important thing, usually you pay attention to a very "nice" face. Then there is the professionalism on set, facial expressions and the right emotions at the right moment.
One of my best models for example is only 171 cm tall and already 57 years old. She is fantastic! The customers love her! She works all over the world and has a fantastic personality, she is such a positive person! But I don't want to go into raptures right now.
Photo – Take measurements yourself (hips, waist, chest and height)

FIV – How much does a model earn in advertising, can you give an example?
Stephan Czaja – If you want to be successful as a model in advertising, then facial expression, emotion and body language are the most important factors. If your model agency knows that you perform consistently and consistently well, you can get a lot of jobs! Especially jobs in advertising are very worthwhile, because here you get paid for usage rights. It's very simple: If an advertisement is produced, the rights of use are bought by the client for one year, for example. If the commercial is well received, it is played for a second year, maybe even a third, fourth and fifth year. With every extension of the rights of use you will receive an additional fee as a model. That can easily be a few thousand Euros, so that in theory you can pay your rent for one year with just one job. If you earn 5.000 Euro in the first year, then 4 times extended, you have 25.000 Euro for one day of work.
To get there, you need ambition and discipline as a model!
Application and interview
FIV – If someone decides to become a model and sends in an application, what kind of photos should models send?
Stephan Czaja – Simply put: Take the photos with your smartphone, show your natural look without make-up, without styling in natural light, i.e. preferably daylight just before, after or during lunchtime; not at night. Back to the naturalness, your clothes should not distract either, it's best to wear a simple black top as a woman or a shirt as a man model. Show yourself 100% natural, because that's exactly what model agencies and their clients value most. Only natural beauty is convincing.
Therefore I can only recommend, show yourself exactly as you are right from the start!
It is also important to say that you do not need a paid photo shoot! Many look for a photographer to send "creative" photos. My tip for all those who want to become a model, just take the photos with your mobile phone! Ask your mum, dad or just a good friend or girlfriend.
FIV – Many people spend hours every day in social networks. Therefore I would be interested if you get a model application, what role do the followers play nowadays? How big is the role of social networks in the selection of new models?
Stephan Czaja – Again, naturalness is the most important factor! The job of a model is not about the range, customers need and want models, the appearance decides in the casting. Interesting becomes only with young people, who have for example on Instagram already 200,000 or 300,000 Follower have however "only" 95% of all conditions fulfill.
Young people who already have 200,000 or 300,000 followers at the age of 15 or 16 are extremely, extremely rare. Accordingly I would say that the number of followers doesn't matter, unless you are one of the 0.001% who will have half a million followers at a young age and as I said, 95% of all requirements have to be fulfilled anyway.
FIV – Is there a minimum or a maximum age for models?
Stephan Czaja – First of all the best thing about modeling or the job of a model, there is no maximum age! Even better, the older you get as a model, the less competition there is, because many of them decide in the course of their life to pursue another career, e.g. in journalism, marketing, they become a doctor or do something completely different.
photo – VW commercial with Milva Spina @ CM Models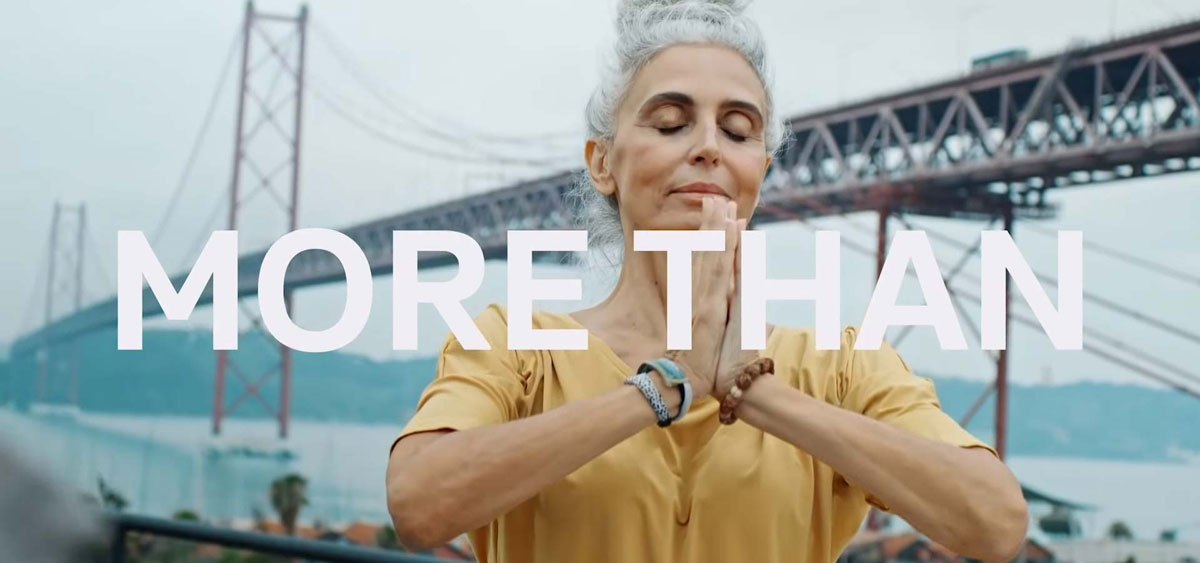 T-Cross campaign with Cara Delevingne and others
The minimum age is different, if you want to work as a model, you should apply with 15 years, 16 years, at the latest 17 years in a model agency Because especially in the younger years you have time to travel abroad, do test shoots and much more. You can't make up the time later.
Beginning age, perfect measurements and model jobs
FIV – How old is the youngest model in your modeling agency?
Stephan Czaja – At CM Models we start from 15 years, that's how old our youngest are. Before that you should definitely enjoy your childhood: Friends, free time! But the first jobs don't start until they're 16, 17 years old, then comes the foreign countries.
FIV – Every job is different, from showroom to fashion show, photo shootings and video: How different are the requirements in the different areas? Where do quality and skills differ?
Stephan Czaja – Every job is different! Short run sequences for the new Nike commercial, runway show for Calvin Klein, e-commerce shooting with 25 outfits, group shooting in the city centre for an advertising campaign, every job has its own special challenges.
The first steps of a model
FIV – If you find a New Face interesting in your modeling agency, for you and your clients and it presents itself successfully in your modeling agency, how does the typical start of a model work, what are the first steps for young models?
Stephan Czaja – After the interview, first of all there is the model contract, then the first photo shoot and then the building of the model portfolio starts. Depending on the age, this can take a relatively long time, because if you are still in school, this has absolute priority, of course. It is important that everything is ready by the time you leave school, say 6-8 good shoots with good photographers, plus 3-5 photos of jobs.
This is a good start if you want to work a little more in the last school year. After graduation you have already done a few small jobs in Germany, then with the right qualifications you can enter the big world of fashion, media and advertising! The big cities, especially cities like Los Angeles, New York, Paris, Milan, London, Shanghai, Hong Kong, Beijing and London. Then there are many more interesting spots like Cape Town, Barcelona or even Seoul. Models have to take their time after school, about 2 years for the whole international build-up. After that you have international experience, the staff and managers of the partner agencies of your parent agency (in our case CM Models) know you. Your book also has strong photos of jobs and photographers from all over the world.
Everything starts with the model portfolio
You need good and meaningful photos. As a tip for young up-and-coming models, the quantity of photos is not important, but the quality! You need different settings, black and white, sporty, photos with fun, fashion, colorful backgrounds, laughter, being serious, and much more. So that the customer can see himself in all possible facets. For example, if an advertising campaign is planned in which you should smile, you need a photo where you have fun and laugh. At some point an international sports fashion manufacturer comes along and the casting director sees a sports photo in your book directly. The advantage: On the one hand you can imagine the model faster in the casting role to be cast, on the other hand you know that you have already gained experience in this field. Accordingly, it does not matter how many photo shoots you have, your model agency will make sure that the photo shoots are varied so that you show as many pages of yourself as possible. Therefore, as a model it is also important to forward all requests to the management. Once you are in a modeling agency, people will pay attention to you. So you get more and more requests, for example about Instagram. The secret is not to "do everything", the more exclusive you are, the better and the more you earn as a model.
Also important: the higher the quality of the client, the more natural the photos. You should make sure right from the start that you don't have too experimental photos in your book. Your face must always be clearly visible, must not be covered. Models should also make sure that photographers don't do too much retouching, naturalness brings you up as a model.
Showroom and fashion show
FIV – If the model portfolio is strong enough, what are the next steps for young models, where does their career start?
Stephan Czaja – Young models usually start as fitting models or in the showroom. In showrooms here fashion designers present new collections. In the showroom there are buyers from big fashion chains and also from department stores, not many of them only about 1-5 persons. As a model you present the individual pieces of the new collection in a kind of small fashion show. Customers can get a direct impression of the materials, fabric, workmanship and quality of the new garments. A relatively simple job.
The first real challenge is then the first fashion show. The actual show is relatively short, but the preparations are very intensive. Here you have to work with up to 20 different models, you are under time pressure but also have an audience. But as a model you are actually working, outside of Paris, Milan, London, New York, etc. rarely on fashion shows. Much more important are photo shootings.
The next step in the claim are therefore also the first photo shootings, for example for Instagram or online shops or e-commerce. From here on, it is usually no longer just a matter of "being beautiful", now it is also about performing and delivering consistent performance. That means positive charisma and smiles even with the 18th garment and 7 hours of production. As a model, one of the big goals is to get follow-up bookings from customers who were extremely satisfied with the model's work. If you do a good job as a model, the customer will book you again for similar jobs or even bigger model jobs.
At some point it is no longer just about you alone in the online shop. In the next step you shoot e.g. your first campaign together with other models. You should all be together in the campaign photos, smiling, perfect movement and harmony. Now it's no longer just about performing yourself, you have to perform in combination with the others. That means, every time the photographer takes a photo, the movements of all models have to fit and of course the facial expressions, of all models. To coordinate these emotions together is really difficult! As a model you need a lot of practice and experience.
At some point you will not only get photo shoots from your agency, but also this campaign and as the next commercials. In such commercial productions, the teams are already much larger, and so are the costs for such a commercial production. So a lot depends on you as a model. Therefore it is worth it, we have discussed how much you can earn as a young model with commercials with all rights of use on top.
Video – Nike Factory Store commercials (international) with Lisa and Louisa @ CM Models
Video – Dailies commercial (international) Johanna, Hannes and Marie @ CM Models
FIV – One last question, what do you think about Germany's next Topmodel? Can you become a famous model with the show?
Stephan Czaja – Through formats like Germany's next Topmodel you can become a famous person, that's true. But usually there are only three or four people from each season who create lasting success. The rest have the GNTM stamp forever, which is not necessarily beneficial, as it distracts from the actual campaign. GNTM is a great push for Instagram. What's important for the candidates is that they stay on the ball after the show and don't rely on the hype of the broadcast time. Just a few weeks after the show, almost everyone's mailbox is quiet. Anyone who then wants to switch to a normal model agency usually remains trapped in the GNTM universe.
Many of the candidates are also cast outside the dimensions that are finally needed as models for high fashion clients. When they want to move to a good model agency a year later, they often don't understand the rejection, because everything was right at the GNTM. In real life, however, they often don't stand a chance at casting with real models. Often their hips are too wide, their waists too small or too prominent. As a GNTM candidate, therefore, you have to make sure that you take as many followers with you as possible. After GNTM, Instagram is the basis for other jobs, such as advertising also Instagram.
The participants are usually also slightly older than the models, who may decide to pursue a professional career as a model and apply when they are 15 or 16 years old. But it is a great format to get publicity! Especially in times of Instagram, you can build a good fanbase and make a good living from it. For those who want to be at events, promote products, the show is a great chance.
How much do GNTM candidates earn on Instagram?
FIV – At the end of the interview I really want to tickle some insights out of you! Besides your model agency you also have one of the leading social media agencies in Germany. The most successful GNTM candidates have many followers after the show, which interests me. When does one start earning money as an influencer on Instagram?
Stephan Czaja – How much money you earn on Instagram depends extremely on the individual person behind the channel. One is more entrepreneur, the other less. Some manage to make money with 100.000 followers, others don't know how to make money out of it and constantly post promotion codes where they earn 5% or 10% per sale. If nobody buys, she doesn't earn money. But if you sell yourself well, you can charge up to 1.000 € for a posting with 100.000 followers and more. Whether the respective customer takes part is another question, that's where the individual negotiation skills come into play. Especially if you don't have an agency and negotiate privately, which most ex-candidates have to do. But here, as I said, it depends extremely on how business-minded the respective person is. There are also many positive examples such as Stefanie Giesinger and Lena Gercke.
FIV – How does your social media agency calculate prices for Instagram?
Stephan Czaja – The evaluation is not only about the number of followers, but also about interaction and the own community. Anyone can buy followers on the internet for a few dollars. Even apart from bought followers there are many people who for example post "only" sexy photos, but have hardly any interaction with their own community. Those who have little interaction, little discussion and participation, quickly drop in the rating. However, those who interact a lot with their own community, are active on a daily basis and make an effort to create strong content so that their own community is entertained will be rated well.
The interaction ultimately decides who gets the job and, above all, how much he or she gets for the job!
Model Castings
FIV – For your social media agency, the model agency but also fashion shows you often organize castings, how does a model casting work? And can everybody participate in such a casting or only by invitation?
Stephan Czaja – A classic casting, as well as for my last fashion show at the Berlin Fashion Week, usually takes place in a time window of 3 to 4 hours. The casting date is then sent to selected model agencies or bookers about 2 weeks in advance, who in turn send suitable models to their agency for casting. Accordingly, such good casting dates are not publicly available, such as so-called open castings. Castings for fashion shows but also for jobs are usually never public. Public castings are mostly done for two reasons: Either to save costs (people models) or as PR effect (many participants, nice videos). Castings for jobs are almost always exclusive and only on invitation of the advertising agency or model agencies. The network and the reputation (the reputation of the model agency) is extremely valuable for models, because this is how they get the good jobs.
The casting usually takes place 1 week before the fashion show, so there is still time to adjust clothes, logistical issues have to be solved, the location has to be prepared, then there is a fitting and a rehearsal in advance. All this is part of the organization of a fashion show. During the fitting, the clothes are tried on, so that everything is guaranteed to fit on the day of the show. At the rehearsal the choreography is shown to music, directly on the location, depending on how complex the catwalk is, from a simple hall to a big show in Paris. Therefore the casting will take place 1 week before the show.
At the casting everything happens very fast! Between 40 and 200 models wait in front of the entrance, depending on how many are finally booked at the show. Most shows book 12 – 24 models. At the casting, model after model is now called. She or he introduces himself or herself briefly, does a short catwalk in front of the Creative Art Director and the designer. After the casting all model agencies are informed about the booked models, they then organize everything in the models' schedule.
One more little tip! So the actual casting usually takes a minute, maybe two. Sometimes the fitting is done directly at the casting, so if you are asked to try on a piece of clothing, you are a little closer to the job.
Tips for Model Castings
FIV – What can you recommend models for their next casting? Do you have tips for young models and their first casting in a marketing, social media or advertising agency?
Stephan Czaja – Yes, I have two very simple ones. First: Smile! Second: Be natural! When Creative Art Director like me has a long day, it's nice to have a smile. After all, you want to sell your own product with pleasure, especially if you have spent weeks and months working on a project, the concept, the strategy and the implementation! Accordingly, one is happy when models come into the room in a positive mood. A smile directly brings a few extra points in the casting.
You should be absolutely natural, no make-up, no hairstyling, just you! Your outfit should not distract either, best you wear black jeans and a black top. You should also wear plain white or black shoes. Female models should also have a pair of high heels and a plain black bikini. This way you are perfectly prepared for an audition as a model!
Model portfolio at casting
FIV – What if you are absolutely new and have no photos?
Stephan Czaja – If you don't have your own model portfolio yet, with lots of photoshootings, you should honestly say, "I have been modeling for about 3 weeks and I am happy to be here"! Take your first photos with you on a tablet, just like the pros! New Faces should always be honest! After all, you have the chance to convince personally at the casting. Use it! And don't forget a friendly smile every now and then!
FIV – What does the perfect model portfolio look like?
Stephan Czaja – In a perfect model portfolio you should have about 30-40 different photos. 1 photo each from tests with good photographers and jobs from customers.
FIV – After a casting you usually go directly to the shooting. How long do you actually work on a social media campaign, from the first concept to the shooting and publication?
Stephan Czaja – That differs extremely, but usually a campaign is planned in a period of 2 to 6 months, then published. Depending on how many agencies and actors are involved, how extensive the project becomes, for example in the area of different countries and languages, different media, 2 to 6 months are then realistic. Accordingly, everything has to work on the day of the photo shoot!
Exactly this one day, when the model is booked, is the intersection: the media production. Before that came the whole conception, strategy, planning. After the media production comes the whole marketing, promotion, analysis and reporting. So the day of the photo shoot is crucial, for the release date, the whole run-up to an advertising campaign and for everything that comes after in the area of public relations. That's why you don't become a top model overnight. When agencies send models on such jobs, suggest them or even send them to castings, then only if they have absolute trust in the model, through many years of cooperation.
Fashion show: How do you plan a show?
FIV – At the end I wanted to come up with a special topic, you organize fashion shows! Speaking of GNTM, the winner of last season Simone was at your last show in Berlin, as well as other celebrities and influencers, but also media such as Sat1 Prominent, Hapers Bazaar, the full program. For all those who were not there, Stephan's fashion show was a real highlight this summer, with Swimming Pool Runway, right in the middle of Berlin, in Crested Grebe. After Karl Lagerfeld there was no one from Germany who makes great haute couture shows, except Philipp Plein who lives in the USA. Your last fashion show set new standards at Berlin Fashion Week. Can you tell us a bit about your last show as Creative Director?
Stephan Czaja – For me, as a creative director or organizer of a fashion show, like everyone else who does this kind of job, it means work, of course! In short, while everyone is enjoying the after show party, I usually drive models and staff back to the hotel, for example if a driver drops out, I organize the dismantling for the next day and just fall KO into bed! So much for the real life! I pay attention to all details, accordingly I am with my employees and models, not on stage.
But the last show was absolutely crazy for Berlin! Maybe you can add the YouTube video later. We did the show extremely spontaneously, I think in two or three weeks everything was organized, from the catwalk elements to the musician, guest management, model casting, choreographer, snack and drinks, everything. It was important for work! And it was extremely spontaneous but in the end we really did it and created a real highlight on Saturday night, for the grand finale of Berlin Fashion Week.
[ our video version is currently being edited and will be online soon ]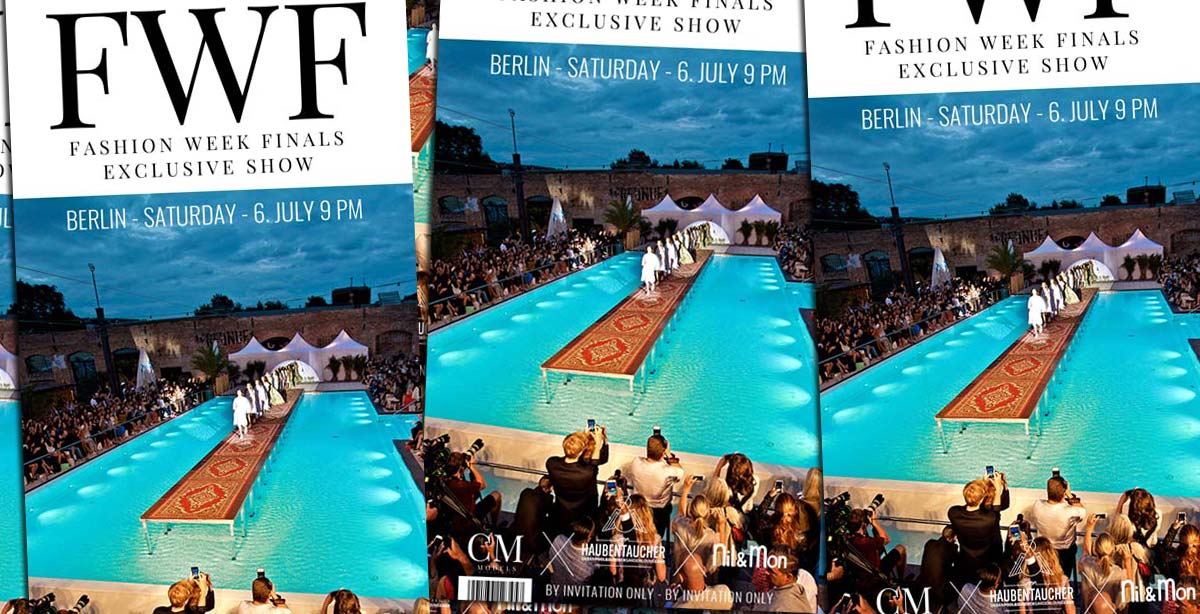 New highlight in Berlin – July
FIV – Finally, can you tell us something about your next fashion show? Which highlight can we as visitors look forward to and will we get Front Row Seating?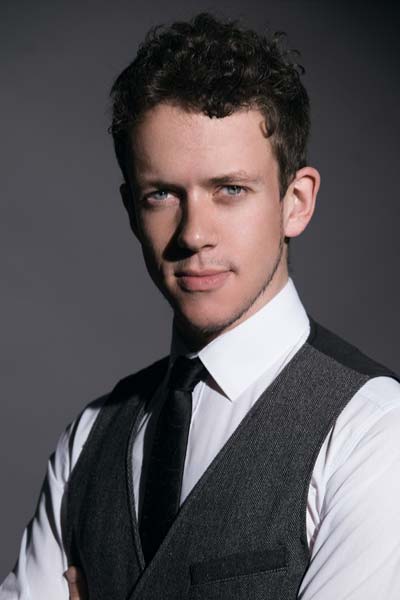 Stephan Czaja – We can spoil a little, we definitely grabbed the same location Guido Maria Kretschmer had last year. One of my absolute favourite hotels in Berlin, directly at the Spree! What makes this hotel so special? Here you can order your own electric guitar in your room, for example, a real Rockstar Hotel! On top of the Rooftop there is a separate 7 million Euro studio for recording songs. Everything top modern and chic. It's located directly at the Spree, in the heart of Berlin and we're just planning. Nothing is set in stone yet, but if everything works out, it will again be an absolute highlight in July. I can't promise you Front Row, who knows who will come, but you will definitely get invitations, gladly.
FIV – Thank you very much for the detailed interview and for taking time for all our questions. That was our XXL interview with Stephan Czaja, owner of CM Models. If you want to know more about the model agency, you can find the website of CM Models and the agency Social Media One here.
Agencies and tips
Become a model, free tips on the blog and the book "The Model Book" by Stephan.
https://fivmagazine.com/wp-content/uploads/2020/02/modenschau-fashion-show-models-publikum-runway-audience-influencer-celebrities-prominente-schones-model.jpg
1280
1920
Lisa-Marie
/wp-content/uploads/2023/08/fiv-magazine-logo-news-influencer-fashion-interior-travel-real-esates.svg
Lisa-Marie
2020-02-22 16:16:25
2021-07-07 15:22:59
Model: Requirements, application, model agency & tips! 33 questions to Stephan Czaja