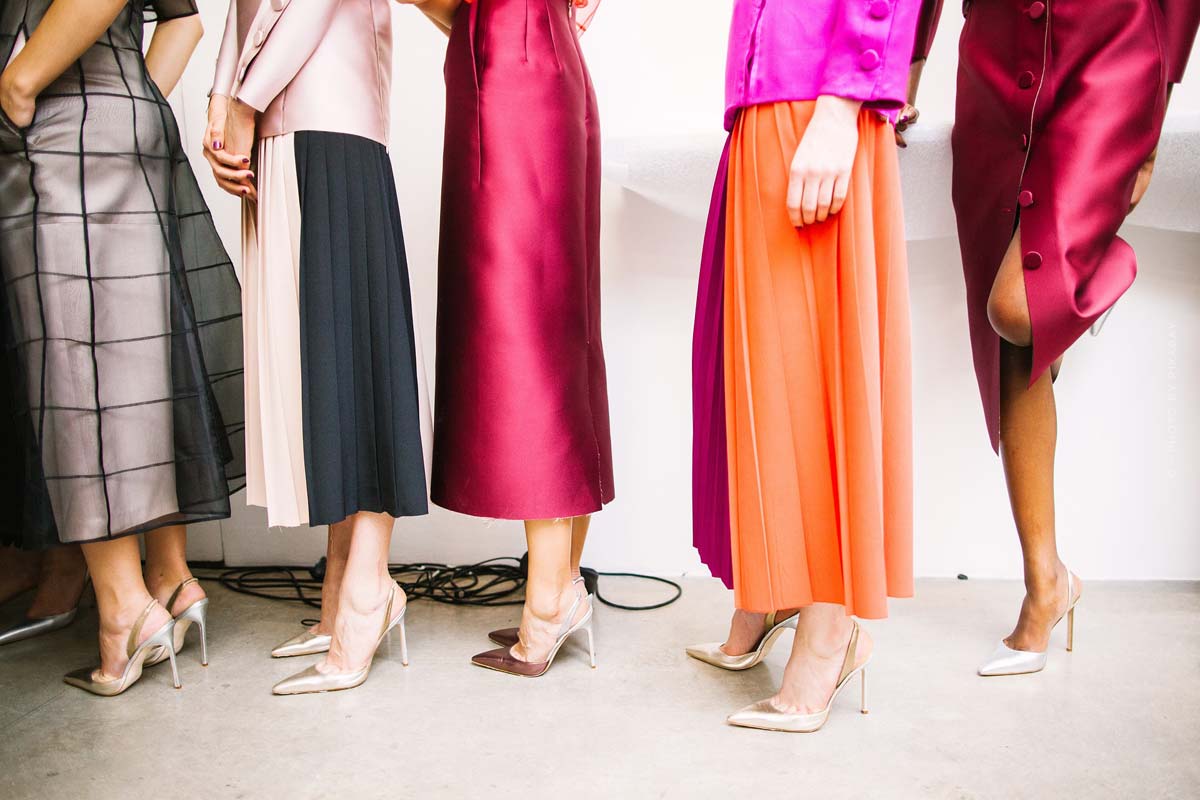 Chloé: French elegance, bags & timeless fashion for women
Chloé – a French ready-to-wear label that cleverly combines femininity, romance and coolness. Glamorous – but not kitschy, French chic – but not stuffy, timeless – but not boring. Creative Director Natacha Ramsay-Levi gives the fashion brand a breath of fresh air and inspires with light, timeless collections in the world of warm pastel shades. Accessories, perfumes and leather goods in the form of shoes and bags complement the fashion label. You want to learn more about the timeless bag masterpieces, the breathtaking collections and the flowing fabrics? Take a look behind the catwalk and learn more about the philosophy of a label from the woman for the woman? Then dive into the world of Chloé here!
Chloé: French, flowing fashion with bags and perfumes
The gloomy and at the same time soaring post-war period, two ambitious Parisians and one idea. That's all it takes and the luxury label Chloé was in its infancy. But she did not stay there for long. The designer Gaby Aghion and her business partner Jacques Lenoir had made it their business to give customers access to luxury clothing which, unlike couture fashion, was accessible and affordable. The then new concept, now commonplace, is called "Prêt-à-porter". With this sales strategy, which was unusual for those times, success was not long in coming. The romantic, flowing clothing paired with unmistakable French chic established itself as an integral part of the fashion world.
Bags, clothing and accessories: why they bear the name "Chloé"
C for chic, h for happy, l for casual, o for optimistic and e for elegant – that is Chloé. As beautiful and memorable as the five syllables are, many people will wonder about the origin, the history of the name. Unlike so many other fashion brands, this is not the designer's first name, surname or nickname. With Chloé, the name of a good friend of Gaby Aghion was used. This friend with the name Chloé embodied the carefree attitude of the modern young woman of the time, who was modelled on Aghion. Her tenacity, her ambition and her doggedness were to bear fruit. Her first collection was sold out in several boutiques within the first day.
Fashion designers* of the timeless fashion brand
Gaby Aghion and Jacques Lenoir have set the brand on the road to success and many – increasingly female young designers – have jumped on the wave of success and have been able to demonstrate their talent. Most of them have managed to ride the wave of success and have not forgotten Chloé's philosophy. Find out more about the different faces behind the brand here!
"For me fashion was France!"

FragranceTip.com by FIV
Gaby Aghion: dresses, fashion show & first collection
As feminine as Chloé has established itself as a label, the educational background of its founder Gaby Aghion stands in contrast. The Egyptian-born beauty was born in 1921 and decided to gain a foothold in the fashion world after graduating in political science. Her greatest motivation was to become independent. She wanted to earn money with her own hands, not literally hang on to a man's purse. It was a reaction to the strict, body-conscious post-war fashion. Her goal was to create fashion for the emancipated, independent woman – as she was able to be herself.
"I designed a small collection and hired a talented seamstress who had worked in haute couture. I went to the suppliers of buttons and fabrics myself… I took risks. But soon I was carried away, it was like a tornado!"
Fashion Show with Gaby Aghon for Chloé
Already at the beginning of her career she inspired with her sense of style, especially in the bohemian area, and created luxury clothes for the emancipated woman with her fashion sense. She acted as the creative head of the fashion brand, while Jacques Lenoir took over the business part. A well-rehearsed duo which enchanted the whole fashion world. The stage for their success was the Café de Flore in Paris – the initial exhibition space for their collections, which functioned as a meeting place for the artist scene at the time.
Designer, newcomer & new talents like Karl Lagerfeld
The Ready-to-wear label is not only capable of creating extraordinary fashion, but also of producing outstanding designers. One could almost say that the sense of beauty, timeless design and talent of young designers* is on one level. Thus Aghion and Lenoir expanded their team with a name that is now widely known – Karl Lagerfeld.
"I have the gift to recognize the talent of others." – Karl Lagerfeld
Lagerfeld was hired as head designer in 1963 and helped the label achieve cult status in the 1970s. With his floral patterns and flowing, flattering shapes, he created a new aesthetic – the Chloé aesthetic. The crowning glory of his success followed in 1971: the opening of the first boutique in Paris, with a customer base that included celebrities such as Brigitte Bardot, Jackie Kennedy and Grace Kelly. His flair for design was rewarded, so in 1974 he was appointed sole head designer. The 1970s are strongly influenced by his flowing silk dresses with the use of delicate lace, which celebrate both femininity and carefree romance. After Karl Lagerfeld, many other – now well-known names – joined the ranks of the Creative Director post. The following is a list of the most relevant and well-known chief designers* of the label:
Gérard Pipart
Maxime de La Falaise
Michéle Rosier
Graziella Fontana
Stella McCartney
Phoebe Philo
Paulo Melin Andersson
Hannah MacGibbon
Clare Waight Keller
Natacha Ramsay-Levi: fashion, accessories, bags & much more
Since April 2017, Natacha Ramsay-Levi has been inspiring as Creative Director with her fashion sense at Chloé and is completely oriented and inspired by the original philosophy of Gaby Aghion. The focus is on giving women the freedom to be themselves. The target group is: emancipated, independent, stylish, self-determined woman.
Who is this design talent? Natacha – with Parisian chic in her blood – graduated from the fashion school Studio Bercot in her hometown Paris. Her biography resembles a hiking trail in the fashion world, where she has already been able to climb several peaks despite her young age. In 2002 she started working for Balenciaga in the team of art director Nicolas Ghesquière. She spent eleven years honing her creations and her own talent before moving to Louis Vuitton in 2013 to take on the position of Creative Director for women's prêt-à-porter fashion.
"I am very proud to belong to a company founded by a woman for women. I want to create fashion that emphasizes the personality of the woman who wears it – fashion that creates character and attitude without imposing a "look" on the wearer"
For four years, the French luxury label held on to the design talent before moving to Chloé and taking on the task of creating breathtaking creations entirely in the spirit of the company!
Interview with designer Natacha Ramsay-Levi
To create fashion that suits every situation – that is Natacha's guiding principle for designs and collections. Fashion should be simple, not complicated and not add another stumbling block to our often difficult lives. Find out more about her philosophy and her relationship to fashion in the following interview!
Collections: Ready-to-wear fashion in Paris
Chloé – the inner word for feminine, flowing, soft clothing in a break with cool, elite moments. Floral prints, soft fabrics, flowing, flattering silhouettes and lace-trimmed tricks have been delighting customers since the fashion brand's founding days. What is the brand's recognition value? Which collections / fashion shows represent key moments of success? You will find all this and more in the following paragraphs. Enjoy the excursion into the happy, optimistic and extraordinary world of Chloé!
Femininity: A luxury label from the woman for the woman
Chloé has always maintained the status of a label that creates for the emancipated, independent woman. The woman should be given the opportunity to be herself, to wear her clothes as a complement to herself, not to change herself. Nevertheless it is important to the label to emphasize the beauty of each woman and to flatteringly show off her body. The clothing should be simple. To embellish the already complicated life of the woman and not act as an additional burden. What are typical iconic and feminine garments of the label?  See for yourself!
Silk Blouse (1962)
Chloé Cape (1974)
Angkor Dress (1983)
Tertulia Dress (Lagerfeld)
Fashion show Chloé spring summer 2021
You can see this especially well in the SS21 collection. Following is the recording of this brilliant fashion show! For the spring/summer collection Chloé has come up with something very special again. Check out the adorable dresses and outfits here.
Fashion show FW 2020/21: Bohemian x Romance
In 1973, the Rachmaninoff dress with its graphic black and white motifs and matching scarf tied around the head is a perfect example of the romantic, bohemian and nomadic ethos of the 1970s. This aesthetic is still often integrated into the collections today. Like the fashion show FW20/21
Sophisticated comfort: pants for women
In the mid-1960s, Chloé introduced loose silk pants that glide over the skin. These pants embodied a new kind of relaxed elegance and established the enduring tension between the feminine and the masculine in the Chloé posture. Chloé is the epitome of comfort and pure elegance. A tightrope walk, which Chloé masters perfectly!
See By Chloé: Second line, fashion, bags and accessories
Launched in 2001: See By Chloé is regarded as the diffusion line – also called second line – of the French fashion house Chloé. The intention behind it was to make the aesthetics of Chloé more accessible to the public and to score points with a significantly lower price segment among customers.
Chloé accessories: much more than just bags, shoes and jewelry
Significant with her bohemian-style straw hats, her iconic round sunglasses and soft, light pastels and her leather belts, Chloé creates another platform to bring her unmistakable French flair, simplicity and femininity to women. Another plus point: when it comes to accessories, it's worth investing in timeless design. It even makes you want to save money – see for yourself!
Decorated straw hat – homage to the bohemian style of the 70s
Hat with cotton-gabardine (365€)
decorated straw hat (580€)
The view through rose-colored glasses: iconic sunglasses in pastel shades
Oversize Sunglasses with pink color gradient (249€)
Octagonal sunglasses "Poppy" wth mint-pink color gradient (330€)
Cat eye sunglasses "Rosie" with decorated edges in gold (319€)
Oval Chloé signature sunglasses "Ayla" in brown color tones (330€)
buckle up please: High quality leather belts with significant gold buckle and Chloé logo
Belt "Franckie Wide" leather in black (479€)
Black leather belt with white seams and golden buckle (350€)
Cognac colored leather belt with golden Chloé logo buckle (395€)
In the gold rush: necklaces, bracelets, rings and earrings in gold for the luxury label
Decorated necklace "Blake" in gold with charm (410€)
Golden earrings "Darcey" with pearl applications (450€)
Necklace in gold with chain details (710 €)
Bags: the IT bags of the fashion world
"The women and their bags" – with the Chloé bags the woman leads a very special relationship. A dream come true, which combines quality, design and timelessness into a beautiful end product. With her bags Chloé focuses on classic, timeless creations with that certain twist. See for yourself!
IT-Bag: Mini-Daria chain bag made of grained and shiny calf leather
This piece of jewelry shines with its natural, classic look and inspires with its miniature size. The bag is available in the typical pastel color palette. The color spectrum ranges from beige to sand grey and black. There are also two differences in the shape. So the customer can choose between the classic form and the more modern round shape. There are even three different ways of wearing it:
long, over the shoulder
diagonally across the body
carrying it in your hand
6 cool ways to wear Chloé bag: Video
A small, visual overview of Chloé showing off the possibilities of carrying the Chloé Mini Daria bag. Use this short clip as an inspiration how to carry your designer handbags in the future with as much style as possible.
Chloé bags colors & Prices
A Chloé bag is an absolute highlight in every closet and for every wardrobe. But how much money do you actually have to put on the table for such a piece of jewelry? Here you can find a small price list of the bag:
Mini Daria Chain bag in sweet beige (1.090€)
Round Mini Daria Bag (690€)
Mini Daria chain bag with cort effect and buttons (1.490€)
Chloé and the bag with the golden ring
Real success is when a label has created its own signature, its iconic brand. In the case of Chloé bags, one can clearly speak of the golden ring element, which adorns a large part of the bag collection. Below you will find the iconic cult copies of the label:
Faye bag with shiny calf leather and suede-calfleather in brown (1.390€)
Tess mini-carrybag in light pastel blue (1.290€)
Little Tess Bag in fine color-blocking (1.590€)
Paddington bag: the rebirth of the classic
In the 00s the term "IT" was still reserved for IT girls. So Paris Hilton, Nicole Richie, Lindsay Lohan or Kate Moss all wore their Paddington. All the popularity and attention that was drawn to the piece of jewelry contributed significantly to the fact that soon IT bags were to move into the world of fashion. So the Paddington Bag is one of the first IT-Bags.
Whoever wants to buy an original today can try his luck on vintage online platforms:
Rebelle: Chloé Paddington bag in black (297€)
Vestiaire Collective: Paddington bag in sandbrown (360€)
Vestiaire Collective: Paddington bag in copper red (200€)
For those who are not a fan of second hand bags, Natacha Ramsay-Levi has the right solution. She has created the "Aby Bag" for the season Autumn/Winter 2019/20. Its shape has more structure, a long strap has been added. What remains is the iconic padlock with embossed logo. In any case a good alternative with potential to the new IT bag of our time.
Shoes: a step into the Parisian fashion world
What is an outfit without shoes? Right – no outfit. So Chloé has also worked on the shoe design and the result is breathtaking. Classic, timeless footwear with that certain something inspires the fashion world!
Sneakers: chic and casual in the fashion world
The feminine yet casual look has also found its way into the shoe world of Chloé. Practical, comfortable but no less chic and elegant. Chloé's sneakers shine with their choice of colors and classic, simple shapes. The most popular models in the Chloé community:
Franckie Sneaker in sleek calf leather in white and blue (425 €)
Lauren Sneaker in Pink-Tea (395 €)
High Clint Sneaker in suede calf leather in ancient brown (575 €)
Half boots: cult shoe with buckles and rivets becomes the highlight of every outfit
Shoes that you have seen once and never forget until they are part of your own shoe closet. This description originally applies to Chloé's bootees. Unique in their design and yet timeless in their overall look. Convince yourself!
Susanna half boot with golden buckles andrivets in beige (975 €)
Susanna half boot with goldenen decorations out of nappa leather in brown (995 €)
Diane half boot made of shiny calf leather in black (895 €)
Slipper: staying at the bottom of the fashion world
Flat footwear has become one of the characteristics of Chloe. Whether sandals with heel straps or wooden mules – there is something for everyone at Chloé. Below is a small overview of the most popular pieces:
Flat Woody Pantolette with lamb fur in beige (430 €)
Flat Woody sandal out of calf leather in canvas-black (350 €)
Flat Demi Pantolette in white with golden ring elements (550 €)
Scent: Parisian elegance & floral lightness in a bottle
The first Chloé fragrance was launched in 1975. The floral, feminine fragrance became one of the most popular fragrances of its time. Freedom, lightness and femininity – Chloé's perfumes have remained true to these three principles since their creation until today. Further successful women's fragrances followed in the 1990s. In 2005, the Chloé fragrance license was acquired by Coty. Since then, fragrances by Chloé have been available in the classic form (Chloé 2008) or in one of the new variations such as Love, Chloé (2010) or L'Eau der Chloé (2012). Here are some of the most famous fragrances:
Chloé Eau de Parfum
Chloé Nomade (Absolu)
Chloé Fleur de Parfum
Chloé Classic Eau de Parfum
Chloé Atelier des Fleurs Néroli
Caro Daur, Bella Hadid or Eva Herzigová – from bloggers to top models, everyone wears it, everyone loves it – Chloé. Models wear Natacha Ramsay-Lewis collections not only within a show as part of their work. No, they wear them from the catwalk directly into real life. Also the popularity within the blogger community is growing day by day.
Chloé: more than just fashion, bags and accessories
Every year on October 11th the International Girls' Day is celebrated. This year, 2020, Chloé launches the annual campaign alongside UNICEF to support young girls worldwide. With the hashtag #GirlsForward the campaign is staged. The jewel of the campaign is an oversized T-shirt made of organic cotton jersey, which bears the words "Girls Forward, Chloé" and the UNICEF symbol.
https://fivmagazine.com/wp-content/uploads/2020/09/modenschau-moskau-virtuell-global-talents-digital-models-bunt.jpg
800
1200
Lisa-Marie
/wp-content/uploads/2023/08/fiv-magazine-logo-news-influencer-fashion-interior-travel-real-esates.svg
Lisa-Marie
2020-11-10 17:00:13
2021-04-02 13:20:52
Chloé: French elegance, bags & timeless fashion for women