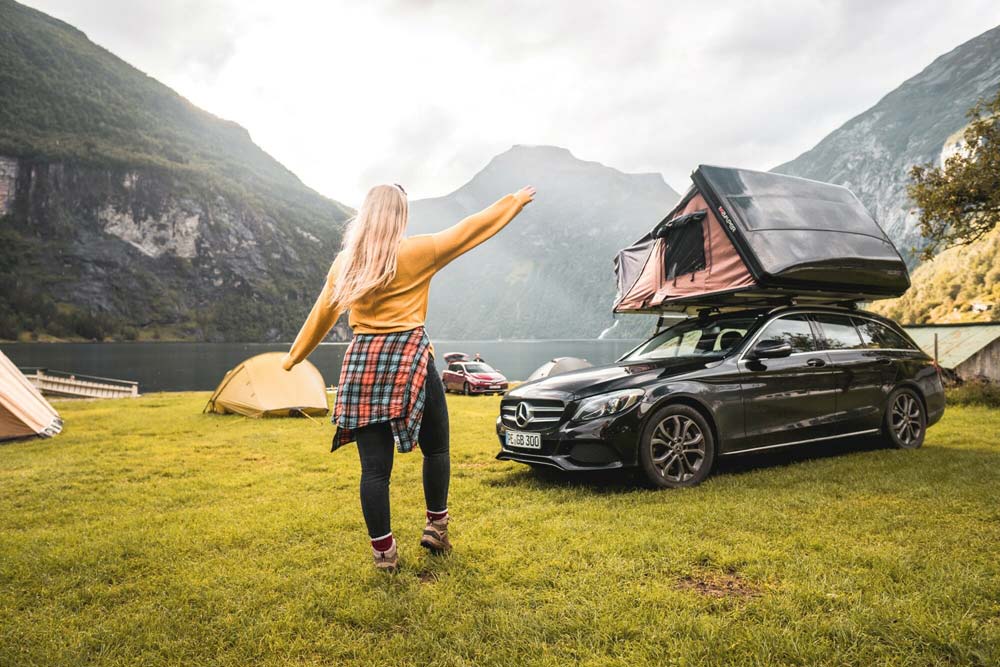 Buy roof tent: Price, People, Car, Brands & Setup – XXL Advisor
Roof tents – You want to buy your first roof tent? Here you'll find our comprehensive, free rooftop tent guide to all models, car brands, manufacturers, prices and tips for holidays for single travellers (singles), two people and families of three, four and five people. Roof tents are available for every type of holiday and trip, even adventure travel. For example with the iKamper, for up to 4 people and extra sports equipment. But more on that later, with the different roof tent types. Which roof tent is the best? How quickly can a roof tent be set up? Do roof tents fit on every car? Our big guide: roof tents, camping and holidays!
Camping test winner: Roof tent! Cheap, flexible + adventure
Did you know, almost 20% (18.9%) go caming every year. A huge fascination for millions, in this country alone. Teenagers and young adults love camping, older permanent campers love caravans and motorhomes. The majority of campers and also adventurers and individualists, travel with their own car and roof tent. Why: No extra driving license, low price, always and everywhere start immediately. Welcome to the world of roof tents!
The roof tent: Our camping test winner
The ultimate advantage of roof tents is that you are completely independent when travelling. Create your holiday the way you want, with your own car and roof tent. Independent of airlines, hotels, breakfast times, car rental times, bus transfers to and from the airport, etc.
Why do so many buy a roof tent for their car?
Comparison: tents, caravan and motorhome
All types of tents have the disadvantage that you need a relatively long time to set them up, you often have little space and you have to carry the tent, equipment and accessories around with you.
Caravans and motorhomes, on the other hand, are absolutely not flexible. They are bulky, you always need an extra pitch, even an extra driving licence. That's why most people only decide on the caravan and motorhome option at the age of 50 or 60.
Disadvantage Tents:
Elaborate assembly and dismantling
Equipment and accessories must be carried
Insulation from cold and moisture
Sleeping on the rigid floor
Disadvantage caravan and camper:
High acquisition costs
Mostly extra driving licence
Car with trailer hitch and sufficient horsepower (towing capacity)
Extra parking space with sufficient room
No spontaneous tour / change of location without planning
High fuel consumption
Roof tents combine only the advantages of tents and living quarters. That is why they are so popular with camping fans.
Advantages: Roof tent
Why are roof tents so popular?
Roof tents are the perfect mix, compared to the tent types, caravan and motorhome. Roof tents can be mounted on any car, they are relatively inexpensive to buy (starting at 1,200 euros), you don't need an extra driver's license and your car only increases by a few centimeters – you don't have a huge trailer or body.
That's a lot of advantages that have made the roof tent our clear test winner when it comes to camping holidays!
Low acquisition costs, from 1,200 euros
No extra driving licence
Mounting on all car makes and models
… more later!
Test: 1 month in the roof tent – experiences
Videos say more than 1000 words!
Roof tent: models, car, body & price
For the first roof tent purchase, first the most important questions, on the subject of car brands, the assembly with roof rack, assembly times, time for dismantling and advice in the showroom, by the best manufacturers. In addition, our recommendation for roof tents "Made in Germany".
First a look at the question, which roof tent for which car model?
Car models for roof tents
Fortunately, the answer to the question of which type of roof tent also fits which make and model of car is very simple.
Roof tents fit all makes and models of cars
In fact, roof tents can be mounted on all car brands (list: roof tents car brands). From Audi A4 to A6 to Q7, BMW: X5, iX, X1 as well as all outdoor brands such as Jeep, Land Rover, Nissan, Toyota and Co. to the VW for the family.
The only thing that must be present is a roof rack. But this is easy to install. The cost of such a carrier is, depending on the car model, between 300 and 500 euros and is quickly installed.
All car makes and models
Roof rack must be present / mounted
Roof tent structure, space and lying area
Here I can directly bring my personal experience into play! When I bought my first roof tent, I assumed that it would take me 10 minutes to set it up, maybe even 20 minutes? But in fact, it takes less than a minute to set up!
Roof tent setup time: 1 minute
Especially with the premium manufacturers, Made in Germany, the mechanics behind the roof tents is so sophisticated that it is unfolded without effort, with only one arm movement. Access to the roof tent is then, depending on the model, via a very light, yet sturdy ladder. A few seconds, all is folded out and ready for the holiday!
When unfolded, you suddenly have several square meters of space, hard to believe! There are even models, so-called "folding tent trailers", which almost result in a small Tiny House at the end. Therefore, you still have relatively much space in roof tent, from the models two-man tent, to the family tent for 4 people, with very small children even up to 5 people possible.
So the assembly is done quickly, in less than a minute. I manage it in the meantime Locker in 40 seconds! Super handy, especially if you discover something spontaneously on a route, eg a mountain lake. Stop, turn off the engine, with roof tent briefly unfold, relax.
Tip. Starry sky when looking out of the roof window
With premium manufacturers, for example Campwerk or iKamper, you have built-in roof windows! Especially for the starry sky, for example if you are in remote areas of Spain, Denmark or even more remote, in Norway, an absolute dream.
Now for the cost: what is the price?
People and price: cost comparison
Whoever hears about roof tents for the first time immediately thinks of motorhomes, caravans. So also of prices in the amount of 30,000, 40,000 or even 50,000 euros. Upwards, of course, no limit, keyword glamping,… that's why roof tents are so popular with campers!
The price for roof tents starts at only 1.400 Euro to 2.000 Euro, for a 2/3 person roof tent.
For a 3+ person roof tent you have to calculate with about 2.500 Euro to 3.800 Euro and for a roof tent that you can use for up to 4 persons with about 3.500 Euro to 4.900 Euro, depending on model and equipment.
Want to know even more about the different prices in comparison, the models for 2 to 4 (5) people? Take a look at individual roof tent types here:
Roof tent up to 2 persons
Roof tent 3-5 persons
Tip. You are on the road with a Mini or a Mini learns? There are brown roof tents for that too! Space-saving and folded out, same luxury, same comfort and all that with your Mini + roof tent.
After the advantages, the assembly, the car brands, the assembly time and the prices for the different models from 1 to 4 (5) persons, let us now come to the manufacturers of roof tents!
Roof tent manufacturer: Made in Germany + List
Roof tent manufacturers are many, a few in Asia, a few in America.
Quality is important, after all the roof tent is mounted on your car. We all know how important cars are for us! With Asian manufacturers you save 5 or 10%, but the insulation is not so good (cold and humidity at night), extras like roof windows are missing or the ladder, a very important element, is not long stable and wobbles after a few trips. Therefore, before we take a look at the roof tent manufacturer list, here is my and our recommendation:
Made in Germany: Campwerk
In Germany, Campwerk is the market leader among the umbrella tent manufacturers. Not without reason, the quality speaks for itself. On my very private search for the best roof tent (for me), I have compared a total of 4 roof tent manufacturers with each other. My recommendation is quite clear, "Made in Germany" and thus Campwerk.
Made in Germany: Campwerk roof tents
Most campers put their trust in Campwerk, so many in fact that the brand has now risen to become the market leader and Germany's most popular roof tent manufacturer.
Campwerk itself is full of energy and spirit for roof tents and camping! Many roof tent fans already know Campwerk from YouTube, here they have been publishing videos for a very long time, informative as on the subject of setting up roof tents, product innovations, but also give insights behind the scenes, for example when they travel to tourism and camping fairs or also work on new products, e.g. camping accessories. There are even large roof tent meetings.
Pictures say more than 1000 words, take a look at the roof tents from Campwerk, Germany's most popular manufacturer of roof tents and folding tent caravans:
Roof tent manufacturer: List
Beware of "cheap goods" – In my experience, quality is the most important thing and a few saved % avenge themselves quickly when the ladder wobbles, the sleeping surface is too hard, too small or even worse, when it gets cold in the evening in the tent because the insulation is not good, somewhere must be saved!
List, Models & Prices – You want to save another 5,8 or 10 % on your roof tent? Then you will find a list of manufacturers where you can buy your new roof tent. In the list you will find our test winner and other manufacturers that have been rated at least good. Autocamp, Campwerk, Darche, Front Runner, iKamper & Co. – What other brands and manufacturers are there? Here you will find a large list of manufacturers where you can find out about the different sizes, models and prices.
Camping ground nearby: Recommendations
Last but not least, we have the best campsite recommendations in Germany for you! No matter if you want to spend your holiday at the North Sea, at the Baltic Sea, at the Chiemsee, in the mountains, Black Forest or in the Harz, here you will find campsite recommendations where you will feel absolutely comfortable. With enough space, the most important things you need on the campsite and of course fair prices.
Camping / from Wednesday on FIV!
Tips: Camping trips
Camping XXL
Camping accessories
Living & Sleeping
Holiday with animals
Dropout: 6 stories
Camping holidays: Travel guide
Camping XXL
Camping, Accessories, Destinations & Tips – The perfect campsite, destinations and insider tips, new gadgets for living and cooking! Camping is the crackle of the campfire, the smell of wet grass and the chirping of birds in the morning. But camping is also waking up at the campsite with an ocean view and getting a good night's sleep in the comfortable beds of the RV. No matter how much comfort or how much adventure you desire, camping makes everyone happy. The multi-faceted way to travel and see many places on a small budget excites more and more people. Here you can learn all about the different types of camping, the different destinations of campers worldwide and we give you some important tips for your next camping holiday.

Camping accessories and online shops
Once with the roof tent or caravan across the country and see as much as possible – on the beach, in the mountains and in the great outdoors. But what do you absolutely have to have with you on this adventure? Which items need to be on the packing list, what can stay at home and where do I buy the right camping accessories? Our checklists with tips and recommendations for your:
Tents, accessories, furniture & Co. – Shopping tips in a list for suitable accessories, camping furniture and equipment, everything for your next camping trip, in a shopping list. Here you will find everything, from A like outdoor lighting (weatherproof) to the gas cartridge, to the pocket knife and to W, like water treatment.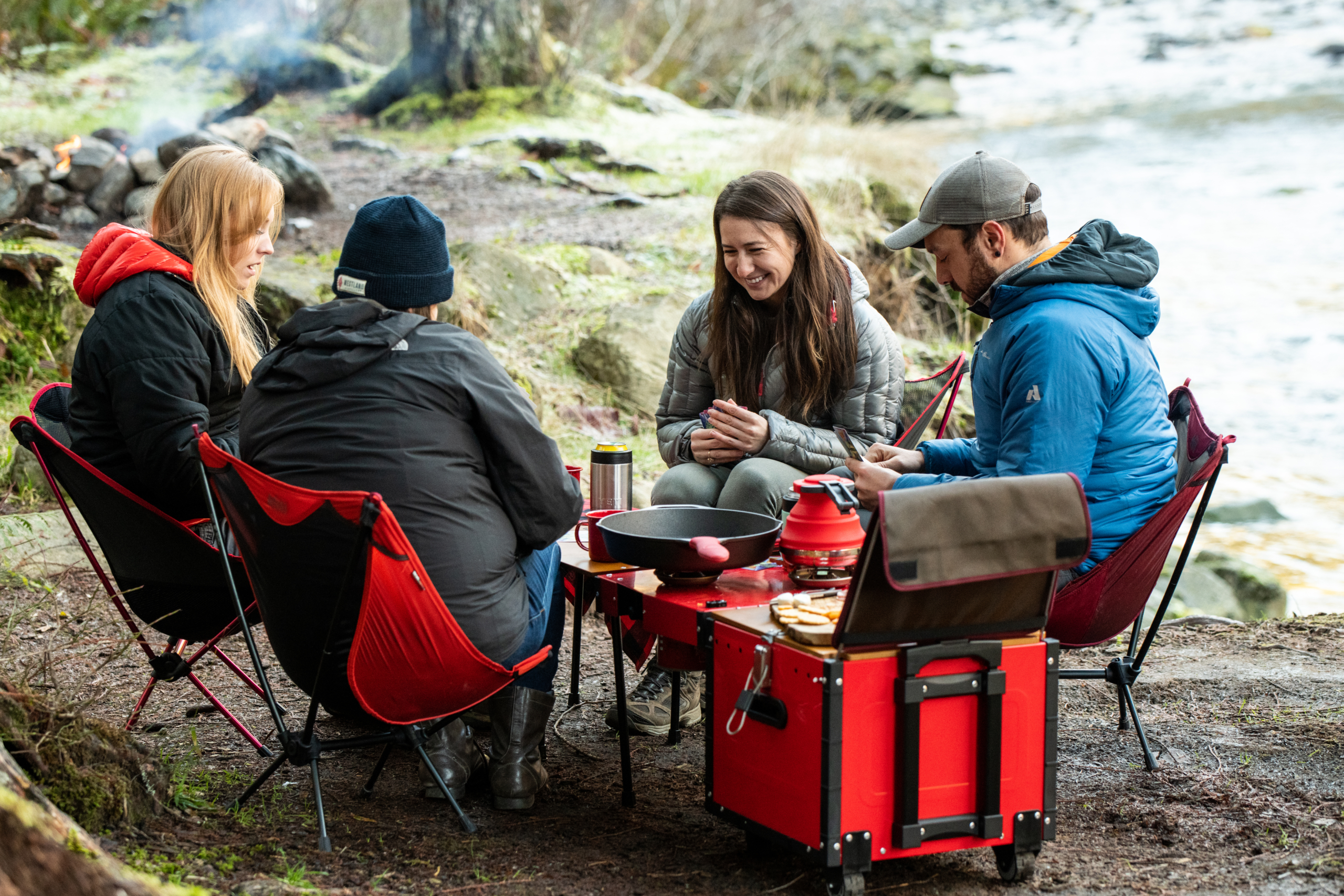 Living & Sleeping
Camping in the tent, caravan & camping bus – tent, caravan, sleeping bag, spare time & outdoor clothing – with the camping in the nature one is mostly limited to the most necessary things, since usually not much can be taken along and no supermarkets are to be found in the proximity. But which items you should still think about and what should not be missing on a real camping trip, we have recorded here for you:
Holiday with animals
The holiday is coming and you are looking forward to sun, sea and relaxation. Soon you would lie carefree on the beach and relax, there remains only one problem; without his beloved pet you do not want to travel. What possibilities does one actually have? Can the four-legged best friend come along? Where is it welcome and where not? We have selected all the important information about holidays with animals, so that holidays for pet owners are no longer a problem.

Dropout: Family, Hippie & Senior – 6 Stories
Dropouts – These people had a normal life with sometimes good professional positions and opportunities and yet they decided to take a different path. Why do you decide to sell your house, quit your job, take your savings and go out into freedom? In this article and in the videos you will discover different families, couples, as well as loners, who have dared this courageous step and have put everything on one card.
Camping holidays: Travel guide
Camping in Germany, France, Italy, Croatia and all over Europe – you want to discover even more holiday regions? Then take a look at our large XXL guide on the subject of holidays. Travel in Germany, holiday in France, holiday homes in Croatia, once along the Adriatic Sea in Italy, get to know Denmark and even further north Sweden and Norway. Here you will find all the important holiday regions.
Vacation / from Wednesday on FIV
https://fivmagazine.com/wp-content/uploads/2020/12/campwerk-test-camping-vergleich-mobiles-zuhause-urlaub-erfahrungen-dachzelt-auto-aufbau-skycamp-ikamper-berge-alpen-ausflug-mercedes-limusine-frau-tanzt-see-bergsee.jpg
667
1000
Stephan
/wp-content/uploads/2020/07/fiv-magazine-news-instagram-youtube-tiktok-influencer-fashion-interior-jewelry-real-estate-tips-help-logo.png
Stephan
2021-03-21 18:34:03
2021-03-21 18:34:03
Buy roof tent: Price, People, Car, Brands & Setup – XXL Advisor