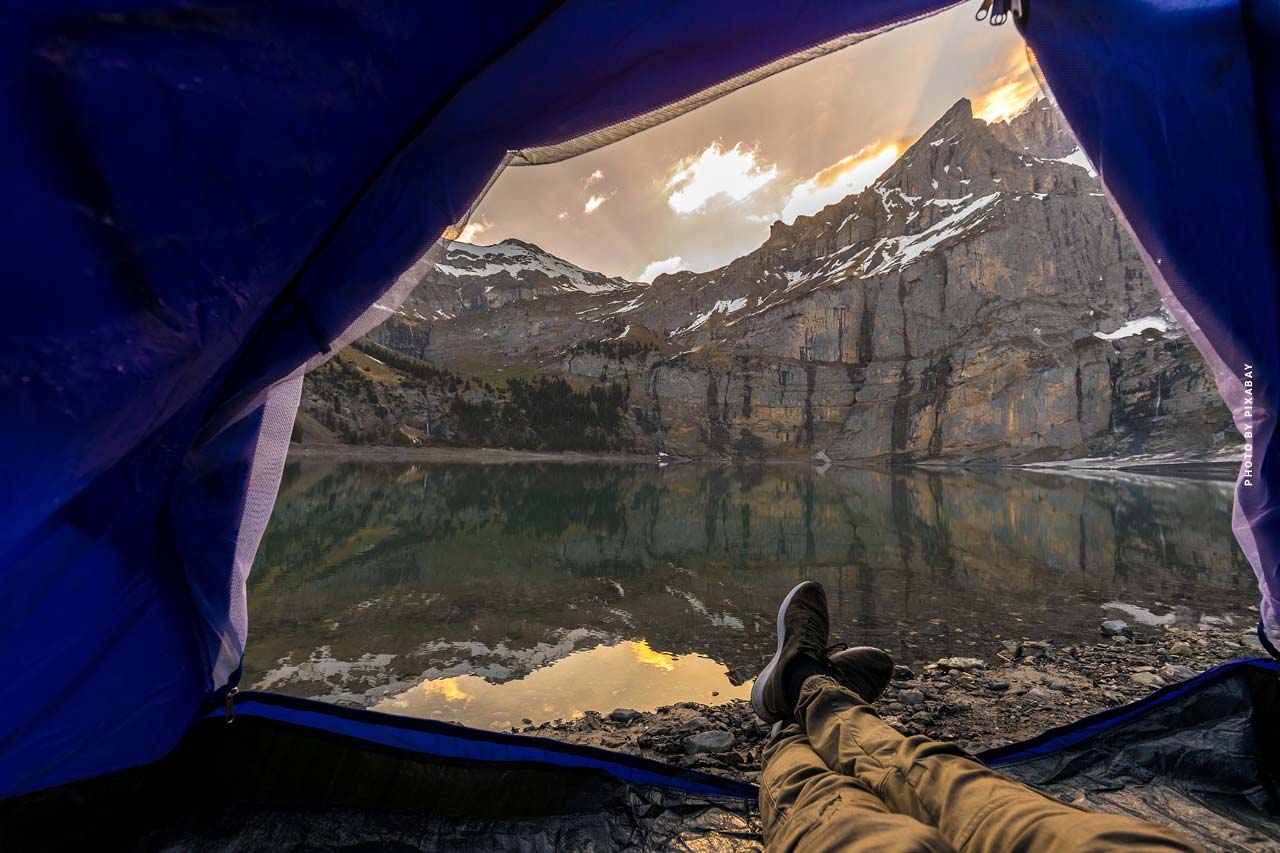 Living & Sleeping XXL: Camping in tents, caravans & camper
Camping equipment – You want to go camping, have already planned your route and are now packing. The most important things like tent and air mattress are of course already packed, but besides that there are other important things that are often forgotten. When camping in the nature you are mostly limited to the bare essentials, because there is not much to take with you and there are no supermarkets nearby. Here we have listed all the things you should think about and what you should not miss on a real camping trip.
Living in nature: Tent, caravan or camper van
Probably the most important things you should have with you when camping are things for living. Most people think of camping directly as camping. However, there are also other possibilities to spend the night in nature. Whether in a classic tent or a caravan, camping can be a varied and multifaceted experience and offers plenty of space and freedom, so that everyone can organise their holiday according to their preferences. Depending on which option you choose, you will need to pack the right luggage.
Tent: The most popular way to camp
The probably most classical and simplest variant of camping is tent camping. This is most suitable for a short trip not too far away. You don't have to pay much attention and you can choose a campsite where you can spend a nice time with your family or friends. This gives you flexibility in where you go on holiday and yet you are always in the fresh air. You can set up your tent spontaneously at a place you like and move on the next day if you feel like it. This is also one of the cheapest ways of camping, because you don't have to pay much when you do wild camping and on a campsite you usually only pay the entrance fee for yourself.
Tent types: Trekking tent, throw tent, dome tent & Co.
As already described in the article Camping accessories, there are different types of tents between which you have to decide. A simple person tent only offers space for a few people, but is perfectly sufficient if you are only travelling with your partner or one or two friends. The tent does not take up much space in your luggage and is therefore ideal for a short trip in the nature. If you want to avoid the complicated construction of the tent, you can opt for a throw tent. The most popular types of tents are:
Trekking tent – compact but very resistant
Litter tent – compact and quick to set up
dome tent – low weight, high stability and simple construction
Rooftop tent – for camping everywhere with particularly good insulation
Tunnel tent – lots of space and headroom
Family tent – lots of space for the whole family
Ridge tent – bright and open and perfect for an Indian adventure
dome tent – low space requirement and can be set up easily and quickly
Geodetched – also holds on rocky ground, on steep slopes or densely overgrown sections
Pyramid tent – extremely stable and withstand even strong winds
Read here more about the different types of tents…
Comfort or unforgettable experience
So if you want to spend a few days in nature in a very simple and uncomplicated way, you should get involved in this experience. Of course, a hotel bed would be more comfortable than the mattress with which your tent is probably equipped, but for this short time, the missing comfort can be accepted if in return, one is offered an unforgettable experience of nature.


FragranceTip.com by FIV

Caravan- & camper accessories: bath & kitchen utensils
How should a caravan and a motorhome actually be equipped? Caravans and motorhomes are usually fully equipped, but there are still some small things to think about. Whether washing machine or kitchen utensils; you should not do without a few everyday items even when camping. It is important to have basic equipment, certain kitchen utensils, bathroom utensils and also a few other useful small items. Our most important souvenirs, which one can use in a camper or caravan, are
Gas bottles – important for those who plan to cook with a gas grill
Clothesline, clamps and foldable laundry basket – especially important if you are on the road for a long time and have to wash yourself
Cutlery, crockery, pots and pans – so cooking on the road is no longer a problem.
Batteries, accumulators, converters – electricity is a matter of course in everyday life and not everyone can completely do without it when camping
Duvets & pillows – for a good sleep and so that you don't get cold at night
Campingbus expansion: Car conversion by yourself
Not enough room in the van? No problem, that's what the camper extensions are for. Instead of going on holiday for several thousand euros, you can also invest the money in your own camper. Whether you choose a self-conversion or a ready-made camper van – what you choose depends on the need for comfort, the budget and the available vehicle. Here we have selected three reasons for you, why an extension, whether self-made or bought, is much better than a finished camper:
The one big advantage of the camper van conversion is the relatively low cost compared to finished motorhomes. A finished camper van can cost a good 50,000 Euros. With a self-conversion you get away much cheaper, especially if you already own a vehicle which can be converted. With your own bus you are super flexible and can experience a lot of adventures. The do-it-yourself mentality starts at home and once the camper is finished you can be quite proud of yourself. In addition, you have flexible options for use, your self-construction is suitable for everyday use. The van or family car can still be used as a normal means of transport, but on the journey it becomes a rolling holiday home.
Cheaper installation: Cheaper than caravan and motorhome
Adventure and freedom: Go when and where you want.
Flexible use: family car during the week, fun at the weekend
There are different types of conversions and with the right installation or conversion, the van will quickly become a living room, kitchen, bedroom or even a garage with plenty of room to store your belongings. With a conversion, the space you already have is cleverly extended and with a built-in, the space you already have is used practically.

Camping furniture: chairs, tables & beds
With camping furniture you build your own camp, whether on the campsite or in the open air. Here, one mostly thinks directly about chairs and tables, which are of course important, because they provide a relaxed togetherness, but also camp beds or cupboards should be thought of. With the chairs and tables you can build your own little terrace in front of the caravan, where you can sit together in the evening, laugh, chat, eat and drink. The camp beds are important if you don't want to sleep for a few weeks on camping mats and air mattresses.
What you should pay attention to is the appearance – you should like the camping furniture of course and best of all, it should match the design of the rest of the camp. You should also look at which furniture you can really use and which can be easily replaced. If you buy a camping chair to sit on for a few hours, it should be comfortable. Another factor is size – camping furniture often has to be put up and taken down and should therefore be foldable. And last but not least, the stability of the camping furniture is of course important. Ideally, the furniture should last for many years and should therefore be stable and of high quality.
Checklist: Buy camping furniture
You must take this into account when buying camping furniture:
Looks
Function
Cozy
Size
Stability
Sleeping bag & Iso mat: sleeping in tent
Coming back to camp after a long day and just cuddling up in bed – a dream. But sleeping in a tent, caravan or even in a self-built camper can become quite uncomfortable after a few weeks. In order to be able to really relax at night it is important to have a comfortable sleeping place. This is where the sleeping bag and the mattress come into play. But what should you consider so that you don't get cold at night and don't suffer from back pain? Here are our most important tips for buying a sleeping bag and a sleeping mat.
Sleeping bags: sizes, shapes & materials
To decide on a sleeping bag, you should know that there are different materials for the filling. Whether down or synthetic fibre – when filling a sleeping bag, you should bear in mind that the different materials keep you warm differently. You should also consider the size when buying a sleeping bag. Ideally, it should be 25cm longer than your own body height. There are often adjustable sizes for children, but you should always take care not to buy a sleeping bag that is too big, otherwise it will not insulate properly.
When buying a sleeping bag, you should also pay attention to the shape of the sleeping bag, as there are three different shapes that insulate differently: mummy sleeping bags, egg-shaped sleeping bags and blanket sleeping bags. If you want to know what the differences are and which sleeping bag is right for you, take a look at our article on sleeping bags and sleeping mats.
various sizes
different material
mummy sleeping bags, egg-shaped sleeping bags and blanket sleeping bags
Mats: R-values, mat types & Co.
What is also essential for a good night's sleep when camping is a good mattress. Here again are a few important factors to consider, such as the R-value. The R-value measures the insulation capacity of a mat, i.e. how much heat the mat lets through.
R-value 0: up to +15°C: suitable for midsummer
R-value 1: up to +7°C: for summer and mild spring and autumn nights
R value 2: up to +2°C: Spring to autumn, without ground frost
… read all about sleeping bags and sleeping mats here
A distinction is also made between foam mats, self-inflating isomats and thermal or insulating air mattresses. You can find everything about R-values and the different types of mattresses in our article Sleeping Bags and Mattresses.
Heating and ventilation systems in motorhomes and caravans
Heating and ventilation systems are a must when camping in a camper or caravan. So that you don't get cold in winter, the motorhome, caravan or camper should be preheated to a comfortable room temperature at least one hour before bedtime. But which heating systems are actually available and which are best?
Heating systems: gas, diesel, electric and air heating
Gas, diesel, electric and air heating, these are the different heating variants:
Gas heating
Diesel heating
Electric heating
Air heating
Gas heating – Heating with gas is the most common method in caravans and motorhomes, because most of the time there is already a gas system available, because gas is also used for the stove, oven and refrigerator. It is also practical, as a new, filled gas bottle can be found almost everywhere, even abroad. If you want to heat with a gas heater while driving, you should definitely use a gas pressure control system with crash sensor.
Diesel heating – Another method would be heating with diesel. A diesel heater uses the fuel available in the tank and can be used as an auxiliary heater, but generates some noise. An advantage of diesel heating is definitely that you do not have to rely on the electricity grid of the campsite.
Electric heating – electric heaters such as radiators and fan heaters are only suitable if there is a mains supply to which they can be connected. The only electric heaters that are worthwhile are heating mats for tents, as these can also be battery operated and heat up to 30 degrees.
Air Heating – Another option is air heating; like diesel heaters, they use the fuel of the vehicle, but are a much quieter alternative. An air heater often has an energy saving mode, a boost mode that heats faster and is even useful in summer when it cools the motorhome with the ventilation function. The air heater directs the warm air through a channel system to the floor of the motorhome, from where the heat can then rise. The only disadvantage is that the air dries quickly and that dust particles fly around in the caravan all the time due to the constant circulation. Not very practical for allergy sufferers, but this problem can be solved by airing the caravan regularly.

Ventilation systems – Fresh air in motorhomes
Why does a caravan actually need a ventilation system? This is a simple question, inside the caravan a lot of moisture often collects overnight, which can result in damp beds. In addition, especially when a gas stove or gas oven is in use, it is important to provide sufficient fresh air. A caravan has a certain forced ventilation and forced exhaust. The forced ventilation provides sufficient new oxygen, while the old air escapes via the forced ventilation.
The ventilation is usually located in the floor area of the caravan and should be closed with a grille so that rodents and other small friends cannot enter the caravan and, as warm air is known to rise, the vent is located in the upper area. Often a caravan has roof hatches or a pipe in the ceiling area, but sometimes doors are sufficient to provide sufficient ventilation. By the way; closing the ventilation system is not a good idea. The consequences can be dry air, gas or even mould due to moisture.
Ventilation system:
In the floor area of the motorhome
Closed with a grid
Provides sufficient fresh air
Venting system:
Roof hatch, tube in ceiling area, doors
Old air escapes via the ventilation system
Sanitary facilities: Camping showers & -toilets
On campsites you will usually have sanitary facilities available, but wild campers should think about sanitary facilities or consider good alternatives to a shower in advance. But what equipment should you think about when you are travelling with a motorhome? And what should definitely not be missing in wild camping? We have summarized all the important things about sanitary facilities for you.
Camping shower
Camping toilet
Camping shower: PET, solar or portable camping shower
Hygiene should not be neglected on the campsite, so it is also important to shower regularly. There are several ways to stay true to your routine while camping, both on the campsite and in the countryside. One option is the simple PET bottle shower – for this you just need your water bottle, which you ideally have with you anyway, and a cap in which you make a few holes with a sharp and hot needle. Voilà: The Shower To Go. And it's also space-saving, the only luggage you have is an extra lid with a few holes. But this is not the best option for wimps. But it is possible to heat the water with the help of the sun or to boil water and mix it with cold water to have a nice shower.
Another possibility would be a solar shower. This consists of a black bag that is placed in the sun, heated, then hung on a branch or rock, and then there is the possibility of a pleasantly warm shower. The sack can be easily stored in a backpack and there are also different sizes from 10 to 40 litres. Our last variant is the portable camping shower. The portable camping shower is a water tank that is pressurized with a few pump strokes so that it flows upwards through a hose. If you combine this camping shower with a foldable shower cabin, you almost feel at home.
Thus, those who still have some space in the car and want to treat themselves to some comfort should choose the camping shower, which is also not really heavy with an empty weight of approximately 1 kg. Important tip: Protect the environment when showering outside. Try to use as little water as possible, because your soap or shampoo contaminates it and we don't want to have this dirty water in lakes, rivers or the sea. Also try to shower away from water.
The different types of camping showers:
PET bottles shower
Solar shower
Portable camping shower
Camping toilet: chemical & dry toilet
A camping toilet is a must for all camping lovers. A distinction is made between chemical toilets and dry toilets. The chemical toilet does not need a connection to the sewage system and the faeces are collected in a container where they are decomposed by chemical substances. Under no circumstances, however, should the chemicals be disposed of in nature. For campers there is always the possibility to counteract the growth of bacteria with a little citric acid or vinegar water, as these biodegradable substances change the pH-values. For each chemical toilet there are certain regulations from the manufacturer, about which you should inform yourself in advance.
Dry toilets are toilets that do not flush with water. They are an environmentally friendly alternative to chemical toilets and are divided into dry toilets with urine separation, dry toilets with compost and dry toilets with combustion. In the most expensive variant, the dry toilet with incineration, the leftovers are burned immediately after going to the toilet and all that remains is a little sterile ash.
The dry toilet with composter is a container in which the leftovers are pre-composted before they end up on the compost heap. Often a few technical extras such as fans, rotating containers, heating rods and also agitators are used here. In addition, urine and faeces are separated in the dry toilet with composter, which ensures odour neutrality. In a dry toilet with urine separation, solid and liquid residues are separated, dried with bark mulch and disposed of afterwards.
Types of camping toilets:
Chemical toilet
Dry toilet with combustion
Dry toilet with composter
Dry toilet with urine separation
Camping lamps: battery, accumulator, gas or solar lamp
It's not always bedtime as soon as the sun goes down. That's why campers definitely need a camping lamp, because it allows you to sit together in the evening when the campfire doesn't give enough light. There are four common types of camping lamps: lamps with gas, with batteries, with accumulator or solar lamps.
Battery-powered lamps have the advantage that they do not need to be recharged and are mobile. However, the disadvantages are that batteries are environmentally harmful and are not cheap. Camping lamps that run on gas take the gas from a cartridge. The advantage and disadvantage is that these lamps emit heat. In winter this can be very practical, but in summer it is rather unpleasant. The gas lamp also has a different burning time depending on the model and you should definitely keep the fire risk in mind.
This is not the case with a battery-powered camping lamp, and a battery-powered lamp probably has the longest life. The disadvantage is that they also usually have a long charging time and are therefore not always available. And if the battery breaks down you can have a real problem, because it is often not possible to change the battery while travelling. The last variant would be the solar lamp; it is the most environment-friendly possibility, as it charges itself if it gets some sunrays during the day. And if the sun does not shine, there is often a hand crank or a power connection as an alternative. By the way: The solar lamp is the cheapest option! This way you protect the environment and your wallet at the same time.
So the 4 most common variants are:
Camping lamp with battery
Lamp with battery
Camping lamp with gas
Solar lamp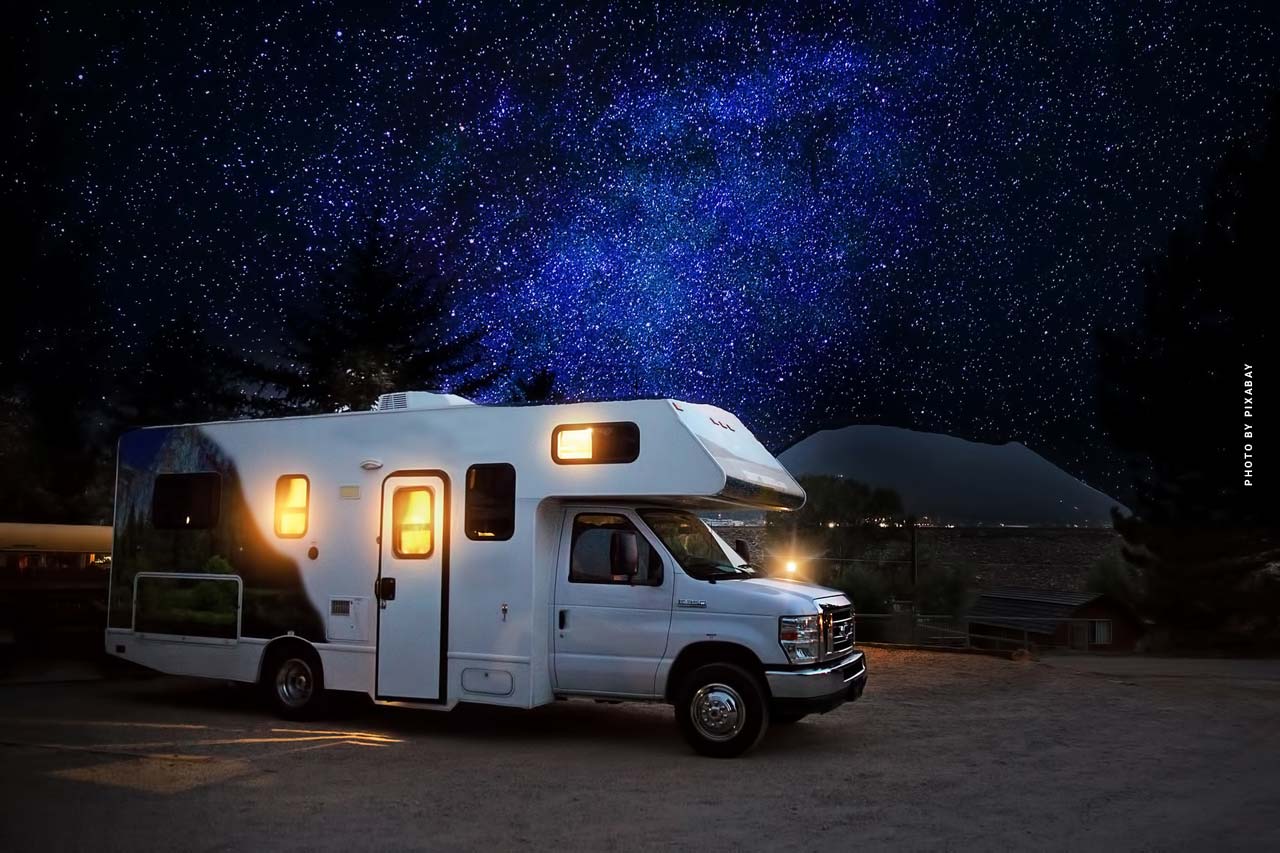 Valuables storage: safe, fanny pack or good hiding place
Whether in a tent, caravan or your own camper van – you often travel with valuables that you want to store safely in your accommodation. There are of course enough people who simply resort to the old trick and hide their cash in their socks. But some people prefer a safe for the motorhome, in which you can safely lock up everything important.
The easiest solution is to reach for a box that can be locked. Then you should not lose the key in any case! My personal tip is to always carry your valuables with you. A fanny pack is a good idea for example when camping, and especially at festivals, to carry your most important souvenirs on your body. It doesn't bother you, looks good and so it is harder to lose your valuables or it is harder for pickpockets to get your money, your keys and your mobile phone.
Impregnate & Care: protect the tent
Is your tent and awning already impregnated? Especially before a longer trip it is important to impregnate the tent or renew the impregnation, because sunlight, weather, heavy rain and abrasion make an impregnation useless over time. It is therefore recommended to reimpregnate the tent every few years to avoid having to sleep in a damp sleeping bag when travelling. There are different products for impregnation, which must be used differently. You should also remember to clean and maintain your tent regularly. How exactly you do this, what is the best way to impregnate your tent and which household products are effective, you can read in the article Impregnation and care.
Dog accessories – packing list & tips
Who travels with his four-legged friend knows that man's best friend has at least as much fun camping as man himself. But of course you have to think of certain things if you want to take your dog with you on a journey. Whether it's out in nature or on the beach, sufficient drinking water and food are essential. A leash and the dog bed are also essential and you should always have enough toys and treats with you.
Especially when camping, a doormat can be very useful so that the dog can clean its paws a little before entering the motorhome. This saves a lot of work. If you also go camping in winter or take your four-legged friend on extreme expeditions, where it can get very cold, you should think about dog clothing. On a long journey a dog transport box can also be useful, so that the four-legged friend is a little more protected in case of an accident.
Another good tip is a hand vacuum cleaner, in case the dog takes some dirt in the camper. And for those who know what wet dog smells like and are bothered by it, there is anti-odour spray. This spray is completely harmless for humans and animals and removes unpleasant odours with the help of micro-organisms, so that you don't have to worry about dog odour once it has rained.
Checklist: Dogs on vacation
Packing list for the dog:
Drinking water, food – enough for the journey and the stay
leash – especially from campsites, where there are other dogs, this can be very useful
Dog bed – for good sleep, even when travelling
Toys – because a dog also wants to be kept busy when the owner relaxes.
Snacks – as a little reward in between
foot mat – so less dirt is taken into the accommodation
Dog clothing – in case it gets cold or you go on an extreme expedition
Hand-held vacuum cleaner – because sometimes some dirt does get into the tent or motorhome
Anti odour spray – especially in rain this spray can be very useful
Here you can find out more about Holiday with pets: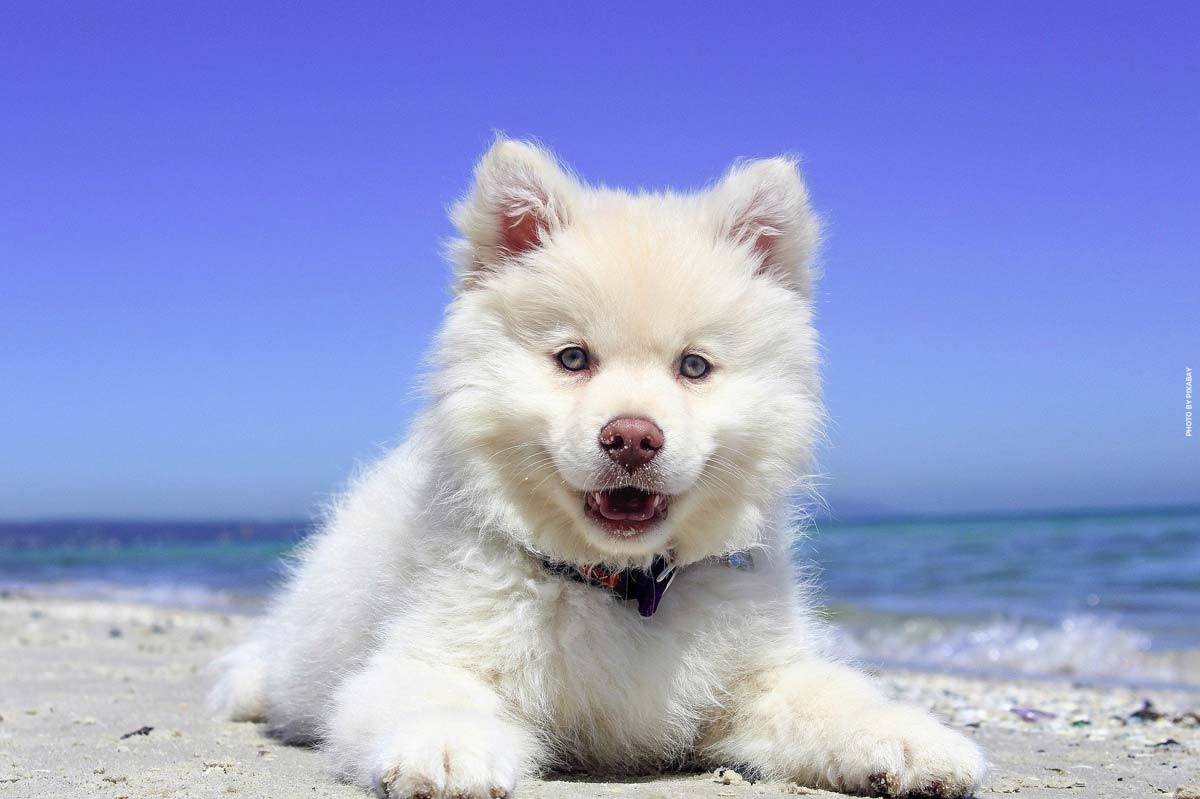 Camping equipment: novelties
The equipment you need for a camping trip is of course evolving year after year, and that's why we have summarized the most important camping news that will make your camping life easier. The best way to find out about the biggest novelties is to visit the tourism fair, travel fairs and camping fairs.
Novelties in camping: Top 5
Our top 5 camping novelties are:
An important novelty are solar showers – we think: The more environmentally friendly, the better! The solar showers have many advantages and are the cheapest camping shower option. Self-inflating mats and self-erecting tents are also new on the market. These new products save you a lot of time and effort and, when packed together, usually take up very little packing space.
The Cozybag is a sleeping bag that is also a blanket, jacket and coat. 4 in 1! The space saving one. Very important: comfortable camping furniture . Since you spend a lot of time on your camping chairs when camping, it can only be an advantage if they are comfortable. And last but not least: ultra light camping accessories. When camping, it is always important to take as light accessories with you as possible. With ultra-light accessories, you don't have to drag as much. Especially in your backpack you can see the difference.
So these are the most important novelties that you will definitely need for your next camping holiday:
Solar showers: Heat from the sun
Self-inflating mats and self-assembling tents: a time-saving investment
The Cozybag: sleeping bag, blanket, jacket and coat
Comfortable camping furniture – chairs, beds & Co.
Ultra-light camping accessories – perfect for backpacking.

Cooking, grilling & cooling while camping
If you think that camping is a way of eating canned food for weeks on end, you are wrong. From pasta with fresh sauces, to pancakes, to baked potatoes and bread. The best way to cook during the camping is with a gas stove and gas oven, thus one does not have to abstain from one's favourite food while travelling. Many campers also develop a certain love for barbecues during their travels; preparing and meeting together before the meal creates a special atmosphere. So you should always remember to bring enough spices and food. Those who stay at the campsite will probably have a supermarket nearby, so there is no need to go hamster shopping.
Our tip: campfire!
Find out where you can light a fire and if you can light one, use the atmosphere for stick bread, marshmallows and good stories.
What I also want to recommend is a good cool bag or a fridge in your motorhome. So the dish that was prepared on Wednesday can be eaten until Sunday. Besides, a cool drink in the sun tastes better than a lukewarm one. Many campers also prepare packed lunches for excursions, which often contain a smeared and sandwiched bread. This idea is very clever, especially if you are travelling with children who get bitchy when hungry. However, in order to be able to spread this bread, you must have the necessary ingredients in the fridge. So: shop and keep it cool, and then use it up when you travel.
Essential for cooking, grilling and cooling:
Gas stove, gas oven
Camping grill, coal and lighter
Spices and food
Good recipes
Outdoor knives & Tools: packing list
What do you need an outdoor knife for? An outdoor knife or survival knife can be used to carve wood or to work on fish and meat. With a Survival knife you can cut ropes, which you use occasionally when camping, and you can also cut a simple sandwich in half. When buying an outdoor knife it is important to consider the legal aspects, because a knife can quickly be classified as a weapon if it has a certain blade length. Outdoor knives differ in blade length, shape, robustness and material.
A few practical tools that you should also think of are a screwdriver, a hammer, a small saw, pliers, armour tape and a folding rule. Our tip is to buy a small toolbox, which will always stay in the caravan. So you can't forget anything and always have everything you need with you.
Checklist: Toolbox
Outdoor knife
Screwdriver
Hammer
Small saw
Pliers
Armor tape
Folding ruler
Brands: camping accessories
There are several major brands of camping accessories that most camping enthusiasts probably already know. The different brands have specialized in different types of accessories and therefore it is almost impossible to crown the best brand. The most popular brand for automotive equipment is Alko, the best heaters are produced by the company Truma and the air conditioners and refrigerators from Dometic are top of the line. The best roof tents are available from Campwerk. We have put together the best brands for various types of camping accessories for you:
Chassis technology: Alko
Heaters: Truma
Air conditioning systems and refrigerators: Dometic
Satellite system: Oyster
Solar plants: Büttner
Power generator: Honda
Toilet systems: Thetford
Accessory trade: Fritz Berger
Two-wheeler: Thule
Rooftop tents: Campwerk
Camping – Living and sleeping in nature
If you are planning to go on a camping trip, you should be well prepared. There are some essential things you should not forget at home. Whether you travel with the whole family or with your dog, for different holidays you need different souvenirs. But if you are prepared, your camping holiday will be a lot of fun, a great adventure and an unforgettable experience!
https://fivmagazine.com/wp-content/uploads/2020/02/ausblick-alpen-bergsee-sonnenuntergang-relaxen-auszeit-zelten-zelt-reise-urlaub-paar-single-tipps.jpg
853
1280
Lisa-Marie
/wp-content/uploads/2023/08/fiv-magazine-logo-news-influencer-fashion-interior-travel-real-esates.svg
Lisa-Marie
2020-04-15 09:31:05
2020-11-10 16:24:26
Living & Sleeping XXL: Camping in tents, caravans & camper