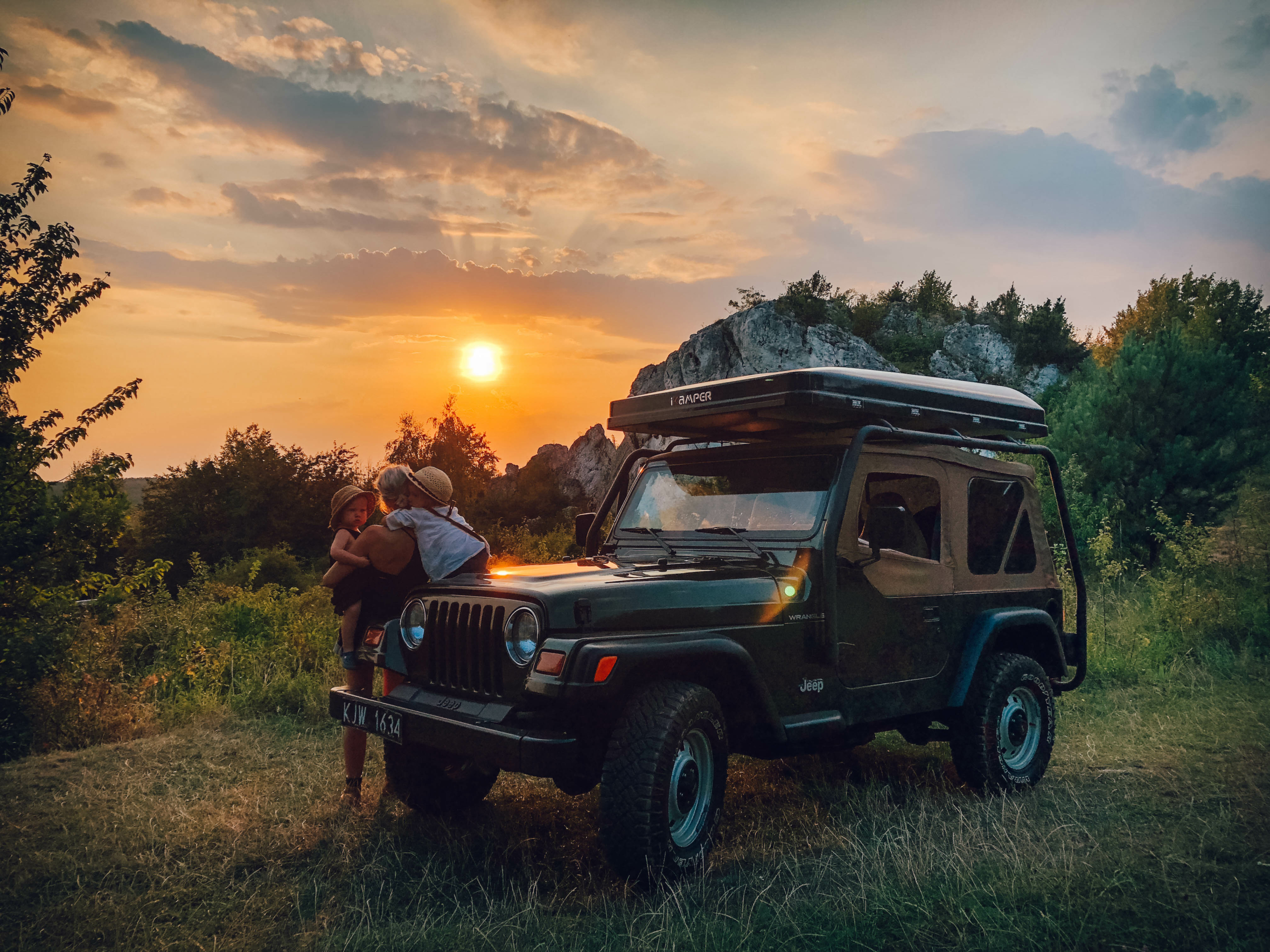 Roof tent 3, 4 or 5 persons (family): prices, manufacturer & setup for your car
Camping in a roof tent – Are you planning a camping holiday with the whole family? A roof tent on your car guarantees super easy handling, flexible travel and thus an uncomplicated holiday. The tent is already on the roof of your car and can be unfolded in a few minutes to form a comfortable living and sleeping area with room for 3, 4 or even 5 people. Here you can find out all about the setup, costs, advantages, popular manufacturers and frequently asked questions about the roof tent and get an insight into why a roof tent is the better alternative to the motorhome or camper van! Back to overview: Roof tent.
Roof tent: space for the whole family
Comfort in nature and space for the whole family! The holiday season is just around the corner and you are still looking for the right travel option for you and your loved ones? Then you should definitely think about camping in a roof tent. You are not only guaranteed pure relaxation, but also enough space for up to 5 people!
Here's a first quick evil look over the roof tent!
Flexible travel: Practical for every holiday destination!
When you think of a camping holiday, you usually think of a classic tent, caravan or motorhome, but a rooftop tent is much more practical, especially for longer trips! Whether you're heading to warm regions like Spain, prefer to stay in Germany at the North Sea or Baltic Sea, or prefer the cold, for example in Canada– no other sleeping option promises you such a degree of comfort and at the same time the feeling of complete closeness to nature as the roof tent!
Video: Camping with kids?!
You may think that a camping holiday with children is a lot of work and stress. However, especially in a rooftop tent, it's actually much more relaxing than a holiday in a hotel! Just because of the flexible and independent travel and day planning and the easy set-up, which is mainly fun, a camping holiday guarantees you a carefree and unforgettable time for the whole family!


FragranceTip.com by FIV
What should I consider with children and why is camping in a roof tent so unique? In this video you will learn everything about the roof tent and ten advantages that will convince you of a camping holiday with a roof tent and the family.
Extendable living space: add-on tent, awning, tent trailer
When sleeping on the roof of your car, you are closer to the stars than ever before. Because with enough space on a comfortable mattress, you have a direct view out of the panoramic window. Both in summer and in very warm temperatures as well as in winter when it's snowy and cold, a roof tent is a must-have for a carefree, relaxed and unforgettable camping holiday with the whole family! The whole thing can of course be extended by an awning or a tent trailer, which is attached to the back of the car and offers you an additional, flexible living space. This means you can use your time on the campsite to play games or cook a delicious meal in the camp kitchen!
Tip! You can also camp in winter without problems
Even though most people prefer summer and very warm places, more and more passionate campers are also drawn to various campsites around the world in winter. The numerous winter sports and winter landscapes alone make a camping holiday in cold weather worthwhile. Of course, it can get quite cold, especially at night. So that you don't freeze or catch a cold, you should definitely think about the appropriate equipment, such as a gas heater, an electric blanket and a seat heater, to be prepared for everything and still be able to enjoy the time on the campsite.

Roof tent family: 2, 3, 4 or 5 persons
So if you are looking for a holiday with the whole family, you will definitely find the right roof tent that guarantees space for all of you. Whether you are 3, 4 or 5 people – the right roof tent for your preferences can be found in any case. It should offer enough sleeping space for every member of the family and, if necessary, ideally also have an additional room for various uses.
Roof tent 2 – 3 persons: Travelling as a couple or with baby
If you are only travelling with your partner or you have your baby with you, then a smaller roof tent for 2 people is more than enough. It's best to opt for a foldable roof tent that you can simply mount on your Audi, Opel, BMW or VW. It is super easy to travel with two people and when set up, the roof tent not only offers you enough space to sleep in, but is also large enough for other uses, such as playing cards.
Read more about a roof tent for 2 people here:
Roof tent 3 persons: Holiday together with child
If you are travelling as a couple with a child or as friends, a slightly larger hard-shell roof tent is recommended. If the child is still quite small, the space of a two-man tent is perfectly adequate, but with a slightly older child you should go for a larger version. You may want to make sure that there is a partition wall so that the child has his privacy in between times, otherwise nothing stands in the way of a camping holiday with 3 people.
Roof tent 4 persons: Camping trip for four
Even on holiday with 4 people you can find the right roof tent for you! Larger roof tents often even offer two separate rooms, so that either two couples or parents and children can sleep separately in front of each other, but still be in the same tent. This allows you to spend the evening together and then retreat to your own private area.
Roof tent 5 persons: Camping holiday with the whole family
Travelling with 4 more people? A large roof tent is also super practical here, as it offers an enormous sleeping and living area that can be easily folded up during the day and on the road. There's even room for 5 people in the matching tent! But if that's not enough, you can of course extend the whole thing with an add-on tent or a tent trailer, so that parents and children sleep separately, for example, and everyone has their bit of privacy in the evening. Or the extended living space can be used to play games together, set up the camping shower and prepare a delicious meal for everyone using the camping kitchen. This means that even if you are travelling for several days or even weeks, you won't get bored on the campsite.
Advantages of a roof tent
A roof tent therefore offers enough space for every member of the family and is also super easy to set up into a comfortable sleeping area in just a few seconds. Therefore, it is the perfect companion for a weekend getaway or even a trip lasting several weeks and guarantees comfort, relaxation and above all fun on the road!
Large sleeping area for up to 5 people
Can be flexibly mounted on almost any car
Extendable living and usage area
No unnecessary transport / storage space
Easy handling
Assembly in seconds
Robust, waterproof and durable
Panorama window with a view of the sky
Window with mosquito net
Integrated ladder and mattress
Less expensive than motorhome / caravan
Assembly: Instructions in a few steps!
The roof tent is very easy to attach: it usually has at least two rails that are located at the bottom of the tent. With the help of these, the tent is simply mounted on the roof rack that is already attached to the car. You can get help with this from the seller himself or in the enclosed manual. If the height of your car is too high, you will need a forklift. Don't worry! This is no longer your job. Once the roof tent is attached to your car, you're ready to go! It doesn't take up much space on the road and is so small and inconspicuous when folded up that you almost don't notice it's there.
Once you're at the campsite and on the road, you finally need it and with a flick of your wrist, you can unfold it and have a fully equipped sleeping area ready for you.
Easy handling on the campsite
So if needed, it can be unfolded after a long, eventful day, whereby this only takes a few seconds and is done with a flick of the wrist, as everything is already positioned in the right position. The ends and entrance area now need to be secured and the ladder locked into place if required. Features such as the integrated mattress are already in place, so all you have to do is climb up and you're ready to sleep in a comfortable bed on your roof.
Here's how you go about setting it up:
Fitting the right roof rack to your car
Push the complete roof tent with at least 2 persons onto the rails
Fix the whole thing securely (the experts at the store can help you)
At the campsite: open the protective cover and detach it from the tent
Open the roof tent completely and secure the entrance area
Lock and climb the ladder
Roof load, mounting & fastening on the car
Even though a roof tent usually fits on every car, you should first determine the roof load of your car before you decide to get a roof tent. You can then get suitable roof racks that are mounted on your car. A roof tent weighs between 50 and 80 kg, so you should take this into account when choosing a roof tent. In general, a roof tent can be mounted on any car that is equipped with roof racks – you just have to consider and coordinate the roof load and the weight of the roof tent in advance!
Video. Set up roof tent for the family
If you are now interested in how the assembly of a roof tent exactly works and can not really imagine how easy the whole thing really goes, I have picked out the following informative video, in which you super understandable everything important is shown and explained what you need to know if you want to buy a roof tent.
FAQ: Everything about the roof tent
But now the only questions are: What is the best roof tent? How much does a roof tent actually cost and what should I look out for when buying one? In order to prepare you for your holiday with a roof tent and the whole family in the best possible way and to consider all aspects and information, you will now find all the important information on the subject of roof tents!
Buying a roof tent: How much does a roof tent cost?
Depending on the model, manufacturer, equipment and size, roof tents naturally also differ in price. If you are travelling with your whole family including children, a larger version for up to 5 people is definitely recommended. This way, each family member has enough space. For such models, together with complete equipment, such as mattress, ladder, mosquito net and so on, you should plan between 1,000 and 4,000 euros. Especially if you are on the road for a long time, you should take an additional tent or a folding caravan with you, especially with children. This way you won't step on each other's feet even if you spend several days at the same campsite and you can use the extra space for showering, relaxing, playing and cooking. However, you should also plan the corresponding money for this.
Prices for durable roof tents for 1 – 3 persons:
from 1689,- Euro
Prices for durable hard shell roof tents:
from 2.999,- Euro
If you are only on the road for a few days or a weekend, the appropriate roof tent and the existing basic equipment is usually enough. However, if you are planning longer trips over several days or weeks, you should definitely consider other helpful accessories that will make the trip easier.
What else should I think about? Accessories & Spare Parts
In the long run, buying a roof tent is not enough. Sooner or later, you will need additional accessories and spare parts for your roof tent. Even if most tents are already equipped with an integrated mattress, mosquito nets, a ladder and the most important features, you usually need additional equipment to enjoy a carefree and unforgettable time and to get the most out of your holiday with a roof tent.
Here are some essential accessories you'll find useful when holidaying with a roof tent, especially on longer trips:
Awning / add-on tent
Tent trailer
Awning
Inner tent
Protective cover / storm protection
Wall cabinets
Mosquito repellent
Where is it allowed to stand with a roof tent?
You can park your car and roof tent at any campsite and spend the night there. In addition, it is generally permitted in Europe to park with the roof tent in public parking spaces, so that you can take a break on the road at any time. Hard-shell roof tents in particular are designed in such a way that they do not protrude beyond the prescribed dimensions and are therefore permitted everywhere.
Which car for roof tent?
As already explained, a roof tent can actually be mounted on any car. As long as the roof load is at least 50kg, which is the case for most cars, there is nothing standing in the way of a roof tent on your car! Whether Audi, BMW, Ford and Co. – you only need the right roof racks and the roof tent can be set up and easily folded up if necessary.
Here you will find an overview of all car models that are definitely suitable for a roof tent for the whole family, no matter if 2, 3, 4 or 5 persons:
Audi
BMW
Ford
Jeep
Land Rover
Mercedes
Mitsubishi
Opel
Suzuki
Toyota
VW
Which is the best roof tent?
Depending on how long you are on the road, how many people you are travelling with and which regions you are visiting, one or the other roof tent model may be more worthwhile. Of course, there are roof tents from different manufacturers in different sizes and with different features. If you are travelling as a couple with your partner, you won't need quite as much space and can choose a smaller model accordingly. With the whole family you need a bit more sleeping and living space and in the best case partitions or separate rooms for a bit more privacy. Especially for very long trips, a robust and stable hard-shell roof tent is recommended, whereby you should make sure that the most important features are already available.
You should keep this in mind when buying:
How big should the tent be so that all family members have room?
Hard shell: Yes or no?
Is the roof tent stable, robust and durable?
Do I need partitions / separate chambers?
Does the roof tent have an integrated mattress and ladder?
Do I need an additional inner tent, mosquito net, protective cover & Co.
Do I want a matching extension tent or awning?
Manufacturer and brands – Tips!
Airpass, Autocamp, Campwerk, Darche, iKamper & Co. – Since camping with your own car and a tent on top is becoming increasingly popular with young and old, there are also a variety of roof tent manufacturers. These differ in appearance, design, equipment and size of the roof tents. However, they all aim to guarantee you enormous comfort, easy handling and, above all, fun during your camping holiday.
Here you will find a detailed list with further information about the different manufacturers:
Among the most popular manufacturers are:
Airpass
Autocamp
Autohome
Bundutec
Bush Company
Campwerk
DTBD Outdoor
Darche
Front Runner
Howling Moon
IKamper
Treeline
Tuff trek
Alternative to the motorhome / camper van! Cheaper & more flexible
A roof tent is not only better compared to a motorhome, but also compared to a camper van! First of all, with a roof tent you are much more flexible on the road. You can use your car normally, drive as fast and as far as you want and park in even the smallest parking space without any problems. When folded, the roof tent takes up no space and is not even noticeable on the roof of your car. When folded out, however, it offers you a true "space miracle" that is not only enormously large, but also super comfortable! In addition, the price is also very convincing! While you have to calculate between 35,000 and 40,000 euros for a motorhome and camper van, just for the car, a roof tent costs you just 1,000 to 4,000 euros with all the trimmings.
A roof tent is also convincing in comparison to a self-built camper van. It is not only much cheaper, but also associated with much less stress and effort! A van you must first laboriously over several weeks and put quite a bit of work and money into it, while you can go directly with a roof tent.
A roof tent offers you these advantages:
Less expensive than motorhome and camper van
More flexible travel is possible
Space in the parking space / on each parking space
No restrictions in driving speed
Easier to drive (hardly noticeable on the roof of your car)
You can drive off directly at any time and start your vacation
Much less effort than self removed van
Popular destinations for the family
Of course, everyone should get their money's worth on a family holiday. Therefore, a camping holiday should ideally offer a mixture of relaxation, action and beautiful nature! With a rooftop tent, you can travel to several different regions and make a stop at will to get the most out of each location. You can comfortably spend the night at a nearby campsite and start the day early the next morning.
These are the top 3 destinations for a family vacation:
Resin
Chiemsee
Baltic Sea
Harz: Walks, legends & idyllic nature
You don't have to travel too far for the beautiful, completely rural Harz Mountains. Germany also has beautiful places to camp. The Harz is legendary and yet naturally beautiful. The famous Brocken, mighty mountains, the charming town of Wernigerode and much more await you! But also the myths and legends around the Harz are very appealing, especially for children. In the evening you have enough possibilities to spread out your sleeping place.
Read more about a holiday in the idyllic Harz mountains here:
Chiemsee: Sightseeing and swimming holiday
If you're looking for a mix of picturesque nature, charming sights and exuberant swimming holidays, then Lake Chiemsee in Bavaria is the place for you! A holiday around Lake Chiemsee or on one of the islands of the popular lake guarantees you an adventurous and eventful holiday. Whether it's boat trips, walks, hikes or sightseeing – there is definitely something for every member of the family!
Here you can find out everything about a holiday at Lake Chiemsee:
Baltic Sea: Beautiful nature, swimming in the sea and fun
Also a great holiday destination for families: the German Baltic Sea! The Baltic Sea coast is one of the most popular destinations in Germany. Alone because of the picturesque bays, exciting sights and idyllic landscapes, numerous tourists come here every year. Whether directly on the beach, on an island or in one of the beautiful places near the sea – on a holiday at the Baltic Sea all visitors, no matter if big or small, have a great time. Of course, you can also camp everywhere perfectly and enjoy the nature until the evening hours! Among the most popular destinations are the Baltic Sea islands of Usedom, Rügen and Fehmarn.
Read more about a Baltic Sea holiday with the family here:
Roof tent for singles or couples
If you need some togetherness and simply want to switch off from the stressful everyday life, a holiday for two is also recommended! A romantic holiday along the most beautiful, idyllic places, where you can sleep every night simply flexible on the roof of your car. A smaller, foldable tent is definitely enough for 2 people. What you have to consider and what the most beautiful destinations for couples (and roof tent) are, you can read in this article:
https://fivmagazine.com/wp-content/uploads/2020/07/Camping-Dachzelt-Outdoor-Offroad-Abenteuer-Sonnenuntergang-Familie-Kinder-Urlaub-Reisen-scaled.jpg
1920
2560
Lisa-Marie
/wp-content/uploads/2023/08/fiv-magazine-logo-news-influencer-fashion-interior-travel-real-esates.svg
Lisa-Marie
2021-03-04 11:48:40
2021-07-17 17:07:51
Roof tent 3, 4 or 5 persons (family): prices, manufacturer & setup for your car