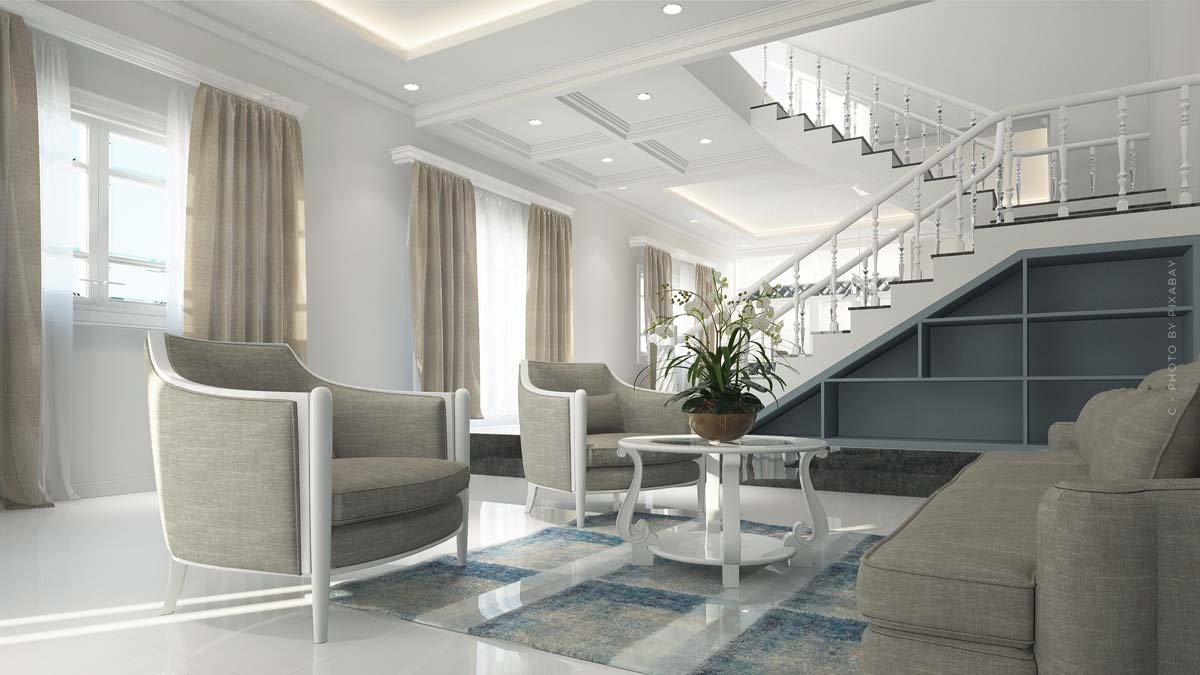 Furnishing Brands Guide: 30+ designers and brands for the perfect furnishing from A-Z
Furnishing Brands Guide – The furnishing of a property, no matter what type of apartment or house, is something very special for many people: It reflects you and makes your home your favorite place, where you feel very comfortable and where everything is just the way you like it – whether furniture, accessories or your own decorating style. Whether you're in the process of furnishing your new apartment in an old building or want to completely redecorate your family home, the questions of what to choose and how to put it together are central. We've put together a guide of some of the most popular and luxurious interior and furnishing brands for you, so that you can find exactly the label and exactly the furniture and home accessories you're looking for for your next interior – among others, you'll find Fendi Casa or Dior Maison here. Or you can simply let yourself be inspired by the ideas and concepts of the professionals and collect ideas for your next remodelling project!
Interior Guide: most popular interior brands & designers
The market for furnishings and interiors is huge and the offer accordingly almost overwhelming. Whether basement apartment, loft, maisonette or even the small apartment: the right furniture, decoration and furnishings must be found!
To give you an overview of some of the most popular, tasteful and luxurious interior design brands and designers, we've put together this guide for you. Here you will find brands like Boca do Lobo, Brabbu, Fendi Casa or Versace Home – all in alphabetical order and with a short summary of the brand, as well as a link to the corresponding detailed article, in which the brand is presented to you in detail. Get inspired and find your new favorite brand for furniture and interior design!
Tip. All luxury brands for the perfect interior from A-Z can be found in our comprehensive XXL article furnishing brands!
Armani Casa: furniture and decoration of the famous designer
Girogio Armani: one designer, three dimensions of design. Giorgio Armani knows how to succeed with his design and sales talent. In addition to his fashion and accessories line, he has been shining with the elegant interior line "Armani Casa" since 2000, and not only in the fashion world. Tradition and innovation combined – this is the philosophy of the interior house. From furniture creations for the whole house to exquisite lamp designs and exotic wallpapers – his interior line offers something for every design lover, for example for the modern loft or penthouse. Below you will find an overview of the history of Armani / Casa, the characteristics of the design and the most popular pieces of the collections. Armani does not create fashion or furniture – Armani creates a lifestyle. Welcome to the Armani world!


FragranceTip.com by FIV
Bentley Home: Furniture & Quality in a class of its own
The British brand Bentley stands for luxury and comfort. It reflects the glamour and glitz of the royal family of the United Kingdom. Through high-priced luxury cars Bentley already convinces for more than 100 years in the automotive industry. The Bentley brand is associated with quality and the world of the rich and beautiful, and accordingly offers high-priced furniture for maisonette apartment or even the charming old apartment, but also for villa or holiday home. Since 2013, Bentley has also been trying its hand in the interior sector, where it convinces with its unique and high-quality design. The interplay of wood and leather also succeeds in the interior area and underlines the image of the brand excellently.
Boca do Lobo: Handmade in Portuguese design
Literally, the name of the label means "mouth of the wolf". In the meantime, however, the term has become synonymous with high-quality designer furniture in creative designs. Since 2005, the label has dedicated itself to the modern interpretation of old manufacturing techniques of furniture. Each piece is handcrafted with the utmost attention to detail, these pieces look great in a mix of styles with old building apartments, for example. Find out more about the individual products and what you can expect from the label in this article.
Brabbu: High-end design for living room and bathroom
Brabbu is one of the most prestigious and luxurious companies in the field of interior design and furniture. Brabbu is a well-known Portuguese company that manufactures furniture and decor elements to decorate any living space – whether it's a living room, bedroom or even bathroom. They are masters of fabrication through years of tradition and use only high quality and environmentally friendly materials to guarantee excellent quality of the final products. Brabbu, like many furniture design brands, are always hiring new designers to create individual and unique furniture pieces for their collections, always offering customers something new and exciting. Furniture and accessories can be found for every room in the house, be it shelves, tables, sofas, armchairs, mirrors, or, or, or…Let yourself be taken into the interior world of Brabbu here!
Bretz living dreams: velvet, colourful sofas, armchairs and more
Colourful designs paired with the highest quality of a traditional family business? That's what you'll find at Bretz! Even though this company is a long-standing family business, the designs are anything but traditional and out! Bright colours, artistic patterns and innovative shapes as well as materials that promise the highest comfort are real highlights for your apartment, the attic apartment or even the terrace apartment!
B&B Italia: Interior dreams in exclusive quality
B&B Italia: This company is no longer only known in Italy, but also internationally. Also in the German living rooms, the interior luxury company B&B has already moved in. But not only in apartments like lofts or penthouses the furniture like armchairs and sofas of B&B look good, also public facilities like restaurants and offices shine in the timeless elegance of the interior brand. Modern design with high recognition value and reliable customer service: B&B Italia is the perfect brand for lovers of exclusive luxury furniture.
Cassina: Upholstered furniture in a class of its own – sofas, armchairs & co.
Cassina Furniture : The brand aims to bring contemporary design into everyday life. Whether at the desk, in the dining room or on the sofa, the label equips you with furniture that elegantly fits into a modern home without looking out of place – whether it's a villa, a bungalow, a granny flat or even a flat on a floor. In this way, they enhance the living and working environment. In addition, Cassina also has experience in furnishing professional working environments in an elegant, contemporary and budget-friendly way.
Circu Magical Furniture: Romantic furniture & playful designs
"Parents also have dreams": with this motto, the furniture company not only has furniture like from a child's dream world in its range, but also beds, chairs and co. for the grown-ups and the little ones in the family. Nevertheless, the focus of the furniture manufactured in Portugal is on furnishing children's rooms. Here we present both collections and show you our favourite pieces by Circu, which makes every child's and parent's heart beat faster with loving, detailed and enchanting furniture such as an armchair as a hot air balloon. See for yourself!
Dior Maison: lamps, furniture, decoration and useful items from the maestro
Dior Maison: Under this name, the fashion house Dior sells interior design from small to large. Christian Dior had his very own ideas about how a home should look. The collection puts a lot of emphasis on offering objects for daily use instead of pieces that only serve as decoration. Therefore, the range includes furniture and cushions, as well as hobby materials and small items for children. The furnishing highlights are suitable for all types of apartments and houses, but especially for modern properties such as lofts, penthouses and more.
Edra: Italian design for the living room with quality
In the late eighties, the journey of the small company started with the aim of revolutionizing high quality luxury furniture. What didn't exist yet was created and detailed with the help of the masters of their trade. To achieve their goals, the architects of Edra are not afraid to draw inspiration from other fields, such as space travel. This is how the pieces of furniture from Edra get that special something. The furniture is not only to be found in private homes such as penthouses or spacious apartments. Many exclusive restaurants are equipped with the versatile creations and the innovative, exciting ideas have led to the fact that the designs are also displayed in museums.
Essential Home: Mid-Century furniture and decorative items
Have you ever noticed that whenever we talk about interior design, we are very quick to use feeling adjectives to describe our surroundings or our ideal environment? We want it to be cozy, we want it to feel homey, and we don't want the space to feel too unfriendly. Just like these aspirations we convey when talking about interior design, the Essential Home brand paints a very clear picture of itself with its name. The offer should be – as the name itself says – essential pieces that you need in your own home and should also help to create a home at the same time.
Fendi Casa: Furniture in bright colours and straight designs
Fendi Casa: The journey of the label's furniture collections began in 1988, making them an absolute pioneer for luxury fashion labels in the furniture sector. The resulting decades of experience ensure that the furniture pieces by Fendi Casa are particularly high-quality and exquisitely designed. Furniture for every room and insights into the collections we offer you in this article. There are also insights into the Fendi suite in Rome.
Gucci Décor: Wild prints and bright colours for interiors
The flair of Roman villas and the kitsch of the seventies are combined in the interior line of the renowned fashion label Gucci in unique interior design. This creates a whole new aesthetic that distinguishes the creations of Gucci Décor. Unusual candles and wing chairs with the Gucci monogram: here you are offered things you didn't know you needed. Gucci's emphasis here is on richness: lots of colours, bright fabrics, combinations of materials and colours that will take your breath away. Gucci Décor creates furniture, wallpaper and accessories such as cushions or blankets in a unique and wild style that exudes its own unique charm. These products enhance any property, no matter what type of home or house!
Hérmes Interior: exclusive furnishings, blankets & cushions
The birthplace of the Birkin and Kelly Bag has a reputation for the exquisiteness of its designs and the materials used. The label's interiors are no exception. On the contrary, those looking for refined design and unique carpentry will find it at Hermès. In addition, the label offers services for the personalization of products. Characteristic and the absolute bestseller of the furnishing line of the renowned fashion house are cushions and blankets with the famous "H" monogram, which adorns the pieces woven, printed or embroidered.
Joop! Living: Elegant, simple furniture from the star designer
The Joop! brand was able to make a name for itself in the 80s with men's and women's collections. It stands for timeless elegance and was awarded several times for its particularly good fabric quality, which all parts have. In the early 2000s, the famous German designer Wolfgang Joop founded a second brand called Wunderkind, which he owned until 2017. After Joop! had great success, he also started to design home textiles with his brand Joop! Living, which would bring the same quality into everyone's home as it is processed in his fashion. In the meantime he also designs furniture for several parts of real estate, no matter if it is a maisonette, a penthouse or an apartment.
Kartell: Italian minimalism for chairs, lamps & co.
Minimalist, modern design is just right for you and your home? Then Kartell is the right choice for you. The traditional brand will convince you with new technologies and transparent designs and bring a very special flair into your home – no matter if it is a large loft or a small apartment. Get one of the famous bestsellers by Kartell like the Componibili or discover the world of wonderful lamp designs – high quality made in Italy.
Luxxu: Elegant lighting and modern design
Modern Design & Living: elegant, timeless and luxurious. These are terms that one associates with the Portuguese interior design brand. Especially the famous Waterfall and Empire Chandeliers are trademarks of the company. But also with the at the same time timeless and modern dining chair "Charla" you can't go wrong in your own home. The Luxxu range is large and versatile. In addition to a wide range of lighting and furniture, you can also find outdoor and other decorative items at Luxxu. Looking for the perfect inspiration for your interior? You'll find it here!
Maison Valentina: Luxury bathroom with bathtubs and much more.
Comfort, luxury and exclusive designs. These are the main goals of the Portuguese design brand "Maison Valentina". Why should you live your luxury lifestyle in the house, but stop in the bathroom? The company has asked itself this question and therefore designs exquisite and sophisticated bathroom furniture. Whether it's a bathtub, washbasin or matching accessories. Maison Valentina offers a wide range of glamorous furnishings.
Design your handmade unique piece together with the professional experts and let your bathroom appear in a new splendour. Maison Valentina works in close collaboration with Brabbu Design Forces. Dare and try something new! You won't regret it.
Minotti: Timeless design – beds, sofas and armchairs from Italy
The label tries to combine modern design with high-quality materials and timelessness. To put a piece by Minotti in your home is not only an expression of good taste, but also the promise that you really love the object, because you won't have to buy new furniture that quickly. This is guaranteed by the great workmanship and the exclusive, processed material, because only the best metals and woods have the honour to be processed for a furnishing object by the label.
Moooi: Lamps and rugs – highlights for every room
Extravagant, Dutch design ensures the success of the premium label. Functionality and fancy unite in the furnishings of the design collective. Moooi is the Dutch word for 'pretty'. But you can say without a doubt that the brand's furniture is more than just that. Namely, sophisticated, masterly craftsmanship and true eye-catchers – see for yourself!
Off-White Homeware: Blankets, Pillows and Pyjamas
Off-White Homeware: The own label of fashion designer Virgil Abloh, creative director of the haute couture label Louis Vuitton, has already firmly established itself in the street fashion sector. But taking the fashion world by storm doesn't seem to be enough for the architect from Rockford, Illinois, because now he's also trying his hand at interior design with home accessories such as cushions, blankets and pyjamas. What else there is to discover in the collection, you can find here summarized at a glance.
Poltrona Frau: Italian sofas & beds with tradition
For over a century, luxury furniture such as the famous Archibald armchair has been designed and manufactured with Italian charm. The renowned furniture label has not lost any of its innovation and elegance. After more than one hundred years, Poltrona Frau is now undoubtedly one of the most excellent and sought-after Italian luxury brands when it comes to interior design. What the brand has to offer, what its design language looks like and what makes Poltrona Frau so special and exclusive – you can find out all that here! Let Poltrona Frau inspire you for your next interior design project.
Ralph Lauren Home: Blankets, Glasses and More from RL
Sweaters, hats and coats – everyone knows Ralph Lauren fashion! But what about Ralph Lauren's interior range? Do you know the designs of the homeware like cushions, dishes or towels? No? Then it's about time you did! In the Ralph Lauren Home range you will find numerous items categorized by rooms such as kitchen, bathroom or bedroom. In addition, you will also find perfect gifts for collectors, decor lovers or interior design enthusiasts!
Roberto Cavalli Home: animal prints and wild patterns
Roberto Cavalli Home: Since 2012 the famous fashion designer Roberto Cavalli also designs furniture and other interior objects. The objects are manufactured with the help of industry experts and thus guarantee the highest quality paired with exquisite designs. The designer's furniture is also characterized by the animal patterns and special applications for which the fashion designer is known. Find out everything about the luxurious, unique and extraordinary furniture and home products that Cavalli designs to give your home that little bit extra.
Roche Bobois: Bright colours & modern design
Roche Bobois: The epitome of innovative, creative and exceptional design. The French interior company inspires its customers with sculptural aesthetics, colourful creations and geometric and graphic masterpieces. The company's unique philosophy, love of quality and detail, and focus on creative collaborations has made Roche Bobois one of the up-and-coming interior houses in the 21st century.
Wondering what the hype is about bubble couches? Are you interested in what Roche Bobois stands for? You want to know which design pieces would complement your home perfectly? This and much more will be revealed to you in the following paragraphs! Welcome to the colorful world of Roche Bobois, where minimalism coexists undisturbed with maximalism!
Rolf Benz: Furniture with comfort in design from Germany
Are you looking for timeless design that is worth investing in? Then you've come to the right place. Rolf Benz inspires the interior world with its minimalist aesthetics, its love of comfort and its innovative creations. Are you interested in how a German furniture company has gained an international foothold in the interior world? Would you like to know which pieces of jewellery are worth investing in? All this and more will be revealed to you in the following article. Welcome to an interior realm where two worlds meet and harmonise perfectly – comfort and design!
Tiffany & Co. Home: Porcelain and home accessories
Many know the jewelry of the luxury brand, especially the engagement ring in the famous turquoise blue box. But Tiffany can do more than just chains, rings and bracelets. Not only pendants are made of precious silver, but also bowls and cutlery. Finest porcelain in colorblock look will also be a real eye-catcher on your dining table! Tiffany Home has this and much more in its repertoire, read for yourself and let yourself be enchanted and inspired by the enchanting collections! Rolf Benz combines modern zeitgeist and revolutionary thinking and breaks with traditional furniture arrangements. Numerous awards and won awards testify to the international success.
Vera Wang Home: Furniture with minimalism & elegance
"Home is a feeling, not a place!": the interior jewels by Vera Wang combine a modern aesthetic, modern minimalism and elegance to create the ultimate feeling of "home". Whether it's silky-soft bed linen, glass vases, plates with floral patterns or purist pillows – Vera Wang knows how to inspire the fashion world and fulfil its interior desires. What does the signature of a designer for wedding dresses look like for interior items? What is the price range for Vera Wang home articles? How the fashion designer herself lives in her homes? All this and more will come to you in the following paragraphs. Welcome to a world of minimalist design and maximum style!
Versace Home: furniture, bed linen and wallpaper with opulence
Magnificent design, Medusa symbol and Italian charm? No one other than Versace knows how to create such luxurious and unique products with these characteristics. Gianni Versace laid the foundation for the fashion empire, Donatella Versace has created a lifestyle empire out of it. How Versace interior came to be? Which products are offered? In which price range one moves here? What are the hallmarks of the luxury brand? All this and much more will be revealed to you in this article! Welcome to the luxurious world of Versace!
Vitra Living: Home collections by great designers
Living room, bedroom, study, kitchen: you think your home could do with some new furnishings? Then take a look at Vitra Living! Here you will find chairs, desks, chairs or vases in contemporary design. The architects and designers of the Swiss company work to turn your own four walls into your personal dream home. Transform your home into your own feel-good paradise in no time at all.
Wittmann: Excellent armchairs, stools and other furniture
The Austrian upholstered furniture brand attaches great importance to carefully selecting and processing materials so that only the most exclusive upholstered furniture is created for your home. With this in mind, the company has been producing high-quality upholstered furniture for over 120 years and still operates as a family business today. However, it was not until after the Second World War that the production of designer furniture began, which continues to this day.
https://fivmagazine.com/wp-content/uploads/2021/01/interior-brand-guide-liste-enrichtung-designer-marke-haus-wohnung-einrichten-moebel-sofa-bett-interiordesign-inneneinrichtung.jpg
675
1200
Lisa-Marie
/wp-content/uploads/2023/08/fiv-magazine-logo-news-influencer-fashion-interior-travel-real-esates.svg
Lisa-Marie
2021-01-01 09:00:49
2021-07-17 17:36:17
Furnishing Brands Guide: 30+ designers and brands for the perfect furnishing from A-Z