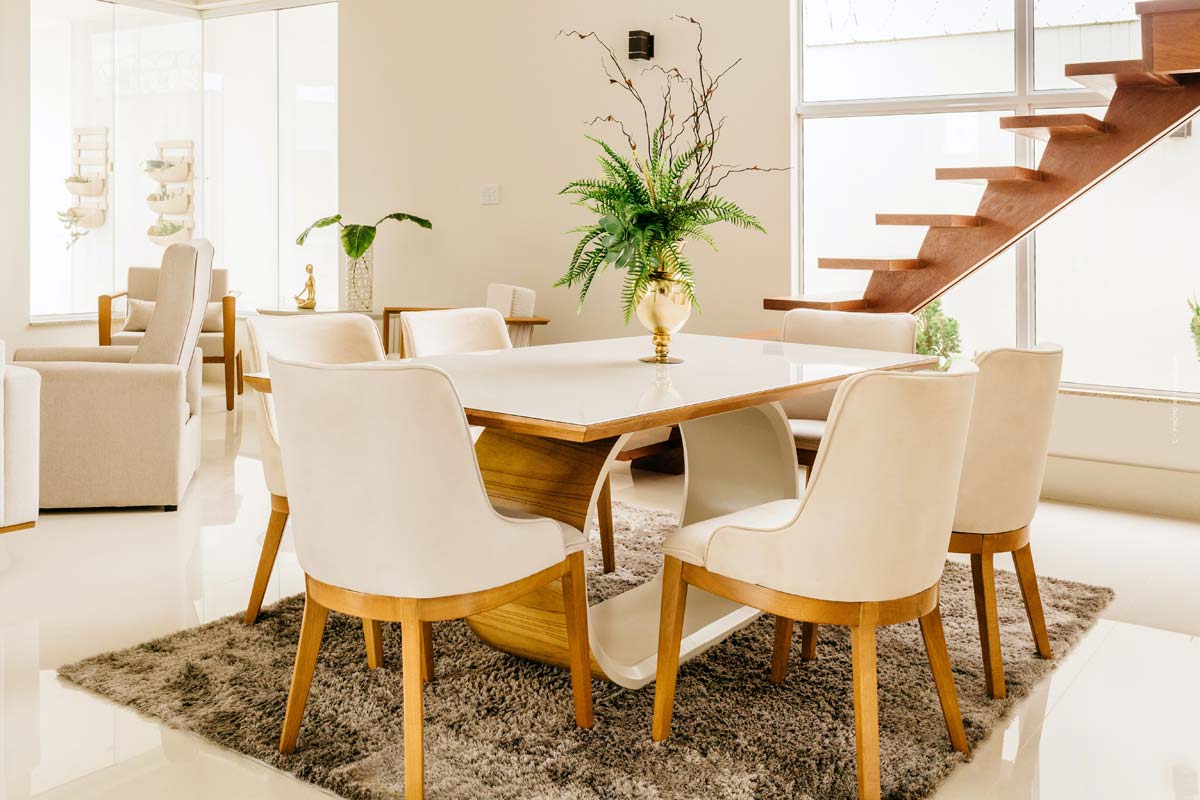 Dining Room Furnishings: Chairs, decoration and the right lighting for dining at home
Dining room furnishings – Next to the living room, the dining room is the center of gathering in the apartment and the place where you and your guests spend relaxed evenings in convivial company. But what do you need in your dining room? Furniture, decoration, flooring, lighting? How do you turn your dining room into a place of absolute well-being? With the help of our tips and tricks, you can find the right furniture, such as benches, or the right tiles or flooring for your small or large dining room! Back to overview: Room furnishing. Tip of the editors! Interior trends and styles presented at a glance: Interior Styles.
Dining Room Furnishings: Benches, chests of drawers and chairs
If you're lucky enough to have your dining area in a separate room, it's best to place your dining table in the middle of the room. You should use all the space available! A display cabinet can hold all of your decorative objects.
Storage space is also needed in the dining room: With a low chest of drawers you have a place for dishes and other things and still have a clear view of the wall, where you can hang pictures, for example. Alternatively, you can also use a sideboard. You can be very flexible with a serving trolley. Shelves on the wall offer you the possibility to place the right utensils.


Germany - Spain - USA
Tip! Popular and luxurious interior brands and furniture are presented here: Interior Brands XXL!
Dining room favourite: bench – classic and space miracle
Whether the classic model or a corner bench. Benches enjoy great popularity in the dining room. With or without backrests, these can be placed anywhere and can be spruced up with cushions. The seats can often be folded up and have an empty space that can be wonderfully used to store items.
Chairs: wicker, plastic or upholstered? Countless possibilities
The chairs in a dining room not only influence the look and atmosphere of a dining room to a large extent, but they also have a very practical purpose: seating comfort. So the motto "form follows function" is not too easy to follow in this case. When choosing chairs for your dining room, you should first and foremost have the plan of the "big picture" in mind, i.e. how you want your dining room to look in the end. It doesn't matter if you want it to be charmingly colourful or if the dining table, decorations and chairs should match exactly – there are no limits to your creativity. However, you should never choose chairs only for their appearance, but also for their comfort, because no one likes to sit on an uncomfortable chair.
Materials: Indoor and outdoor – wood, marble, plastic, glass & co.
Wood is probably the most popular material in the dining room. In various surface designs, it convinces with its warm appearance and pleasant feel. Other materials that would be a popular choice for your dining room are chrome or plastic. Plastic is particularly well suited for outdoor use. Chairs made of plastic are a good choice for the garden or the terrace due to their high weather resistance.
Flooring: Tiles – floor and wall in different patterns
With their high resistance, tiles are ideal for withstanding the stresses of everyday life. They blend in perfectly with the décor of the dining room. Floor tiles or wall tiles? Or both? How do you want to furnish your dining room? Easy to clean, the tiles do not require time-consuming maintenance.
Tile types: Optics, material & Co.
Whether wood decor or stone look, different types of tiles are waiting to be discovered by you. Wall tiles can be applied as colour gradients or murals. The size of the room should not be ignored when choosing the tiles. While large rooms can also be wonderfully equipped with dark tiles, small rooms are best set in scene with light tiles.
Lighting: Lamps for the right light
To ensure that you have everything in view in the dining room and can admire your food in the right light, the dining area should always be well lit. A pendant lamp that also functions as a ceiling light should be mounted directly above the dining table. The best solution is to choose a height-adjustable lamp.
It becomes particularly noble with a chandelier. Large rooms can be decorated by this and give this a royal ambience. Dark corners in the dining room are best illuminated by floor lamps with warm light.
If you have integrated the dining area into the living room or kitchen, make sure you have dedicated lighting for it. Dedicated lighting makes the area look inviting and the table can also be used for other activities.
Colours and wall design: red, blue or green?
Red, orange, blue – the right choice of colour is also of enormous importance in the dining room. Red is a particularly popular choice when it comes to the wall design of your dining room. The color of passion and pleasure has an appetizing effect and thus promises a particularly delicious taste experience.
Have you ever paid attention to this? A lot of the restaurants are painted in red. Red is not only a feast for the eyes, it is also supposed to make the food taste better. You should counter the exciting and stimulating color with calm elements. An example of this would be plain seat cushions in white, grey, black or silver.
The classic interior design is the red salon. Inspired by the baroque style, the deep red and berry-coloured walls are complemented by flowers, curtains, paintings and mirrors. Velvet, damask or crystal are particularly popular due to their unique texture and feel. Those who prefer something lighter but still strong should opt for a radiant orange.
Appetite suppressant and fresh tones – effect of blue and green in the dining room
Blue and purple, on the other hand, have an appetite suppressing effect. Dark blue gives your dining room a dramatic and glamorous look. This look can be accentuated with velvet upholstery, silver and candles. The whole thing is harmonized by light wood furniture and bring a modern contrast.
Fresh and natural, you get this look with green tones. While yellowish green tones have a vitalizing effect, bluish tones appear balancing. Dining in this dining room can become a picnic in your own 4 walls. The green walls can be combined with wooden furniture and accessories in muted or more striking colours such as orange or red.
If your dining area is in the same room as the living room or kitchen, you can separate this area by colour. The harmony should be taken into account here: this depends on the cut of the room and the lighting.
Our tip: The less natural light falls into the room, the lighter the wall colour should be.
Decoration: Setting highlights – With flowers, candles and more
To make the dining room your ultimate feel-good area, it's important not to forget the right decorations. The accessories and decoration is an area that you should design according to your individual taste. Murals, photos, vases and bowls will complete the look of your dining area.
Nevertheless, the rule also applies here: More is not always more. Even if decoration has a soothing effect, it can also quickly make your dining room look cluttered.
Do you still have precious heirlooms from your family at home? Then showcase them in the dining room! In showcases, antique pieces can be placed clearly visible and become a real highlight.
Table decoration: candles, flowers or Christmas decoration
The heart of the dining room is the table. When eating, the rule is: The eye eats with you! Accordingly, the right tablecloth can also sweeten the meal. Linen and damask are particularly popular materials when it comes to the tablecloth. For everyday use, table coverings made of cotton can embellish the table. Floral decor in all sorts of colors will add a festive touch to your menu. Candlesticks will make your room homely. Round off your decor with a tray. Various decorative items will find their place here.
Seasonal decorations such as Christmas market or Easter decorations are particularly popular. Advent wreaths at Christmas time and colourful eggs at Easter time.
Carpets: functional decoration under your feet
A carpet serves not only as a soft base for the feet, but also as a beautiful decorative element. It makes the room appear warmer and can act wonderfully as a splash of colour. However, especially in the dining room, an easy-care carpet should be purchased, which is easy to clean. Crumbs, stains and food residue should be easy to remove. Along the way, this can also act as a sound barrier: Noises caused by moving chairs are dampened by the fabric.
Tips for small dining rooms: space-saving, but stylish!
Especially the owners of small dining rooms or people who only use a small niche in the apartment as a dining area are faced with a challenge when it comes to skilfully setting the scene in this area. Which furniture and accessories should you go for and what should you do without? We now present the ideal solutions for the feel-good factor at the dining table.
Rectangular tables to fold out for several people
The dining table is usually the central point of the dining room, so it should be chosen wisely. To make the room look bigger, you should choose light materials. Oak, beech or pine are the best examples. Glass tables seem weightless and spacious. Rectangular tables take up as little space as possible, while round and oval tables take up much more space. Fold-out tables can be folded up again if required.
As a rule, a table for 2 people should be 80cm long, for 4 people 120cm and for 6 people 180cm. The table should always be placed with one side against the wall, 20cm space should be left between this and the table. The long edge of the table should always be parallel to the long side of the room.
Chairs or bench? This is how you save space!
Dining room chairs should be flexible and efficient. How about an upholstered bench, compact stools or high-quality folding chairs? Another alternative are filigree chairs without backrests with slim legs and an open back. Chairs based on this design look as if they disappear into the room.
Add light to your dining room: Corner lights, ceiling lamps and more
The more light that falls into the room, the larger the room appears. To create as much light as possible, you should proceed according to the following lighting concept: First, you should provide direct area lighting, perfect would be a pendant light above the dining table. The next step would be a matching ceiling light. Accent lighting such as corner lights will round out the lighting concept of the room. The light should be chosen in a warm white.
Bright colors and contrasts for optical magnification
How do you make a room look bigger? The answer: with bright colors! Rustic and cosy? You can achieve this style with yellow or orange tones. Another tip to give the room optical width are mirrors. A framed mirror behind the dining table breaks up the colour scheme, the refracted light makes the room look more open and brighter.
But also light-dark contrasts are best suited for a small dining room. Light walls with dark furniture can become a real highlight in the apartment. Delicate pastel shades such as pastel yellow or a soft orange set dark furniture wonderfully in scene.
Monochrome floor coverings: Carpet, tiles and co.
The flooring of a small room should ideally be plain. Large short pile carpets form an even base. If plain colours are too boring for you, you can also resort to small patterns, such as a fish or mosaic parquet.
https://fivmagazine.com/wp-content/uploads/2021/02/esszimmer-einrichten-einrichtung-moebel-stuehle-fliesen-wandfarbe-lampe-sitzbank.jpg
800
1200
Lisa-Marie
/wp-content/uploads/2023/08/fiv-magazine-logo-news-influencer-fashion-interior-travel-real-esates.svg
Lisa-Marie
2021-02-26 07:00:51
2021-02-26 07:00:51
Dining Room Furnishings: Chairs, decoration and the right lighting for dining at home