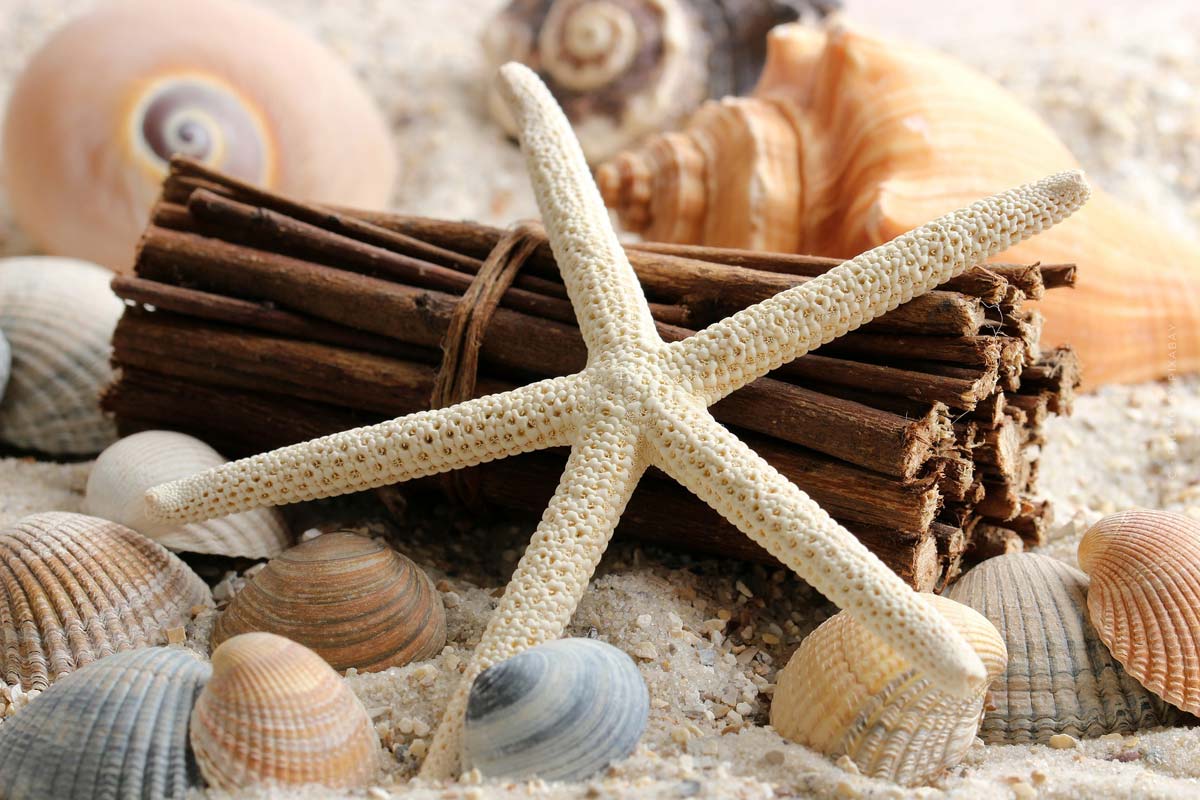 Maritime furnishings: Deko, Möbel & Tipps des Einrichtungsstils für Wohnzimmer, Schlafzimmer & Co.
Maritime interior style – a desire for the sea? Who doesn't have that right now. To bring the holiday feeling a little bit home and avoid wanderlust, furnish your house or your apartment in maritime style. With just a few simple steps you can bring that Mediterranean flair into your home, which spreads summer vibes in the dreary winter. You will quickly notice that the most important thing in maritime style is the use of matching symbols and colours. Decoration, pictures or even the matching furniture, as well as the right wall colors can be decisive. How you can design your apartment or just single rooms in a maritime look, you can find out here! Back to the overview here: Furnishing styles.
Maritime furnishings: Colours, furniture, tips and ideas
The maritime style of furnishing is all about bringing what you experience or have experienced into your home. The flair of the sea should carry over into the furnishings, making you feel like you're on vacation even when the weather is bad – You don't have to live by the sea to feel the vacation spirit. You can choose whether you want to incorporate the flair and splendour of a yacht into the interior design, or whether your interior should be reminiscent of a Nordic, Atlantic or Mediterranean coast.
Tip: The article on holiday homes by the sea or lake will inspire you in advance about what it is like to own a domicile by the sea.
When you think of the sea, you think of azure turquoise water, beige sand and lifeguard red. The best known is the navy blue, which refers to seafaring tradition, as the British Royal Navy wore their seafaring gear in a navy blue as early as the 18th century. In addition, there is the driftwood or rattan, which is known from the jetty of ships. There are many combinations that can be implemented in the interior design:
Santorini / Mykonos Inspired: The white houses on Santorini or Mykonos as a contrast to the azure sea
East Coast – Beach House Vibes: The turquoise water of the Pacific Ocean and the light beige, almost white sand of Florida
Nordic: dark blue and turbulent sea, beige sand or white sand in the dunes, red and white lighthouses
Materials & Flooring: Wood – & stone floor for the maritime flair
When it comes to the floor, you have many options in the maritime interior style. Ideally, you choose a wooden floor, because it gives a room warmth and coziness and reminds you of the floor on a yacht. A dark glazed wooden floor or a particularly light wooden floor would be particularly suitable. However, you can also choose a stone floor, this can also be in terracotta, as terracotta colors remind you of the Mediterranean. The most important thing is to choose a floor that is made of natural materials, because you want to embody nature.
Signature Products & Deco: Maritime Symbols for Maritime Style
There are a variety of nautical symbols that are reminiscent of a seaside vacation or a typical seaside cottage. For one, you can incorporate what you would find on a beach walk into your decor, such as: Shells, dried starfish, stones, driftwood, or even sand – all these things automatically remind you of a day at the beach.
But the most famous symbol is probably the anchor. The anchor stands next to the shipping also for hope or love (arrived in the port of love), which brings a beautiful message in the interior. Ships or sailing boats also decorate the living room of any house by the sea. Furthermore, there is the life ring, which is used when a man has gone overboard or for a person who is in danger of drowning. The life ring is traditionally red, white or red and white striped. A lighthouse is another typical symbol.
The lighthouse gives orientation to the sailors. By the light of a lighthouse you can see the land in sight and it shows the way during a storm. Lighthouses come in many colours, but the traditional colours are red or blue and white stripes. Nets are also a traditional symbol. Nets symbolize fishing and therefore a long tradition. All these things can also be passively incorporated into the interior design and appear, for example, on an embroidered cushion with a lighthouse motif or in the form of pictures.
Decoration & tips: Beach house feeling with materials like wood, net, ropes & co.
All materials that have a connection to the sea are part of the maritime style. Classic for a furniture design in a maritime interior are glazed wooden furniture or stained woods, which refer to a long seafaring tradition and the interior of a ship. Besides nautical furniture, decoration is super important. You should include a lot of the symbols listed above in your interior design to incorporate the maritime spirit into your home. In addition to the symbols, you also take classic materials that are used on a sailing ship and point to the shipping tradition. That means: nets, ropes but also cotton or linen, which give warmth on cold days. But metals and stainless steel are also part of the furnishings. These are supposed to reflect the craftsmanship and the hard work of the sailors.
Maritime interior design: living room, bathroom & Co.
As already mentioned, it is important to incorporate maritime symbols and materials into the interior design. To implement the maritime interior style, the combination of motifs, materials and the right colors is exactly what you need to exude the flair of a holiday home.
A bright and light-flooded living room is already a basic requirement for the maritime interior style. If you then add the right furniture and motifs, you do everything just right to achieve the maritime look. A combination of matching furniture, colours and materials is the most important thing. Everything of your interior should remind you of a day at the sea, it should not look sterile, but invite you to relax and unwind. Here is a little video on how to do it right. Let yourself be inspired by the American beach house.
Bedroom: bed with comfortable duvet, many pillows and maritime colors
The style is also continued in the bedroom. The bedroom was used by seafarers to rest from the stressful workday, which is exactly what the bedroom furnishings should embody. The color of the bed should be a nautical color and the upholstery should either be comfortable and inviting or reminiscent of the beds in the cabins by using metal. When it comes to the bed linen, there are many options: either opt for white bed linen and eye-catching decorative pillows + bedspread or for eye-catching bed linen and plain decorative pillows. Gladly, the bed linen may also have a print that reminds of the sea.
In addition to a large bed with many pillows and a warm blanket, the rest of the room should also tie in with the maritime style. As already in the living room, you also work in the bedroom with many small decorative elements that should reflect the tradition of seafaring. The decoration can be made of wood / driftwood, plants or similar and again include the typical, maritime symbols. The decoration should fit perfectly with the rest of the room and may gladly come to the fore.
Children's room: fish, colours and decoration create a fresh breeze
When it comes to the children's bedroom, you can dig even deeper into the paint pot and play even more with motifs and decoration. Especially cool is a loft bed made of wood or steel, reminiscent of the cabins of sailors. You can also buy a single bed with the motif of a ship or even build it yourself, which then serves as an eye-catcher of the room and makes the children dream. Next to the bed, especially cool, eye-catching colors are a must. Here you can play with blue tones as much as you like. Through navy blue, to a cool dark blue or turquoise. The mix makes the room all the more exciting.
As with the colors, you should also let off steam with the decoration. You can playfully bring in nets (but be careful) or driftwood. A ship or a lighthouse serves both as an accessory but also as a toy. Fish on the walls make the underwater world in the bedroom look more present. To stimulate the imagination of children, you can also go back to the old times of pirates or Vikings by incorporating a treasure chest or a telescope into the interior design.
If you want a special eye-catcher in your child's room, why not include an aquarium? It doesn't have to be an aquarium wall, but to see the wooden fish on the wall in action, an aquarium is perfect to make the underwater world even more present in the children's room.
Bathroom: round mirrors, ropes, knots & lots of wood
The bathroom should be a place to feel good and that's exactly what the interior design of a bathroom should convey. From fresh flowers to driftwood from the beach, shells and sand, you need all this in your bathroom. A real eye-catcher is a round mirror, which is super trendy at the moment and reminds you of a ship's porthole. With a few simple touches you can make the round mirror look even more maritime. For example, you could tie a rope around the mirror and fix it with a nautical knot (see picture) – super easy and a real eye-catcher. Again, feel free to play with maritime stripe patterns and colours to match the bathroom to the rest of the house. Maritime motifs that are reminiscent of seafaring and the sea, such as wooden fish, starfish, shells or ships and lighthouses, are also very popular.
There is a possibility to make the bathroom particularly light or dark. If the interior of the bathroom is to be reminiscent of the furnishings on a ship, then you should choose dark woods. A beach house, on the other hand, is characterized by the bright interior, which is why you then also reach for light woods and striking colors in the bathroom.
Would you like to bring the luxury and exclusivity of a yacht into your bathroom? Then take a look at our article about Maison Valentina.
Decoration: DIY, tips & tricks for cool decoration in maritime style
To give your home that special touch, why not put together your own decorations? You don't know how? Then I have a few simple ideas for you, how you get the maritime flair in your house. It doesn't matter if you're not the best at crafting, it's exactly the imperfection that makes a good decoration and creates its own charm.
Decoration: dune grasses, sand and shells
Do you have a flower pot over and don't know what to do with it? Perfect, then this is your first basis for a nautical decoration element. This decoration is super easy and goes extremely fast. Take the flower pot and plant the grass you want. Then you simply pour the sand on the planted grass. Sand is available for little money on the internet or in the small animal department. Once you've poured the sand onto the grass, all you have to do is decorate the sand with shells, stones, etc. Et Voilà, your first accessory for your maritime interior is ready.
If that was too fast and you don't like the outside of the flower pot, you can of course change that with a lot of patience. For this purpose, shells or plates in maritime colors are particularly suitable. If you have now the plates or the shells together, you can stick the flower pot with these. Now a unique piece is created from a boring flower pot.
Natural stones: Stones as small decorative elements in the living room and bathroom
Stones can be found on any beach in all shapes and colours and flat ones are especially fun to play with. Stones are everywhere, so if you have a few beautiful stones over, then I'll tell you now how you can incorporate them into your interior design.
Look on the Internet for beautiful and simple motifs or sayings that you associate with the sea. Once you have done that, take your stone and acrylic varnish and create a base with the acrylic varnish. You can color the stone white, blue, or gray before you start writing on it. Once the base coat is dry, you can now use a brush and paint to label or paint your stone individually. If you want it to be even more precise, just use a sharpie, which is also available in different colours. After everything has dried, the stones look especially good on the windowsill or on a wooden board with shells and sand.
Wood & figures: Wooden decoration as an eye-catcher in every room
Straight woods make any room seem cozier. However, in maritime style, the wood not only reminds you of warmth and coziness, but also of a walk on the beach where you discover a lot of driftwood. So if you happen to have a wood over or several individual pieces of wood, I'll show you how to turn them into a nautical centerpiece. It's best to take several smaller and flat pieces of wood that are roughly the same length. Fasten them side by side with screws and a cross piece. Once this is done, sand the wood. Now you can either stain the wood to make it lighter or glaze it to make it darker.
Once the wood is properly painted, let it dry well before moving on to the next step. In the meantime, you can look around for suitable motifs or sayings that you would like to visualize on the wood later. Once the wood is dry, take a brush and paint and draw the motif or saying on the wood. Let that dry again and then you are already done.
6 DIY ideas for the perfect nautical look – Video
Since there are still so many ways to bring homemade into your home decor and save money, here are a few more ideas for you:
https://fivmagazine.com/wp-content/uploads/2021/02/maritim-einrichten-einrichtung-einrichtungsstile-tipps-ideen-wohnzimmer-schlafzimmer-deko-stil-bilder-kueche-bad.jpg
800
1200
Lisa-Marie
/wp-content/uploads/2020/07/fiv-magazine-news-instagram-youtube-tiktok-influencer-fashion-interior-jewelry-real-estate-tips-help-logo.png
Lisa-Marie
2021-03-01 07:00:11
2021-03-01 07:00:11
Maritime furnishings: Deko, Möbel & Tipps des Einrichtungsstils für Wohnzimmer, Schlafzimmer & Co.