Michael Kors: Apartment in New York City, House Tour & Daily Life of the Designer
Michael Kors – fashion designer, entrepreneur and interior designer. As one of the most famous people in the fashion industry, you must be wondering how star designer and entrepreneur Michael Kors lives and resides in his New York penthouse, what he likes to read or watch while lying in the big bathtub in one of his 3 bathrooms together with his husband? We have the answer here.
Michael Kors New York Apartment
His New York apartment is in Manhattan, more precisely in Greenwich Village, south of Center Park. Together with his husband Lance LePere, he moves into the 500-square-meter penthouse, which is located on a traditional New York skyscraper. He furnished it together with his husband and an interior designer with whom he had already worked in his previous houses and apartments. The result a modern, minimalist, but still a statement full apartment.
Michael Kors Penthouse: Facts & Dates
Location: Greenwich Village, New York
Purchase price: 15 – 18.5 million euros
Purchase price in dollars: $17 – 21 million
Purchase price in pounds: 13.5 – 15.5 million pounds
Total area: 500 sqm
Total area in feet: 5,400 square feet
Price per square meter: 33,500 euros
Price per square feet: $3,520 / 2,685 pounds
Bedrooms: 3; Bathrooms: 3,5
Greenwich Village, NY: Map


Germany - Spain - USA
Michael Kors: New York Penthouse Tour
In this episode of Open Door, iconic fashion designer Michael Kors takes Architectural Digest on a tour of the Greenwich Village apartment he co-owns with husband Lance LePere. The NYC apartment has been fully customized, right down to the hidden sliding doors that allow it to transform from an open, loft-like space to a completely closed-off apartment. What's more, it's surrounded by a lush terrace with unobstructed views south to the World Trade Center, west to the Hudson River, and beyond in all directions.
Luxury Apartment in Downtown, New York
The penthouse is the top floor of the building and is located on the roof of the entire house with the approximately 500 square meters. For Michael Kors taste comes only extra selected things in his four walls. Whether it is a table made of special wood, a handmade vase or a woven basket. His motto, minimalistsich with different highlights fit the room and their effect. Above all, it is noticeable that in the design of the apartment a lot of attention was paid to different materials and photography. All hallways are decorated with numerous pictures that have emotional, as well as material value.
The untouched kitchen
After passing through a small entrance area, you enter the kitchen through a small narrow hallway. The kitchen is overall very simple and clean. The brown-beige kitchen fronts create a pleasant and harmonious color scheme with the white matte countertops. The upper cabinets have light strips mounted from below, which cast soft pleasant light on the countertops, as well as the back wall. The sink and faucet is in a light metal and blends appropriately with the kitchen's coffee maker. The eye-catchers in this case are a large flowering orchid in a glass vase and a black handmade bowl standing next to it. For a suitably simple and minimalist lighting were attached sporadically short narrow black fluorescent tubes.
Living area: a room full of possibilities
The open dining and living area does not exclude especially larger celebrations. For parties, events and celebrations of any kind here is enough space for everyone. The dining table is made of white birch wood and is surrounded by 6 designer chairs, made of a contrasting brown orange tone. The highlight here, is a large white crystal in the center of the table. Divided by a narrow long side table made of an unfinished only cut piece of wood, which stands behind the sofa, is the living room.
The living room has two dark gray sofas facing each other with cushions in the same shade and fabric. With a low wooden table, again unfinished, it is used as a coffee table. Decorated with a large concrete and stone vase and branches with small yellow white flowers, the living area is much worked with wood and its structure. Two turquoise armchairs are also located to the left of the table. A small oil-powered carmine also provides romantic mood for the couple from time to time. Behind the carmine, which is embedded in the wall, there is also another small sofa, as well as a shelf with numerous books and magazines on photography, crime and fashion.
Dream: bedroom with walk-in closet
The bedroom is also located, like the study, at one corner of the building. Matching the large windows, there is a reading chair and a small table here. However, the large spacious bed occupies most of the space here. Decorated with large cozy pillows and blankets, the slightly higher bed. Opposite the bed is a huge flat-screen TV. To come to rest, the couple, together with the interior designer, decided not to place more furniture or decorations in the bedroom.
However, following the bedroom is another large walk-in closet. With numerous mirrors, lights and drawers, there is room here for two clothes-loving people. There is room for up to several hundred pieces of clothing, hats, bags, shoes and sunglasses.
Place full of relaxation: bathroom
The bathroom always plays an important role. Here you should come to rest, relax and simply feel good. Thanks to the huge bathtub and large shower, where there is room for up to two people, you can also spend a romantic evening or two. Of course, in clean and clean colors, the bathroom is covered with large matte white tiles and a gray concrete-like material. With the morning and night view from the bathroom window, from which you can look out even sitting in the bathtub, it is a dream apartment.
Extras of the apartment
In a property like this, of course, nothing should be standard. Accordingly, the premises must also make room for one or two pompous extras. Whether it's a study, a gym or a huge terrace with a view of the Manhattan skyline.
Study: Where new ideas are born
The study is located next to the kitchen. At the corner of the building are two floor-to-ceiling windows that let in a lot of natural daylight. Thanks to the beautiful view, a narrow long desk was placed here, where Michael and his husband get inspiration and motivation to work. In the center of the room is a table with a round black wooden top supported by a black marble cone. To seat up to 4 people, symmetrically arranged here are four designer chairs made of wood and black leather.
A large, round lamp folded from paper hangs from the ceiling in the middle of the table and provides a soft and pleasant light even in the evening hours. On the left wall of the office can be stored in a brown and white wooden cabinet everything you need. The shelf is decorated with two wooden vases of different sizes, which are located on the right side. Above the cabinet there is also a TV, which also provides one or the other distraction while working. From here you also have the possibility to enter the 75 square meters roof terrace.
Fitness room: stay fit at home
In a more than 15 million euro expensive penthouse, of course, the own gym can not be missing. Thanks to a spare room, Michael Kors and his husband have brought their own little gym home. Even though the two have many differences, they agree on topics like sports, health and appearance. With togetherness and such a great view of the rooftops of New York, you are still motivated to do sports no matter what time of day it is.
Terrace for a piece of nature
The terrace includes everything an entrepreneur and designer needs in a New York penthouse. A BBQ grill, a lounge corner, and a dining table for up to 10 people. That and another huge selection of different plants, spices and flowers makes Michael feel like he's in the country, or at least in a park. Even though construction noise and city sounds can be heard here at almost any time, you get used to the sounds very quickly and a view of the World Trade Center and many other centrally located buildings soon makes up for it.
New York: What you need to know
The United States is best known for its high crime rate. Whether it's drug use, assaults or fights. But the states also have many different climates and therefore have a wide variety of activity programs. Camping in national parks, going to the movies or the typical American house parties make up for a lot of the negative stuff though. For more information on recreational activities and a ranking of the best rated cities in the world, see below.
New York population growth
As one of the larger cities in the world, the New York City government documents the population since 1750. After industrialization, the first high-rise buildings were also built in New York, which attracted mainly the younger people to the city. Due to the possibility to let more people live on the same area, the population increased continuously.
1750: 22,000 inhabitants
1800: 60.500 inhabitants
1850: 515,500 inhabitants
1880: 1.2 million inhabitants
1920: 5.6 million inhabitants
2000: 8 million inhabitants
2020: 8.5 million inhabitants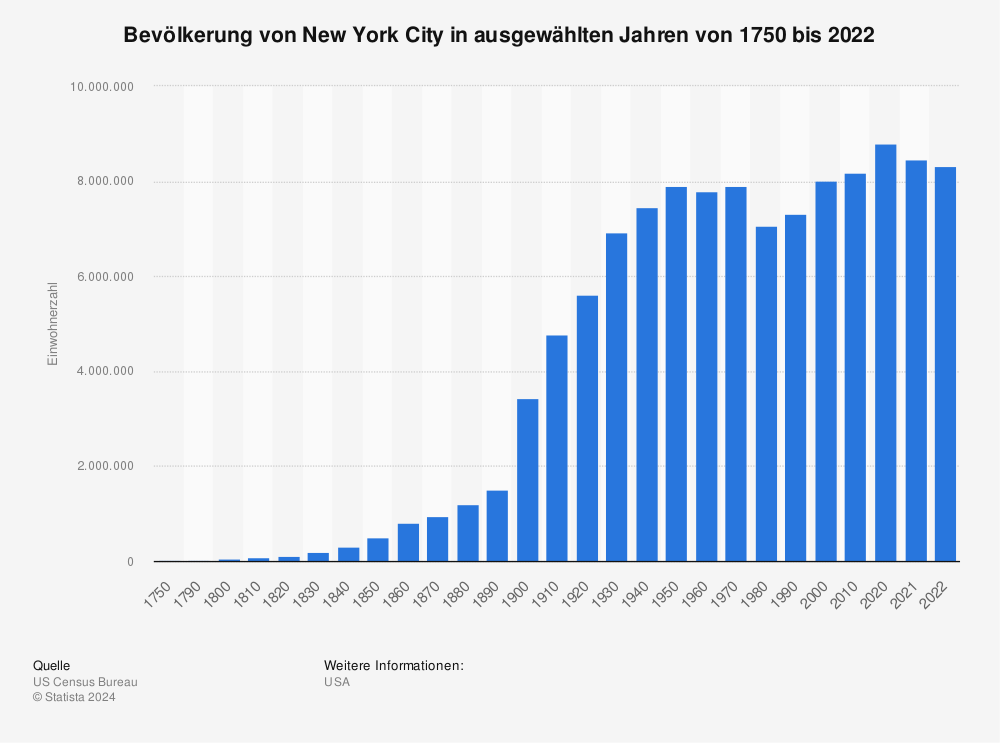 You can find more statistics at Statista
USA: The ten largest cities
New York, the city that never sleeps. As the metropolis of the USA, it is the largest city in the United States, closely followed by second, third and fourth place Los Angeles, Chicago and Houston. Above all, New York's infrastructure has been visibly affected by industrialization. During industrialization, the number of inhabitants and the transport connections increased steadily. Not only the famous New York subway was added, but also numerous high-rise buildings.
New York with 8.4 million inhabitants
Los Angeles with 4 million inhabitants
Chicago with 2.71 million inhabitants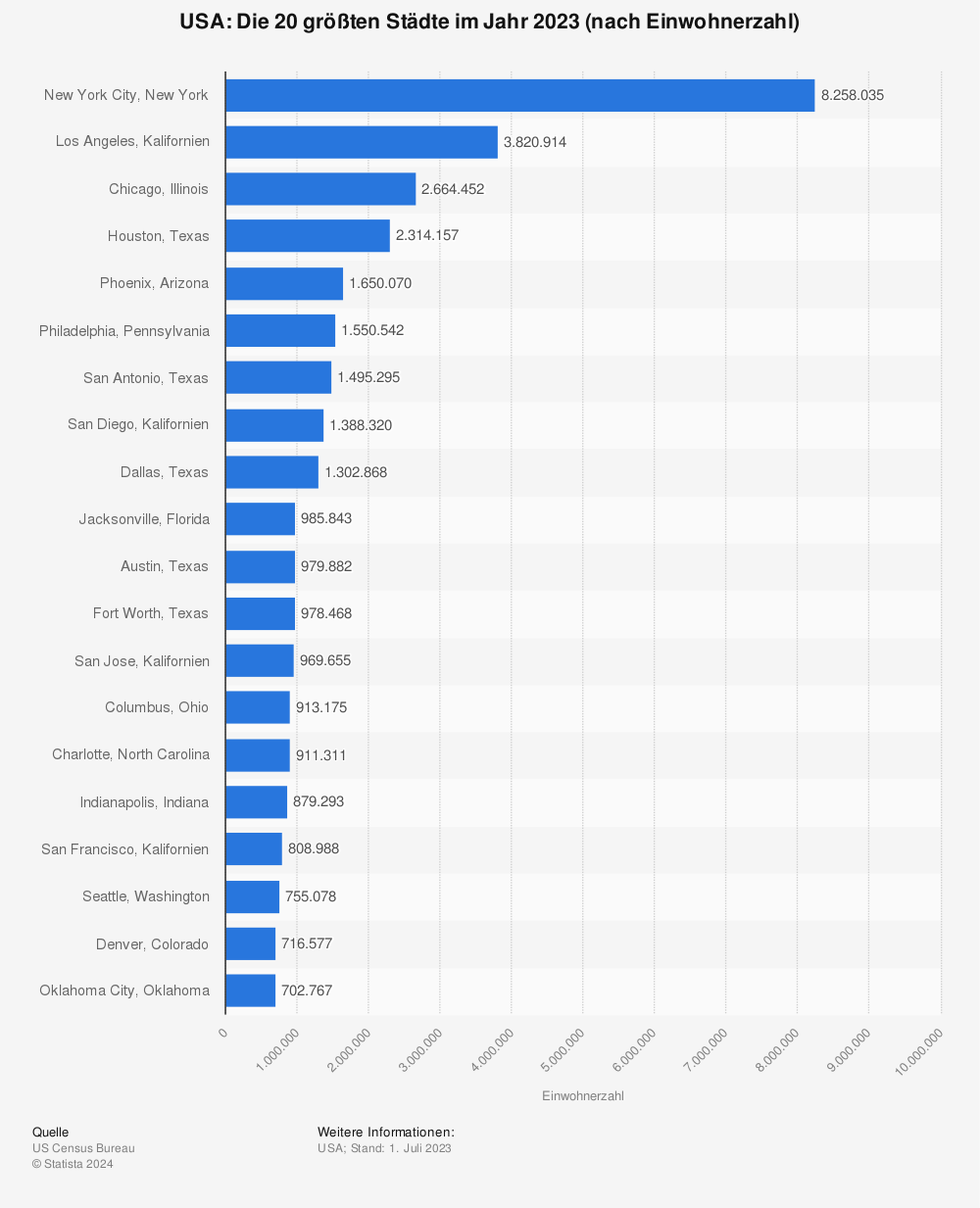 You can find more statistics at Statista
Worldwide cities ranking with leisure activities rating
After a worldwide survey on the topic of leisure activities, the statistics shown below were made. The respondents rated it good or very good. Although it is hard to believe, the first place is the introverted Russian capital Moscow. It is followed by the German capital Berlin. Third place goes to New York, closely followed by Guangzhou and Mumbai.
Moscow: 52%
Berlin: 51%
New York: 50%
Guangzhou: 48%
Mumbai: 47%

https://fivmagazine.com/wp-content/uploads/2020/09/bella-hadid-newyork-house-tour-ausblick-skyline-gebaude-autos-strasse.jpg
800
1200
Lisa-Marie
/wp-content/uploads/2023/08/fiv-magazine-logo-news-influencer-fashion-interior-travel-real-esates.svg
Lisa-Marie
2021-01-04 12:31:08
2022-09-13 10:54:06
Michael Kors: Apartment in New York City, House Tour & Daily Life of the Designer