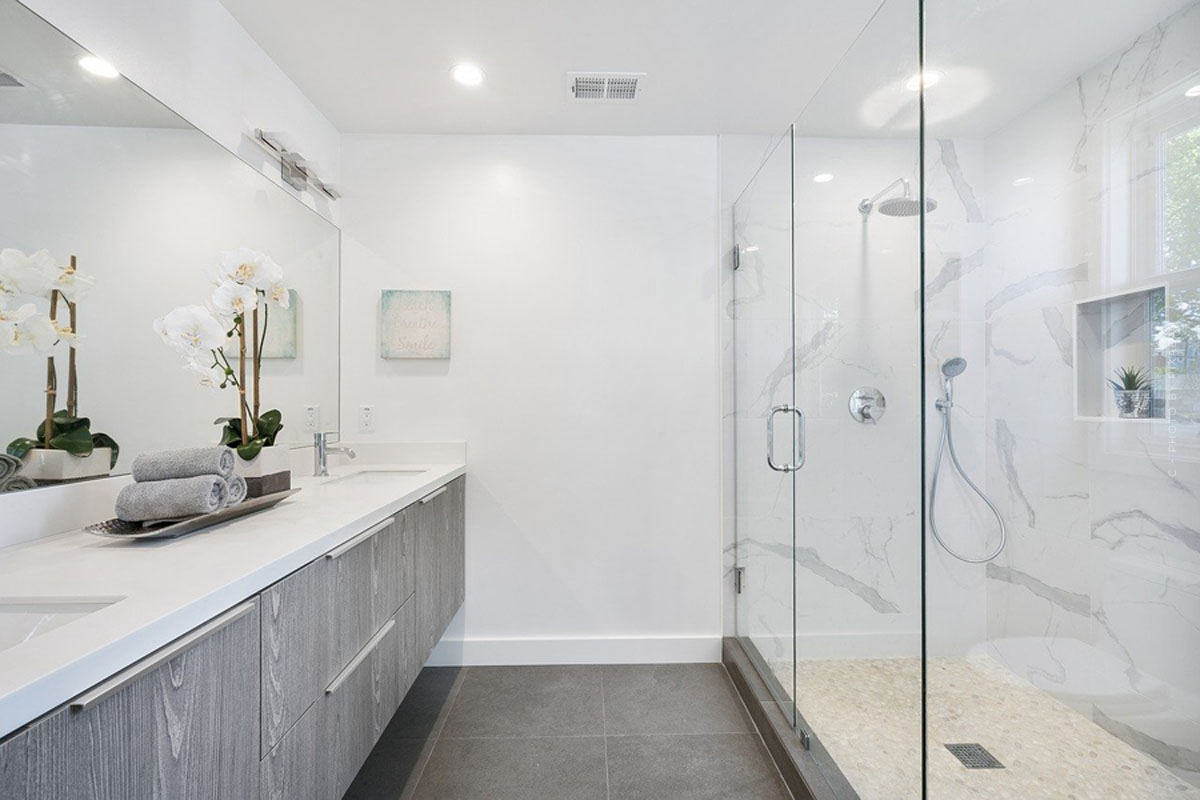 Bathroom furniture: washbasins, bathtubs, sets and more for the perfect bathroom furnishing
Bathroom furniture – The bathroom is a place of retreat and for many people one of the most important rooms in the home. After a busy day, sinking into a bubble bath and simply switching off is how you imagine the perfect end to the evening. The wrong décor can spoil that quite nicely. That's why we've set out to find you the most beautiful, appropriate and modern furniture for the bathroom and give you tips on how you can easily set up your personal spa at home. Are you interested in furniture and interior design? Then check out our comprehensive guide to interior styles or interior brands XXL!
Bathroom furnishings: Furniture – Washbasin, bathtub & Co.
In many houses and apartments, the bathroom is already fully furnished. It is all the more difficult to find the right furnishings if this is not the case. Especially when you buy your first own house, the furnishing of the wet rooms is on the agenda. For this, different furniture and fittings are needed to form a complete bathroom set.
The main focus of bathroom furniture should of course be on water resistance, because you want to enjoy your new objects for a long time. Therefore, it is advisable to pay attention to the gluing. Is the object glued? If so, this should be moisture resistant, even veneer can loosen in moisture and roll up unsightly. Special care when buying, helps to avoid this.
For more on decorating your bathroom, tips, tricks and ideas, click here:
Washbasins: Fittings for more surface area and a large selection
The question of sink or faucet is not an easy one, because faucets can mean giving up space, but at the same time, they provide extra floor space for decor, skin care, and more. For this reason, you should think about what's more important to you. Faucets also often mean storage space under sinks that is hidden by cabinet doors. For this reason in particular, we highly recommend a sink with a faucet, at least for the largest bathroom in the house.
Buy a bathtub: Designer tip – in fancy bubble or concrete look?
After a hard day at work, there's hardly anything better than sinking into a cosy, warm bubble bath and enjoying the peace and quiet. But even here it is not only the inner values that matter, because everyone will envy you a beautiful bathtub, especially if it stands freely in the room as an eye-catcher. At the label Maison Valentina you will find the most different designs. Particularly popular at the moment are bathtubs in a concrete look with matching fittings.
Plus, it can be insane fun to make and try out a few bath bombs yourself. There are a lot of instructions for this on YouTube and in the vastness of the Internet. You prefer it natural in the bath? No problem! Epsom salt with a high magnesium content relaxes muscles and a few drops of essential oils relax the senses even more. Lavender and hops are particularly calming. If you need a little energy boost, try grapefruit!
If you're looking for an exclusive and unique bathtub or a set of bathtub, sink and more, be sure to check out our article on the trendy brand Maison Valentina with refined ideas for your bathroom!
Shower: Luxurious shower heads for a relaxing shower
Shower heads with low water pressure were yesterday. Today's shower has rain functions and varying water pressure. This can be achieved not only with new showers, you can also easily buy shower heads on the Internet and regulate the water pressure yourself. But be careful: if you regulate the water pressure yourself, your water heater may not be able to keep up and the hot water may not reach the shower if the pressure is high. The best way to find a solution for this is to just try around.
Fittings made of wood: this is what you should consider when buying
A great solution to create more storage space in the bathroom are faucets. Not only do they create storage space, but they also provide space under the sink, making your surfaces look neat and tidy. They also open up possibilities for decoration. For example, with plants, because some green plants and flowers feel particularly at home in a warm, damp environment. For example, a birch fig likes the bathroom very much, but orchids also feel at home here.
Decoration with furniture: colors and popular interior styles
You like trends and always try to be up to date when it comes to fashion and furnishing? Then we'll tell you here exclusively the most popular trends when it comes to bathroom furnishings and bathroom furniture. With these tips, you'll be at the forefront of the latest cool ideas in bathroom design. Boring white tiles and ceramic surfaces were yesterday. Marble, slate and even wood are becoming more and more popular in the bathroom.
Want some additional ideas? You can find them on our Pinterest profile, where we share interior styles, interior brands and more with you.
Colors: Neutrality is the key to success? Colour choice & tips for the bathroom
Color schemes are always relevant and extremely helpful in interior design, especially when you have decided on a decorating style. The bathroom additionally has the requirement to radiate cleanliness and cleanliness even more than any other room in the house. Sometimes it is therefore difficult to combine certain furnishing styles with the room, moreover, the decoration should be chosen with care also, or especially in the area of furniture. Unattractive dust catchers are generally tried to avoid.
With this approach in mind, we would now like to briefly turn our attention to colors. Neutral colors and especially white are of course still the key to success. But this selection can be wonderfully loosened up by different materials, as well as the use of an accent color.
Wood and marble are great, but especially blue or beige, as well as splashes of green, loosen up the atmosphere of the room and give you the opportunity to add a bit of personality to the space.
Maritime: Hanseatic furniture ideas for the maritime bathroom
Maritime style furnishings bring the scent of salty sea air into your bathroom. The interesting thing is that it uses furniture that already looks a bit worn, which is part of the style and helps to avoid older bathroom furniture from being immediately noticeable. In addition, the theme allows for many cute decoration ideas that will make your bathroom special.
Images of the sea, anchors, lighthouses and lifebuoys dominate the picture. Natural elements like sand and shells catapult you directly to the beach. A relaxing bubble bath becomes a jump into the ocean waves and helps you get into the holiday mood. The main colours for bathroom furniture in this style are white and blue. Wood is also recommended. Gladly also in the used look.
Shabby Chic: The old cosy country house reinterpreted
This living trend is super new and yet has already been able to establish itself in the area of bathroom furniture. Here, too, furniture in a used look is preferred. Vintage furniture also fits excellently into a bathroom in the style of Shabby Chic, because here the rustic country house world meets feminine bows, frills and bright colors. Some would call the compositions that arise here almost kitschy, but light colors and wooden surfaces simply fit well in the bathroom.
Chalk paint is also used, but this is rather inappropriate in the bathroom. One way to integrate the whole thing would be, for example, a sign for the bathroom door, which can be turned as needed and shows the status of the room.
Materials: Find matching stainless steel bathroom furniture and more
Whether minimalist or shabby chic is completely irrelevant, the right materials should be used so that you can enjoy your bathroom furniture for as long as possible. Always be aware that the materials you use also have an influence on the room climate. Hard materials such as stone and marble, as well as stainless steel, will make the room cold and create a completely different atmosphere than, for example, wooden furniture, which retains heat and is also less smooth and cool. Even glazed or even painted wood are great options.
This is also an opportunity to get a little more creative with colour, as paint can be purchased in all the colours of the rainbow. White is very popular in bathrooms because of its association with cleanliness, but pastel colours such as pink and mint green are suitable for Shabby Chic. If you're going for the nautical style, blue, yellow and even a few dabs of red are your friends.
Home Spa: Turning the bathroom into a relaxation oasis – tips & tricks
You can exploit the full potential of your bathroom by setting up your own little home spa. This includes candles, plants and of course the right care products, which you should adjust to your personal needs. An absolute must are white, fluffy towels and something to massage. Of course you can have someone else do it for you, but there are also ways to stimulate the lymphatic drainage yourself in order to avoid swelling and to feel better about your body. In addition, this contributes not only to the well-being, but also to get rid of unpopular water retention.
Choose color scheme: Which furniture colors have a relaxing effect?
Relaxation is at the top of the list for a spa environment. This can be achieved above all through the right colour scheme. Light or neutral colours make the bathroom appear calm and unagitated and thus contribute to a sense of well-being. Blue, for example, helps you to reduce stress and set the mood for relaxation, while red has a rather opposite effect. For this reason, it is advisable to stay away from bright red. If you still want to use the colour in your bathroom, a light pink or soft coral, as well as terracotta, are suitable for setting soft accents in red.
However, it is important not to overdo it with colours and to use neutral options like white and grey. If you can't do anything with white, then there is also the option to use light blue or sand colors as an alternative. However, sand-coloured surfaces can quickly look old-fashioned and unattractive, so be careful!
Care products and co.
As already mentioned, a home spa does not only include the right furniture, but also suitable care products that correspond to your skin type and make your skin glow. For this purpose, it is also worthwhile to look at somewhat higher-quality brands. Lancome, for example, has been an absolute insider tip when it comes to skin care for many years, because the experts of the brands are always trying to develop the latest skin care technologies to offer your skin only the best.
https://fivmagazine.com/wp-content/uploads/2021/02/badezimmer-badmoebel-waschbecken-wasserhahn-schubladen-weis-orchideen-dekoration-handtuecher-dusche-marmor-stein-duschkabine-fliesen-anthrazit.jpg
800
1200
Lisa-Marie
/wp-content/uploads/2020/07/fiv-magazine-news-instagram-youtube-tiktok-influencer-fashion-interior-jewelry-real-estate-tips-help-logo.png
Lisa-Marie
2021-03-15 07:00:29
2021-03-15 07:00:29
Bathroom furniture: washbasins, bathtubs, sets and more for the perfect bathroom furnishing