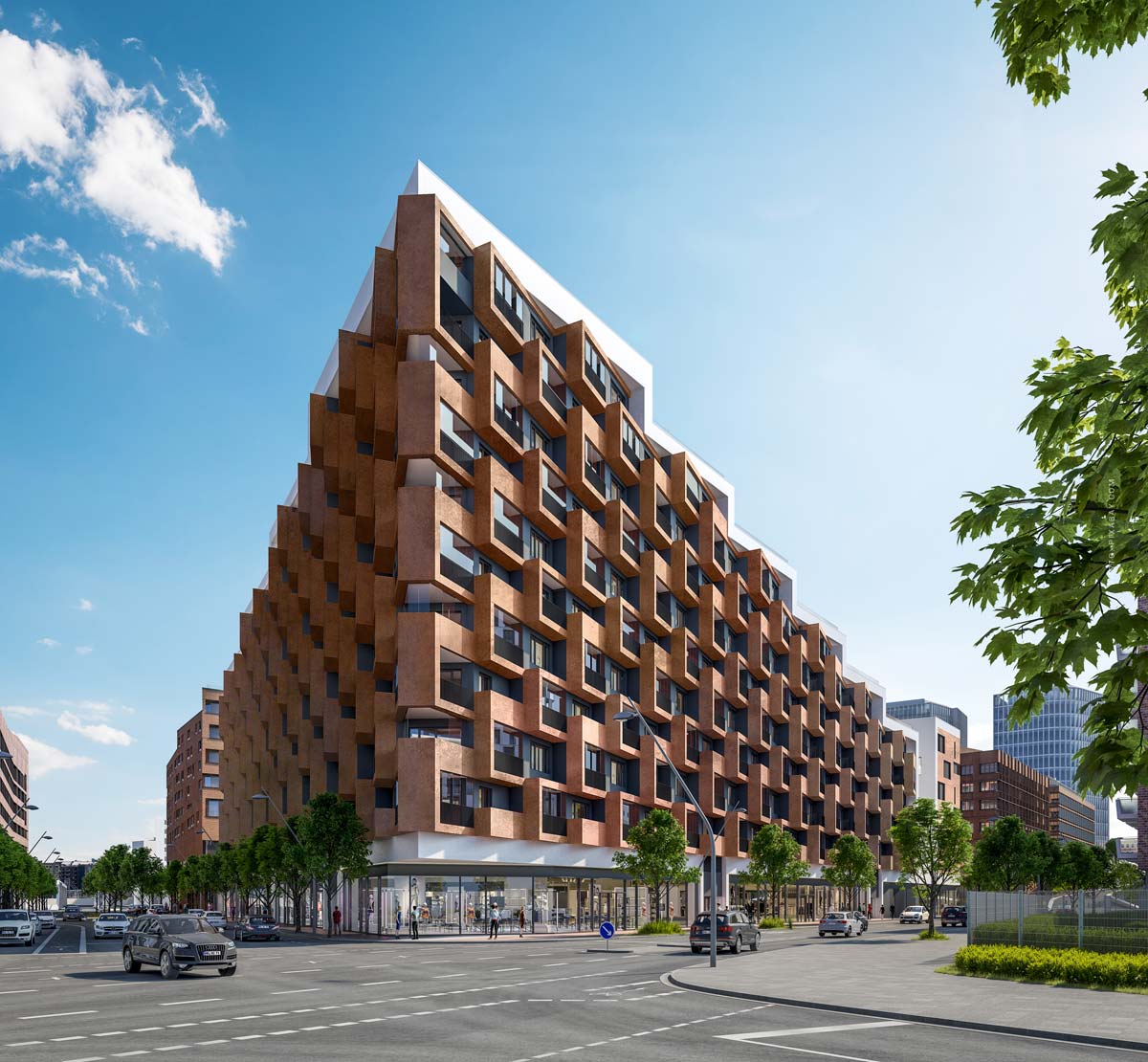 Eleven Decks: Urban living in Hamburg Hafencity – Interview with Björn Dahler
Eleven Decks – urban living in one of Germany's largest cities. In the middle of Westfield Hamburg-Überseequartier, a newly created district of Hafencity Hamburg, a new residential complex will grace the Hamburg skyline from 2023. Designed by architect Carsten Roth, the modern project is under the management of DC Developments. Already, the building is setting a new standard for modern urban living like no other. The interior of this architectural masterpiece is equipped with special highlights for the residents, of which Björn Dahler, the managing director of DC Developments, also known from our report on"The Crown", tells us in an interview. These and other questions will be answered here in our exclusive interview.
Eleven Decks: Life next to the Elbe Philharmonic Hall
Eleven Decks is a unique, new construction project that aims to create new impulses for living in Germany. Living and working are combined and linked by common community spaces. In addition to 18 penthouse apartments, green roof areas, as well as numerous recreational spaces, sports facilities and a spacious terrace, offer good networking among residents. Centrally located in Hamburg's Überseequartier, which offers a great mix of culture, gastronomy and retail, Eleven Decks has more urbanity to offer than any other building in Germany.
Interview with Björn Dahler: About highlights, interior design & C0.
What's it like to live in the new Eleven Decks residential complex? Björn Dahler, Managing Director of DC Developments, answered a few questions about his latest construction project.
The location in Hamburg: Westfield-Hamburg-Überseequartier
FIV: Living in Westfield-Hamburg-Überseequartier – Why did you choose this location in Hamburg? What makes this special place?
Björn Dahler: The Westfield-Hamburg-Überseequartier is probably one of the most urban locations in Hamburg, if not in Germany. It is something special for us to create over 300 apartments at this location. That's why, on the one hand, we want to be bold here and bring trends like community spaces, which have long been established in the U.S., for example, to our Hanseatic city. On the other hand, with the Eleven Decks project, we want to show that green living is also possible in the middle of a metropolis: with our total of around 4,600 square meters of green space (roof terraces, community space), we are creating oases of calm in the heart of HafenCity (currently Europe's largest urban development project). The site is also a prime example of how the 15-minute city concept is lived out. Our neighborhood study, in which we surveyed 11,000 people, clearly shows that in addition to community and green spaces, quick accessibility is particularly important to Germans.


FragranceTip.com by FIV
Location of Eleven Decks in Hamburg
Here is a short insight into the newly developed Westfield-Überseequartier in Hamburg at the harbor. In the middle of the urban metropolis, the new Eleven Decks will be built.
"Germans particularly value quick accessibility in addition to community and green spaces." – Björn Dahler
Location in the heart of Hafencity: quick accessibility is guaranteed here in addition to oases of peace on the numerous balconies!
Highlights: Co-working space, fitness rooms and co.
Eleven Decks has a lot to offer its residents. In addition to fitness and yoga facilities, there are numerous leisure activities such as a clubbing area with an open kitchen, a bar and lounge, as well as a gaming room with a pool table and a large monitor to exchange ideas with the community. What Björn Dahler himself is particularly proud of, you can read here!
FIV: There are many highlights in Eleven Decks, such as the co-working spaces or the fitness rooms, what are you particularly proud of? What sets the property apart from other urban buildings?
Björn Dahler: The many green spaces and the community space on over 600 square meters are unique in Germany. With the aim of democratizing luxury to a certain extent, we have focused on 1- and 2-room apartments (from 39 square meters) in this project. These meet the highest standards in terms of furnishings and location, but are small in terms of floor space. The community space with clubbing area, outdoor kitchen, pool table or yoga room enlarges the living space of the residents. In spite of the small apartment, the 1-room resident can organize a meal in a large group or celebrate a birthday with friends.
"The many green spaces and the community space on more than 600 square meters are unique in Germany." – Björn Dahler
The gaming room with integrated billiards table, where you can spend many fun hours together.
The fitness room is a great place to work out. Whether alone or together with other residents – the community can be felt here as well.
The naming: influence of the port
FIV: Your last project "The Crown Strandkai" next to the Elbphilharmonie, which we reported on, also has a special name. Why does your latest project bear the name "Eleven Decks"? To what extent is it related to the port or its construction method?
Björn Dahler: The name comes from the way the building is constructed. Designed by Carsten Roth, by the way. Eleven decks = 11 floors – the ship's bow look and terrace-like arrangement allow us to develop a total of 18 penthouses: each on top of the apartments, which are laid out around the inner courtyard. These have their own green roof terraces facing the Elbe River, up to 240 square meters in size. The exciting construction method also contributes to the fact that we have apartments with 39 different floor plans. There's something for everyone.
Eleven Decks – Eleven stories and a ship bow look that fits perfectly into the harbor theme.
Interior design: Three design lines
FIV: With three exclusive design lines, several brands are integrated in the unique building. Which designers did you rely on for the open and urban concept?
Björn Dahler: The three styles named "GIO", "CHIA" and "JET" were carefully developed by the designer duo PASCH Design. Armin Panahi and Randi Schumacher have also already created the design lines for The Crown Strandkai project.
The "GIO" style implemented in a one-room apartment- bright, light-flooded and calm colors create a pleasant oasis of well-being.
Eleven Decks: Experience the whole building
You want to learn more about the unique and new building in one of Hamburg's most popular neighborhoods? Want to know how much one of the coveted apartments costs and what highlights the building has to offer? Then read all about the latest construction project in Hafencity Hamburg here.
https://fivmagazine.com/wp-content/uploads/2021/12/DCD_Eleven-Decks_Visualisierung_c_DC-Developments-immobilie-aussenansicht-wohnungen-apartments.jpg
1110
1200
Elisa
/wp-content/uploads/2023/08/fiv-magazine-logo-news-influencer-fashion-interior-travel-real-esates.svg
Elisa
2021-12-29 09:32:02
2022-02-26 17:35:59
Eleven Decks: Urban living in Hamburg Hafencity – Interview with Björn Dahler