FIV Issue #11 – The Crown luxury real estate in Hamburg
FIV Issue #11 – The latest issue of FIV is something very special: The eleventh issue of our magazine is all about real estate. We report on The Crown, a luxury new construction project in Hamburg's HafenCity. We also introduce you to the most popular and exclusive interior brands: From Armani Casa to Robert Cavalli Home , there are great brands to furnish your property stylishly. Matching the presented interior brands we show you in our furniture special what you have to pay attention to when buying tables, armchairs, sofas and co. Have fun browsing and get inspired!
New issue: ISSUE #11: The Crown real estate
Here you will find a small overview of the topics printed in the new issue:
Read online! Now on fivmagazine.com
Read the whole magazine online as well: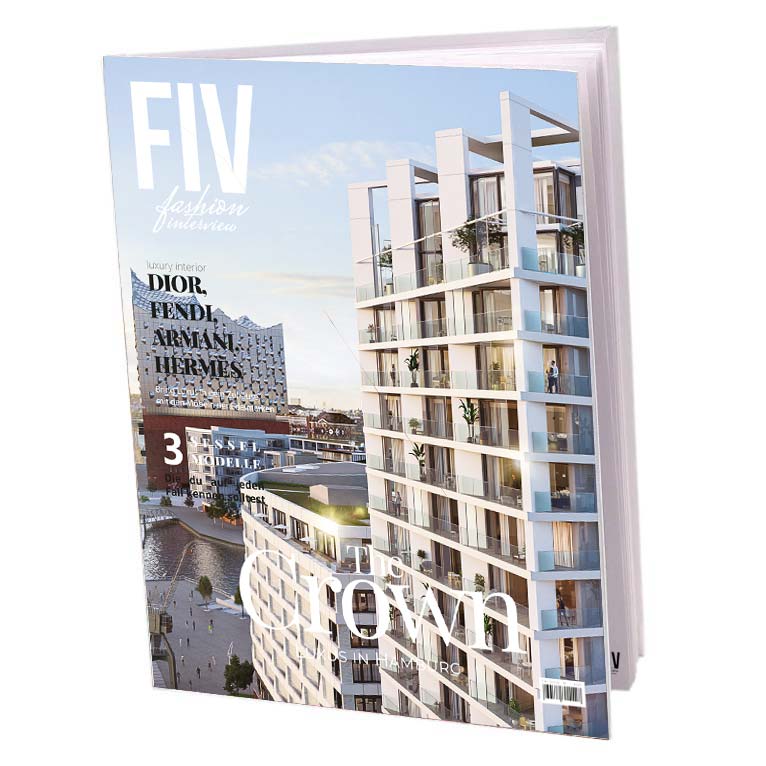 The Crown: Luxury properties Hamburg HafenCity – Condominiums with a view of the Elbphilharmonie!
Pure luxury: This is what the new residential tower "The Crown" in Hamburg's HafenCity promises. If you like luxury real estate, this property is definitely the right address. Imagine standing on your balcony, some 50 meters above the Elbe, looking down on the wave-shaped building of the Elbphilharmonie and enjoying the sun reflected in the Elbe, making the water glisten. Doesn't that sound dreamlike? No wonder, then, that almost all of the residential units in the project have already been sold.

Interior Brands: Luxury brands for the interior of your property
We present you the best and most exclusive brands for interior design in our Interior Brands Special. Here you will find your new Lieblins cuddly rug, trendy pillows for your couch and beautiful wallpaper for your property. So you can decorate your home stylishly and exactly according to your ideas!
Gucci Décor: wallpaper, furniture and decoration in 70s revival
The flair of Roman villas and the kitsch of the seventies are combined in the interior line of the renowned fashion label Gucci in unique interior design. This creates a whole new aesthetic that characterizes the creations of Gucci Décor. Unusual candles and wing chairs with the Gucci monogram: Here are offered things from which you did not yet know you needed. Gucci emphasizes richness here: lots of colors, bright fabrics, combinations of materials and colors that will take your breath away. Gucci Décor creates furniture, wallpaper and accessories such as pillows or blankets in a unique and wild style that exudes its very own charm. Editor's tip: Also check out our guide to interior styles, where you'll find info, tips and trends on all things interior design: Interior Styles.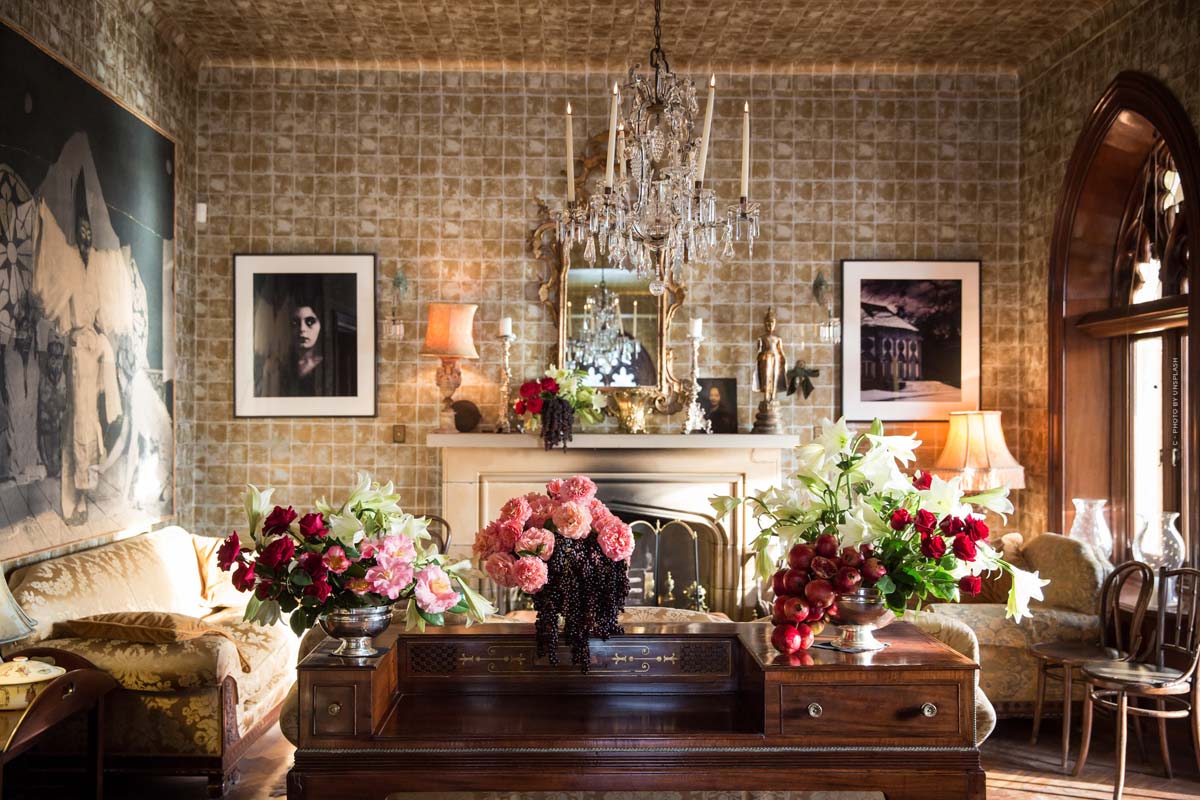 Dior Mansion: lamps, furniture, decoration and furnishings for Dior fans
Under this name, the fashion house Dior sells interior design from small to large, for example, even if you want to furnish your living room. Christian Dior had his own ideas about how a home should look. The collection puts a lot of emphasis on offering objects of daily use instead of pieces that serve only as decorative objects. Therefore, in addition to furniture and pillows, the range also includes hobby materials and small items for children. Editor's tip: Also check out our guide to interior styles, where you'll find info, tips and trends around furnishing options: Interior Styles XXL.

Furniture Special: tables, sofas, cabinets – everything for your home
Looking for a new high-quality solid wood dining table for your kitchen, a cute new velvet sofa for your living room or a cozy armchair for your bedroom? Then find the right furniture for your dream apartment in our furniture special!
Tables: dining tables, coffee tables and co. – materials and comparison, with decoration ideas for your home
Decoration and functionality are combined in tables. But they can quickly become boring if you choose the wrong model, or if you run out of ideas for table decoration. To awaken the true potential of different types of tables and create the perfect interior for your home, we would like to try to help you with this article. If you want to furnish your kitchen or make your dining room special, you need the appropriate dining table. But tables are not only used here: Storage tables, coffee tables and many other possibilities open up in the world of tables. Which forms there are, and with which table you can upgrade every room, you can find out here. Are you interested in furniture and interior design? Then check out our comprehensive guide to interior styles or interior brands XXL!

Sofas: comfortable sofa beds, sofa landscapes with decorative pillows and more for living room & co.
The ideal sofa belongs to every perfect living room interior. But who should still look through all the possibilities and the large selection? Corner sofa, big sofa, two-seater, sofa landscape, or rather just an armchair? And which material is the right one – corduroy, velvet, cotton, linen or rather the classic leather sofa? With the perfect sofa, every living room becomes a favorite place. What options you have when choosing a sofa, what is behind materials such as foam or spring core, and what is the perfect sofa for you, we would like to find out here with you. We'll also tell you where you can get high-quality sofas that meet your needs. Are you interested in furniture and interior design? Then check out our comprehensive guide to interior styles or interior brands XXL!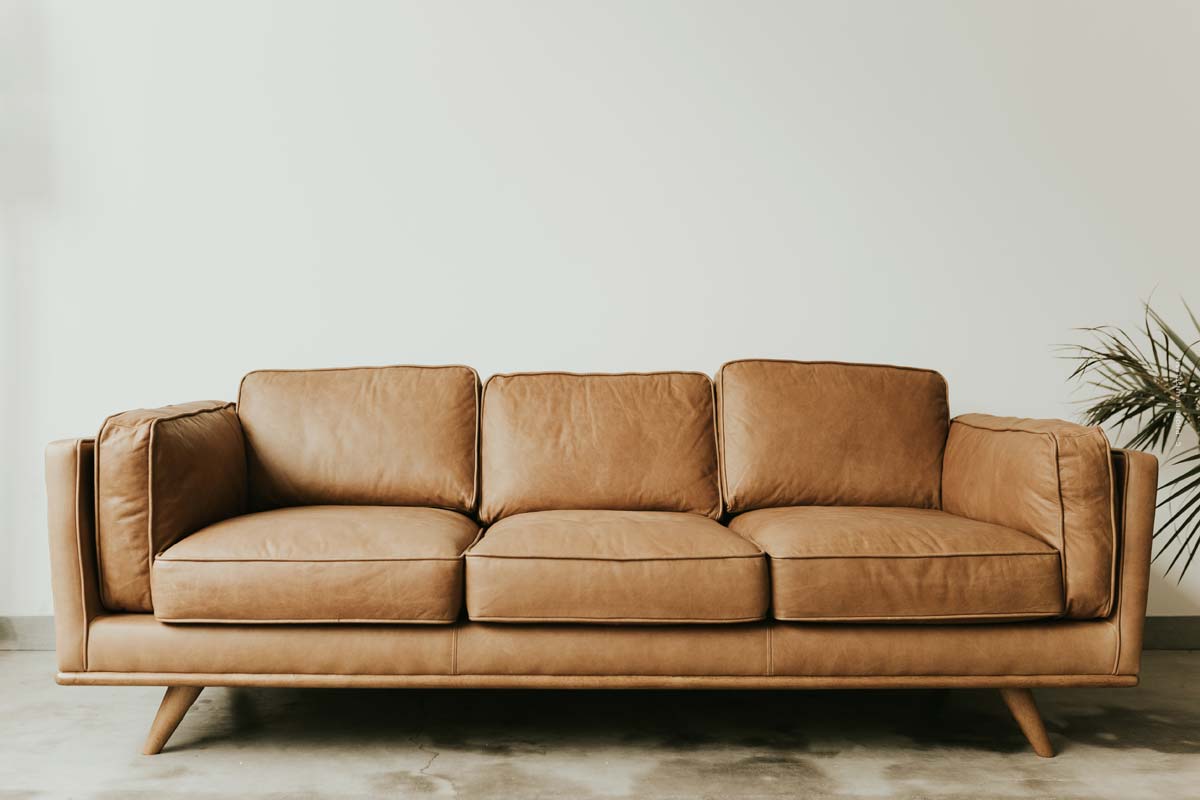 https://fivmagazine.com/wp-content/uploads/2021/12/The-Crown.jpg
600
1200
Caren
/wp-content/uploads/2020/07/fiv-magazine-news-instagram-youtube-tiktok-influencer-fashion-interior-jewelry-real-estate-tips-help-logo.png
Caren
2021-11-05 13:04:08
2022-02-26 17:47:25
FIV Issue #11 – The Crown luxury real estate in Hamburg