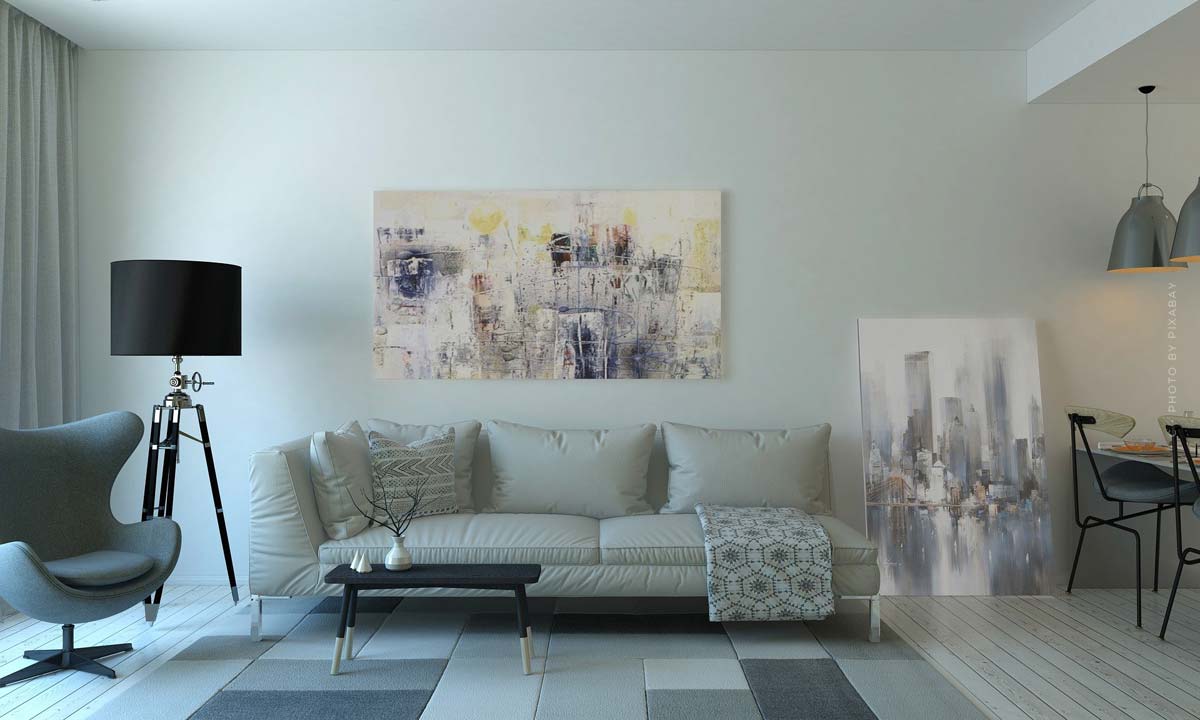 Fendi Casa: modern sofas, colourful fabrics, beds and other furniture
Fendi Casa – If you think Fendi designs fashion and accessories alone, you're wrong. The journey of the furniture collections of the label already started in 1988, making them an absolute pioneer for luxury fashion labels in the furniture sector, so you can also furnish your living room in the Fendi look! The resulting decades of experience ensure that the furniture pieces by Fendi Casa are of particularly high quality and exquisite design. Furniture for every room and insights into the collections we offer you in this article. You will also find a guide to the latest interior trends with explanations and tips: Furnishing Styles XXL.
Fendi Casa: straight luxury furniture like beds and sofas
The furnishings of Fendi Casa are not without reason a real eye-catcher. The approach is to choose the same approach to interior design, which one would also follow with clothing. The result is modern furniture with a touch of Rome. If you are looking for simple but not too minimalistic furniture, you will find it at Fendi. The collections are made by hand to guarantee the highest quality.
Tip. All luxury brands for the perfect interior from A-Z you will find in our comprehensive XXL article furnishing brands

Germany - Spain - USA
Living room: welcome guests with sofas, tables & tableware
Fendi has a wide selection of pieces to furnish the living room, the heart of the home. Colourful, glass sofas, fancy tableware and elegant seating are all part of the fashion house's home furnishing range. We present you the most beautiful and unusual pieces.
Cozy sofas by Fendi: video and collection
A comfortable sofa is not only a place to relax. If the right couch is found you don't want to leave it under any circumstances and spend movie nights with friends or sit there together with your loved ones. Suitable models for this can be found at the label in any case:
Icon Lite Sofa
Belt Tight Sofa
Ray sofa
Thea Outdoor Sofa
Icon Lite Sofa: cool metal and smooth leather meets dreamy upholstery. Belt Tight Sofa: iconic Fendi design meets soft cushions. Ray Sofa: the couch that's tailored to you. Thea Outdoor Sofa: suitable seating for balmy summer evenings. Besides the products mentioned above, there is of course much more to discover! The attention to detail and care with which Fendi manufactures its pieces can be seen in this video:
Armchair collection: lean back and enjoy
For example, those who are looking for the comfort of a sofa, but can no longer find the necessary space are well served with armchairs by Fendi. Each piece is a small work of art in itself. The elaborately created objects are worth a look:
Margareth Armchair: three legs
Kelly Bracelet Armchair
Anabelle Armchair: lounge chair
Benson Tailor Armchair: seating with Fendi logo
Collection Sofatische: constructions in marble, metal and more
To put your feet up or put your glass down, to put a book down and simply to free your hands for a moment: sofa tables are great and for many an absolute necessity. The small tables by Fendi are particularly unusual and form the optimal centre of your sofa landscape. The tables are not only beautiful, the materials guarantee durability and a high-quality look.
Boogie Coffee and Side Tables: Glass, Metal and Marble
Anya Lite Wood Coffee Table: metal and wood
Prisme Marbel Coffee Table: marble table with aluminium details
Ripple Coffee Table: metal and marble
Sideboard collection: storage with style
Sideboards are a wonderful option for unobtrusively creating storage space. Especially if you have children, sideboards offer the possibility to store toys and other accessories practically and quickly without missing them so much that you have to search for the desired objects the next day with an impatient child in your arms. In addition, low sideboards offer the advantage of making it easier for children to help with tidying up. Even without kids, sideboards are great. For example, if you don't want to mount the TV screen on the wall.
Langham Leather Low Cabinet
Edge Low Cabinet
Antinus Low Cabinet
Antius sideboard
Video: Toasting with tableware from Fendi Casa
Occasionally you can still buy glasses and plates from the Fendi tableware collection. The plates and cups are characterized by a rim decorated with the Fendi logo in black and silver. The cut of the crystal glasses reminds of glasses from the seventies.
Bedroom: Sweet dreams with furniture, cushions & co.
The bedroom: a particularly private space for relaxation. Accordingly, the furnishing of this place is a particularly important step when it comes to setting up a home in which you feel comfortable. After all, depending on the person, 5-10 hours of the day are spent here.
Beds Collection: With Fendi into the land of dreams
Beds are the centerpiece of the bedroom. Besides a comfortable mattress and pleasant bed linen, a nice bed frame is also an advantage. You can find the selection that the fashion house offers here:
Delano Bed: large, padded headboard and metal details
Icon Bed: bicolor headboard with metal decoration
Dorian Bed: simplistic bed with Fendi logo
Lambert Bed: upholstered headboard in plank style
Dressing tables: tables, chests of drawers and furniture
Many people dream forever of their own dressing table. And for some, this wish comes true. Fendi helps make dreams come true with their selection of dressing tables. The 'Lady Desks' are of course not only for ladies:
Aura Lady Desk: concealed drawers and mirror
Moonlight Lady Desk: Drawer and two adjustable mirrors
Icon Lady Desk: with mirror and extra storage space
Lamps collection: cosy ambience with light
Hardly anything is able to influence the mood of a room more than light. Especially when you want to read a book in bed in the evening, table lamps are particularly practical. This guarantees the right lighting.
Infinity Line Up Lightning: various options
Strip Line Lamps: in geometric design
Rhea & Janus Lightning
Roma Lightning: Crystals refract the light
Office: executive chairs and tables for long working days
How often does it happen: you've brought work home again and have to put in an extra shift. Or you work from home anyway. Either way, stylish office furniture from Fendi creates the right environment for long and short stays at the desk.
Serengeti Conference Table
The Serengeti Conference Table is the perfect place for negotiations and long meetings. Leather and wood make the table particularly high-quality and practical cable openings have also been thought of. The table combines practicality and good looks in one.
Shelves collection: storage space n wood, glass or metal
What is there to say about shelves? They work according to a pretty simple concept: things of your choice are placed on a shelf and can stay there undisturbed for a while. Fendi has various shelves on offer. The bookshelves are very minimalistic and can be combined with many different styles. And let's be honest: shelves are more about the content than the object itself anyway.
Hemingway Bookshelf
Serengeti Executive Bookshelf
Carpets: Gropius and Degrade
Walter Gropius was the founder of the Bauhaus style. Bauhaus was characterized by simple constructions and sophisticated, easy to mass produce, yet high quality designs. Unadorned, often geometric shapes characterize this style. The ultimate goal of the Bauhaus was the 'Gesamtkunstwerk' in which all worlds of art would meet. The carpet Gropius reflects the geometric forms of the Bauhaus, but the carpet is also symbolic of the fusion of fashion and furniture design to which Fendi has dedicated itself. Degrade is also a very simple design, which is characterized by a beige-black ombré effect.
Specials: Fendi Casa Collaborations
Fendi Casa has already collaborated with various designers and each time special collections with unique personality were created. The collections usually contain well-known Fendi motifs, such as the FF logo designed by Karl Lagerfeld, but also many influences of the different designers with whom they collaborate. Here we have picked out the 2 most relevant collaborations for you and described what makes them so special.
Maria Pergay x Fendi Casa: Armchairs, Tables & Accessories
French designer Maria Pergay announced a collaboration with Fendi in Miami in 2013, and the Maria Pergay for Fendi collection soon followed. The collection is marked by Pergay's constant pursuit of innovation and her passion for quality craftsmanship. It is a rebellious and enlightened collection. Many of the furniture and accessories are decorated with patterns and animal motifs, and the collection features lots of fur and metallic details.
Francois-Joseph Graf x Fendi – Furniture, Lamps & Accessories
In 2014, French designer, architect and interior designer Francois-Joseph Graf created an interior design collection in cooperation with Fendi Casa. He combines edgy styles with elements of the baroque. The different items look elegant due to the use of dark wood, silk and the legendary FF logo. Francois-Joseph Graf and Fendi exhibited the collection with various unique furniture, lamps and accessories in a wing of the Louvre from September 10 to around November 23, 2014. The exhibition was called 'Décors à vivre' and was located at the Musée des Arts Décoratifs in Paris, at the Louvre. On the official Fendi website, you can find the various collaborations under the Fendi Casa section and also the individual items in the collection under the 'Francois-Joseph Graf for Fendi' section.
Price list Fendi Casa
Many prices of the individual pieces are only available on request. We have been able to determine prices for a few. But if you really think about a purchase, it is best to contact a distributor of the products.
Candles: approx. 165 €
Sofas: approx. 20.000 – 60.000 €
Carpets: from 500 €
Armchair: from approx. 2.000 €
Fendi Private Suite: First Fendi Hotel worldwide
Stay at the first Fendi Hotel in the world, in the heart of Rome. The third floor of the Fendi Boutique has been transformed into 7 Fendi Private Suites that promise an unforgettable stay. Sleep overlooking Via de Condotti and Piazza di Spagna, shop at the Fendi Boutique and dine at Zuma Restaurant on the fourth floor. What actually happens on the second floor? On the second floor is the Palazzo Prive – a suite reserved for Fendi's most exclusive guests.
The suites are of course exclusively furnished with Fendi Casa furniture and accessories. The suites are available from 600 euros a night, depending on the season of course. FIV Magazine has selected a video with a room tour in one of the Fendi Private Suites. Pure luxury!
https://fivmagazine.com/wp-content/uploads/2020/12/fendi-casa-interior-einrichten-moebel-stoff-kissen-sofa-einrichtung.jpg
720
1200
Lisa-Marie
/wp-content/uploads/2023/08/fiv-magazine-logo-news-influencer-fashion-interior-travel-real-esates.svg
Lisa-Marie
2020-12-31 09:00:54
2021-07-17 17:36:44
Fendi Casa: modern sofas, colourful fabrics, beds and other furniture