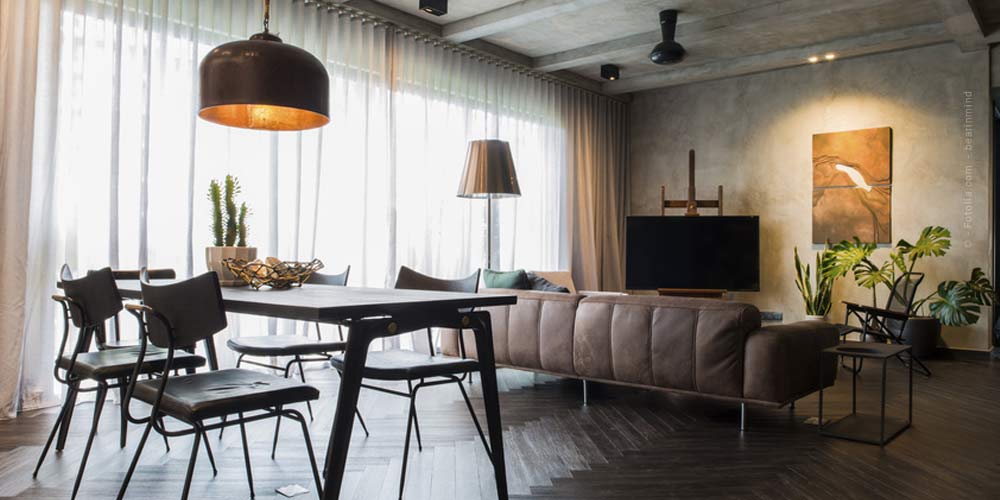 Home furnishings: materials & accessories for the room
There are many ways to make a living room, dining room and bedroom trendy. Many think directly of vases, picture frames or similar. However, there are much easier tricks to make the apartment fashionable. With more taste to the detail, even the smallest apartment becomes a stylish place to live. Colours, fabric combinations and designs play a big role in this. We have summarized the most important materials and accessories for you!
Materials: interior design & accessories
You want to give your home the individual touch and score with stylish accents! Here you will find a selection of trendy materials that should not be missing in your home in 2019 / 2020. You have already found your own style of furnishing and now you want to bring a little bit of individuality into your home with a few small steps. If you incorporate the following materials into your living concept, you are sure to win the title of "furnishing queen"!


Germany - Spain - USA
Interior design: basket chairs & baskets for laundry
Whether indoor or outdoor, basket looks good everywhere! But especially inside the apartment, the pieces are a real eye-catcher. They stand for an uncomplicated and rustic touch and create a pleasant flair even in a chic living room. The solid material is ideally suited to create a slight change in style and the investment in unique It pieces pays off. If you focus on quality you will still enjoy the pieces years after the purchase. The great thing about the rustic pieces is that you can incorporate them into all styles of interior design and they will always be individually accentuated.
But not only pieces of furniture made of the solid material should not be missing in your stylish home! Accessories made of rattan and wicker, such as small boxes and baskets, also make a harmonious impression in any home! They are also ideal for storing things and offer a lot of storage space. A little tip from us, a basket with trendy magazines makes itself among other things super in the living room and gives a nice draped picture!
Linen wash & Decoration: Natural interior decoration
Linen is often used in interior decoration and decoration, as the natural material is very pleasant on the skin and much more robust than many other fabrics. Thus, if you invest in high-quality bed linen or seat cushions, you will in most cases enjoy them for a long time. The firm structure of linen is also ideal as kitchen textiles. Moreover, it looks uncomplicated and modern. Light grey and beige tones harmonize in the whole living room, whether in the kitchen or in the bedroom. Other natural materials such as rattan, basket or wood are the perfect combination.
Material furniture & accessories for the home
In all shapes and colours, this material has become an indispensable part of our living spaces! Yes, we are talking about the trend material no. 1, velvet, or even velvet. The special thing about this material is not only that it looks super high quality, but it is also automatically perceived as a real eye-catcher in every room! No matter if in light pastel shades, or strong colour nuances, how moss green they have been on the absolute rise for a few years now and will definitely remain so for a few more years! Looking good is one thing, but feeling good is another, velvet can do both! The fabric looks noble and is super comfortable. Especially in combination with gold it makes every small living room a highlight!
Knitwear for the living room: duvet & couch blanket
Rope belongs in winter? Yes, we absolutely agree with you, but not only! Rough knitted blankets and other accessories are now an integral part of a trendy home. Of course they also provide warmth and thus fulfil their purpose, but they also look super stylish! They definitely look massive, but only in a positive sense. In contrast to conventional woollen blankets, in which runs quickly form, these fluffy friends are very robust.
Also the stylish little poofs, make a good figure in the whole living area! Surrounded by a fluffy cover, they not only look cuddly, but are also super soft, ideal to make yourself comfortable on them, or put your feet up. Due to their light weight, they can be easily transported from one place to another.
Marble style: tiles, wall & accessories
You want to set stylish accents in your home, which are not intrusive or playful, but clean and tidy! The natural stone is ideal for this. Due to its unique structure, but still the even surface, it adapts to every style of living. Ideal are small pieces, like jewelry trays, to set small details. But also small tables or larger pieces of furniture and furnishings always go down well and are timeless!
https://fivmagazine.com/wp-content/uploads/2019/07/beitragsbild-wohnung-einrichten-material-modisch-trends.jpg
500
1000
Lisa-Marie
/wp-content/uploads/2023/08/fiv-magazine-logo-news-influencer-fashion-interior-travel-real-esates.svg
Lisa-Marie
2020-02-08 14:05:12
2020-04-07 14:34:04
Home furnishings: materials & accessories for the room