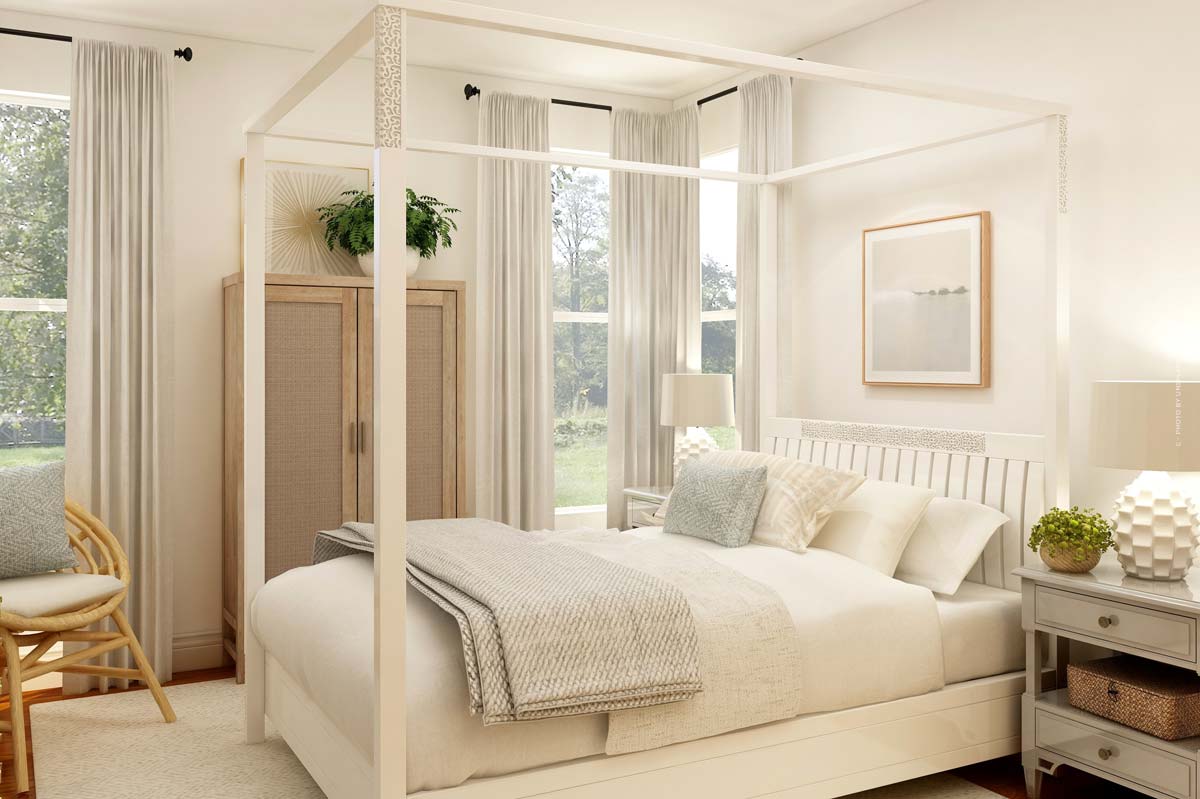 Boho Chic: Furnish your apartment and room in the trend of hippie bohemian style
Boho Chic Furnishings – Are you looking to redecorate your home, living room or bedroom, and looking for trends and new home styles to inspire you? Then the Boho Chic interior style could be just the thing for you! Besides summer, sun sea and party you also associate the typical boho/hippie style with Ibiza. Crochet tops, lace, wide airy dresses with floral prints in pastel shades and cream tones. However, you can implement the Boho-Ibiza Style not only with fashion, but also in the interior. Boho chic is one of the hottest interior design styles and is very trendy. Find out here what makes up the Bohemian style and how you can bring Boho Chic into your home in no time at all with individual pieces of furniture and accessories such as cushions and decorations. Also interesting: country house style. Back to the overview here: Furnishing Styles.
Boho Chic: Lots of wood, cream tones, lace & crochet
The Boho style is an imperfect and romantic look. Despite the imperfection, the interior looks coherent and natural and invites you to linger. By choosing materials that are reminiscent of craftsmanship, your interior is given a special charm. Hippies were or are known for breaking norms, which is exactly what the furnishings in Boho Chic should embody.
Origin of the Boho style: bohemian, creativity and the pursuit of freedom
The name Boho comes from the French Bohemian and refers to a fringe group of the 19th century, which strived for freedom and protested against the norms of society. This fringe group consisted of creative people, such as poets, painters, writers, sculptors and musicians. Bohemia is an unconventional way of life that differs from the social ideal and longs for freedom.
Since the 1960s, the bohemian lifestyle has flourished again and the people of this fringe group now call themselves hippies. Love, Peace and Freedom is now in the foreground. Flower power became more and more hip and this was also transferred to clothing and furnishings. Floral patterns and wide, loose clothing became more and more hip and the emblem of hippie culture. It was precisely this looseness and spirit of life that people then wanted to incorporate into their furnishings. In the 1990s, the step was then dared to take the hippie style into the home. Some artists interpreted the hippie style of the 6o's and 70's and so the Boho Style was created. If you now combine the Boho Style with modern colors, patterns and shapes, you speak of the trendy Boho Chic, which embodies ease, comfort and style.
Do you like to live in a home that looks unconventional, casual and different from other interiors, then Boho Chic is for you!
Carpets & materials: mix of textile and natural materials
Who wants to have cold feet when getting up? To prevent this, a carpet is ideal. It's best to choose a Persian rug, as it perfectly reflects the boho style. A carpet is not only an eye-catcher in the bedroom or living room, but also radiates warmth and cosiness. Not only a Persian-look rug is a chic accessory, but also braided rugs with fringes. Other materials that embody boho chic are the following: Wood, leather, rattan, cotton and linen. Natural materials with cute details, such as fringe, or lace are welcome in a Boho Chic interior. It is important that many materials are reminiscent of craftsmanship and nature, as boho style originally stems from a movement of creative people who are freedom lovers. In addition, soft and homely materials are essential.
Want to know which vintage furniture will look great in your home? Check out our article on vintage furniture!
Colours and patterns: bright colours, pastel shades & classic patterns
The Boho style stands for unconventional living, as well as the message should also be considered in the choice of colors. The mixture of soft cream tones with flashy colors makes the Boho Style. Especially the style mix in the Bohostyle is the special and what you should pay attention to. Here are a few tips for the right color choice:
There should be single spots of color in the boho style. Just make sure that it is not too colorful and restless
Use light colors so that the room looks friendly and not oppressive
It is best to stay in one colour family. Combine only occasionally contrasting colors with each other
Choose bright colors as the focal point of your decor, not the base. So keep wall colours and large pieces of furniture simple and unobtrusive.
The typical patterns in bohemian style are gaudy and eye-catching patterns, but also patterns inspired by other cultures. Patterns include: Macramee (Arabic knotting technique in which threads and strings are braided), Batik (also trendy in fashion) and Patchwork (interplay of multiple patterns). Have you brought these patterns into your interior design? Then nothing stands in the way of your Boho style interior.
Design walls & floor: Bohemian Style Furnishings
If you want to decorate your home in boho style, you can get a lot of inspiration on social media or Pinterest. The interior design style has never been so hot. The boho style is one of the most popular interior design styles of this decade and that is exactly why there is enough inspiration on the net. Here are a few tips and inspirations on what to look for when decorating and how to do it right.
Natural style flooring: wooden floor, stone floor or concrete floor
When it comes to the floor, you have many options in Boho Style. It depends with the Boho Chic rather on the furniture and the decoration. A simple floor is therefore best, which does not steal the show of the decoration. A floor made of natural material is particularly suitable for this. Suitable floors would be the following:
Wooden floor: matt or glazed, light or dark
Stone floor (maybe add some highlights, e.g. tile with a cool pattern)
Concrete floor
Walls: patterned wallpaper, cream tones, delicate pastel shades & Co.
The walls, like the flooring, should not steal the show. Nevertheless, you can be a little bolder here than with the floor. As with the interior design, you can also install individual eye-catchers on the walls in the form of bright colours or patterns. However, you should make sure that only isolated walls with gaudy patterns or colors are used. The rest of the room should be kept in plain colours: Cream tones, soft pastels, white or warm greys are particularly suitable.
Bedroom: Relax with decoration & furniture
To implement the Boho style in your bedroom you need many natural materials and soft, cozy textiles. If you mix these two materials together, nothing will stand in the way of your bedroom in the trendy Boho Chic living style.
Colours in the bedroom: homely colours with bold accents
For the bedroom, you should go for earthy colors and not gaudy ones. Earthy colors like brown, beige or olive radiate warmth and coziness, so exactly what you are looking for in a bedroom. By the way, black is also suitable in small quantities, which reflects the modern and clean colour scheme. Once you have used these basic shades, you can be brave and add a few colour accents. Metallic colours, red (Bordeaux red), mustard yellow, royal blue, turquoise or a warm blue are particularly suitable for this. You just have to be careful not to choose too many colours, so that you end up with an unstable picture. So decide on two or three colours that you want to use as colour accents.
Natural materials: wood, velvet, linen, rattan & co.
As materials should be used in the bedroom mainly homely-looking materials that radiate a lot of warmth. Wood, velvet, linen, rattan and leather are particularly suitable for this. However, wood should be chosen as the basis, because wood radiates a lot of warmth. The remaining materials can be incorporated into the bedroom with the help of cool DIY ideas or as accessories. Especially cushions, curtains or blankets in linen fabric or linen look are trendy and embody the Boho Chic perfectly.
Decorations for your bedroom: linen pillows, cotton blankets, copper bowls…
Speaking of pillows, we can also go directly to the decoration. The decoration is super important in Boho Chic and should therefore be well chosen and discreet, but still present in the room to be seen. On the one hand, linen pillows or curtains are a great way to properly use textile and bring in the decoration with. Since linen is not really one of the softest materials, you should definitely still use some homely and warm fabrics. So go for cotton, rugs with fringes and cozy bedding. Now complement these materials with a few accessories, such as copper bowls, table lamps with gold-plated bases, pictures with floral or oriental motifs, simple shelves, candles and ceiling lamps made of natural materials.
Need some inspiration for decorating your bedroom? Then read our article including tips and tricks: Bedroom decorating
Living room: Sofa in warm colours, cushions with pattern & Co.
With the accessories and the colors, you can turn completely after the colors and materials in the bedroom. In Boho Chic, instead of "less is more", it's more "more is more". So don't be squeamish with the decoration and the color choice. It is only important that in the end no restless confusion arises.
So choose warm colors as a basis, so beige, brown or cream tones. The highlights you then implement in the decoration. Oriental patterns and the use of wood, cotton, linen and co. make the style perfect and your living room shines in the trendy Boho Chic living style.
Boho Chic Furniture: A Mix of Vintage & Modern Furniture
A mix of furniture and styles is just the thing in boho chic. Combine new and modern furniture with vintage furniture, or cool flea market finds. The most important thing is that it should still be a coherent picture in the end. Choose delicate furniture and no bulky wooden furniture that looks too present in the room. There should be a harmony between the furniture and this only happens if you match the furniture from the colors and style to each other. So again, settle on one to three basic colours as a basis. Furniture with beautiful and individual squiggles, reminiscent of the oriental style, is also very welcome.
Tip? Are you interested in furniture, interior design and current trends? Then take a look at our guide with more than 30 luxury brands for furniture and interior design, where you will find tips and inspiration for brands like Fendi Casa, Boca do Lobo or Gucci Décor: Furnishing Brands Guide.
https://fivmagazine.com/wp-content/uploads/2021/03/boho-chic-bohemian-style-einrichten-einrichtung-interior-trend-tipps-haus-wohnung-zimmer-einrichten-gestaltung-teppich-deko-moebelwohnstil-wohnen.jpg
799
1200
Lisa-Marie
/wp-content/uploads/2020/07/fiv-magazine-news-instagram-youtube-tiktok-influencer-fashion-interior-jewelry-real-estate-tips-help-logo.png
Lisa-Marie
2021-03-11 07:00:37
2021-07-17 17:06:47
Boho Chic: Furnish your apartment and room in the trend of hippie bohemian style