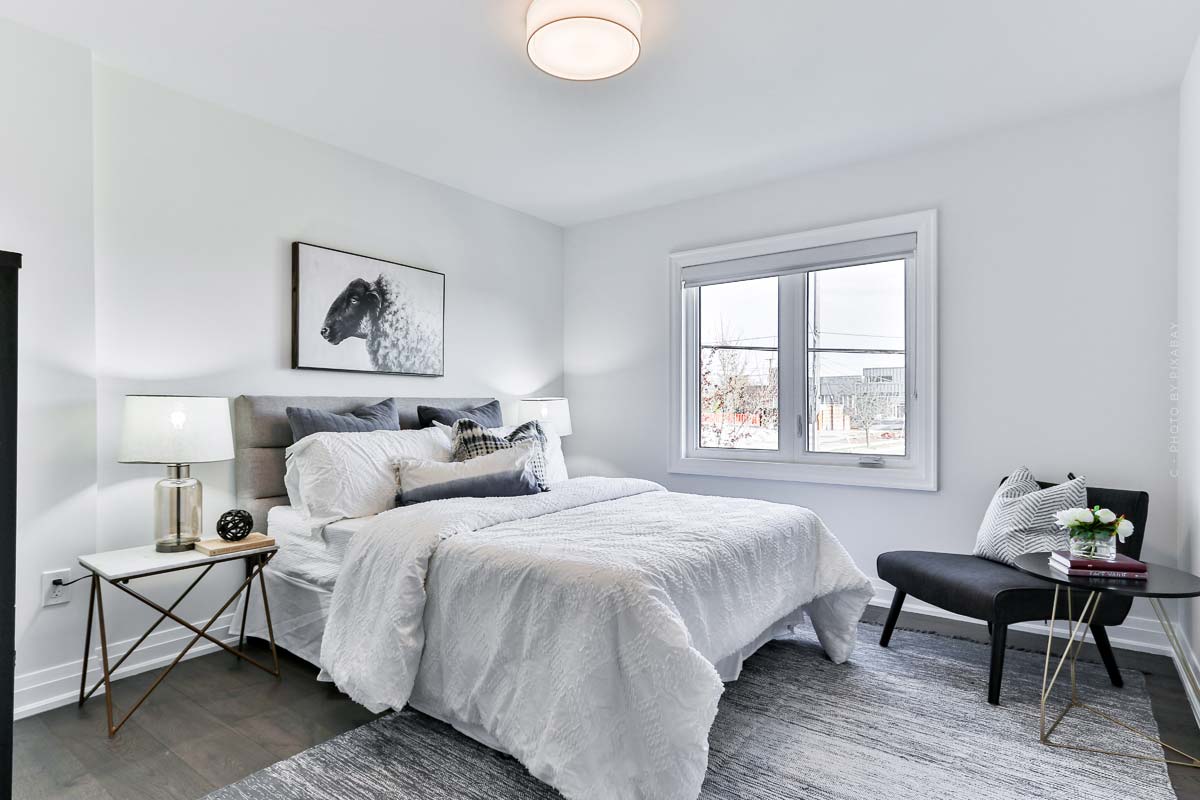 Bedroom Furnishings: Furnishing ideas, design options and tips for furniture and decorative items.
Bedroom furnishings – Dreaming of a bedroom that invites you to dream both at night and during the day? A stylishly designed bedroom with the right ambience can allow you to get your beauty sleep and at the same time act as a retreat and haven of peace during the day. Maybe even invite you to daydream. The following article will show you how to adapt your bedroom to your aesthetic ideas, which pieces of furniture you should include a lot of planning and research for, and what else there is to consider when designing your bedroom. A room which should not only invite you to dream at night! Here you can get back to the overview: Room furnishing. Tip of the editors! Interior trends and styles presented at a glance: Furnishing styles.
Bedroom: beds, wardrobes, pictures and decoration
You are just about to fulfill your dream of owning your own home or want to give your own four walls a makeover? The furnishing of your bedroom should play an important role here. This is the room that you see first thing in the day and in which you close your eyes again. It is not for nothing that the saying – "A smile in the morning drives away sorrow and worries" applies. And what, if not an aesthetic living style with a modern bed, luxurious furniture pieces and stylish accessories will put a smile on your face? But a bedroom can do much more. It is not uncommon for it to be used as a dressing room and a retreat. See for yourself why it is essential that you feel comfortable in your bedroom!
Tip! Popular and luxurious interior brands and furniture are presented here: Interior Brands XXL!
Retreat: bedroom as an oasis of well-being and
Whether you live in a luxurious penthouse in New York, a detached house in Provence, or a villa in the Hamptons, as cozy as your entire home may be, you often crave a retreat just for yourself. What better place to do that than your bedroom! A room where your privacy and well-being are a top priority. Now it's time to transform this retreat into a feel-good oasis. Maybe you like to relax with a good book. Maybe you prefer to watch an exciting thriller on Netflix. Maybe your daily beauty routine relaxes you. The only thing that matters is that you set up a little sitting aka relaxing corner. This can be anything from a small sofa to a hammock to a stylish beanbag chair. In the course of this article, we will introduce you to the most essential and stylish pieces of furniture for your feel-good oasis!
Wardrobe: dressing room and bedroom combined
Dreaming of having your own dressing room? If not since you can remember, then definitely since you saw Carrie's walk-in closet in Sex & the City! Unfortunately, not every home, whether it's a loft apartment or a bungalow, has room for an entire dressing room. Luckily, with a few tips and tricks, you can conjure up the feel of a walk-in closet in your bedroom. With the right wardrobe furniture, stylish clothes rails and modern storage boxes, there's nothing standing in the way of your walk-in wardrobe atmosphere in the bedroom!
Bedroom Furnishing Styles: Features & Comparison
A house or an apartment alone is by no means a home – the right furnishings with furniture and decorative items can work wonders. Interior tastes are as versatile as people are. Therefore, the first step is to get to know your personal preferences. Here are a few tips to help you find the perfect interior style for your home:
Create Pinterest folder
Generate mood boards
Advice from family and friends
Visit furniture stores and showrooms
Search for sources of inspiration of all kinds
Do not rush
Ask the question, "What pieces of furniture make me happy?"
Agree on a style
Create wish list
The search can begin
Happy Shopping!
Minimalist design: furniture, accessories and co. in clear lines
Clean lines and shapes create space and room for a purist lifestyle. Geometric shapes often find a place in minimalist design and let decorative items shine in their aesthetics. In terms of colour, the minimalist style also keeps a very low profile – black, white and grey are preferred. If you don't want to make your home completely colourless, the use of splashes of colour is very popular. A colour tone can run consistently like a red thread through the entire furnishing style. Isolated murals in large formats, warm light sources and colour accents in the form of carpets and straight decorative items bring charm into your consciously reduced home!
Less is more is also the motto of the Scandinavian interior style. Wood, natural materials and clear shapes have established themselves as the distinguishing features of this interior style. The closeness to nature, a pleasant aura and clarity create a pleasant ambience. The light, cosy and clear style of living brings clarity and peace into the bedroom, so that nothing stands in the way of a peaceful night and beautiful dreams. Studies prove not for nothing that a lot of light and a friendly ambience can increase the quality of life. Furniture with a matt white finish is particularly popular. But the use of natural woods such as birch, pine or spruce is also very popular. In terms of design, the Scandinavian living style likes to use candlesticks, decorative cushions and wall decorations, which optimize the living style as eye-catchers.
Statement furnishings for the bold: opulence, splashes of colour and pattern mix in stylish aesthetics
Do bright pink, radiant yellow and lush green make your interior heart beat faster? Animal print on the decorative cushions and flower power on the bedspread describe your interior style perfectly? Gold ornaments, opulent decorative items and kitschy wall decorations can't be in excess? If all of the above applies to you, the following interior brands will already make you feel at home in their showrooms. Aesthetic masterpieces mingle with opulent embellishments and splashes of color in the form of furniture pieces, decorative items, and more. See for yourself!
Country style: Idyllic, rustic and cozy in the bedroom
If you associate country style only with the old wood paneling in your grandparents' house, you thought wrong. The country style enjoys great popularity within Generation Z in big cities. Traditional pieces of furniture such as old farm cabinets and beds made of natural wood inspire with their rustic charm. The close-to-nature and cosy living style is complemented by textures such as cotton and linen. Detailed handicrafts with carved highlights make interior hearts beat faster. In terms of colour, a muted colour palette is used, whereby the use of brown and pastel shades is particularly popular.
Bed: center of every bedroom – types & selection
A calm and healthy sleep rhythm is the basis for your well-being and a balanced life. That's why it's even more important that you take your time when choosing your bed. A bed is usually an investment for several years, in which your day both starts and ends. Below we have summarized the most popular types of beds for you:
Solid wood bed: timeless, durable natural look made of wood
Are you a fan of natural and warm living styles? Have you taken a liking to the typical country house style? Then you have found your dream come true in the luxurious solid wood bed. This high-quality bed frame impresses with its durability, easy maintenance and natural aesthetics. You can choose between oak, beech and pine wood to create your dream bed.
Disadvantages:
Durable
Warm, homely material
Disadvantages:
Expensive to buy
Often does not fit with the rest of the furnishings
Futon bed: minimalist aesthetics from Japan in the bedroom
Are you dreaming of a purist, clear line in your bedroom, which extends through to the design of your bed? Then you are exactly right with the futon bed. The bed type originally from Japan shines with its flexible futon mattress, which is only 14 cm high and can be rolled up easily. Characteristic for the futon bed is the simple design, the low construction and the missing headboard. Minimalism in its most beautiful form. Convince yourself!
Pros:
Space-saving
Minimalist aesthetics
Mattress easily stowable
Disadvantages:
Signs of use easily visible (scratches etc.)
Can seem uncomfortable
Box spring bed: The king among beds
Do you associate the box spring bed with luxury, comfort and cosiness? – You're right on the money. Originally from the USA, this type of bed delights interior lovers with its uniformly upholstered frame and its three-layer structure. The base, the heart of the bed, with its spring core is the basis for the dreamlike comfort. The spring mattress on top creates the actual sleeping comfort. The whole thing is literally topped off with a topper. This narrow mattress provides the ultimate comfort and sleeping experience.
Pros:
High comfort
Creates a cosy ambience
KeyPiece in the bedroom
Disadvantages:
High price
No storage space
Waterbed: Sleep like on clouds or on an air mattress
Is your sleep worth its weight in gold? You want to adjust the firmness of your bed individually? You want to sleep like on clouds? Then a waterbed should be perfect for you. This luxurious type of bed differs from all other types of beds in its construction. Instead of sleeping on a mattress, you sleep on water. Individual chambers filled with water create the ultimate and customized comfort experience. The bed literally adapts to your body. Only in its purchase, the waterbed is somewhat more expensive compared to its competitors.
Pros:
Individually adjustable degree of hardness
Exquisite sleeping experience
Disadvantages:
Very expensive
Maintenance partly complicated
Wardrobe: clothes, accessories and co. in the bedroom
In addition to the classic function as a bedroom, it must, as already mentioned, usually also offer space for the wardrobe. You have long wanted to realize the dream of a dressing room, but your home does not offer enough space for this luxury? Don't worry, with the right tips and tricks you can create enough space in your bedroom to make your dressing room dream come true in a modern way. See for yourself!
Tip. Wardrobe planning & furnishing.
Sliding door: space miracle in the bedroom
Optimal room layout is often not given enough attention – this should not happen to your bedroom. Especially in the bedroom, which often can not inspire with its size, cabinets with sliding doors can establish themselves as true space wonders. A big plus point is that there is no need to consider an extra swing area when opening the wardrobe. In addition to its functionality, the sliding door wardrobe also shines in terms of its appearance. This cabinet variant usually impresses with a modern look, whereby mirror fronts are very often incorporated into the doors. This in turn can also visually enlarge the room – a win-win situation. Many variations also do without handles, which gives the cabinet an elegant look. We like!
Bedside table: lamp and scented candle for falling asleep
Your first move in the morning and your last move in the evening is often to the nightstand. No matter if you put your book on the nightstand before sleeping or if you reach for your mobile phone placed on the nightstand in the morning – the nightstand takes on a very important task in your bedroom. Accordingly, it is worth paying attention to an aesthetic design and the appropriate functionality here as well. Are you dreaming of a country-style bedside table with engraved details in pastel shades? On your wish list is a metallic bedside table in minimalist style? Here are the most important points to consider when buying your bedside table:
Which living style do I want to meet?
What material should he have?
What height must it not exceed?
What does the nightstand need to accommodate? (Books, laptop, etc.?)
Ambience: light intensity, colour choice and more
No matter how good the quality and comfort of your bed, if the ambience in your bedroom isn't right, even the most expensive mattress won't give you a good night's sleep. Fortunately, there are now enough tools that create the perfect ambience for you.
Suitable blackout & noise protection for your beauty sleep
What is often forgotten or not given enough attention when designing the bedroom is the light & noise situation in the room. Is your bedroom right next to a busy main road? Does a train pass by your window every 30 minutes? Or is your window illuminated by a street lamp all night long? In order to avoid wasting energy on these disturbing factors, you should already pay attention to them when planning your room. Soundproof curtains are very popular, especially in big cities. Of course, we do not want to leave out the aesthetic factor. Accordingly, we present you below a few curtains, which master both their functional and aesthetic task brilliantly:
Velvet curtains
Curtains made from strong linen
Blinds in metallic look
Monochronous soundproof curtains
Soundproof curtains as a splash of colour or pattern
Bedside lamp, ceiling lamp and co.: light fills the room
From geometric design masterpieces to artfully arranged lamp creations and unspectacular lampshades with a minimalist look – the lighting design in your bedroom can be individually adapted to your lighting and design wishes. You can choose the number of lamps according to whether you prefer a light-flooded or gloomy room. You can find particularly luxurious, aesthetic and stylish lamp creations from the following interior brands:
Wall color: beauty sleep thanks to the right choice of color
On average, we spend around a third of our lives in our bedroom. All the more reason to fully exploit the slumbering potential in your bedroom. To ensure that nothing gets in the way of your well-being within your four walls, it is advisable to pay particular attention to the choice of colours for the walls. Some colours can bring unrest into the room, while others create a relaxed atmosphere. In the following we present you colors, which are recommended in the bedroom:
Cream-white (neutral, calming effect)
Tinted yellow (soft, not too aggressive)
Forest green (special, but cozy and calming effect)
Powder grey (radiates calm and serenity)
Textured plaster (natural effect)
Pastel colours (radiates pleasant warmth)
Accessories: decorative items, textiles and plants for that personal touch
The final touch to transform your bedroom into an optimal oasis of well-being is the selection of matching decorative items. A finishing touch that can be extended over a long period of time. With the right accessories, you can give your bedroom your own personal touch. Whether it's art objects, creative photo montages or abstract artworks from your last visit to the gallery – this is where your personal taste comes in. In addition to classic decorative items, don't forget the importance of textiles. Whether carpets, decorative cushions or curtains, different materials add the finishing touch to any room. Plants are also very often included in the bedroom. Comfort, aesthetics and cosiness inspire the interior world! The following interior brands create exquisite and luxurious home accessories among others! Happy Shopping:
https://fivmagazine.com/wp-content/uploads/2021/02/schlafzimmer-einrichten-einrichtung-moebel-ideen-schrank-lampe-deko-gestaltung-kommode-tipps-trends-zimmer-einrichten.jpg
800
1200
Lisa-Marie
/wp-content/uploads/2020/07/fiv-magazine-news-instagram-youtube-tiktok-influencer-fashion-interior-jewelry-real-estate-tips-help-logo.png
Lisa-Marie
2021-02-17 07:00:29
2021-07-17 17:35:20
Bedroom Furnishings: Furnishing ideas, design options and tips for furniture and decorative items.