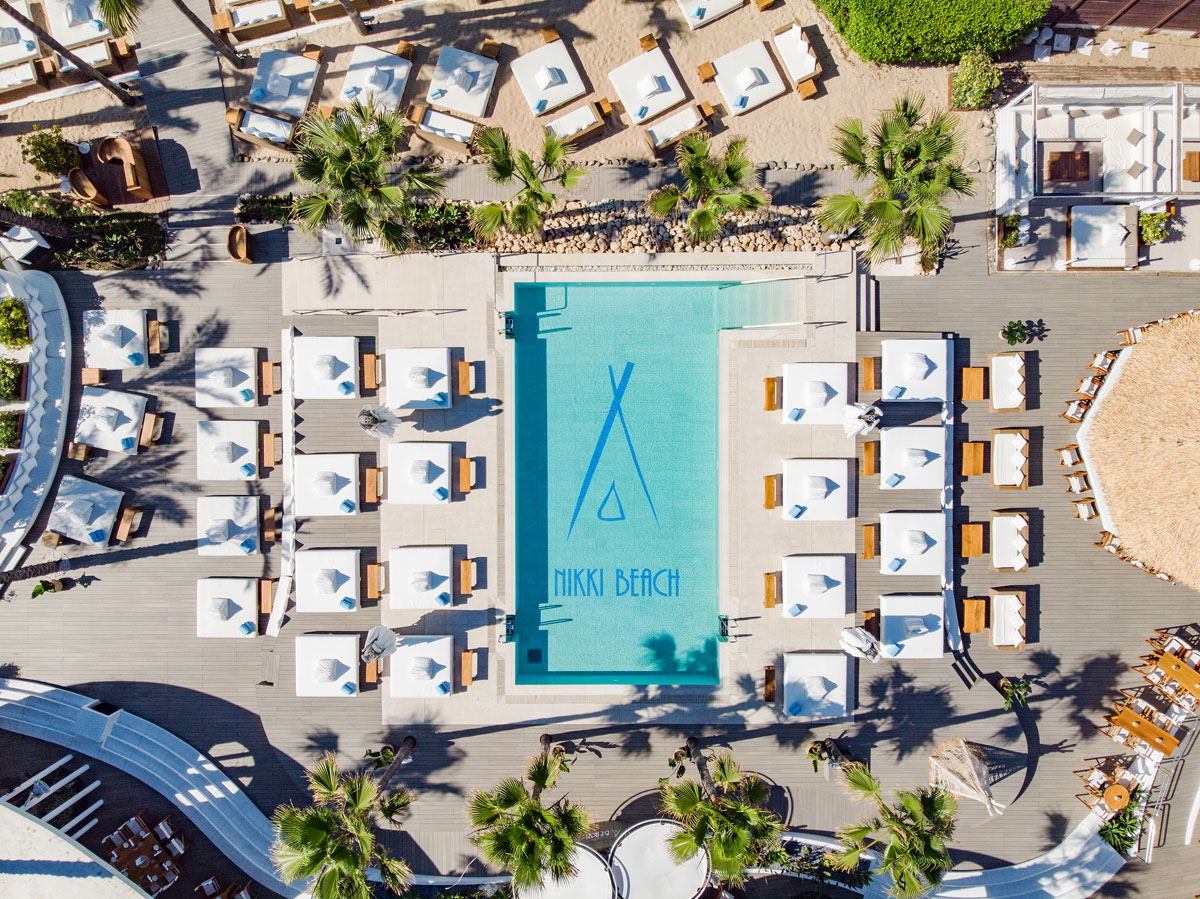 Nikki Beach Marbella, Photo: Pedro Jean
Nikki Beach Marbella: Hotspot, Restaurant and Pool Check – our tip!
Nikki Beach Club – Off the beaten track of the city centre, you'll find Nikki Beach Club in Las Chapas (Marbella). Right on the beach, extremely cosy and with fantastic and stylish food. Stylish? Yes! The sushi alone, but read more here! Our tip for those who want beach club, extremely delicious food and drinks. You are in Marbella? No matter if you are on holiday, long term or business trip, you have to visit this beach club. After 2 weeks on site and many tests, the Nikki Beach Club got the most stars, especially for food and drinks.
Nikki Beach Club: Worldwide
Nikki Beach Clubs stand for quality worldwide. Reason enough to stop by in Marbella. Nikki's flagship is in Miami. What's Marbella like? We were there for you!
Saint Tropez, Ibiza, Duabi, Barbados or Miami Beach, the stylish Nikki Beach Clubs can be found in all top destinations. Nikki Beach clubs are among the best in the world. The beach club in Marbella also has the best ratings on the internet. We are currently in Marbella for our new issue of the real estate magazine and visit the hotspots in Marbella for you at the same time. Today we really wanted to have a look at the Nikki Beach Club!
Keyfacts first! Nikki Beach Marbella
What makes Nikki Beach in Marbella?
Away from the tourists in the city; more exclusive audience
Directly on the Mediterranean Sea, Beachfront + Swimming Pool
Culinary just as top in the restaurant
Friendly service at the place
Here you can make a reservation at Nikki Beach.
Important! Because, "Reservations are required, but do not guarantee entrance."
Nikki Beach in Marbella: How to get there
Here quickly the beach section where you will find the Nikki Beach in Marbella.
Address: Carr. de Cádiz, km 192, 29604 Marbella
The club is located a bit outside the city center, which is very pleasant, because not everyone is here immediately. This makes for a more select and pleasant crowd than you have in many areas of downtown. It doesn't take ten, 15 minutes by car, depending on how much you enjoy the scenery, right out of downtown.
A video may say more than a thousand words!
Restaurant and food: Starter in front of bed and pool
Quite different from the rest of Europe, e.g. in Germany, France or the UK, the evening starts with good friends and only around 8 pm. A few drinks, then a small starter menu and then the big meal! Quickly it is 11 pm, 24 pm. So we start our visit in the restaurant area of the club.
We looked at 3 wills today, all in the range of 3 to 4.5 million euros. Sounds very pleasant at first, but at 35 degrees, it can quickly be exhausting! Therefore, in Marbella and in all of Spain one thing is important:
The time in the evening.
We even arrived a little earlier, at 6pm, because we were so hungry and in the mood for pool and music from the DJ! The restaurant at the beach club is always a recommendation, also here in Marbella!
Nikki is one of the few beach clubs that enchant not only by the atmosphere of the beach location and by decoration and interior, even the charge of the menus is always something special!
We wanted to go with the full beach feel and started with sushi:
Served and draped individually, on a wooden Japanese dragon!
In addition, there were really excellent cocktails, from a very small, selected menu. Always a good sign for freshness and quality.
We were greeted by a very friendly service staff, who recommended an excellent wine in addition to the food, cocktails.
The food was so good, perfect location for our lounger and the pool!
Tip: You can also get the "World Famous Nikki Beach Mojito" here.
Rating: 5 / 5 stars !
Bed, palm trees, pool and DJ: Evening
Not two minutes later we were lying relaxed, right under palm trees, not 5 meters from the pool, with relaxing live music from the DJ, fitting for the start of the evening.
A second benefit of being there a little early, we still had plenty of room in the pool and still, no champagne bottle was sprayed!
Champagne bottle? Videos say more than 1000 words, look here:
Champagne party? Why not!
As I see it, so do Lydia and Lucy. The champagne party starts in the 6th minute!
At Nikki Beach Club you can absolutely have it both ways, we started with a business meeting, debriefing our visits to Marbella, with smooth transition to bed, swimming pool and music.
Sunset and Rating @ Marbella
Sunset at last! A long day and a beautiful evening come to an end. It was great hours at the Nikki Beach Marbella!
I always say, if it's two hours, it was o, if you stay four hours, what great and a real experience! Therefore, from our side, as well as from the Internet community:
5 out of 5 stars for the Nikki Beach
If you are looking for an exclusive beach club, then this is the place for you! We enjoy the last drops from the wine bottle in the sunset and wish you a wonderful holiday in Marbella!
Marbella: Holidays, hotspots and tips
Marbella is located in the tropical south of the Costa del Sol, just under an hour from the southern Spanish provincial capital of Málaga. The municipality covers a total area of almost 117 square kilometres, always along the coast of the Mediterranean Sea. The proximity to the coast allows not only a fantastic view to the Mediterranean Sea, but also to the mainland of Africa. And also Gibraltar, known as the last point of Europe, can be reached within only 2 hours.
A pleasant climate all year round, lots of sunshine, right on the Mediterranean and all this just a few hours' flight away from European capitals such as Berlin, Stockholm and Rome. In fact, many Italians are here in Marbella, as well as Swedes and Germans. One reason for this are for example the countless, large and lush green golf courses. As well as the "Old-Town" of Marbella, the kilometer-long beaches and the Spanish attitude towards life. What this means, you will learn in this Marbella guide for your first holiday.

https://fivmagazine.com/wp-content/uploads/2021/07/nikki-beach-marbella-holiday-urlaub-club-drohne-dji-flight-liegen-empfehlung-reise.jpg
899
1200
F_kinski
/wp-content/uploads/2020/07/fiv-magazine-news-instagram-youtube-tiktok-influencer-fashion-interior-jewelry-real-estate-tips-help-logo.png
F_kinski
2021-07-14 15:10:03
2021-07-15 16:33:40
Nikki Beach Marbella: Hotspot, Restaurant and Pool Check – our tip!