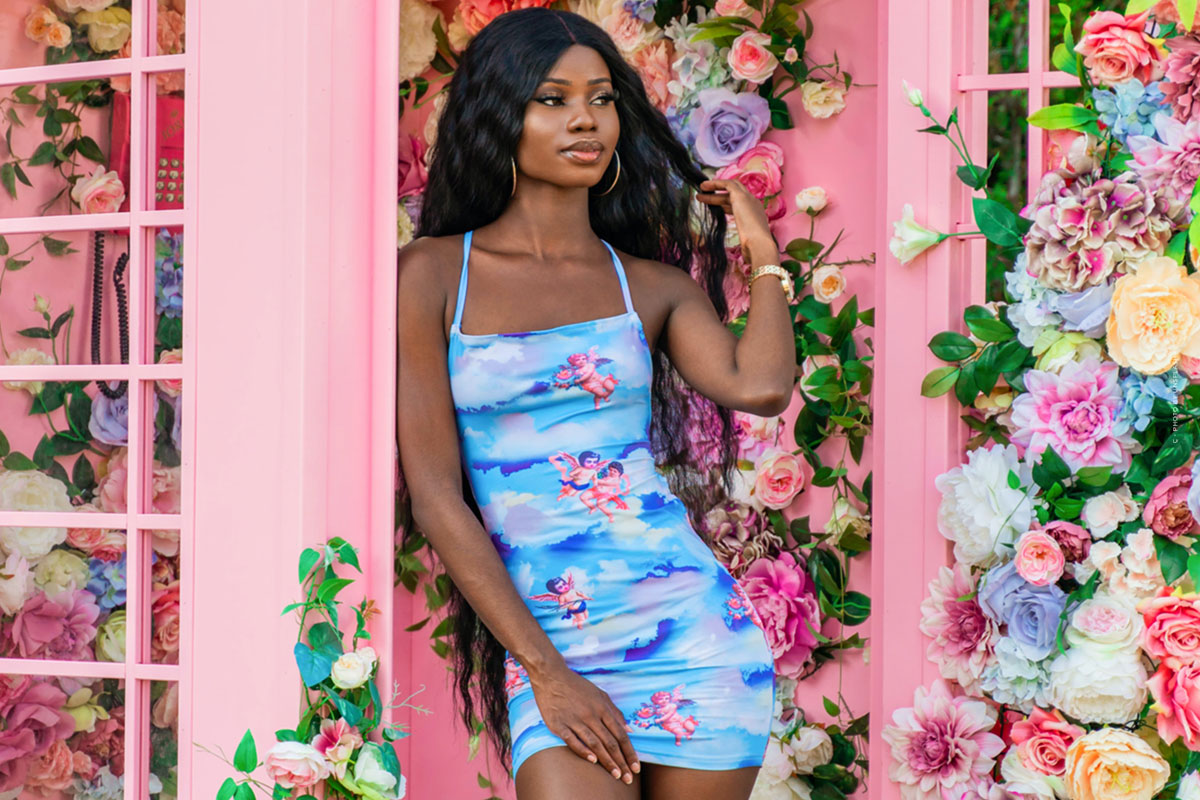 Must Haves 2021 – How to make spring really stylish
Must Haves 2021 – The first rays of sunshine come out, the winter clothes are packed away, the spring season begins. That's when the question arises: "What do I wear now?" We want to introduce you to the best trends and most important must haves of the spring season 2021. With these tips and tricks you will start the spring in style.
What are the latest trends for spring 2021?
Oversized sweaters, seductive bralettes and cleverly combined bike shorts – spring fashion is innovative, fun-loving and suitable for everyday wear. While we can look forward to new trends that allow us to let our creativity run free, old classics are returning to our wardrobe.
Hoodies, Jeans & Trouser Suit: XXL and Oversized
Whether it's wide shirts, loose fitting suits or baggy jeans. Oversized and XXL looks are part of every wardrobe in 2021, and you can style it casually for everyday wear with a hoodie and baggy jeans. You can also rock a chic oversized pantsuit at the office (if you get to go back to the office). The XXL style has been seen in fashion shows at Louis Vuitton, Balenciaga, but also at Chanel. But of course you can also shop the trends cheaper.
Bright colours, flowery prints and unusual combinations
Monochrome looks are packed away this spring as batik, patchwork and floral patterns take over the trends of the season. This spring and summer, you can look forward to combining bright colors and prints in all sorts of ways. This will keep you in a good mood and a rush of colour even on a rainy spring day. If you want to be inspired by the big designers, you should visit Prada, Dolce & Gabbana or Tom Ford.
Sleeves that make statements: The bigger the better
Statement sleeves in balloon or puff sleeve shapes were already a big trend in 2020. This trend still remain this spring. Some designers like Givenchy, Isabel Marant or Maison Margiela even go one step further and add shoulder pads to the statement sleeves. Of course, if you want to get in on this trend, you don't have to pick the most extravagant sleeves, but the ones you feel comfortable in.
Sexy Cut-Outs á la Bella Hadid & Victoria Backham
If you thought the 2000s trends with string details were cool, you'll be beaming with joy again this spring. Cut-outs on tops and dresses are very hot for spring 2021 and provide a little more bare skin. These trends were seen at Victoria Beckham, but also at Jacquemus. If you can't get enough of the cut-outs, you can also check out skirts and pants with thong details. Models like Bella Hadid are showing us the way.
Sophisticated bralettes are the new crop tops
If you find sports bras and bralettes comfortable, you will surely love this trend. Because in combination with an oversized blazer or baggy jeans, bralettes are the most beautiful tops. If you don't want to show too much bare skin, you can pull the bralette over a sweater or t-shirt to appear a little more covered. This trend has been seen at Hermès, Versace, but also at Miu Miu.
Comfortable and innovative: sports outfits for everyday life
Whether tracksuits, cycling shorts, joggers or windbreakers. The sport look is everywhere at the moment. You can wear them as a highlight piece, but also as a head-to-toe look like at Prada. The sky's the limit and comfort is the name of the game this spring.
Classic for day and night: The trench coat
Trench coats are perfect for reinterpreting the trench coat. The classic fits all outfits and all weather conditions in spring. The timeless coat was never out, but this season it still has a great comeback. With XXL versions or different types of fabrics, the classic beige trench coat has been revolutionized. Seen this hype at Nina Ricci, Loewe, but also at Altuzarra. Jacket fans who are looking for other pieces besides the trendy trench coat will find them at ORSAY – there are jackets for every taste.
What's "out"? Comfort over elegance
Tight clothes like skinny jeans or skin-tight T-shirts are out this season. There is a lot of XXL looks and baggy style. The fashion labels are adapting to the current situation. No one needs fancy evening dresses and high heels at the moment, the focus is on comfort. Of course, the style factor is not ignored with different patterns, colours and details such as shoulder pads. The fashion labels show that fashion can also be comfortable and practical.
How to combine the trendy fashion pieces?
Many of the above pieces can be combined together, depending on the look you want to achieve. If you want to wear the head-to-toe XXL style, you can combine baggy jeans with a windbreaker jacket and cool sneakers. If you want to be more chic on the road, you should combine a bralette with a wide pantsuit, here also fit sneakers, but also like high heels. If you like it colorful and flashy, you can combine several patterns or even the extravagant sleeves with each other, but here the accessories should remain rather simple. If you feel like a sexy datight look, you can choose a cut-out dress with high heels and elegant accessories.
Matching accessories: necklace, earrings & Co.
How can you enhance a simple spring outfit with accessories? Depending on the style you choose, accessories should be simple or particularly eye-catching. If the outfit is already very colorful and you have combined many patterns, then you should rely on simple jewelry. A filigree necklace or simple earrings are already sufficient. Bags and shoes should remain monochrome. If you prefer a basic look with your outfit, you can really let off steam with the accessories. The sporty tracksuit can be super easily upgraded by chic sneakers or big earrings. To complete the sports look, you can combine it with a bright belly swap.
Fashion tips from styling professionals – Videos
You already have all the pieces in your wardrobe, but still don't know how to properly combine the must-haves of the season? What are the big fashion do's and don'ts when it comes to color blocking and how do you make sweatpants suitable for everyday wear? Get inspired here!
Elegant, sporty, comfortable: Combining bralettes in everyday life
What was once considered frowned upon is now stylish. Whether it's a romantic candlelit date or a relaxed Sunday brunch with your girlfriends, you can wear your favourite bralette anywhere. Throw on a black blazer to give your outfit an elegant look, while a casual top will let your bralette peek out flirtatiously here and there.
Jogging pants in everyday life: tips from Adorable Caro
Who thinks jogging pants are only for at home, is wrong. Nowadays, the comfortable joggers are not only available in all kinds of colors, but also with different patterns, cuts and even from different fabrics. Find out how to combine your sweatpants properly here from YouTuber Adorable Caro.
Green, yellow and red: combine colors like a fashion pro
This spring, colorful is the trend. But which colours go well together? And which color combinations should you avoid at all costs? Learn all the tips and tricks about color blocking & co. from stylist Natasha Gibson.
https://fivmagazine.com/wp-content/uploads/2021/03/fashion-must-haves-spring-trends-flower-pattern-color-blocking-oversize-woman-model-dress-blue-pink.jpg
800
1200
Laura
/wp-content/uploads/2020/07/fiv-magazine-news-instagram-youtube-tiktok-influencer-fashion-interior-jewelry-real-estate-tips-help-logo.png
Laura
2021-04-15 08:04:37
2021-07-17 17:08:24
Must Haves 2021 – How to make spring really stylish