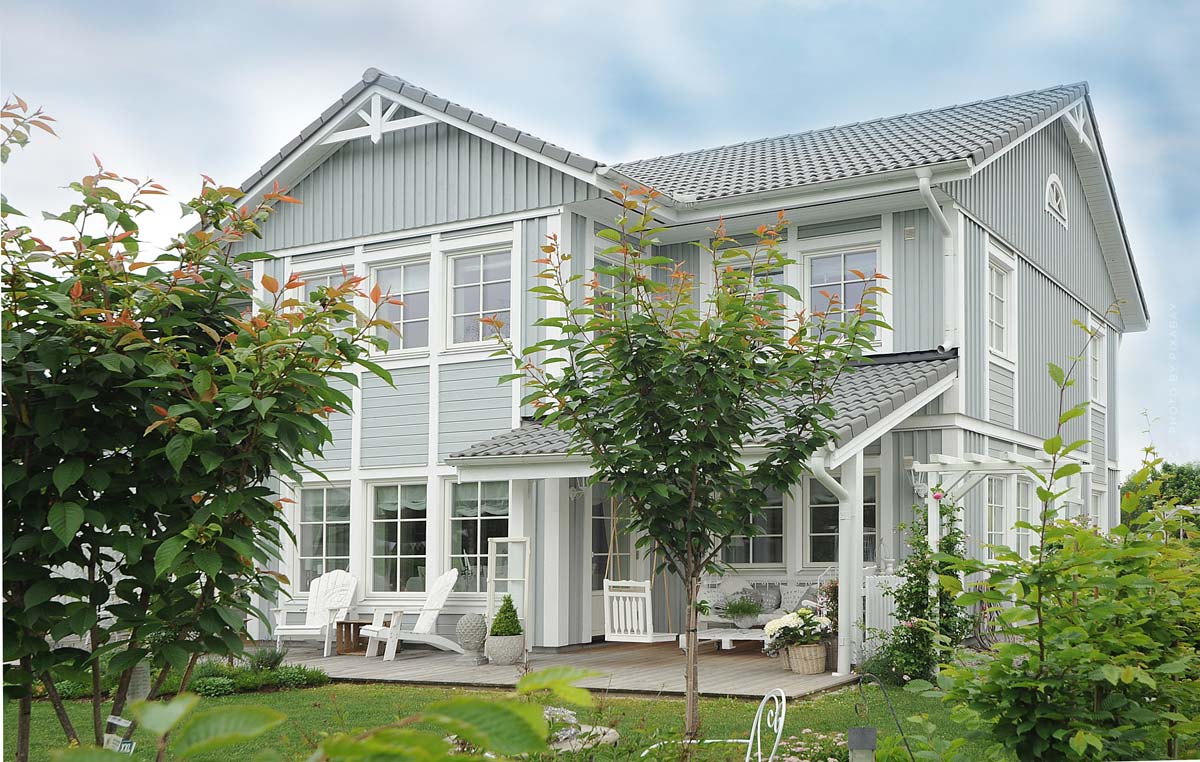 Single-family home: build, buy or rent? Modern ideas for your own home
Single-family home – The traditional single-family home has not been so traditional for a long time. Quite the opposite. The single-family house is rightly the most popular type of house in Germany and is becoming increasingly modern, although it continues to compete with other types of house such as the villa, the solid house or even the prefabricated house, although the categories do not have to be mutually exclusive. From the floor plan, to energy regulations, to the little extras: your single-family home is up to date. Especially for young families, this type of house is something very special, as this will usually be the first home they own. You are interested in building or renting, or maybe you even want to buy a house? Here you can find out everything about the advantages and disadvantages of a detached house, useful tips and everything you need to know, from the perfect plot of land to the right energy regulations.
Single-family house: what are the features & characteristics?
What is a detached house? Of course, when you ask this question, you will immediately think of a terraced house or a semi-detached house. But this is not everything. A detached house can be much more than just standard. Especially if you are interested in self-building, you should look into the latest and most modern standards. In this article you will learn everything about this topic. Let's start with the most important features of a detached house.
Are you looking for the right house? Then check out our guide! Here you will find definitions, meanings and lots of information: House types from A-Z
Features of a single family house
First things first. A family home is meant to be for a family and it should function accordingly. In most cases, you buy/build your first home when you already have a small family, or when you plan to start a family. And in most cases, you also grow old in it. The children have moved out at some point and you use the space differently. Accordingly, you should also plan a purchase or a construction and think future-oriented. You have a wide choice of detached houses and you have to find your perfect home. Whether semi-detached house, bungalow or city villa. You have the free choice.
Advantages & disadvantages of a single-family home: freedom, investment, garden & Co.
As with any type of home, there are many advantages but also some disadvantages that you should consider if you are planning to build, buy or rent a home. Think about what you consider important and what you would like to realize in your dream home. We have done some research for you and have picked out the most important advantages and disadvantages to help you with your decision.
Advantages: Freedom within your own four walls
Probably the biggest advantage of a single-family home is the freedom. Especially if you have previously lived in an apartment building or a flat, you will appreciate this advantage the most. You now have the opportunity to live in your own four walls and design everything as you see fit. Especially if you want to build your own house, you can decide from the beginning how you want the rooms and the design of the house to be. But even if you decide to buy, you can give free rein to your individuality and creativity. Another big advantage is the garden. Almost all detached houses have a garden and this is a plus point, especially with children, as they can always get some fresh air at any time.
Freedom
Your own four walls
More individuality/ creativity
Mostly a garden
Disadvantages: big investment with a lot of responsibility
One of the biggest disadvantages is probably the higher costs. Especially if you have lived in an apartment before, this is a big difference and you should be aware of the costs involved. The biggest investment will most likely be building or buying, but it doesn't stop there. You have to pay more heating bills and especially you don't have to disregard any repairs that come up. After all, you no longer have a landlord to take care of the problems that arise and you are now responsible for the financing yourself. So think about it in advance and calculate everything. Whether to buy or build a house should not be a decision to be taken lightly.
Great investment
Higher heating costs
No landlord for repairs
Source: Single-family house (Lukinski.de)
Detached house perfect for…?
Who fits into this house? A single-family house is customizable and can be built in a wide variety of designs. Therefore, this type of home is for more than one person. If you're just moving out of home, a student, or single, a single family home probably wouldn't be for you. Simply because of the high cost of this investment and the utilities involved, this is hard to do on your own and you would probably have way too much space. We have picked out the perfect groups of people for you here, who would ideally fit into a detached house.
Families: your first home with child and dog
As the name of this type of house suggests, the detached house is perfect for a family. It doesn't matter if you have a young family, your children are older or if you don't have any children yet but family planning is on the horizon. The detached house makes all your dreams come true and you can live the way you always wanted to. The garden is also a great advantage. Your children can go out into the fresh air whenever they want and you don't always have to be there. In addition, detached houses are usually located in housing estates or residential areas with play streets, so your children can play with the neighbours and still be in your field of vision.
Seniors: a house for a lifetime, with partner
A single-family house is also very suitable for seniors and retirees. It is often the case that you buy a house as a young family and live there for the rest of your life. Of course, at some point the children are gone, but then you would have the opportunity to redesign your rooms and set up according to your wishes. So you should make sure that you choose your first home with an eye to the future, as you may spend the rest of your life in this house.
Comparison of different building styles and sub-types of the single-family house
A single-family house is not just a single-family house. There are many different types and styles of this type of house, which all belong to the same type. We have compared three of these sub-types for you so that you can find the right family home for you.
Bungalow: One floor, no stairs
The bungalow is also a type of single-family house. Unlike the other types of houses, a bungalow has only one floor, which is inhabited. Usually this type of house has a larger plot, and an attic or basement, which serve as storage space. Due to the size of the property, a bungalow is usually more expensive than other types of houses. This is also due to the fact that this house is detached. If you would like to learn more about this type of house, take a look at the article on the subject of bungalows.
Urban villa: luxury, space and comfort
The (city) villa is above all more spacious and offers more space. Especially the large grounds and the usually spacious garden are trademarks of a city villa. The house is detached and often designed in the style of a country house. The floor plan is larger than, for example, a semi-detached house and the rooms are also usually open and bright. Due to the size of this type of house, the (city) villa is more expensive and usually found in more upscale neighborhoods.
Semi-detached house: neighbours, rent and space for children
A detached house as a semi-detached house is usually cheaper and more practical than, for example, a bungalow or a villa. In this sub-type, the property boundary and a wall are shared with the neighbour. This has the advantage that there is less heat loss and the heating costs are lower. So you share a property with another family, but you should still get along with the neighbors because otherwise it could be problematic.
Land: the right choice, layout and characteristics
You have decided to build your own house and are now concerned with the question of where best to build? Then you should definitely think carefully and give it some thought. On the one hand you have to pay attention to the location of your future house, but also to the type of land. In order to find the perfect place for your future home, there are a few factors to consider. Here you will find the most important key points summarized for you.
Choice of location: City or country?
First of all, you should consider the location of your property. Do you want to live more centrally or rather outside? In the city or more rural? Then you should take a look at the infrastructure, which is located at your potential house. How far is it from your work? Where is the nearest school or supermarket? These are all important aspects to consider, but how are the public transport links? Do you have to walk a bit to get to the city centre by train or bus? Last but not least, you should also consider whether you would prefer to live in a residential area or in a new development. Both have their advantages and disadvantages, which you have to weigh up.
Central or outside
Infrastructure (work, school, supermarket)
Public transport
Residential area/ new development area
Checklist: Choice of the plot
There is also a lot to consider when choosing a plot of land. In addition to the perfect location, the condition of the land is particularly important. You should find out exactly about the history and quality of the land to avoid problems during construction. First of all, take a look at the development plan to find out if your plot is already developed. Afterwards you should have a look at the land register to find out about possible rights of way and to fix the mortgages between you and your credit institution. After that, we recommend that you carry out a ground investigation, which is especially important for the construction of a basement, and then you should exclude contaminated sites such as chemicals, oil or metal scrap.
If you want to learn more about the checklist for choosing the plot, you should visit our article of the house type bungalow. There you will find some useful and important information.
Development plan
Land Register
Soil investigation
Legacy
Building a single-family house: important aspects for new construction
In addition to the right plot of land, there are still some important aspects that should be considered when building a single-family home. This applies to a bungalow as well as to a villa and all other sub-types of a detached house. In order to keep the financial aspects in mind, we have summarized the most important points for you and described them as compactly as possible, so that you can plan everything ideally.
Service charges, loans & co.
In addition to the investment for the construction of a house, one should not lose sight of the additional costs. A real estate agent, notary costs or the land transfer tax are only some of the additional payments, which you should not disregard. You should take this into account.
In order to build a house you will almost always have to take out a building loan, as you cannot pay these costs exclusively from your own capital. You should therefore check with the credit institution you trust and consider whether you are able to pay it off in the long term.
Decide for yourself who should be your building partner. Do you want to design everything yourself, consult an architect or go for a prefabricated house? How much energy and time do you want to invest in the construction. You should also decide this in advance to save yourself stress.
Make sure that everything runs smoothly on your construction site and that no serious mistakes happen. For this reason, we recommend that you call in a construction expert who will take over the supervision of the construction site and thus relieve you.
Garage, carport or a cellar? These are also things you should decide beforehand. Do you need the storage space that a cellar offers and the parking facilities for your car? Think future-oriented and plan for these additional costs.
Checklist for your house construction
Additional costs
Building loan
Prefabricated house / architect?
Site supervision
Garage/ Carport/ Cellar
Building a house vs. buying a house: the most important arguments
To build or to buy? That is the question here. Both have their advantages and disadvantages. When building a house you can decide from the beginning and realize your perfect room layout, when buying you have less work and it is usually cheaper. We have summarized the most important aspects for you here to simplify your decision.
Building a house: Advantages & disadvantages – Co-deciding right from the start
Advantages
You have the opportunity to help decide everything about the house and room design during the construction of the house.
Install the latest and most modern technology and equipment and bring everything up to date
Where is the best connection and what is the environment like? You have the free choice for your location
Disadvantages
Building a house is usually more expensive than building a home, especially since you want to include all of your desires
Besides the financial investment, such a house construction is of course also associated with a lot of stress and work.
You have to expect everything and include unforeseen costs. Something could always come up
House purchase: Advantages & disadvantages – uncomplicated and fast
Advantages
Buying a house is usually cheaper than building a house because you don't have any unexpected expenses
The lack of work is also positive. You don't have to worry about planning and can devote your energy to something else
Disadvantages
Often when you buy a house, there is a need for renovation, which includes additional costs. Especially if you want to live environmentally friendly
You also don't have the possibility to design and coordinate your house and room layout according to your taste
The location of the house is not always ideal. Maybe you have a longer way to work or to the supermarket.
Since you can't plan for yourself you are forced to compromise and live with a few flaws.
https://fivmagazine.com/wp-content/uploads/2021/01/einfamilienhaus-haustypen-bauen-kaufen-mieten-haus-wohnen-tipps-vorteile-nachteile-checkliste.jpg
762
1200
Lisa-Marie
/wp-content/uploads/2020/07/fiv-magazine-news-instagram-youtube-tiktok-influencer-fashion-interior-jewelry-real-estate-tips-help-logo.png
Lisa-Marie
2021-01-18 17:07:51
2021-07-17 17:40:34
Single-family home: build, buy or rent? Modern ideas for your own home