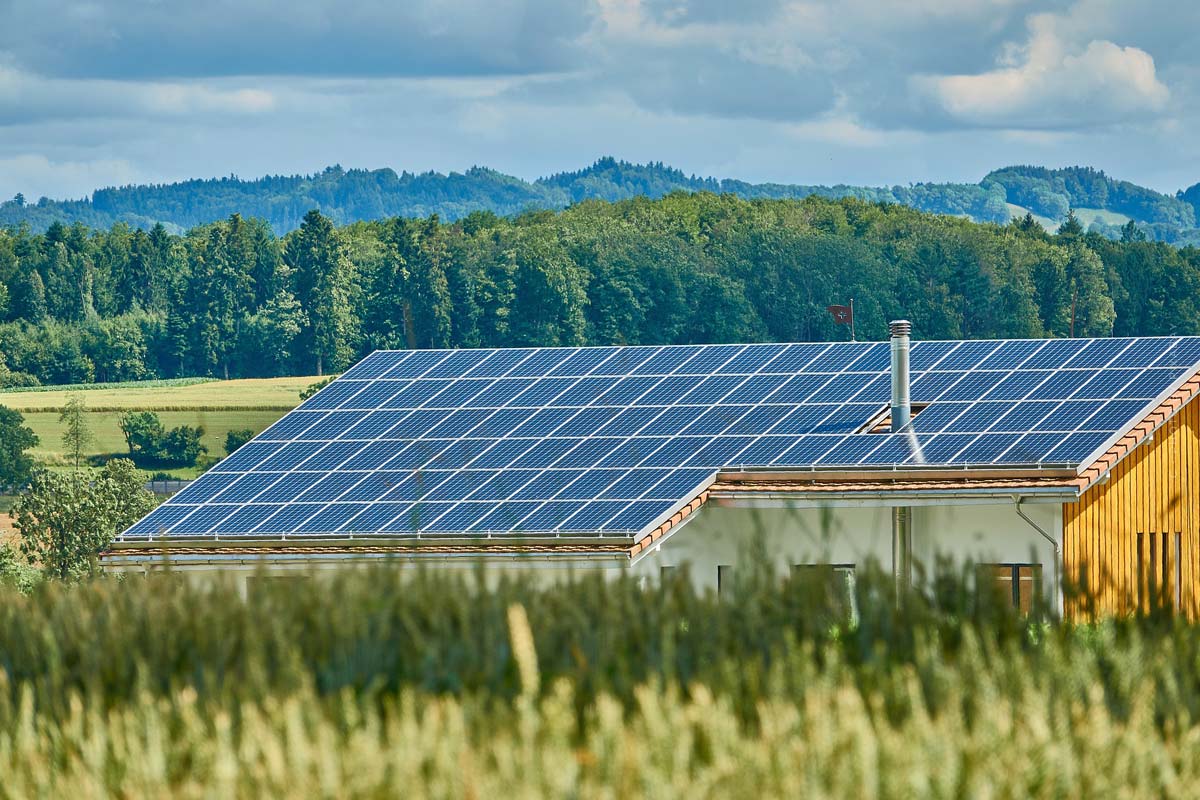 Low-energy house: Features, requirements, costs and advantages & disadvantages at a glance
Low-energy houses – sustainable living is a trend that is becoming more and more popular and is also enjoying state support. Therefore, the interest in environmentally conscious housing solutions is growing more and more, and common house forms such as terraced houses, semi-detached houses or solid houses are being converted or modified in a modern way. If you want to buy a house, you should definitely think about sustainability, subsidies and future prospects. For this reason, we have decided to bring together the most important facts about efficient living, so that you can decide whether a low-energy house could also be interesting for you. Click here to return to the overview: House types at a glance.
Low-energy house: features, characteristic values and more
Caution is advised when buying and renting a low-energy house, because: The term is not associated with specific requirements for the house! Only if one would like to make the housing unit energetically valid with KFW, certain requirements are made. These should meet a low-energy house in any case. What exactly these are, we will explain to you in more detail below.
Tip. You want to move into a house, but you don't know if buying or building a new one is the right thing for you? Then take a look at our article on the subject of buying or building a house, there you will find testimonials from builders that will help you with your decision!
Are you looking for the right house? Then check out our guide! Here you will find definitions, meanings and lots of information: House types from A-Z
Characteristics of low-energy houses: What your house should be able to do
Although low-energy houses are oriented towards the Building Energy Act, they aim to achieve values that are significantly lower than those that can be achieved by a house built in accordance with the standards set out in the Act.
These figures are achieved through construction measures that may seem strange to some. For example, in low-energy houses the windows often cannot be opened, which means that the air exchange depends almost exclusively on a ventilation system. But that doesn't mean you have to do without daylight. Quite the opposite, in fact, as the windows of buildings are often oriented towards the south in order to take full advantage of daylight.
In general, a house is classified as a low-energy house if it falls below the legally permissible energy values by at least 30 %. This is the classification in Germany.
Advantages and disadvantages of low-energy houses: Building, costs and indoor climate
Low-energy houses sound very much like the building of the future, but are certainly still far from the optimal solution. Nevertheless, the form of housing has many advantages and should definitely be at the top of the list of targeted houses when building a house, because in the long term you can save a lot of money with an energy-efficient house and also do something good for the environment.
Unfortunately, increasing efficiency requires a few changes to the house, which ultimately require a bit of getting used to. However, once the adjustment phase is overcome, nothing stands in the way of sustainable living.
Advantages: Sustainability is at the top
logically, low-energy houses are designed to be particularly energy efficient. This factor is also the biggest one that distinguishes them from standard housing options. This results in circumstances that also play into the hands of the residents. For example, the living space of the compact houses is planned in a particularly efficient way, but also many more things bring you advantages:
Low ancillary costs
Sustainable housing option
Focus on efficiency
KfW funding
Disadvantages: Goodbye to ventilation? – Mould, windows & Co.
Of course, not everything can be perfect all the time. So even the environmentally conscious houses have their little quirks that you have to learn to deal with. Which exactly are we have summarized here for you:
Windows that cannot be opened
Moisture build-up
Risk of mould
Who should buy or build a low energy house?
The energy efficient housing solutions come in many different forms. So, you can opt for prefabricated houses and wooden houses that still provide energy efficient living. This also means that it is not reserved for anyone to have a this living experience. Almost everyone can find a house that suits them.
Families, couples, singles, retirees and co.
Anyone who wants sustainable, energy-efficient living can opt for a low-energy house. Age is not a factor either. Although, of course, care should be taken that personal limitations do not conflict with the architecture of the house.
Regional differences: What requirements must be met?
There are also different definitions for low-energy houses in German-speaking countries. All of this can be somewhat confusing, which is why we have compiled the different criteria here. However, these are subject to constant change, which is why it is advisable to seek expert advice again if you are seriously interested:
Upper Austria: < 50 kWh/sqm heating energy demand
Germany: – 30 % final energy demand compared to stately standards
South Tyrol: < 30 kWh/sqm final energy demand
Switzerland: Heating energy demand < 55 kWh/sqm final energy demand (Minergiehaus)
Where is the best place to build low-energy houses?
The question of location is not so easy to answer, because low-energy houses naturally benefit from a warmer climate, but they make more sense in colder climates, where there is more potential for savings.
There tends to be no restrictions on the locations of low energy houses. Especially since they are urgently needed and are a modern housing solution, the sustainable houses are tried to be made possible in many locations. Whether in the countryside or in the suburbs, the low-energy house should always be in the room as an option. Even in the middle of the city, a sustainable house can be built on a sufficient plot of land.
The housing solution is particularly practical for a smaller plot of land, because in order to optimise the houses, the use of space is also optimised, so that no unnecessary heating costs are incurred for large, empty rooms.
Important aspects when building a low-energy house
To give you an overview of what exactly you can expect when building and planning the house, we have collected a few aspects that every low-energy house tries to meet. These are mainly structural and technical things.
Even if I want to convert my existing house into a low-energy house, the conditions for these changes must be met. Of course, you can also renovate your house in terms of energy technology without aiming for the designation "low-energy house". Because in the end there is always a saving on the side of the energy costs.
Windows facing south if possible
Compact
Exact heating settings
Sensible ventilation system
Source: Low energy house (Lukinski.de)
Tips for renovating a house: optimise energy efficiency
Most older homes have potential for energy efficiency improvements that go untapped by their owners. However, if you're interested in upgrading your home a bit, we've got a few ideas, some of which you can do with a little effort, and some of which you can do with a little more.
Windows: Protect from cold
Glass is not a particularly efficient material when it comes to the insulation factor. For this reason, most homes are double glazed. But if you still feel like a lot of heat is escaping through your windows, there are a few options that can help you protect yourself from the costs that come with it.
On the one hand, it helps quite classically hang thick curtains, which when closed additionally protect the room from the cold and thus require less heating. In addition, the right curtains can create a beautiful light and conjure up a nice color accent in the room.
Another option are insulating films, which can both protect the from UV rays, as well as insulate the room somewhat from the outside.
Roof: Insulation is the order of the day
After 20-25 the roof insulation of a house requires renewal. This undertaking is somewhat larger, so it is recommended to call in the support of craftsmen, especially if the insulation is to last for a longer period of time. If you are confident to redo the insulation yourself, we do not want to discourage you from doing so, after all, you know your strengths and weaknesses best.
Photovoltaics: Using solar energy
The government offers every now and then subsidies for private households, which want to build a photovoltaic system on the roof. Thus, after an investment of about 12,000 €, a household can obtain its own electricity from solar energy and become partially even completely self-sufficient. In case of overproduction, there is also the possibility to sell the energy to electricity providers. In addition, a part of the produced electricity can always be stored in the own battery.
https://fivmagazine.com/wp-content/uploads/2021/01/niedrigenergiehaus-bauen-kaufen-mieten-haustypen-vorteile-nachteile-merkmale-definition.jpg
800
1200
Lisa-Marie
/wp-content/uploads/2020/07/fiv-magazine-news-instagram-youtube-tiktok-influencer-fashion-interior-jewelry-real-estate-tips-help-logo.png
Lisa-Marie
2021-01-18 17:00:31
2021-07-17 17:40:41
Low-energy house: Features, requirements, costs and advantages & disadvantages at a glance