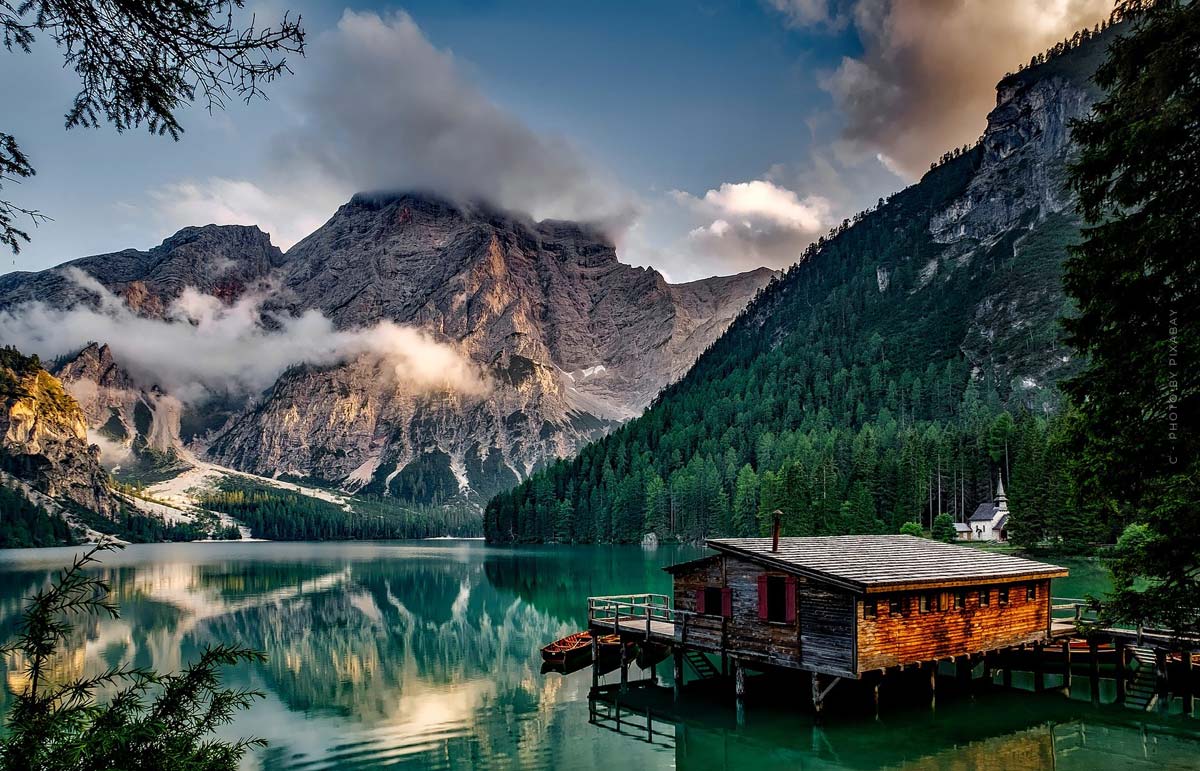 Holiday home – Who does not know it? You have simply fallen in love with a place and would love to spend every free minute there. But workplace and life focus are simply too much anchored in the actual home. In such a situation the option of a holiday home opens up. Whether at the beach or at the lake: a holiday home or weekend house can be located basically anywhere, and have almost any house form. Whether it is a villa, bungalow or country house, a holiday home can be many things. Buying a house for rental purposes is also an option. Criteria, features, and the question of if and how we try to answer you in the following article.
+ AD + Kennst Du schon?
Holiday & weekend home: What makes a good holiday home?
Whether a holiday home or a holiday apartment is really suitable for you is determined – if the property is not bought for pure investment purposes – above all by whether you like the place you have chosen and whether it makes your heart beat faster every time you visit it.
Apart from this, factors like the condition of the house or the location of the property are highly relevant. Also, you need to be aware that while you are away, your home should be maintained by a service company. This will safeguard you if you cannot be present once you rent out your property and also help you guarantee that the tenants leave the property in a good condition.
In terms of the location of your holiday home, there are many freedoms on offer. However, holiday homes by the beach, lake, sea or other popular holiday destinations, as well as popular cities, are always a better bet than anything that is very secluded.
But at the end of the day, if you're buying the holiday home for your own use too, you need to feel comfortable and want to spend time in the place again and again. Because only then is it worth buying the house.
Are you looking for the right house? Then check out our guide! Here you will find definitions, meanings and lots of information: House types from A-Z
Area and equipment: furniture, rooms, space & comfort
In order to be able to use a holiday home reasonably and also rent it out well, a few requirements should be met. The house should have wet rooms and a kitchen. The kitchen should at best be fully equipped with all the essentials that are needed. That means concretely: pans, pots, dishes and cutlery should be provided by you.
There should also be bedding available. Speaking of bedrooms: People often ask how many bedrooms a holiday home should have to be appealing. There is no direct answer to this question, because it all depends on which group of customers you want to address. Also relevant is the minimum number of rooms you would need for a visit.
Having some sort of living room with a screen or even a sound system, adds to the value of the holiday home, as little extras like this will motivate potential renters to invest the extra euro to spend their holiday in your home.
Source: Holiday home (Lukinski.de)
Advantages & disadvantages of a holiday home: costs, guests and more
A house of one's own, in which one spends one's holidays, sounds very tempting at first. However, you should not forget the disadvantages and the effort that is associated with such an investment. For this reason, we have collected the advantages and disadvantages for you to make the decision a little easier.
Pros: Capital investment and cheap holidays
A holiday home has always been a dream of yours and you are finally able to fulfill this dream? Then we would like to present you here a few more advantages that favor the purchase. For example, if you like to invest your money, but like to see what you have, a holiday home is suitable. However, this is associated with extra effort.
Tangible investment
Reduction of holiday costs
Source of income
Dream Fulfillment
Disadvantages: Service providers and unwanted guests
Now here come all the points that push the holiday home out of the list of top investments. Maintenance costs. The payment for the service provider who takes care of the property when you are not there, the fact that you can't really choose your guests, all these points lead to the bitter taste that holiday homes bring with them:
Maintenance costs
Service costs
Unknown guests
Often not profitable
Holiday home: At what point is the investment worthwhile?
Let's say you've been thinking about buying a holiday home, but you're not planning to rent it out because the extra costs just seem too high? Then we have bad news, because the investment is only really worth it when you rent out your holiday home.
Otherwise, you would have to speculate that the property value of your home will increase massively in the long run without having to invest much in the home.
Couples, families and seniors: for whom are holiday homes suitable?
The more people who go on holiday, the more expensive the relaxing trips become, so if you've found a place with your family that you like to revisit every year, a permanent holiday home there could be an option for you.
However, you should also be aware that you won't be going on holiday with all your children forever. There comes a point in a child's life when he or she prefers to go on holiday with friends. Or even your own children? Then the question is whether the goal is still the same.
Alternatively, the residence originally planned as a holiday home could be transformed into a home for retirement. However, this change could also entail the need for renovation measures to adapt the house to the new needs.
Property: selection and features for the perfect holiday home
You want to build a holiday home, but have neither a plan nor a plot of land on which the dream house should become a reality? We have compiled a few factors for you, which you should consider when choosing your plot. Of course, depending on your preferred location.
By the sea: sun and beach
A holiday home, preferably directly on the beach with a view of the ocean, is what many dream of. But when choosing a plot of land by the sea, there are a few things to consider, because the sandy ground, the sea air and strong winds can cloud the house happiness.
Building on sand is difficult and requires some preparation by the construction company, because a foundation should be created that does not sink away so quickly on the slippery ground.
The exterior walls of your home shouldn't be too fragile either. Aside from stronger winds chasing unchecked across the ocean, the abrasion from salty ocean air should not be underestimated. The closer the property is to the ocean, the more exposed the house is to the forces of nature that the beach brings with it.
Tip. We also have an extra post about beach houses for you, check it out!
At the lake: cool refreshment with lake view and swimming in the morning
The lake is probably the most pleasant of the three when it comes to special conditions. Pebble may not be the best surface, but usually the 'beaches' around the lake don't stretch very far. But lake environments in particular are often very touristy areas, and the living in the regions is accordingly higher than in other regions.
In the mountains: impressive heights & hiking trails
Completely different problems can come up in the mountains. Depending on your destination, there are different factors to consider. In general, however, you can expect low temperatures and snow masses, especially at high altitudes. Your house should therefore offer a stable roof and above all be well insulated, so that neither you nor your guests have to freeze.
What types of houses are suitable as holiday homes?
As well as the holiday home, we've taken a closer look at a few other types of homes for you in our magazine. The beauty of a holiday home is that it can be anything you want it to be, should you choose a new build.
For this reason, we would like to introduce you to three types of houses that are particularly suitable for a Holidays Escape. Don't let this limit you though, if you have an idea or a notion, it's best to contact an architectural or engineering firm in the area who specialise in dealing with the circumstances of your favourite area. They can often give you detailed advice and possibly even a quote.
Bungalow: Living without stairs?
This house form offers you ground level living in an area that you determine. The advantages of this are that it is barrier-free, which benefits children and older people. In addition, the bungalow offers the possibility of merging indoor and outdoor space. Especially for a holiday home this circumstance is nice, because accesses to the beach or lake can be used directly.
Detached house: Families and children are welcome!
Depending on the planned size, the form of the detached house is also suitable. Strictly speaking, the bungalow is even a type of detached house, just like the villa and the semi-detached house. Nevertheless, we wanted to take the opportunity to draw your attention to our article on the single-family house, which contains even more useful information on this type of house.
Villa: space, comfort and prestige with garden
Go big or go home! Are you someone who doesn't want to do without maximum luxury even on holiday? Then a villa is the perfect solution for you. A holiday villa promises luxurious furnishings and plenty of living space. Best of all, of course, equipped with a private pool, in case, for example, the sea temperature does not quite meet your expectations. With a villa, hardly any wish remains unfulfilled.
Holiday home furnishing: Ideas and interior brands for your dream home
Especially the furnishing of a holiday home should be well thought out, because after all, you not only want to relax here yourself, but also offer the paying guests a real feel-good experience. For this purpose and of course also for your everyday living environment, we have looked around at the most popular and exclusive brands, so that you will definitely find the right furniture for your living dreams.
So, check out our interior brands guide for some inspiration. You will be introduced to numerous brands such as the following:
Also exciting: Trendy interior styles for your perfect interior inspire you in this article: Interior Styles XXL
+
https://fivmagazine.com/wp-content/uploads/2021/01/ferienhaus-wochenendhaus-mieten-kaufen-bauen-preise-merkmale-haustypen-tipps.jpg
771
1200
Lisa-Marie
https://fivmagazine.com/wp-content/uploads/2020/07/fiv-magazine-news-instagram-youtube-tiktok-influencer-fashion-interior-jewelry-real-estate-tips-help-logo.png
Lisa-Marie
2021-01-21 08:00:52
2021-07-17 17:39:13
Holiday home: buy or build a dream home by the sea or lake? Advantages, disadvantages & tips