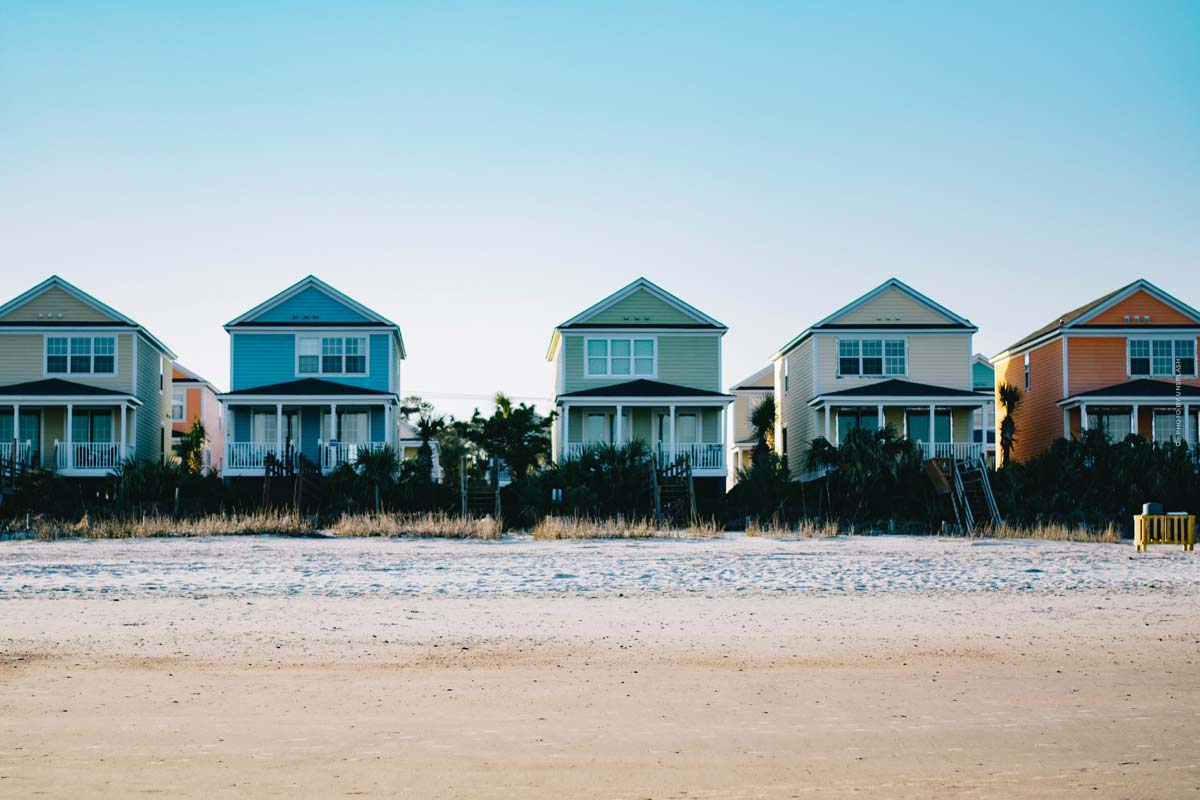 Beach house: features, renting, buying or building and advantages & disadvantages of an investment
Beach house – Summer, sun and beach are in all your dreams? Tired of the hustle and bustle of big city life, crowds and stressed out shopping malls? Crowded parks aren't enough nature in your life? How about a beach house? Best to buy a house as an investment. What many people only associate with dream scenarios from classic movies can become your new everyday life! A beach house can have different house forms, but often it is a single-family house, bungalow or a villa. What makes a beach house special, with which highlights it shines and what to consider will be revealed to you in the following article. Welcome to your new dream on the beach!
Beach house: What actually is a beach house?
You love to listen to the sound of the sea, gaze at the starry sky while the sand tickles between your toes and you breathe in the salty sea breeze? Who says these classic holiday memories should only be part of vacations? Why live in a cramped rented apartment, expose yourself to daily exhaust fumes, and work out in a gym with concrete walls? In this day and age where mobile working has become the norm, Pilates and surfing on the beach are among our favorite activities, and the thirst for adventure is constantly on the rise, the beach house seems to have established itself as the new dream property par excellence. The beach house as an investment, vacation home or home of your own! Convince yourself!
Are you looking for the right house? Then check out our guide! Here you will find definitions, meanings and lots of information: House types from A-Z
Beach house: villa, bungalow or traditional beach cottage – The agony of choice
The beach house can be much more than just a huge luxury mansion in the Hamptons or a small, traditional beach cottage in Calabria, Italy. Beach houses are a dime a dozen. It's almost impossible to count the different types of beach houses. Classic beach houses include the following:
Penthouse with panoramic sea view
Simple bamboo hut with holiday feeling
Beach house with veranda
Bungalow with terrace and garden
Beach house with sea view
Wooden house on the beach
Beach House Villa
Etc.


FragranceTip.com by FIV
Room layout: terrace, window front or open room layout
Nightly deep talks with your best friend in the beach chair on the private terrace with sea view? Cosy cocktail round with friends and colourful fairy lights, which are reflected in the sea? Or perhaps a relaxed evening with a glass of wine in one hand and a book in the other? No matter what you choose, there's one thing that won't fail you – your personal terrace!
As individual as beach houses can be, a terrace and not infrequently also a conservatory are a fixed component of the architecture. Where else but on the beach would you find a terrace? It can also be said that beach houses often enjoy an open room design. Large window fronts, loft character and a terrace, conservatory or balcony are also characteristic features of a beach house. We like!
Source: Beach House (Lukinski.de)
The sound of crashing waves replaces your alarm clock? Daily surf trips, walks on the beach at sunset and cosy wine evenings on the veranda with sea view – all images with which one associates the lifestyle of a beach house life. As dreamy and enticing as these images seem, don't close your eyes to reality. You will be able to enjoy dreamy walks with the sunset reflected in the sea, but you will not be able to fully escape the typical everyday problems even there. So that you are not disappointed by too high expectations, you will find below an overview of the advantages and disadvantages, with which a beach house goes hand in hand!
Advantages: Summer feeling, sun, beach & vacation in your own home
Whether it's a two-week holiday in Calabria, a Mediterranean cruise or a trip to the most beautiful Greek islands – the time by the sea is your favourite part of the year? Sun, a decelerated everyday life, nature at your doorstep and much more inspire holidaymakers every year. With your beach house, this lifestyle is not limited to two weeks a year, but will establish itself as your new everyday life. In addition to the improved quality of life, it is also an excellent investment. With a good location, beach houses often enjoy an increase in value over the years. We like!
Improved comfort, better quality of life
Slowed down everyday life
Nature on the doorstep
Many sports activities (surfing, hiking, running, swimming etc.)
Long-term profits
Flexibility (own use or rental)
Rental income, if any
As dreamlike as the idea of a beach house life sounds, it can also quickly burst. It is often not considered that the decelerated life on the beach – the nearest city often several kilometers away – can hit the psyche, especially in the winter months. As beautiful as life is among sand dunes, palm trees and high waves, there will be the odd day when you'll miss your icy porch, your little balcony with a backyard view and your annoying yet beloved neighbors. Accordingly, most beach houses are often second homes. If you're going this route and want to supplement your income a bit with rental income, don't underestimate this venture either. Hidden costs and bureaucratic chaos are just a few aspects to contend with here. None of this should scare you away from life on the beach, but bring you back down to earth. Not everything is summer, sun & sunshine is!
Often a little isolated
Poor connections
Homesick
Hidden costs
Bureaucratic chaos
Rental agreements
Beach house: For whom is the beach house suitable?
Whether it's a minimalist life in a beach cottage in Bali with a surfboard, a year of adventure in New Zealand or a relaxing retirement on the Baltic Sea – the beach house offers space for a wide variety of people. The following is an overview of which type of beach house is best suited for whom. See for yourself!
Beach house adventure: freedom loving couples on tour
You want to escape the hectic city life and dream of a year abroad together with your partner? Renting a beach house is the perfect way to do this. You can start in a small, traditional beach house in Calabria, move on to Spain to a bungalow with sea view, watch the Atlantic Ocean from your terrace in Portugal, enjoy the Moroccan ambience in your colourful beach house and then move on to Australia, Bali and New Zealand. A year full of new impressions and gorgeous beach houses. Financially, you can keep your head above water with small temp jobs locally or with your work at the home office. Convince yourself!
Singles: live in a beach house with rest or party
You enjoy your single life, your independence and self-reliance? Then it's time you fulfilled your dream of living on the beach. With your independent lifestyle, being able to call a property your own, working from your laptop, renting out your domicile when needed, is a great way to do it. A beach house will decelerate your life and improve your quality of life. Knowing that beach houses in good locations can usually be successfully rented out offers additional security. Who is ready for the adventure "beach house"?
Retirees: Beach house as an oasis of relaxation – Spa in your own home
Your working life is a thing of the past? You don't want to spend your well-earned pension in a grey two-room apartment? You want to enjoy your retirement to the fullest? Then nothing stands in the way of a beach house life. A decelerated everyday life, fresh air, the sound of the sea, nature on your doorstep and cosy evenings with the family on the veranda sound like a life that can be lived!
Property: selection and characteristics of the right beach house
Your decision is made? The grey four walls in Germany must give way to the cheerful, summery-light beach ambience? Congratulations! You're already dreaming of cosy summer evenings with wine and friends barefoot on the beach? Understandable, but as great as your anticipation is, so is the difficulty of finding the perfect property. Here are a few tips on how to succeed in this endeavour!
Checklist: Choosing the plot for your beach house
In order to find the perfect property, there are a number of factors to consider. Here you will find the most important key points summarized in a compact checklist for you:
Direct access to the beach
Quiet environment
Value of the property (pool, well-kept garden, etc.)
In need of renovation or refurbishment?
Direct connection to the next town
Energy efficient living (power sources etc.)
Good sports facilities (running, hiking, surfing etc.)
In addition to the monthly rental or loan costs, you should never lose sight of the maintenance costs. Facades and wood cladding on exterior areas in particular often require regular renovation and maintenance.
Our tip: Have your building project or rental plans reviewed by an expert during the planning process and get advice. Nothing will stand in the way of your dream beach house!
Living and holiday combined: rent or buy a beach house?
As an investment, holiday home or own residence – the beach house offers many possibilities of use. You want to escape the stress of the big city and find peace and contentment on the beaches of this world? The beach house has enjoyed increasing popularity for many years. This way of life has fascinated you and you are longing for more than just a holiday home? Now the question is whether to rent or buy? Create an investment or keep your flexibility? Below we explain the advantages and disadvantages of buying or renting a beach house!
Beach house as an investment: The pros & cons of buying this dream property
First and foremost, you need to ask yourself one question: Do I want to use my beach house as an investment, meaning rent it out, or do I want to fulfill my own dream of beach living? Rule of thumb number 1. applies to both scenarios: You need to take a hard look at the financial aspects of your plan. What costs will I have to reckon with? Will I need to take out a loan in addition to my saved capital? Do I have a stable, secure income? Once the financial aspects have been clarified, you should also consider the time factor. Do renovations / refurbishment work have to be carried out? The purchase alone is not enough, the maintenance is often forgotten. Especially if you have decided to rent out your domicile, aspects related to maintenance must be a top priority. Here are the most important points summarized in a list for you:
Stable, own income
Popular investments
High yield & stable value
Time component must be taken into account
Analysis of the surroundings and location
Care of the domicile
Marketing of the property
Booking processing
Cleaning
Gardening if necessary
Etc.
Beach house as a holiday home: The pros & cons of renting a beach house
Regulated office life in winter in Germany, decelerated lifestyle in summer by the sea or still enjoy the summer in Germany and escape the cold winter months in the south – renting beach houses – whether summer or winter – is becoming increasingly popular. As dreamy as the idea of living by the sea sounds, there are a few things to consider. What is included in my rental price? What is the location of the property? Am I dependent on a car? Are there free time options? Is the beach house energy efficient? Does the beach house offer internet access so nothing gets in the way of my home office routine? Below is a list summarizing the pros & cons of renting a beach house:
Increased rent during peak season
What is included in the rent?
Is my beach house suitable as a home office? (Internet access etc.)
Location of the property
Pay attention to financial situation, hidden costs
How to arrange a beach house ?
When you think of a beach house, do images of hammocks, natural tones, palm tree paintings and seashell decorations come to mind? Luckily, we're in the 21st century, where beach house decor far exceeds this stereotype. Whether you're looking for a minimalist aesthetic, an oriental colour scheme or a French country house style, the following interior brands will give you a good overview of possible interior design styles. There are no limits to your inspiration and creativity!
https://fivmagazine.com/wp-content/uploads/2021/01/strandhaus-kaufen-mieten-bauen-vermieten-merkmale-kosten-vorteile-nachteile-urlaub-strand-meer.jpg
800
1200
Lisa-Marie
/wp-content/uploads/2023/08/fiv-magazine-logo-news-influencer-fashion-interior-travel-real-esates.svg
Lisa-Marie
2021-01-22 08:00:04
2021-01-22 08:00:04
Beach house: features, renting, buying or building and advantages & disadvantages of an investment