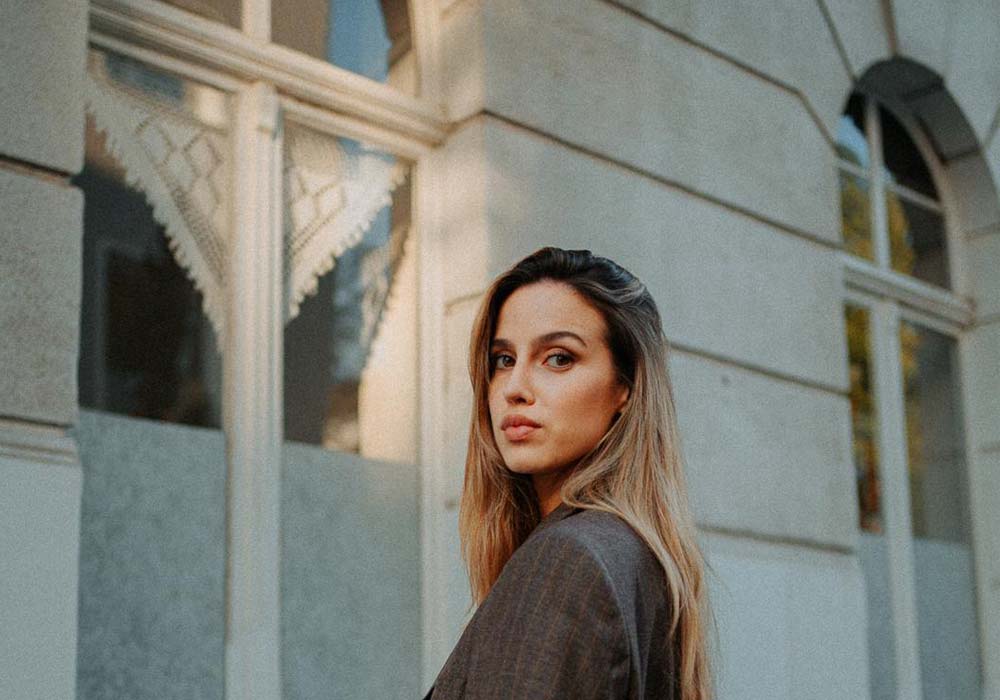 Alexandra Fonsatti Interview: "All That Matters", ice skating & her path to becoming an actress
Interview with Alexandra Fonsatti – After completing her acting training, actress Alexandra Fonsatti has starred in various film and TV productions and since 2019 can be seen as "Chiara Nadolny" in the RTL series "Alles was zählt". In an interview with our magazine, the actress talks about her role on AWZ, her passion ice skating and how she became an actress. She also talks about which role would particularly appeal to her and how much she loves traveling. The successful actress also gives an exclusive insight into her future.
Alexandra's role on AWZ
FIV: Hello Alexandra, how nice that it worked out with the interview today. You are successful as an actress and can be seen as Chiara in the daily soap "Alles was zählt" on RTL since 2019. What do you like best about your role and can you identify well with it?
Alexandra: Wow, soon it will be 3 years that I am allowed to embody the main role "Chiara Nadolny" on AWZ and what I like about the role is that it is very versatile. Whether totally in love, totally business-woman-straight, clumsy or sometimes a little too honest, it's just fun! I often find myself in her, especially in her soft facets, in her discipline and self-confidence.
Passion and profession in one
FIV: Ice skating has been a great passion of yours since childhood, and through AWZ you can combine your passion with your profession. Has your role on AWZ been a dream come true for you?
Alexandra: It is definitely a happy coincidence that I am both an actress and an ex-professional figure skater and that I am allowed to combine this! I am glad that I did not have to hang up this special and graceful sport for good. That's why I always say: nothing in life is for free, everything has its reason. Maybe you don't see it today or tomorrow, but one day it will come full circle. I never thought that I could combine my 2 passions and make it my profession and I am extremely grateful about that!


FragranceTip.com by FIV
She never wanted to be an actress!
FIV: Has acting always been your dream job and what inspired you to become an actress?
Alexandra: To be honest, I never wanted to be an actress. I didn't even know what acting was until I was 19. I applied to an acting school for fun, went to auditions for fun and only there, during my studies, did I get to know and love this profession! And here I am now!
The next Wonderwoman, what's next?
FIV: You have already had the opportunity to participate in some television productions, what would be a project in which you would like to participate, what kind of role would be particularly appealing to you?
Alexandra: I am an absolute fan of "Wonderwoman". Just the fact that a woman is the superhero and has supernatural powers. I'm a very active guy and I imagine the shooting of such a movie to be especially action-packed, fun and special. I would definitely be very keen on that!
Your love for travel
FIV: Your job as an actress keeps you on the road a lot, but you also like to travel in your private life. You like to share insights from your travels, such as your trips to Rhodes and Barcelona, with your followers on Instagram. What has been your most beautiful trip so far and which experience do you still remember fondly?
Alexandra: Every trip is special for me. The main thing is to travel! Life is too short not to see the world. I can't say which experience was the best for me, but I can say one thing with certainty: I come back after every trip with new energy, new inspiration and new perspectives. Therefore, all I can say is: Travel as much as you can!!! Travel is the only thing you buy that makes you richer.
Plans for the future
FIV: Finally, a short look into the future, we are curious what you have planned in the near future: Do you have big plans like a move or something similar or is there something special coming up? Give us a little teaser of what your fans and followers can look forward to in the near future!
Alexandra: There are of course some things planned for the new year, but I may not yet spoil anything, otherwise it is no longer a surprise! Maybe you'll see me here and there on TV?! Stay tuned!
FIV: Thank you very much for your time and the great interview and good luck on your future path!
https://fivmagazine.com/wp-content/uploads/2022/02/Alexandra-Fonsatti-schauspielerin-frau-braune-haare-alles-was-zaehlt.jpg
700
1000
Lisa-Marie
/wp-content/uploads/2023/08/fiv-magazine-logo-news-influencer-fashion-interior-travel-real-esates.svg
Lisa-Marie
2022-02-17 14:07:19
2022-09-16 12:52:47
Alexandra Fonsatti Interview: "All That Matters", ice skating & her path to becoming an actress