Travel: Short holidays in Italy, Spain & Co.
The short break may be called a short holiday, but that doesn't make it any less enjoyable than other forms of icing. Whether as weekend trips or short trips over holidays, can be just as full of experiences, relaxation and variety, as the annual holiday. No matter where, the weekend trip should lead, whether it should be an extended weekend vacation, a regular short trip or just a side trip to a concert or sporting event. It makes the most sense to combine the short holiday with a weekend and a nearby holiday, so you get with only one day off quickly 4 days of vacation. If Christmas is convenient, you can even get 5 days of vacation and make an unforgettable Christmas gift. Then it goes possibly in the Alps or the German low mountain ranges to spend a short holiday in a romantic log cabin for two.
Short Break in Germany: Couples, Families & Friends
Traveling on your own doorstep? Yes, Germany in particular is perfect for people who need a change of pace at the weekend. The country offers many opportunities to enjoy holidays. Starting with lakes, rivers and forests, to beautiful old towns with sights. Whether young or old, there is something for everyone when holidaying in Germany.
Short holiday in Germany
Of course, all the top destinations in Germany are represented. Enjoy an opera in the beautiful Hanseatic city of Hamburg, explore Berlin, the dignified ambience of Munich or enjoy Rhenish cheerfulness in the media city of Cologne. Those who like it more rural, find cheap short trips and suitable hotels for the idyllic Schleswig-Holstein, North Frisia, the Rhön, Erzgebirge and the romantic Harz. And if you prefer it wet, a short trip to Lake Constance, the North Sea or the romantic Baltic Sea is just the right thing.


Germany - Spain - USA
Especially in summer, you can even spend a short holiday in the sun without having to go far from the front door. In the big cities you can quickly find a hotel with sights nearby and in the bathing region that which is close to the beach. Germany has, after all, many beautiful corners to enjoy and which are visited far too rarely. Or do you already know the imperial city of Goslar with its UNESCO sites? Did you know that the old half-timbered houses of Quedlinburg form one of the largest area monuments in Germany and when was the last time you were in a German vineyard on the Rhine and Moselle?
Tip. Read here everything about vacation in Germany.
Map of Germany
Short holiday in Spain
Whether Barcelona, Madrid, Ibiza, Andalusia and and and….. To Spain we could travel every year. Every spot of the Mediterranean country, which offers culture, beach holidays and urbanity at the same time, is worth seeing. A holiday in Spain is always the perfect solution. Spain is one of the most popular travel destinations in Germany. . But the high number of visitors is mainly due to the Canary Islands, the Balearic Islands, the Costa del Sol as well as the Costa Brava and therefore the beach holidaymakers. Many areas in Spain are ideal for a hiking holiday. You can combine a beach holiday in Spain with discovery tours, sightseeing and culture. Spain is easy to reach by train, bus or car. With cheap airlines Spain is also easy to reach. Read more about holidays in Spain here.
Sights & Food in Spain
The Spanish have brought it to international fame: Sangria, Paella and Tapas. All three are offered throughout Spain, but the real home of tapas is Andalusia. In Sevilla, Cordoba and Granada, one does not have to visit a tapas bar in order to enjoy the small delicacies. It is enough to visit a normal beer bar and order beer from the barrel. The draught beer is served with a little lid, a "tapa", on which there are cheese, olives or other small things. With the second and third beer, the "tapas" are more generously stocked, so that in Andalusia one can also get full without even entering a restaurant.
Nature & City in Italy: Tuscany, Venice & Co.
Italy – ancient villages, blue beaches, fantastic views, unspoilt landscapes and, of course, pizza. It's no wonder that many Europeans name Italy as their favorite vacation spot. Even the smallest villages in Italy offer the best opportunity to enjoy the sunset on the Mediterranean. Couples in particular love to get lost in Florence or Venice.
Here you can find the most romantic towns. If you love vineyards and nature, you can taste the best wine and enjoy the breathtaking view in mountain towns. The list would not be complete without Rome. The capital offers more than fountains and monuments. Vatican City will show you, the best seafood and restaurant smells. Likewise, Venice is worth a visit as you can take a gondola to explore the entire city. Got a hankering for a holiday in Italy? Read more about it here.
Beautiful places in Italy: tourist tips
Italy delights tourists in all respects. Each city offers different cultural highlights. The nature of Italy is irresistible, as well as the small towns of Italy show the best taste of life. So you should, especially on short holidays, take the time and enjoy the south to the fullest.
Manarola, Cinque Terre
Florence
Pompeii
Venice
Pisa
Naples
Como
Verona
San Miniato
Sirmione
San Gimignano
Vicenza
Lago di Braies
Sorrento
Rome
Vernazza, Cinque Terre
Orvieto
Palermo
Milan
Bologna
Whether it's Venice for Carnival, the Cinque Terre in spring, the beaches of Calabria in summer or Tuscany in autumn for the grape harvest: Italy is incredibly rich in worthwhile destinations.
The most beautiful cities of Italy from the air – drone video
Here you can see the most beautiful cities of Italy from above. Take a look at Rome, Nice and Venice and dream of your next holiday in Italy.
Camping in Spain, Italy & Germany
Whether in a caravan with a view of the sea, in a tent in the mountains or on a campsite – camping in Spain, Italy and Germany is unforgettable. In Germany you will find many huge campsites and different landscapes that invite you to camp. In Spain, the best way to spend a summer holiday is to take a caravan and drive along the country's beautiful coasts. In Italy you can camp both on the beach and in the mountains. Camping in Italy means lying near a lake at night and watching the stars or sitting on the beach in the evening and roasting marshmallows over a campfire.
If camping appeals to you and you want to know what else you need to have a great stay in nature, read more about camping accessories here.
Camping on the beach means waking up to a great view in the morning. Roof tent from Campwerk.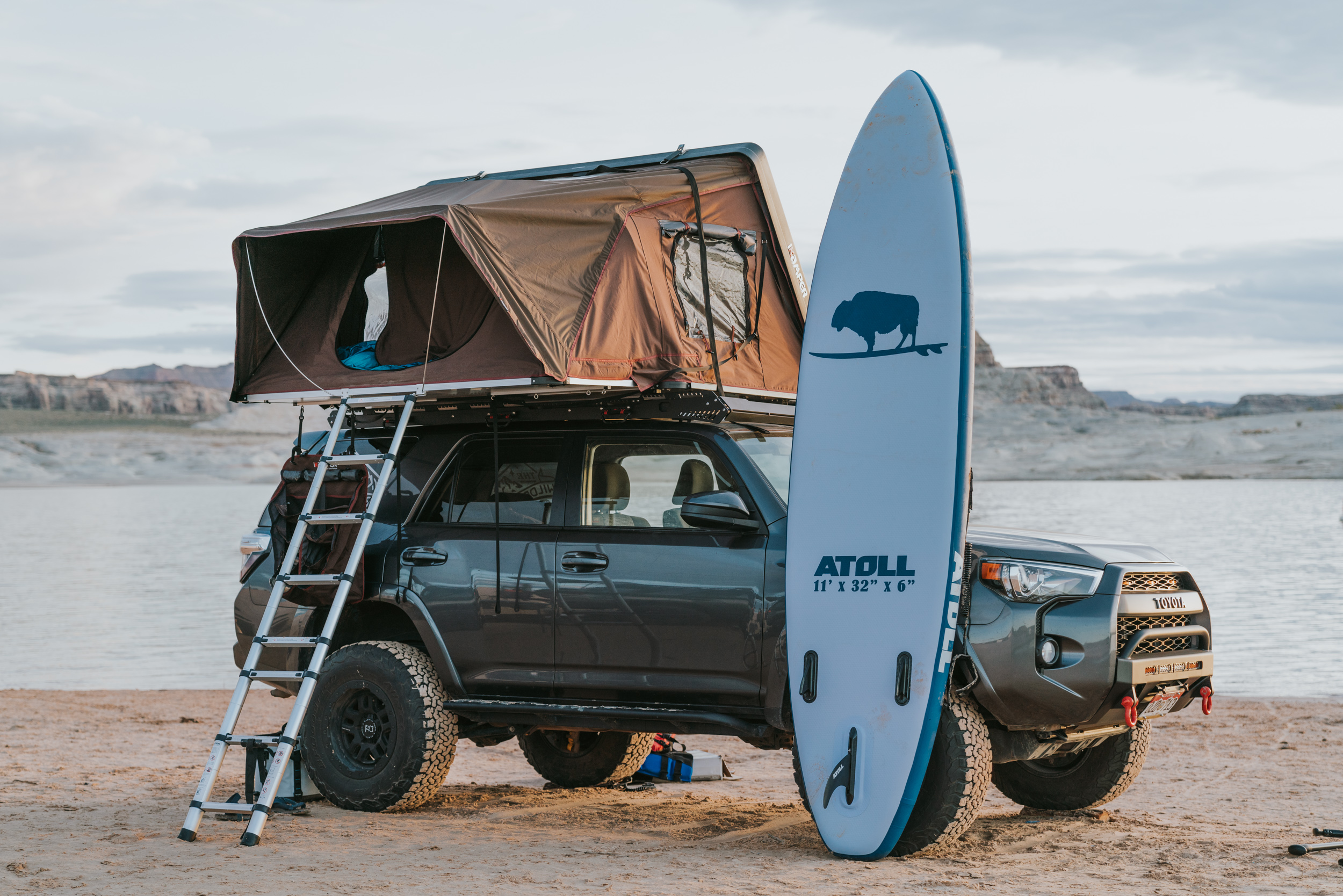 https://fivmagazine.com/wp-content/uploads/2020/02/airport-2373727_1920.jpg
1280
1920
Stephan
/wp-content/uploads/2023/08/fiv-magazine-logo-news-influencer-fashion-interior-travel-real-esates.svg
Stephan
2020-02-29 07:00:00
2020-02-29 07:00:00
Travel: Short holidays in Italy, Spain & Co.