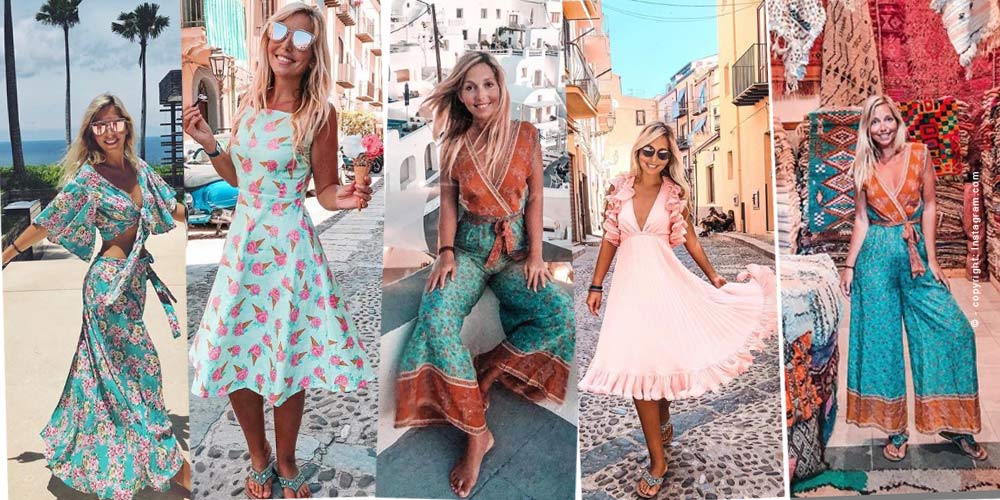 Influencer Miss everywhere: Travel and Lifestyle Exclusive Interview
Are you looking for your next dream vacation? FIV Magazine has prepared an exclusive interview with Miss Everywhere. Mareen is an influencer from Cologne who shares her most unforgettable places in the world with her followers. From Bali to London she has traveled all over the world and in this interview gives her advice and feedback on her recent travels.
FIV: Wow Mareen, I want to go on a trip around the world with you! You were on the Bahamas at the Pig Beach and were allowed to experience the pigs from close. This is already an experience in itself to be with floating pigs at one of the most beautiful places, but if you can stroke the pigs, it is certainly even more beautiful. Is that allowed or is it forbidden?
Mareen: Yes that was really a special experience 🙂 It is not forbidden to stroke the pigs, but they live there in the open nature which of course you should consider and respect. In the past, for example, there were unfortunately already cases where tourists brought the pigs food in the form of sweets or marshmallows whereupon the pigs became ill.


Germany - Spain - USA
Environmentally friendly travel: Climate change & Environment
FIV: Climate change and environmental protection are becoming increasingly important. Is it still environmentally friendly to travel so much? And do you have any tips for environmentally friendly travel?
Mareen: That's true and of course constant flying also contributes to this. I think it's important for everyone whether you travel or are at home to live more consciously and make small daily contributions to the improvement of our environment. A big topic here is sustainability and the anti plastic movement that you could see on many beaches and in hotels last year. And when you see the effects of plastic consumption with your own eyes, especially in the sea and the underwater world, you quickly realize that we all have to help. Many hotels and companies now replace plastic straws with bamboo straws, use reusable coffee cups and use natural raw materials for dishes and materials. I am also a fan of natural ingredients when it comes to cosmetic products that you take with you on your travels, for example hand cream that I always have in my hand luggage.
Top small budget destinations
FIV: As a travel blogger, you've already seen a lot and know the tips and tricks. What would you say are in your opinion the top destinations for the small wallet or if you travel as a student or pupil without the family? And what are the top destinations when you travel with your best friend?
Mareen: Short trips within Europe are always great. Here we are geographically so conveniently located that other countries can be reached within a short time. From my home in Cologne, for example, you can reach Paris by train in just 3 hours and London by plane in just one hour. Airlines often offer bargain flights over the weekend as city trips. For students, airbnb is of course always recommended to stay overnight cheaply. For beach holidays within Europe, the cycladen islands in Greece are my absolute favourite, especially the small islands that hardly anyone knows and that can all be reached by ferry. Sun guarantee until October, tasty and cheap traditional cuisine and relaxed beach atmosphere guaranteed.
FIV: If your best friend is not there and you travel alone, do you have any tips for singles?
Mareen: I almost never travel alone because I think traveling becomes especially beautiful when you can share all your experiences with someone 🙂 If you want to travel on your own, there are destinations like Bali where young international audiences predominate and you can quickly make new contacts.
FIV: What would you say if I could fulfill a dream in my life, where do you think I should definitely go?
Maureen: The answer is always the same with me, namely the Maldives 🙂 As far as beach holidays are concerned, they are probably the most beautiful islands in the world, especially with the concept that there is only one hotel per island and you love water activities such as snorkeling or diving.
FIV: What do you think are the 3 things that everyone should take with them when they travel?
Mareen: First time of course your passport, credit card and sunglasses because without the 3 things nothing works 🙂 For me personally the most important thing is of course the mobile phone with charged powerbank so that you can catch all impressions on a long day on the road or send an email, tanning oil and a dozen bikinis.
FIV: As a professional in the field of travel, you certainly have a few tips for an unforgettable holiday. What are for you the 5 tools that help you to have a wonderful holiday?
Mareen:
Travel in fun company because in the end you have a great time everywhere with the right companion.
Don't plan the trip too much in advance because spontaneous ideas and offers often turn out to be the best on the trip.
Try the local cuisine and its specialties and food markets even if it sometimes looks unfamiliar.
Ask the locals for tips where they like to go with their friends in their spare time or test their insider tips to get an insight into the life of the place as a non-tourist.
Sleep off because if not on holiday when then :)?
How to become a travel blogger?
FIV: Speaking of travel, you always wear great outfits in your pictures. If you're not at the beach, but back in the city of Cologne, you're bound to see one or two fashion sins. What is the biggest fashion sin for you personally?
Maureen: When it comes to sandals with socks, I'm always overcome by the feeling of blindness, just behind them in 2nd place are Crocs which I always somehow associate with gardening.
FIV: Sure, everyone likes to travel. But all this could have gone backwards and you couldn't travel to the most beautiful places in the world now, and professionally! What would you say inspired you to earn your money with it? Did the family make you travel a lot as a child or was it the friend who was a pilot and infected you with the travel fever? – (Note I never had a friend who was a pilot)
Mareen: I have been travelling with my family a lot since I was little and have always been very interested in the tourism industry and then studied at a hotel university. The blog was born as a hobby out of a passion for travelling and photography. I didn't expect that the whole thing would develop to this extent one day, or that I would ever be able to live off a cent, let alone a penny, 5 years ago, when the entire blogger scene was just about to start. I think all bloggers who started at that time had some luck to focus on a platform like Instagram which has grown so successfully.
FIV: You can almost always be seen alone on your pictures. Does that mean you travel alone?
Mareen: I always travel with photographers, friends, videographers or bloggers.
https://fivmagazine.com/wp-content/uploads/2019/06/miss-everywhere-mareen-influencer-travel-lifestyle-fashion-summervibes-interview.jpg
500
1000
Lisa-Marie
/wp-content/uploads/2023/08/fiv-magazine-logo-news-influencer-fashion-interior-travel-real-esates.svg
Lisa-Marie
2019-06-17 07:00:41
2020-11-10 12:41:27
Influencer Miss everywhere: Travel and Lifestyle Exclusive Interview