Camping accessories XXL – from tents and caravans, to sleeping bags, leisure articles & outdoor clothing
Once with the caravan across the whole country and see as much as possible – to the beach, the mountains and into the open nature. But what do you need to have with you on this adventure? Which items have to be on the packing list, what can stay at home and where do I buy the right camping accessories? Before a trip you should decide on a type of accommodation and find out about the necessary water supply, heating system, sanitary facilities and other important components. It is also important to know which leisure items, outdoor accessories and clothing you should take with you on your trip. That's why we have summarized everything you need to know about camping accessories, divided into the categories Living and Cooking, Entertainment and Sports and Outdoor Fashion.
Living & Cooking in the outdoors
Camping means travelling, without a big budget and with lots of adventure. But what do you actually have to take with you so that the trip becomes a lot of fun and you don't miss anything on the trip? Which accessories must be taken along in any case if you travel with a motorhome and what must not be missing in any case if you stay overnight in a tent? Here you will find all the information you need about the different types of accommodation available for camping, the different types of accessories, extras for holidays with dogs and children, the main new products and the best brands of camping accessories.
Tent – from trekking tent to roof tent
As already described in the article Camping accessories, there are different types of tents between which you have to decide. A simple person tent only offers space for a few people, but is perfectly sufficient if you are only travelling with your partner or one or two friends. The tent does not take up much space in your luggage and is therefore ideal for a short trip in the nature. If you want to avoid the complicated construction of the tent, you can opt for a throw tent. The most popular types of tents are:


Germany - Spain - USA
Trekking tent – compact but very resistant
Litter tent – compact and quick to set up
dome tent – low weight, high stability and simple construction
Rooftop tent – for camping everywhere with particularly good insulation
Tunnel tent – lots of space and headroom
Family tent – lots of space for the whole family
Ridge tent – bright and open and perfect for an Indian adventure
dome tent – low space requirement and can be set up easily and quickly
Geodetched – also holds on rocky ground, on steep slopes or densely overgrown sections
Pyramid tent – extremely stable and withstand even strong winds
Read here more about the different types of tents…
Caravan accessories & Motorhome accessories – everything for the caravan
How wonderful it must be to travel around the world in a caravan or motorhome, having everything you need with you and simply enjoying the time in nature. But for this you need a packing list to take the most important utensils with you on your trip. What one should think of in any case are gas bottles, these are needed for cooking, heating or even grilling. Also important are a clothesline, clothes pegs and a foldable laundry basket, as also in the nature, one has to do the laundry.
Not only for cooking you have to think about different things, but also for eating. What is important are cutlery, dishes, pots and pans; thus, cooking on the way is also no problem anymore. Electricity is a matter of course in everyday life and not everybody wants to do without electricity during a camping excursion. In order to charge your mobile phone, flashlight or other useful everyday objects, you need batteries, accumulators and converters. In addition, those who do not travel with a sleeping bag should definitely think about duvets and pillows.
But what one should not lose sight of when packing is that a caravan or motor home has a certain equipment. This means that you don't have to get many extras.
Campingbus expansion – from car to camper
Many camping fans dream of their own mobile home, but do not have the money to buy one. So for those who already own a van or a large family car, an own camper is the perfect solution. Whether you are a fan of the do-it-yourself mentality or buy a ready-made installation that you then install in the family car or van, your own camper has a very special atmosphere. The three advantages of a homemade or bought installation are firstly the cost factor, secondly the adventure factor and thirdly the suitability for everyday use. A finished camper van is a big investment and can be a very expensive adventure. With a homemade conversion you get away much cheaper, whether you already own a van or a family car that you can convert, or you want to buy a used van. 
Installation, or removal, is a cost-effective alternative to a finished camper van. Moreover, the adventure begins at home with a self-built camper, the do-it-yourself mentality ensures adventure and a lot of pride once the camper is finished. Another big advantage of an extension is that the van or family car can still be used normally in everyday life.
The three advantages of a camper van extension:
Cost factor – a camping extension is cheaper than a finished motorhome
adventure factor – even building your own camper van is great fun
Suitability for everyday use – the camper van can also be used as a normal car in everyday life
Camping furniture – important factors when buying chairs and tables
If you want to set up your own camp while camping, you should also think about chairs and tables that allow you to relax together. Whether in the evening by the campfire or during the day to simply relax, good camping furniture creates a pleasant camp atmosphere. However, you should make sure that the camping furniture is to your liking and matches the style of the rest of the camp. It is also important that the camping furniture serves its purpose. It should be comfortable and convenient, but it should also be collapsible, as a camp is often set up and taken down, for example when you travel further. Camping furniture should ideally last for several years and therefore it is important to pay attention to the quality and stability of the furniture. It is best to create a small terrace in front of the caravan or awning with your camping furniture and relax there with the whole group, family or friends.
Important factors to consider when buying camping furniture
Looking – of course they should look good
function – the most important thing is that they fulfil their purpose
size – as small as possible is the motto, if you travel a lot
Coziness – if the furniture is used a lot, it should of course also be comfortable
Stability – it is also important that they are stable and can be used for many years
Sleeping bag & Iso Mat – materials, different shapes and sizes
For those who do not sleep on a camp bed but want to experience the real nature in their tent, it is important to think about a sleeping bag and an iso mat. With a sleeping bag you should pay attention to the materials the filling is made of. There are different fillings for different temperatures. Whether synthetic fibre or down sleeping bags, it is important to make sure that the sleeping bag has the right size and shape. There are for example mummy sleeping bags, egg-shaped sleeping bags and blanket sleeping bags. The three types are intended for different types of travel. They insulate differently and therefore keep you warm differently. The sleeping bags that offer more freedom of movement are therefore the least insulating. If you are about to buy a sleeping bag, you should make sure that it is about the same size as your body +25 cm. Now the question arises how big the sleeping bag should be for a child: Many people simply think about buying it a bit bigger so that you can use it for the next few years. However, this method is not the smartest, because large sleeping bags do not keep warm properly. Also, many sleeping bags for children have adjustable sizes so that they can be used for longer. 
This is what you have to pay attention to when buying a sleeping bag:
Material – the filling can consist of different materials, which keep differently warm
Form – there are 3 different forms, which isolate differently well
Height – it is always best to use your own height plus 25 cm
When buying the right iso mat you should always pay attention to the R value. This value indicates the temperatures for which the iso-mat is suitable. A distinction is also made between foam mats, self-inflating iso mats and thermo mats or insulating air mattresses. When buying an insulating mat, you have to consider how much comfort is important, how well the mat should insulate and how much packing space is required.
Heating and ventilation systems – from gas heating to electric heating
To avoid having to lie in a cold bed at night, it is important to have a heating system in your caravan. This can usually be switched on an hour before you cuddle up in bed to preheat the motorhome to the right temperature. There are four different types of heating systems that are common in the camping world. One of these is diesel heating and another is electric heating, air heating, or gas heating.
Each heating system has its advantages and disadvantages and is operated in a different way, but gives the same result. A particular type of heating can be practical for a caravan on a campsite, but it can be very impractical for a wild camper. That's why you should find out about the advantages and disadvantages of a particular heating system. A caravan also has a ventilation system. The forced ventilation system provides enough new oxygen while the forced ventilation system lets the old used oxygen escape. The ventilation is usually located at the bottom and the vent in the upper part of the caravan.
If you are now wondering why a camper needs a ventilation system at all, then you have probably never slept in a damp and clammy bed. Because if the air stays in the caravan all night without circulating, a lot of moisture collects and allergy sufferers will also notice that a lot of dust particles fly around in the caravan, which have been stirred up by the heating. It is therefore important to ensure that there is sufficient oxygen in the caravan, but at the same time a comfortable temperature that makes the stay more pleasant. Here are a few more tips for you on how to keep warm in the caravan.
Sanitary facilities – camping showers & camping toilets
It is important not to compromise on hygiene during a camping trip. It is still important to take a shower and have access to water and a camping toilet. There are different types of camping showers that are suitable for campers. The different types take up different amounts of packing space, are different in environmental protection and comfort. Those who prefer luxury are likely to opt for a portable camping shower and a folding shower cabin. Those who want to protect the environment the most will opt for a solar shower. The cheapest and most practical option is probably the PET bottle shower, where a few holes are simply drilled into a bottle cap. This way you can easily shower with one bottle. An important tip is that you always shower away from water, so that you don't contaminate it with shampoo and soap.
Types of camping showers:
Portable camping shower – almost like at home
Solar search – comfortable and environmentally friendly
PET bottle shower – cheap and simple solution
There are also different types of camping toilets. A distinction is made between the chemical toilet and the dry toilet. The chemical toilet collects the faeces in a container where they are decomposed by a chemical substance. There are also more environmentally friendly variants, such as citric acid or vinegar water, instead of the chemicals. Dry toilets collect the leftovers separately and store them until they can be disposed of.
Camping-lamps – with batteries, accumulators, gas or solar power
Those who enjoy sitting around a campfire with the whole group in the evening and let the evening fade away know that it can be very useful to have a camping lamp with you on your journey. Whether you choose a camping lamp with a battery because it is mobile and does not need to be recharged, or whether you prefer to take a camping lamp with a battery because it has a longer life span: all types of camping lamps have their advantages and disadvantages. For example, a camping lamp with gas takes the gas from the cartridge, which can also be used for the stove or the heating. The solar lamp is the most environmentally friendly option, as it is self-charging and often has a hand crank or a power connection as an alternative for cloudy days.
Types of camping lamps:
Camping lamp with battery
Camping lamp with rechargeable battery
Camping lamp with gas
Solar lamp
Valuables storage – whether safe or fanny pack
Whether in a tent, motorhome or in a self-contained camping bus extension – you usually travel with valuables that you want to store safely in your accommodation and which you want to protect yourself in case of a burglary. The tried and tested tactic of hiding the money in your socks is not always enough. A passport, car keys and many other valuables, for example things of emotional value, should be kept in a safe. For those who travel a lot it is worth buying a fanny pack. In this bag you can safely store your valuables and always carry them with you. This way you always know exactly where your money, keys and mobile phone are and it is harder for pickpockets to get hold of your important items if you always carry them with you.
Impregnation & care – for waterproof tents
Whoever spends a lot of money on a tent should impregnate and maintain it properly to be able to use it for many years. If you have bought a waterproof tent and want to make sure that it will still be waterproof after years, you should impregnate it regularly. You can use a liquid impregnator or an impregnation spray, or you can use tried and tested household remedies such as acetic alumina. It is important to remember that a tent must have a waterproof outer fabric with a waterproof coating and waterproof seams to be waterproof. This fabric and the seams should be cared for so that you don't have to sleep in a wet or damp sleeping bag at night.
You should also make sure that the tent is clean and that dust, sand but also more stubborn dirt is removed. You should not use candle wax as an impregnating agent for the seams and other do-it-yourself experiments if you don't want to ruin your saute time. The impregnation process is almost always the same, the tent is either sprayed or rubbed or even bathed in a plastic tub or bathtub with impregnating agent. After that the tent has to dry and in some cases impregnated a second time. Remember to dilute the impregnating agent with water as described on the package insert and avoid skin contact as much as possible.
Dog accessories – from bowls to toys
For those who travel with their dog there is a very special packing list, so that nothing is missing for man's best friend on the journey. The most important thing is of course the food, the dog bed, the leash and the bowl. It is important that the dog drinks enough in warm temperatures.  In addition you should think about toys and treats so that the dog can be kept busy when the herchen wants to relax and so that the dog can be rewarded when he has done something really great. What can also be important is dog clothing, because many people take their four-legged friend with them on expeditions where the temperatures are freezing cold. For those who like things to be clean, it can be handy to think about a doormat so that the dog can clean its paws before it enters the motorhome. A handheld vacuum cleaner can be useful if the dog ever takes some dirt into the camper. A small tip for those who know what a wet dog smells like is Anti Smell Spray. This spray removes unpleasant odours and is completely harmless to people and animals.
Small packing list for camping with dogs:
Food – against hunger on the journey
Dog bed – for a comfortable sleeping place
Leash – for the campsite
Bowl – for water and feed
Toys – to keep the dog busy
Treats – in case the pet has made something really nice
Dog clothes – because even the dog gets cold
Floor mat – to wipe your paws off
Hand vacuum cleaner – for some dirt in the motorhome
Anti-smell spray – in case the dog smells a little stronger
Are you interested in the topic camping with dog? Then you will surely like the article Holiday with animals.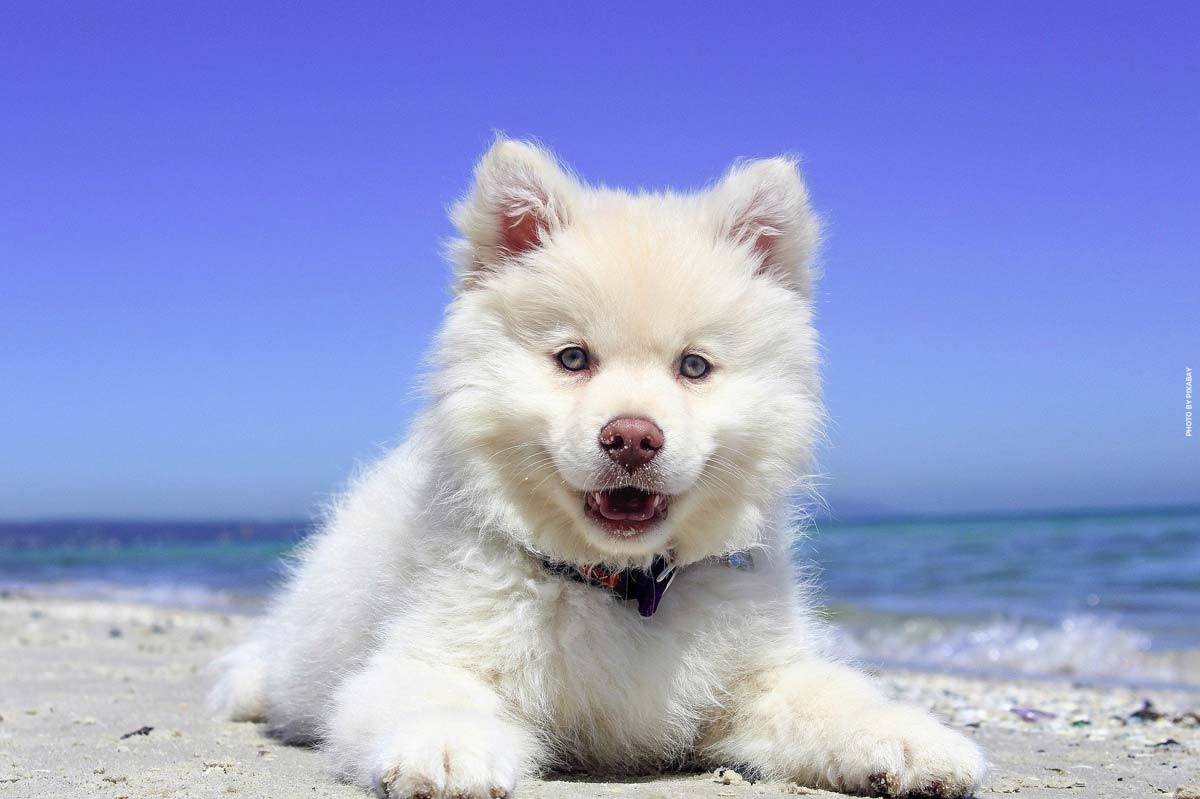 Camping equipment: novelties
The equipment you need for a camping trip is of course evolving year after year, and that's why we have summarized the most important camping news that will make your camping life easier. The best way to find out about the biggest novelties is to visit the tourism fair, travel fairs and camping fairs.
Novelties in camping: Top 5
Our top 5 camping novelties are:
An important novelty are solar showers – we think: The more environmentally friendly, the better! The solar showers have many advantages and are the cheapest camping shower option. Self-inflating mats and self-erecting tents are also new on the market. These new products save you a lot of time and effort and, when packed together, usually take up very little packing space. The Cozybag is a sleeping bag that is also a blanket, jacket and coat. 4 in 1! The space saving one. Very important: comfortable camping furniture . Since you spend a lot of time on your camping chairs when camping, it can only be an advantage if they are comfortable. And last but not least: ultra light camping accessories. When camping, it is always important to take as light accessories with you as possible. With ultra-light accessories, you don't have to drag as much. Especially in your backpack you can see the difference.
So these are the most important novelties that you will definitely need for your next camping holiday:
Solar showers: Heat from the sun
Self-inflating mats and self-assembling tents: a time-saving investment
The Cozybag: sleeping bag, blanket, jacket and coat
Comfortable camping furniture – chairs, beds & Co.
Ultra-light camping accessories – perfect for backpacking.
Cooking, grilling & Cooling – Recipes and important accessories
If you are on a camping holiday, you don't necessarily have to eat only canned food for weeks on end. For those who can't really enjoy canned ravioli, there are gas stoves and gas ovens. These can be used to prepare your favourite meal from home without any problems. Of course, you should do some shopping before your holiday or ask about supermarkets in the vicinity. Many campers also use the gas barbecue or cook over the campfire. Here you can prepare for example foil potatoes, bread and meat. In addition, you should always think about a packed lunch on longer trips. For this purpose it is useful to have sausage, cheese, butter and the like in the refrigerator. For those who plan trips to the beach, it can also be useful to take a cool bag with you on your trip. Because in this bag, drinks and snacks can be easily transported, which is very practical if they taste better when cooled. Here are 23 delicious camping recipes for you.
Outdoor knives & Tools – the own toolbox for the motorhome
What do you need an outdoor knife for? An outdoor knife or survival knife can be used to carve wood or to work on fish and meat. With a Survival knife you can cut ropes, which you use occasionally when camping, and you can also cut a simple sandwich in half. When buying an outdoor knife it is important to consider the legal aspects, because a knife can quickly be classified as a weapon if it has a certain blade length. Outdoor knives differ in blade length, shape, robustness and material.
A few practical tools that you should also think of are a screwdriver, a hammer, a small saw, pliers, armour tape and a folding rule. Our tip is to buy a small toolbox, which will always stay in the caravan. So you can't forget anything and always have everything you need with you.
Brands: Camping accessories – from chassis technology to roof tents
The different brands have specialized in different types of accessories and therefore it is almost impossible to crown the best brand. The most popular brand for automotive technology is Alko, the best heaters are produced by the company Truma and the air conditioners and refrigerators from Dometic are top of the line. The best roof tents are available from Campwerk. We have put together the best brands for various types of camping accessories for you:
Chassis technology: Alko
Heaters: Truma
Air conditioning systems and refrigerators: Dometic
Satellite system: Oyster
Solar plants: Büttner
Power generator: Honda
Toilet systems: Thetford
Accessory trade: Fritz Berger
Two-wheeler: Thule
Rooftop tents: Campwerk
Entertainment & sports – all important leisure articles
Camping trips are an adventure in themselves – you go on hikes, gather around a campfire or take a trip to the beach. But if you need a moment of peace and quiet or you get bored on a day when the weather is not playing along, it can be handy to be able to do something else. Here are the most important articles for entertainment and sports, which should not be missing on your packing list.
Kids camping articles – entertainment for on the way & on the campsite
Whoever goes on a camping holiday with their children must pack a few extras to make the holiday more enjoyable. For example, for the trip it is very practical to pack a few games, a DVD player, something to paint and books. You can also think of a few game ideas that can be played without having to bring anything along. Good examples are "I see something you don't see", Schnick Schnack Schnuck and "I'm packing my suitcase". These games can also become practical if the children get bored on a camping holiday. For example, if you are sitting around the campfire in the evening and there are no other children around to play, it is also pleasant when the child can keep himself occupied.
What you can also use on a camping holiday is a handcart. During long walks and excursions you can safely store your provisions and all other souvenirs in the wagon, and you don't have to carry them. Everyone who has children knows that a trip with children needs twice as much luggage as alone. Whether it is a change of clothes, more provisions, games or even a diaper bag for babies – a handcart can be very practical. Small children who cannot walk for long periods of time can also be placed in the handcart and pulled behind them. When camping you should also make sure that the sleeping bag is the right size for the child. If the sleeping bag is too big, the child will freeze quickly. When camping at campsites, you are lucky that there are many other families and that the children can spend time with other children. Friendships are quickly made that can last a lifetime. Different camping holidays are just better suited for children than others. An extreme expedition at minus degrees is just not the right thing for an infant. The different types of tents are also differently suited for children. If you want to know more about family holidays, take a look at our article Holiday with children.
So this is what you should definitely think about when you go camping with children:
Entertainment for the ride – best

games, a DVD player, something to paint and books

A handcart – great for trips with the whole family
Change of clothes and provisions – a little more than for adults, because children get dirty more often and whine more when they are hungry
A sleeping bag for children – make sure you get the right size in any case
Camping guide & literature – maps, ratings and all important site features
For those who go camping for the first time, it can be very practical to get a camping guide. This will inform you about all the important site features, regulations and the region. In a camping guide you will often find many different campsites listed and rated. The ratings come from various guests and internet reviews. A lot of the information you find in a camping guide would also be found on the internet, but you need time to research it. A camping guide has summarized exactly the information that is important for a camper.
Here, for example, you will also find a list of different campsites, in case you get bored and want to travel further. There are also a number of tips and tricks in a camping guide that can be very useful when travelling. Looking for a place to shop? No problem with a camping guide, because access, location, layout, facilities and quality of facilities, leisure facilities and offers, shopping, prices and special features are all summarised in a camping guide. 
Camping literature can be very important, especially for amateurs and beginners, because here you can find, for example, dishes that can be cooked outdoors, tips and tricks when the tent has to be pitched and information about the place. Also very important is the map which you can find in many camping guides. You don't always have a good network in the wild and can therefore access Google Maps. Therefore it is good to have a solid map that can show you the way in a difficult situation.
Leisure articles – whether by the sea or on the campsite
Not only when you travel with children do you want to do other things than eat, walk and sleep. That is why it can be useful to take a few leisure items with you. For different destinations you will need different leisure items, of course. For example, if you are going to the sea, it makes sense to bring an air mattress, if you have children, even a bucket, a shovel and in any case a water polo.  For those who plan a holiday on a campsite, it is probably a good idea to take a skipping rope, a ball, a badminton racket and similar props for sports activities so that you can keep yourself busy in your free time.  Whether you're a big sports fan or would rather bring some board games in case you get bored around the campfire in the evening, leisure items are an absolute must on a camping trip. Not only children but also adults have fun with them and pass the time so well.
Ideas for leisure articles at camping:
By the sea: air mattress, shovel, bucket, water polo
On the campsite: skipping rope, ball, badminton racket, board games
Mountain sports – all souvenirs from mountain boots to headlamps
If you are planning to do a mountain tour on your trip, you will of course have a small extra packing list. If you are going to go on this adventure, you have to be prepared in any case. For example, mountain boots are important, they provide good grip during the hike, are usually waterproof and can also get dirty. A pair of hiking or touring trousers or zip-off trousers can also be useful when temperatures change rapidly. The higher you climb, the colder it usually gets, so it's a good idea to turn your shorts into long trousers by simply zipping them up.
A fleece sweater or jacket can also be very useful, as this type of clothing keeps you particularly warm. A rain jacket is the perfect preparation for bad weather. So if rain, cold and dirt can't get at you, then you are ready for a mountain tour. Those who plan to climb a mountain should also think about a backpack filled with provisions. This should not be heavy and the space available should be used cleverly. There are a few big brands that sell equipment for mountain tours, but most of the time normal functional clothing is quite sufficient.
A little tip: Make sure you wear sunglasses and sunscreen. On a mountain top, it usually not only gets colder, but the sunlight is also much stronger. Therefore, you should protect your skin and eyes. A compass, a pocket knife, a headlamp or flashlight, a first aid kit and a map can also be useful on any long hike!
Packing list for mountain sports:
Mountain boots – for dry feet when it gets wet
Hiking or touring pants or zip-off pants – if temperatures change significantly
Fleece sweater or fleece jacket – so that you don't freeze on excursions >/li>
Rain jacket – because you cannot always predict the weather
Backpack with provisions – for the small and big hunger
Sunglasses and sunscreen – because the sun is stronger on mountains than you think
Compass – to always find your way around
Pocket knife – for carving or working with fish and meat
Headlight or flashlight – when the sun goes down, but you still have some way to go
First Aid Kit – so that you are prepared for all emergencies
Map of the region – so you won't get lost even if your mobile phone has no network at all
Outdoor fashion – these clothes are needed for camping!
Whether in summer, winter, at festivals or on extreme expeditions – campers have to carry different luggage for different types of trips. You wonder why you should think about outdoor clothing and sunglasses when camping? We have summarized the most important things you need to pack and even explained why you should not forget them.
Outdoor clothing – waterproof, windproof and heat insulating
If you are preparing for a camping trip into nature, you should definitely pack outdoor clothing. There are different types of outdoor clothing, like sports and outdoor clothing, winter clothing, wind and weather clothing, outdoor shoes and outdoor socks. When buying functional clothing, you should always inform yourself about waterproofness, thermal insulation and wind protection.
A good example are for example outdoor functional jackets, because there are several types with different characteristics. There is the softshell jacket, the hardshell jacket, the floating jacket, the down jacket and the two, two and a half and three layer double jacket. These different types keep you warm differently, some are waterproof and others are not. Depending on the excursion, you should be aware of the function of outdoor clothing. For example, if you are travelling to a very windy area and will spend a lot of time outside, as it is common when camping, then you should definitely think about a windbreaker.
The most important features of camping clothing are:
Watertightness
Draft shield
Heat insulation
therefore you should pay attention to the materials and the manufacturer when buying.
Festival equipment – from handcart to jukebox
The essential things to consider when camping at a festival are, for example, getting tickets in advance. Barbecuing may be allowed on most festival grounds, but open fires are usually prohibited. You should also inform yourself about such regulations in advance. When camping, you should always make sure that all the garbage that is produced is taken away, even if the festival area is not an untouched piece of nature. Furthermore you have to take care that there is not too much noise and that you show consideration for the other campers.
If every camping enthusiast informs himself in advance about the regulations on the site, camping at festivals is guaranteed to be a lot of fun. Being woken up in the morning by playing music, having an instant coffee against tiredness and in the evening sitting together and having a barbecue – that is Festival Camping. What can be very practical at a festival is a belly bag for storing valuables. Of course you should also think about your tent and it can also be very practical to take some camping furniture with you to set up a camp with other festival visitors. A handcart is also very practical if you can't drive your car on the festival area and you have to transport your stuff from the parking lot to the camp. All in all, you should keep in mind that you have to pack a few extras if you want to camp at a festival.
Some extras for the packing list:
A tent – to have a roof over your head when you sleep
Camping furniture – for a cosy get-together in the camp >/li>
A handcart – for the transport of the accessories to the festival area
A fanny pack – for storing valuables
A music box – to have a certain atmosphere in the camp in the evening
Sunglasses – important UV rays protection
Whether on the beach in summer or in the mountains in winter – sunglasses are an absolute must-have on a camping trip. Strong sunlight damages our eyes and therefore we should try to limit the risk of damage as much as possible. The sunglasses should ideally go up to the eyebrows and should also protect from lateral radiation to avoid dazzling the wearer or damaging the eyes with UV radiation. Also: How cool do you look when you drive across the country in a caravan with sunglasses?
Camping winter accessories – from winter tyres to functional underwear
If you plan to go camping in winter, or go to areas where temperatures can drop below freezing, you should add a few important things to your packing list. We have picked out 5 important tips for camping in winter:
Winter tyres for the vehicle and the caravan – You should definitely fit these before the journey to avoid slipping on black ice.
Insulation – The caravan should have a comfortable room temperature even in icy temperatures and therefore be well insulated.
Hot water bottle – If the heating fails, this can be a real saviour.
Functional underwear and outdoor clothing – they keep you warm even when you sleep.
Be careful with power cables, water pipes and heating systems – the cold quickly damages them. Occasionally, a few precautions have to be taken for minus degrees.
https://fivmagazine.com/wp-content/uploads/2020/03/camping-tent-zelt-girl-mädchen-campingstuhl-camp-seifenblasen-bubbles-outdoor-natur-travel-reisen.jpg
800
1200
Lisa-Marie
/wp-content/uploads/2023/08/fiv-magazine-logo-news-influencer-fashion-interior-travel-real-esates.svg
Lisa-Marie
2020-04-15 12:38:19
2020-11-10 16:40:30
Camping accessories XXL – from tents and caravans, to sleeping bags, leisure articles & outdoor clothing