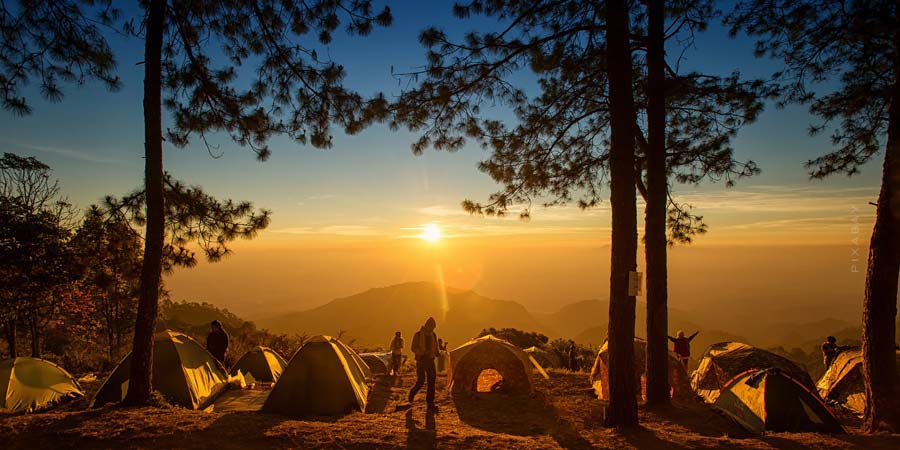 Camping XXL: Camping site, accessories, destinations & tips – free guide!
Camping – The perfect campsite, destinations and insider tips, new gadgets for living and cooking! For your next camping trip gi… Camping is the crackling of the campfire, the smell of wet grass and the birdsong in the morning. But camping is also waking up at the campsite with sea view and good sleep in the comfortable beds of the motorhome. No matter how much comfort or adventure you want, camping makes everyone happy. The multifaceted way of travelling and seeing many places on a small budget is inspiring more and more people. Here you can find out all about the different types of camping, the different destinations of campers worldwide and we'll give you a few important tips for your next camping holiday.
Types of camping: tent, installation, camper & Co.
Whether tent, built-in or motorhome – there are different types of accommodation for the different needs of camping lovers. The different types of camping differ in price range and adventure degree. For true Indians who want to feel completely connected to nature, a simple tent is more suitable than a caravan. And for those who want a relaxing family holiday at the campsite, a mobile home is more suitable than a roof tent. There are different offers for different expectations. Each accommodation has its advantages and disadvantages, you just have to choose the accommodation that suits you best.
The most popular ways to camp:
Mobile homes and caravans – the comfortable way to camp
Rooftop tent – Do it yourself for your own car
Tent – Flexible, quick to set up and for every terrain
Camping under the open sky: pure nature
In the middle of nature – that is probably the most decisive argument for camping. Hear the sounds of rain at night, be woken up in the morning by the chirping of birds and spend the night exactly where you want to. Camping offers great flexibility when it comes to choosing a place to sleep. Wherever there is room, the camp can be set up. In addition, camping is the cheapest camping option, a throwing tent for two people is available from 25 Euros.
What you have to think about when camping is sleeping bags, otherwise it can get quite cold at night. A tent offers almost no insulation, so the comfort depends on the weather. Many tents are also not waterproof, so if it starts to pour out of buckets, the tent is soon under water. A simple tent also lacks sanitary facilities, but you get a real adventure feeling in the middle of the wilderness.
Advantages camping
Inexpensive, throwing tents for two are available from 25 Euro
Overnight stay in the open nature with starry sky
Not tied to one place
Disadvantages camping
Lack of comfort.
Sanitary facilities are missing
Dependent on the weather
Roof tent – sleeping on the roof of your own car
A roof tent is a slightly more comfortable option than a standard tent, because they are often hard-shell tents. Hard-shell tents are not only quicker and easier to erect, but also have better insulation than normal tents. In winter or at night you are guaranteed to be less cold than in a throw tent, but roof tents heat up quickly. When the sun shines on the tent in the morning, it quickly turns into a sauna. If it rains, the hard-shell tent is mostly waterproof, but often there is no roofed entrance or rain protection and the sleeping bags get some rain. In addition, the shoes have to stay outside, because there is no storage for shoes inside the roof tent. This can be a bit inconvenient when it rains, but of course you can put your shoes in the car and climb barefoot into the inside of the roof tent. Rooftop tents tend to be a little more expensive than normal tents, but they are just as little tied to campsites and therefore offer the same adventures as normal tents, just a little more comfort.
Offroad through the mountains – Video
Advantages roof tent
fast assembly
Better insulated than standard tents
Not bound to campsites
Disadvantages roof tent
Will be warm in strong sunlight
No shelf for shoes, no covered entrance
Installation – kitchen, bed, sanitary facilities & shelves in the car
For slightly more advanced campers with a minibus or family car, it is a good idea to look around for an installation and turn the minibus into a camping bus. There are different types of installation, such as kitchens, beds, sanitary facilities or storage facilities. A caravan or motor home may offer more space than a VW Bulli, but the weatherproof camping bus can also be used in everyday life. Comfort is not guaranteed with every installation, but you can arrange your camper van exactly the way you would like it to be by using various built-in parts. The size of the camper is determined by the size of the car, thus, one has of course less space in one's own minibus or family car than in the caravan, but therefore, an installation is much cheaper.
Advantages DIY installation
Favourable installation costs
Convert the minibus into a camping bus
Weatherproof.
Kitchens, beds, sanitary facilities or storage
Disadvantages DIY installation
You need your own car.
Not much room.
Caravan – camping in a trailer for the car
A caravan is a trailer that you can attach to your own car for a relaxed holiday. It offers more living comfort than all other camping variants, because you have your holiday accommodation separate from the car. This means that you are still mobile during your holiday and can go shopping with your car while your caravan is on the campsite. Due to the length of the car and trailer it is harder to find a place to park than with a motorhome, but this is the cheaper option. A caravan can also be extended with an awning, which provides even more space and comfort. If you want to transport a caravan across the country, you should be prepared for the fact that driving the car will be more difficult and you will need a BE driving licence to drive a caravan. With this camping version there is less wilderness feeling, but travelling with children is easier in a caravan than in a throw tent.
Advantages caravans
Your own car for trips and excursions
More living space
Can be extended by an awning
Cheaper than a camper van
Disadvantages caravans
Driving licence BE required
Harder to find a parking space
Difficult driving
Caravan – free camping or camping site, car & apartment at the same time
Find friends on the campsite and shared campfire or wild camping near a lake and just relax? With a motorhome both is possible, because the motorhome is a comfortable but a bit more expensive camping option. With a motorhome it is possible to camp out as well as park on a campsite. There is a high degree of flexibility, because the onward journey is easy and it is easier to find a pitch with a motorhome than with a long caravan. Once you arrive at your holiday destination, it's handy to have bicycles on site or rent them if you need to go to the supermarket or the beach is a bit further away, as packing up the whole camp and moving the motorhome from the campsite is quite a hassle. Compared to a caravan it is easier to drive, but you can expect loud noises, because the driver's cabin is not separated from the rest. So the faster you drive, the more the dishes rattle.
Advantages camper van
Easier to find a pitch/ camper van sites
Easy driving
High flexibility
Wild camps and camping grounds
Disadvantages camper van
Expensive
Loud noises while driving
Mobility is missing at the holiday destination
Camping in Europe: Germany, Italy, France & Co.
Sun, beach and fun for the whole family or rather get your head free with a view of the mountains – camping in Europe is as diverse as it gets. Whether in France on the Côte d'Azur or in the Alps in Italy – you don't have to travel far to see much. But what are the advantages of camping in Europe? Camping is cheaper than a package tour and the cheaper the holiday, the more money you have for great experiences. There is also a lot to discover in Europe. The advantage of camping: you don't like the holiday destination after all? Continuing your journey is no problem. Here you can find out exactly where you should have been in Europe, what there is to see and what tips we can give you.
On site you have all possibilities: Spend your day relaxing on the campsite or explore your holiday region!
Camping in Germany
A weekend trip to the wilderness to get some distance from everyday life or a family holiday at the North Sea: Germany offers many possibilities to have a great camping holiday. There are almost 3,000 open campsites in Germany that invite you to spend a night or more there. Wild camping is prohibited in Germany. Whether camping by the sea, by the lake, in the forest or in the mountains, the offer is endless. Tips, places you have to see and much more can be found here: Holiday in Germany.
Camping in Germany – advantages:
Almost 3,000 camping sites (tip! ADAC camping site)
Endless offer, from the beach of the North Sea to the Zugspitze in the Alps
Day trips, weekend or two weeks holiday, you are flexible
Baltic Sea – Sport, Beach & Family Vacation in Germany
Fancy a beach holiday in Germany? Numerous campsites are lined up like pearls on a necklace along the Baltic Sea coast, almost always waiting for you with direct access to the sea. Sights, water sports or wellness camping – the Baltic Sea offers every camper an individually perfect stay. The long coastline offers camping sites as well as the possibility to drive along the coast and stay overnight with the roof tent in the parking lot. Children will love a Baltic Sea holiday, because it never gets boring at the beach. Whether you go by bike or on foot, jogging or walking or doing yoga on the beach. All kinds of adventures, that makes a perfect family holiday. Whether relaxing or adventure: Here you can find out all about holiday at the Baltic Sea.
Camping at the Baltic Sea – advantages:
Pleasant sea climate and sandy beach
Short distance, also for weekend trips
For families and sportsmen
North Sea – mudflat walks, nature & beautiful camping sites
Those who want to spend their holidays on the North Sea can look forward to fascinating mudflat walks and exquisite holiday resorts. Typical for the North Sea is the mudflat. A mudflat hiking tour, during which numerous animals and plants can be discovered, makes a holiday at the North Sea a very special experience for the whole family. At campsites you quickly meet new people with whom you can sit around the campfire in the evening or go on bike tours together. The diverse North Sea holiday is multi-faceted and exciting for young and old: Here you can find out more about Nordsee Urlaub
Camping at the North Sea – advantages:
Tidal flat walks with the family
Many campsites
Bike tours in groups, with family or friends
Italy – beach holiday, boat trips & camping paradise
Italy is one of the most popular tourist destinations and attracts about 41,000 tourists from all over the world every year. Italy is a real paradise for campers and the choice from a simple campsite to a 5-star camping paradise is huge. The Adriatic coast and the Riviera of Flowers in Sardinia and Sicily are ideal for a beach holiday. Here you can also visit the beautiful Lake Garda, Lake Maggiore and Lake Iseo, which can be easily explored with any type of boat. Here you can find out all about holiday in Italy.
Camping i Italy – advantages:
Beach holiday on the Adriatic coast
Beautiful sandy beaches in Sardinia and Sicily
Boat trips with the whole family
Croatia – ancient cities, beautiful beaches & great landscapes
Fascinating landscapes, beautiful beaches and intoxicating cities are waiting to be discovered in Croatia by caravan. Croatia is an increasingly popular destination for camping holidays with the family. Whether with the roof tent along the coast or with the caravan on the campsite – in Croatia there is a lot on offer for campers. In addition to the many historical sights and the idyllic coastal towns, which convey a flair of medieval beauty, the Croatian beaches are a real holiday highlight. Read here more about Family holiday or adventure in Croatia.
Camping in Croatia – advantages:
Turquoise water and beautiful coasts
Historical sights
Many campsites
France – whether city, beach or Alps
Holidays by the sea, in the city or in the middle of nature – the multi-faceted France has a lot to offer. Especially for campers there are many impressive spots like Brittany, the Provence-Alpes-Côte d'Azur region or the Nouvelle-Aquitaine. Wild camping is not allowed in France, but you can spend your holiday well on a campsite or parking lot. Camping in France is available with a sea view or a view of the Alps – a view that you will never forget. Whether it's a family holiday or isolation and relaxation – here you can find out everything about holidays in France.
Camping in France – advantages:
Beach holidays at campsites with sea view
Adventure in the Alps
Short trip to different historical cities
Sweden – endless wideness and nature
Camping in the USA & Canada
Long road trips, wild camping or even with a caravan along the coast – that is America. Many camping lovers or America fans are drawn to the west of the USA, to Route 66 or even to the wilderness of Canada. Some rent a camper van, others travel with a roof tent, but one thing drives them all: the search for adventure. There is a lot to think about here, so we have summarized all the important regulations, tips and much more for you. From adventures on road trips through the whole country, camping in nature reserves or (and this is not allowed in Germany): wild camping, as the only person far and wide. Experience the USA & Canada!
USA – Road trips from Chicago to Los Angeles
With the caravan along the west coast of the USA – the cities can be found from San Francisco to Los Angeles and Las Vegas. Travelling through the USA with a caravan is a dream of many, as you can choose your stops spontaneously and have your accommodation practically always with you. Whether you are passionate about the Grand Canyon or have a heart for Venice Beach – the USA offers a lot of space for road trips. Many also take Route 66, which starts in Chicago, the city on Lake Michigan, and ends in Oklahoma City. This route of 808 miles, or 1300 kilometers, is the dream of many America fans. Whether you continue on to Abuquerque or even all the way to Los Angeles, the breathtaking nature surrounding Route 66 will leave you speechless. Once in LA you can spend some time in LA downtown or take a tour through Beverly Hills. If you want to learn more about traveling to Los Angeles, click here for the article: Travel to Los Angeles.
Camping in the USA – advantages:
Road trips along the west coast
With the caravan along Route 66
Stops in LA, Chicago, Oklahoma City and the Grand Canyon
Canada – Dense forests, picturesque coasts & the Rocky Mountains
The adventure begins in Canada – experience nature up close in a tent or follow a road beyond the horizon in a motorhome. Here you are often the only person far and wide and far away from civilization. Whether dense forests, picturesque coastlines or the Rocky Mountains, whether natural or comfortable – the multi-faceted Canada offers camping fans and RV enthusiasts many possibilities. State campsites are offered, but wild camping is also allowed in Canada. Wild camping in Canada is well suited for experienced campers who are not afraid of encountering a wild animal like a bear and who know the rules well. Also very popular are the many national parks, such as Banff, Jasper, Lake Louise, Kootenay and Waterton Lakes. With a permit, the so-called Camping Permit, it is also possible to camp here, but you should remember to book in advance. All tips for Canada.
Camping in Canada – advantages:
Isolation, peace and idyll while camping in the wild
Camping in national parks with wild animals
Road trips along the coast
Camping with pets & children
Playing on the beach during the day and sitting around a campfire in the evening roasting marshmallows and baking stick bread – that is definitely every child's dream. Camping means a lot of family time, but it is important to remember that some types of camping are more suitable for families than others.
With a caravan or motor home you are always on the safe side, because this type of accommodation is weather protected and spacious. Often you will also have a caravan or camper van at a campsite, which makes it easier for children to make new friends and make friends. You can also have a nice family holiday with a throwing tent, but you should be aware that not all throwing tents are weather protected and it can get quite cold and wet in bad conditions. Especially with small children you should therefore take care to keep the trip in such conditions only relatively short, or plan it so that the weather plays along. With a roof tent you usually have less risk of having a wet and cold sleeping place, but it is not very spacious.
packing list: Dog basket, drinking bowl – Top5 for your holiday
Pets can be taken along to almost every kind of camping without any problems, because e.g. dogs feel totally comfortable in nature. There are also special campsites for campers with pets. For camping with dogs there is a list of things you should definitely think about, here are our most important tips for camping with dogs:
Dog basket – Comfortably through the vacation, whether in the car or flight time
Drinking bowl – Just like the feeding bowl, it is easier to make the dog feel at home with your own drinking bowl.
Food – There must not be too little food! And finding your favourite food on holiday to buy more can be difficult
Treats – The dog should always be rewarded if it behaves well. It saves you a lot of trouble on holiday!
Toys – So the dog does not get bored when the master wants to relax.
Are you interested in the topic of travelling with four-legged friends? Here you can find out everything about Holidays with your pet.

Camping with children: Packing list
Children need to be kept busy – that's no secret, and anyone who has ever set out on a long journey in a full family car knows how exhausting it is to have cranky children in the back seat. It is very important to prevent the threat of boredom. If you think of enough games, music and maybe even a DVD player for the car, you are on the safe side. We have put together a few game ideas for you, which can be very useful especially on long car journeys or at the campsite:
City, country, river
Maps (for example Mau-Mau)
UNO
I see something you don't.
The yes-no game.
I'm packing my bag and taking it with me.
If you need even more tips for your family holiday, take a look at our article on Holiday with children.
Comparison: Camping – beach, desert & mountains
Tent camp with sea view, barbecue on the campsite or be woken up by the first sunrays and loud birdsong – the different types of camping are different but each in its own unique way. Whether on the beach, by the lake or in the mountains and even in the desert you will meet adventurous campers. There are many different locations where you can have a good holiday. If you don't like your holiday location, you are not tied down when camping and you can travel flexibly and find a new place to sleep because you have your accommodation with you practically all the time. For different places you always have to think about different equipment and consider the climate. Locations that invite you to camp:
Beach – warm summer nights and crashing waves
Lake – idyll and loneliness by the water
Mountains – fresh air at altitude
Forest – Adventures in the middle of nature
Desert – extreme temperatures and endless expanses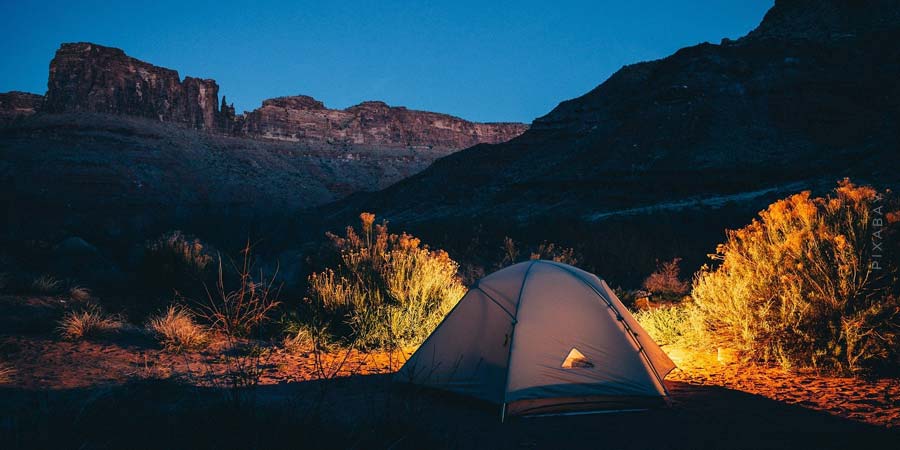 Camping at festivals – music, friends & fun
Festivals are also a good location for camping – because the tent offers cheap accommodation, mostly directly on the festival site. The essential things to consider when camping at a festival are, for example, getting tickets in advance. Barbecueing may be allowed on most festival grounds, but open fires are usually prohibited. You should also inform yourself about such regulations in advance.
When camping you should always make sure that all the garbage you produce is taken away, even if the festival area is not an untouched piece of nature. In addition, you have to take care that not too much noise is made and that you show consideration for the other campers. If every camping enthusiast informs himself in advance about the regulations on the site, camping at festivals is guaranteed to be a lot of fun. Being woken up in the morning by playing music, having an instant coffee against tiredness and sitting and barbecuing together in the evening – that is festival camping.
Accessories – from tent to camping lamp
There are a lot of camping accessories that you have to think about when you go on a trip. What should you do without a camping lamp after the sun has gone down? That is why it is important to have everything you can use with you. You should also be prepared just in case. Here are 10 things you should never forget. If you want to know if you have thought of everything, here you will find all gadgets at a glance: Camping accessories.
Sleeping in a tent
The A&O on your trip, before you think of accessories, is your tent. Because without a roof over your head it is hard to get a good night's sleep. So that sleep is as comfortable as possible, think about a mattress early enough. Whether it is an iso-mat or an air mattress, it is good not to sleep on cold ground at night. You need a sleeping bag for the mattress, because at night the temperature drops and the sleeping bag is essential for frostbite!
Eating in camp
For the camp you definitely need camping chairs and a table. Camping furniture makes the camp a real home. You will also need a grill or oven so that you can get something hot to eat. And of course a cool box, because that way drinks stay cold all day long, even in summer.
Outdoor Adventure
In any case, think about an anti-mosquito lamp – so your holiday is not destroyed by thousands of mosquito bites. And for bad weather you need outdoor clothing, because it can get cold and wet in the nature… A backpack is also very practical when you are on a camping trip – so you can store your most important things and always have them with you. And last but not least a headlamp in case you have to go for a night hike and need to see something in the dark.
Top 10 for your camping trip, in summary:
Tent – roof over your head for a peaceful sleep
Mattress – protection from cold ground
Sleeping bag – Essential for frostbite
Camping chairs and table – for a beautiful camp
Grill or oven – for cooking in nature
cool box – To cool drinks
Anti-mosquito lamp – Against annoying mosquito bites
Outdoor clothing – For bad weather
Backpack – For small trips
Headlamp – Very practical for night hikes
Tips – Saving Tips, Life Hacks & Insider Tips
When you are out in the wilderness, things often happen that you did not expect before. What do you do in such emergency situations? And what do you do if you have forgotten something important? Just improvise! Often you can make many everyday objects yourself. We have also picked out the most important saving tips and camping hacks that you should definitely know if you plan to spend some time in nature.
Saving tip! Buy remaining stock
For camping beginners it is worthwhile to start with cheap equipment instead of paying several thousand Euros for a motorhome. But of course there should be no lack of quality, even if you try to save some money and buy a bargain. Many sellers sell remaining stock or undamaged exchange goods on sites like Ebay. There you can find what you were looking for at half of the original price. In addition, camping accessories manufacturer Campwerk also offers cheap camping remainders, which you can buy directly in the shop.
Life Hacks: Tips for camping on the camping site
Here you will find 35 practical tips and tricks for your next camping trip. The video takes just a few minutes to watch and you'll learn many clever hacks for all sorts of incidents while camping that can bail you out for life. For example, build your own toilet paper dispenser, your own sink or shower curtain. Have you ever had the problem that all the changing rooms on the beach were occupied but your swimming trunks were still wet and you had to leave quickly? Here you learn how to take off the bathing trunks without taking off the pants or shorts. You also learn how to avoid sweat stains on sporty days and how to separate the garbage in the nature anyway. You forgot the camping dishes? No problem, here you will learn how to build your own foil dishes.
The most important hacks:
Toilet paper dispenser
Wash basin
Shower curtain
Take off your swimming trunks quickly
Avoid welding spots
Your own camping gear
Tips and tricks: Wild camping and camping
Be prepared for all emergencies? No problem, if you have watched this video before the big trip. Here you learn 43 camping hacks that you can use on every trip, whether you go wild camping with your tent or standing on the camping site with your caravan. Here you learn how to build your own toilet or how to turn your van or family car into a camper bus. No waterproof shoes at hand? This is how you make your sneakers water resistant with wax. Sitting quietly by the campfire without getting riddled with mosquitoes? Or make your own water filter? You can learn all this in this informative video with 43 helpful tips and tricks.
The best hacks:
Build your own toilet.
Convert the family car into a camper bus
Make shoes waterproof
Mosquito repellent
Own water filter
Camping Hacks & Tips: caravanning
Far away from sanitary facilities, you can sometimes not wash your hair for more than 3 or 4 days. The only solution is dry shampoo, but what if you didn't think of that when you were packing? Just do it yourself! Here you will learn what you can use a clothespin for when you are travelling with your motorhome. How do you build your own lamp from a big water bottle and your mobile phone flashlight? How do you make your own toilet paper dispenser out of a water bottle and what can you do with a skipping rope in the wild? In this video you will learn some cool and useful camping hacks that you will not forget for the rest of your life.
The most useful hacks:
Our own dry shampoo
Clothespins as a useful tool
Lamp from water bottle
Own toilet paper dispenser
Multifunctional skipping rope
Camping: nature and adventure
Camping is a smart way to see the world, experience adventure and make new friends. Whether in a tent, van with camping installation or motorhome – the different types of camping offer the perfect holiday for everyone. The wallet will be spared especially for beginners and there is the possibility to camp at different places in the world. Camping is particularly flexible and campers develop a certain closeness to nature and a thirst for adventure. The feeling of freedom that living in a tent can give you is incomparable. Regular campers think up tips and tricks that will last a lifetime. Camping is a cheap alternative to package tours, which has become more and more popular in recent years and has inspired many young people or families. We can only recommend to everyone to try camping and to see nature with your family or alone with different eyes.
That's why you should go camping!
You can be in the middle of nature, enjoy the freedom and also put your mobile phone aside and be offline.
Camping holidays are usually cheaper than package tours to the hotel
Here you can also try out the Do It Yourself mentality
In a camping holiday you can also be active and sporty and experience real adventures.
On campsites it is easy to make new contacts and find friends, who often stay for life.
https://fivmagazine.com/wp-content/uploads/2020/03/camping-vacation-tent-sunset-sky-germany-europe-camp-beach-sea-mountains-travel.jpg
450
900
Lisa-Marie
/wp-content/uploads/2020/07/fiv-magazine-news-instagram-youtube-tiktok-influencer-fashion-interior-jewelry-real-estate-tips-help-logo.png
Lisa-Marie
2020-04-08 11:10:20
2021-06-23 16:24:46
Camping XXL: Camping site, accessories, destinations & tips – free guide!