Camping in Germany: Cooking, sleeping & dog on the campsite or still wild camping?
Camping in Germany – Summer is just around the corner and you haven't planned a vacation yet? No problem! About 12 million Germans go camping every year. And that from all age groups! The big advantage: When camping you can quickly travel to a place close by. You can travel spontaneously and make a quick trip within Germany. So, what are you waiting for? Get out into nature! So that you can plan your trip appropriately and nothing stands in your way, you will find the most important questions and answers about camping in Germany here. A camping expert explains why you should definitely go camping, gives tips on everyday life at the right campsite, and answers questions about wild camping and camping with dogs.
Planning a summer vacation? Try camping!
You are a camping beginner and do not know yet what to look for when camping?
That's no problem! We have met an experienced camping expert (from Campwerk) for you. She can tell you directly from practice what you should pay attention to when camping. It's about how to find the right campsite, about living, cooking and sleeping on the campsite – even with a dog – and is it actually allowed to go wild camping in Germany?


Germany - Spain - USA
First, let's take a look at the things that make camping so special.
Close to nature, affordable & flexible: 10 questions & answers
FIV: You sell roof tents and camping accessories. You've been intensively involved with camping for years. What makes camping so special and why should I go camping in Germany?
Campwerk: The advantage of camping is the direct connection to nature, the fresh air, the sounds of nature and the beauty of the surroundings. Germany offers an impressive variety of landscapes for camping, from picturesque mountains to idyllic lakes and lush forests. So you can escape the stress of everyday life and relax while camping.
Besides being close to nature, camping is also a super easy way to save money! Camping is often cheaper than other accommodation options because you usually bring your own sleeping space and meals. Because of this, you are also independent of restaurants and services, as you can cook your own meals. Additionally, with many accommodation options camping gives you the flexibility to travel further.
Depending on your needs, you can choose between different types of accommodation such as tents, roof tents, caravans or motor homes. You can stay at campsites near nature reserves, hiking trails, lakes or beaches. You can explore these with a variety of outdoor activities, such as a bike or boat tour. You don't have to do it alone, though, because the camper community is full of nice people you can meet at a campsite.
Quickly summarized for you – this is why you should definitely go camping:
Relaxation & rest, close to nature – all day long
Freedom & flexibility – travel wherever you want
A variety of sleeping options – but all close to nature
Save costs compared to the package vacation
Outdoor activities in the fresh air
Community spirit at the campsite
So cozy it can be with friends camping, with campfire and sunset.

Wild camping, dog & Co.? Watch out for these things
FIV: What should I look for when choosing a campsite in Germany?
Campwerk: Before you choose a campsite in Germany, you should consider what you need in the area. In Germany there are many mountains, lakes, forests or coast. You can also look for sights or cities you want to see.
Then research a campsite nearby! Check the website of interesting campsites and also pay attention to things like the pitch size, compare the prices of different campsites and watch out for extra costs. It is always a good idea to read the reviews of other campers. There are also suitable portals for this.
Where to? Choice between mountains, lake or rather sea
FIV: Which are the best campsites in Germany and what makes them particularly attractive?
Campwerk: As mentioned before, you'll usually find the most popular campgrounds near lakes, the ocean, or major mountains for hiking.
One of the most popular places is Wulfener Hals Camping and Holiday Park on the Baltic Sea island of Fehmarn. Many campers go there every year because they can camp directly on the sandy beaches of the Baltic Sea. Another tip directly on the water is the campsite Strandcamping Waging am See in Bavaria. This campsite in southern Germany is located directly on Lake Waging. For mountain lovers, the Campingpark Hopfensee offers a great mountain panorama for hiking and a view of the Hopfensee.
Here you can find more about the beautiful places where these campsites are located
Camping and vacation park Wulfener Hals on Fehmarn – for sea fans
Camping Strandcamping Waging am See in Bavaria – Fun at the lake
Campingpark Hopfensee – at the Hopfensee, in the middle of the mountains
Pedal boating at the lake? Then look for a campsite near a lake.

Sheep in the wild: Is wild camping allowed?
FIV: Let's imagine I don't want to stay at the campsite. Am I allowed to go wild camping in Germany and stay overnight in the wild?
Campwerk: In Germany, wild camping is generally not allowed unless it is in designated areas or special exemptions. This means that you are not allowed to spend the night outside of approved campsites. However, you are allowed to stand in the parking lot for a few hours with your camping vehicle such as a roof tent, caravan or camper van to restore your driving ability. You may rest briefly while doing so, but you should not appear to be camping there. The camping chairs must remain in the car!
Quick overview:
Wild camping not allowed in Germany in principle
Permitted: in designated areas or with exemptions.
Overnight stay outside approved campsites not allowed
Allowed: to stand in parking lot for a few hours to restore driving ability
During this time: rest, but do not camp (leave furniture in the car).
Camping with the whole family: take the dog
FIV: If I want to take my beloved pet with me, can I go camping with the dog in Germany?
Campwerk: Yes, you can! However, you should find out in advance about the campground's rules regarding dogs. Look for restrictions on breed and size and how many dogs you can bring. Before you leave, your dog should have received all necessary vaccinations and health checks. When vacationing with animals, you should always pay attention to order and cleanliness, keep the dog on a leash and make sure you have enough fresh water for the dog – especially when it's warm!
These are the five steps you should follow if you want to go camping with your dog:
Find out about campsite rules for dogs
Watch out for breed, size & number restrictions
Attention. Do not forget vaccinations & health checks
Keep dog leashed & tidy at campsite
Pay special attention to fresh water (especially in summer)
The whole family together – go on vacation with the dog too!

Everyday life at the campsite: Between comfort & nature
FIV: Camping is all about experiencing nature to the fullest. How can I get particularly close to nature even as a camping beginner in Germany?
Campwerk: In the surroundings of your campsite you usually get in touch with nature. At the gates of the campsite you can enjoy the silence of nature, observe native species of animals and experience the magic of sunrise and sunset. Especially nice is always a bike ride in the area. Or you can find another activity to experience nature.
Please always be respectful of nature and leave no trace.
Charge cell phone? Connect refrigerator?
FIV: But I don't want to do without all the comforts of camping. What do I have to look out for in terms of electricity connections at campsites in Germany?
Campwerk: Don't worry, most campsites have power outlets. So you can power all your electrical appliances such as refrigerators, lights, chargers for cell phones or other electronic devices.
FIV: Can I just use them like that?
Campwerk: Unfortunately, most campgrounds want an additional fee for the use of electricity. Therefore, you should check in advance whether the campsite of your choice has electricity connections and what costs are associated with them. You can also combine this with research on other additional costs.
Cooking without electricity: gas stove & campfire in the wilderness
FIV: Electricity is all well and good, but would like to cook outdoors for the real camping experience. What is the best way to do that?
Campwerk: When camping, there's nothing better than cooking outdoors and enjoying the smell of grilled food. Recipes and cooking tips while camping are also something you can often share with your new friends at the campsite. Cooking without electricity adds a special (taste) touch to your adventure. And it's also very convenient if you've caught a campsite without electricity. For cooking without electricity, you can invest in a portable camping stove that's lightweight, compact and reliable. Or you can just light a campfire.
FIV: Can I just start a fire like that?
Campwerk: No, because you have to pay attention to the regulations. In Germany, you are only allowed to make a campfire where it is expressly permitted, otherwise it is forbidden. This means that if you find a sign at a fireplace that allows you to make a campfire, you can cook with it in a relaxed manner. However, you are not allowed to just sit down at the nearest lake and make a fire. To make your fire anyway, try to ask your campsite owner for permission or you will unfortunately have to do without the fire.
Quick check – here's what you need to keep in mind for bonfires:
Only if expressly permitted (otherwise prohibited)
Not just allowed in the wild (lake, forest, etc.)
Search for fireplace or ask at the campsite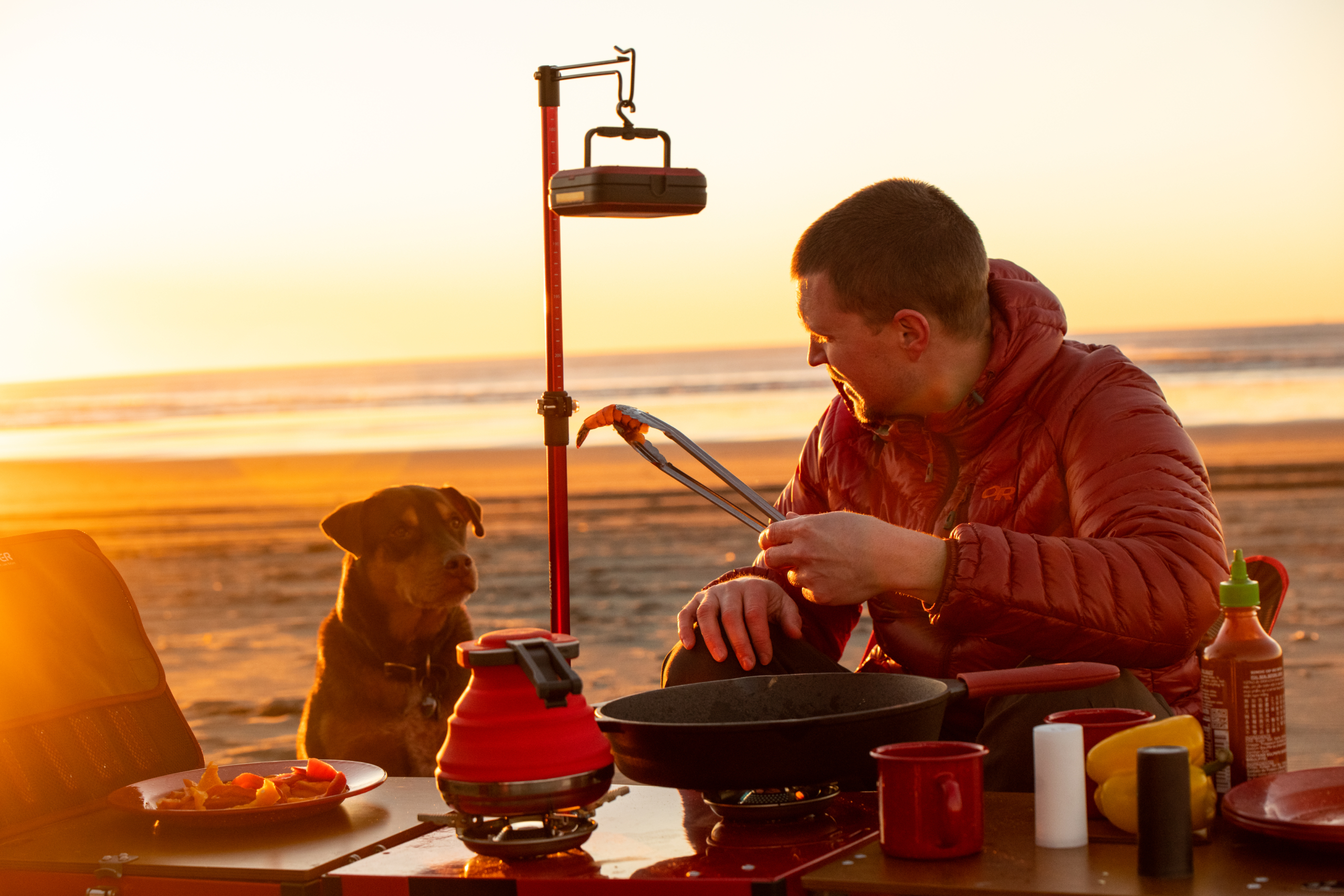 After the meal: sanitary facilities at the campsite
FIV: What should campers look for in the sanitary facilities (toilet, shower & Co.) at the campsite in Germany?
Campwerk: Cleanliness and hygiene are very important. You don't want to get sick on vacation. Make sure that the sanitary facilities at the campsite are regularly cleaned and well maintained. You should also check before your trip that all the sanitary facilities you need are available at the campsite. It can also help if you look at photos beforehand to check if shower cabins and such offer you enough privacy. As mentioned before, researching beforehand about your campsite is very important!
Restful sleep in the middle of nature: this is how it works!
FIV: After we've showered, it's time for bed. What tips do you have for a good night's sleep at the campsite?
Campwerk: So that you can still experience many adventures the next day, you should also pay attention to good and comfortable sleep. For this, you should first choose a flat and quiet campsite or pitch, so that you do not lie crooked. A sleeping pad, mattress or camp bed will ensure that you lie softer. In addition, a high-quality sleeping bag and you do not freeze at night. Hopefully, you can then count sheep well.
FIV: How thick should a comfortable mattress be?
Campwerk: Of course, everyone is different. Some like to sleep harder and others prefer a soft bed. However, if you want to sleep like on a normal bed, then your sleeping surface should be at least 10 cm thick – 12 cm is even better!
FIV: Then I will definitely make sure to pack a mattress with more than 10 cm on my next camping trip. Unfortunately, that brings us to the end. Many thanks to our expert from Campwerk for the detailed interview!
Roof tents & camping accessories? Get to know Campwek!
Would you like to get to know Campwerk a little better? Then you can find out more about the camping experts here:
You will also find links to Campwerk's social media and the store where you can assemble your first camping equipment:
More camping! Cooking in the fire, roof tent & more insider tips
You are now in camping fever and want to learn more about the exciting vacation opportunity? Camping means the smell of the campfire, the rustle of the canvas and walks under the stars. Whether you're after comfort or adventure, camping promises bliss to everyone. The diversity of this form of travel and the possibility to explore many places on a small budget excites more and more people. Learn all about the latest gadgets for comfortable living and enjoyable cooking under the open sky here.
Dive into the fascinating world of camping and get inspired!
Discover the perfect campsite, travel to exciting destinations and get insider tips:
Breathtaking view – camping in the mountains:

https://fivmagazine.com/wp-content/uploads/2022/05/zelt-camping-natur-wiese-blumen-.jpg
900
1200
Team
/wp-content/uploads/2023/08/fiv-magazine-logo-news-influencer-fashion-interior-travel-real-esates.svg
Team
2023-06-01 12:04:22
2023-06-01 12:04:22
Camping in Germany: Cooking, sleeping & dog on the campsite or still wild camping?