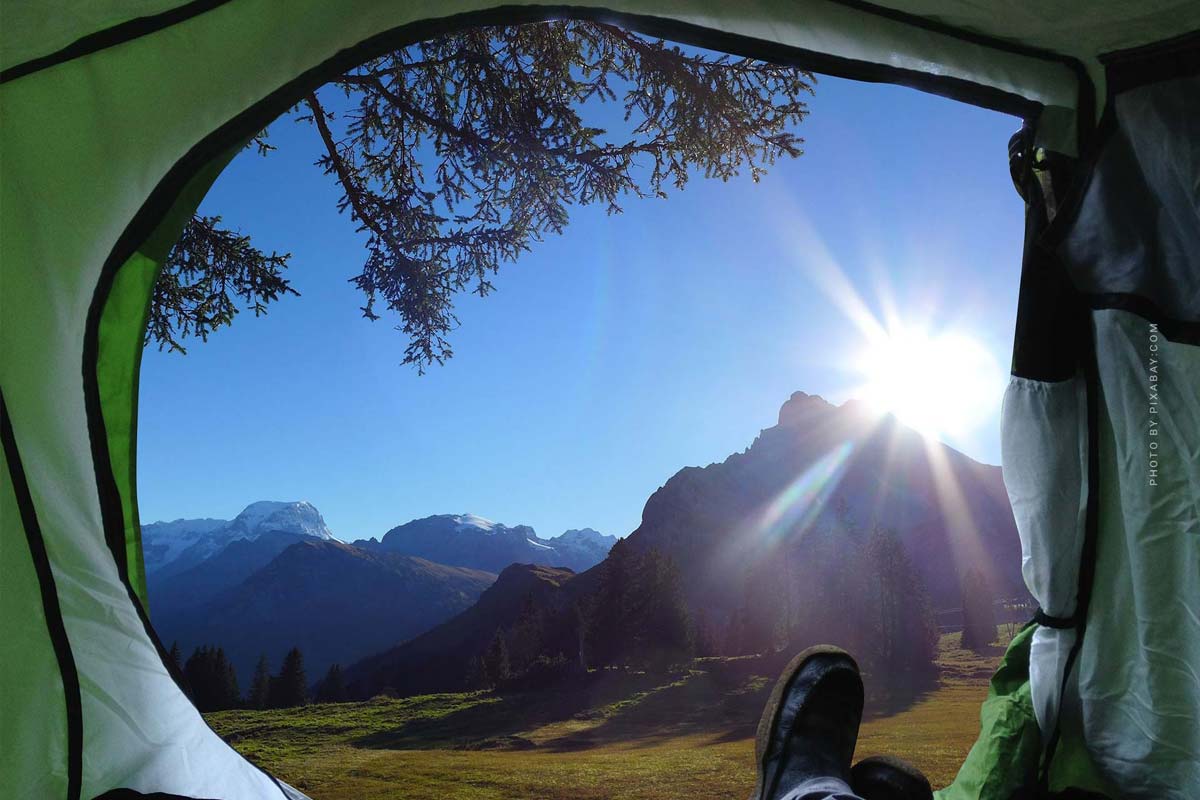 Camping Süddeutschland: Camping and travel tips for Bavaria and Baden-Württemberg
Camping in the south of Germany means swimming in lakes, hiking in the mountains and excursions into untouched nature. The south enchants everyone who undertakes a trip to Bavaria or Baden-Württemberg. A camping adventure is usually a trip you never forget and especially children and pets have a lot of fun in nature. But also couples and more and more young people try camping, because the flexible way of travelling pleases spontaneous and adventurous people well.
Bavaria: Tourists love the Old Town & Alps
Bavaria is located in the southeast of Germany and is known for the big city of Munich, Regensburg or Würzburg. There you can book old town tours and explore market places with old city walls, residences or English gardens. But even more interesting for campers are the Alps.
In the Allgäu you can enjoy the fresh air of the peaks forever and pause in old wooden huts and eat Allgäuer Käsespätzle. If you hike in Franconia, you can enjoy the beer and wine culture of Bavaria between vineyards and medieval villages in castles and palaces. In Upper Bavaria lie the highest mountains in Germany. Campers enjoy their holidays here in summer and winter. The region of Eastern Bavaria is one of the largest forest regions in Europe. Here you can travel through different cultural landscapes.
Those who enjoy the Bavarian nature, also enjoy the large animal species of Germany. Starting with red deer and wild boar and foxes, to beavers, otters and lynxes. So hikers should always have their camera at the ready. For hikers and campers there are a variety of hiking routes with different fitness levels. Campsites also offer information material, routes and maps, which people like to use to find their way around. Read more about camping in Bavaria here.
Munich, Regensburg or Würzburg
Old town tour, market place, old city walls
Residences, English gardens
Alps – highest mountains in Germany
Red deer, wild boar, foxes
Beavers, otters and lynxes
Bavaria from above – drone video
Here you can see the great landscape of the state of Bavaria from above. Take a look at the Alps and the Neuschwanstein Castle.


FragranceTip.com by FIV
Baden-Württemberg: Camping Tips
Summertime is excursion time and you don't know where you want to go next time? A camping weekend in Baden-Württemberg can be a great experience. Whether with tent, roof tent or a caravan, in the green mountains you can enjoy the clean country air and nature to the fullest. Baden-Württemberg is well known for its popular hiking regions. With the right campsite, you can look forward to beautiful hilly landscapes, cosy hikers' cabins and great views.
This federal state leaves nothing to be desired in terms of nature. We at FIV have explored Baden-Württemberg for you. We show you the wilderness like in Canada, beaches like in Italy and flower meadows like in Holland. Here are the best campsites for nature enthusiasts who want to enjoy the summer with their tent, caravan or motorhome. You will find many more good recommendations on Campwerk: Campingplatz Baden-Württenberg.
Popular hiking regions
Hilly landscapes, hikers' hut, great views
Best campsites for nature lovers
Flight over Baden-Württemberg – Highlights Video
In this video you see Baden-Württemberg from a bird's eye view.
Lake Constance in the foothills of the Alps – Camping Tip
Once around Lake Constance by bike. From Germany, to Switzerland and all the way to Austria? Sleep in a luxury hotel or experience a lot on a farm? At the 63km long lake in the foothills of the Alps, Lake Constance, there is something for everyone. Every summer people travel from all over the world and sail, windsurf and swim in the lake or relax on beautiful beaches.
Camping advantages at Lake Constance
Always have your bed with you, sleep in spontaneously and have a late breakfast – camping has many advantages, but it takes a bit more planning than a hotel stay. You can't get more "in the middle of nature" than with a caravan or motorhome and you can save a lot of money compared to a hotel. And if you don't like the place, you can simply move on.
In the middle of nature
Cheap holiday
Spontaneous onward travel
Germany, Switzerland & Austria – Lake Constance Video
Here you can see Lake Constance from above. The drone flies over the lake and shows you the most beautiful places on Lake Constance, whether in Germany, Austria or Switzerland.
Campsites at Lake Chiemsee in Bavaria
You want to try something new and take every experience with you on your holiday? Then you should definitely go camping on your trip to Lake Chiemsee! Since the region around the lake is very natural and attracts numerous visitors every year to the most beautiful corners of nature, it is often a good idea to head for one of the popular campsites there. Depending on which place you choose, you can also sleep in a hotel or a holiday apartment, but if you want to enjoy the real holiday feeling in pure nature, then you should definitely camp on one of the sought-after campsites.
Here you have the best opportunity to get everything out of your holiday and to marvel at the Chiemsee in an idyllic atmosphere even late at night. Camping is the best way to switch off from the stressful everyday life, enjoy the peace and gather exciting experiences. Those who want to go camping but don't want to miss out on the spa will be thrilled by glamping.
An added bonus is that you save a euro or two, as you only have to pay the entrance fee for the campsite and don't have to pay money for an expensive hotel room. You can organize your day individually and leave and return when it suits you and are therefore also flexible with your food. So if you love the outdoors and want to have an eventful and adventurous time, don't miss out on this opportunity for a special holiday.
The advantages of camping at the Chiemsee:
Idyllic atmosphere in nature
Rest, relaxation and a sense of freedom
Cost-effective variant
Flexible daily schedule
Adventurous flair
Flight over the Chiemsee, Königssee & Kehlsteinhaus – Video
Here you can see the most beautiful lakes in the south of Germany. Take a look at the Chiemsee, the Königssee and the Kehlsteinhaus, a great historical viewpoint.
Camping in Baden-Württemberg: A trip to the Black Forest
The Black Forest is a very natural holiday destination and therefore attracts many tourists every year. So if you like to be outdoors and appreciate the beauty of breathtaking nature, the peaceful low mountain range is just right! Of course, camping in the great outdoors is also a great way to get the most out of your nature holiday.
Camping is the best way to take in as much of the idyllic flair of the mountains as possible, to experience exciting adventures and to meet new people. Whether in a tent, under the open sky or in a caravan – there is something for everyone here and you will fully experience the feeling of closeness to nature and freedom. From sitting around the campfire and watching the stars come out, to exciting conversations and old stories, there's never a dull moment when camping! Find out here which type of camping is right for you, camping in a tent, caravan or camping van.
Camping is also a cheaper alternative compared to hotels or apartments and is therefore recommended for those who don't want to spend too much on their holiday. Although you have to cater for yourself and don't get the most luxurious room, camping has a certain charm and makes for an unforgettable and eventful holiday at the end of the day. Camping is becoming more and more popular with young and old and is therefore a variant of the holiday that you should definitely try once.
Natural holiday destination
Camping under the open sky
Tent, camping van or caravan
Camping at the Hopfensee: Campsites in Bavaria
The campsite at the Hopfensee is the only one with direct location. It is a 5-star campsite, which above all tries to create a harmonious combination of sport and leisure fun, fitness training and health care. On the one hand it tries to provide rest and relaxation, on the other hand it offers movement, activity and mental stimulation. It has been in the family of the Mayr family for more than 60 years. Starting with an empty site and a kiosk, the campsite now has its own indoor swimming pool, sauna, restaurant, various sports and gymnastics pitches, as well as sanitary facilities with showers, bathtubs and baby changing facilities of the highest standard. Are you interested in camping? Read more about accessories and camping accessories here.
Camping am Hopfensee offers a pleasant stay both in the warm summer days and in the cold winter with special offers such as the "Crystal Days" or the "Snowflake Cloud"!
Pros:
In the middle of nature
Cheaper option to hotel
More pleasant for children and four-legged friends (no one complains about the noise)
Freedom: not bound to place and time
Greater social interaction with other families, campers.
Disadvantages:
Vermin
Do your own shopping, cooking, washing under more difficult conditions
Very crowded campsites: not quiet, annoying neighbours
The German Black Forest – 4K Drone Video
In this video you see the Black Forest from the height.
https://fivmagazine.com/wp-content/uploads/2020/04/magazin-bayern-camping-campingplatz-urlaub-wandern-natur-tipps-wellness-wohnmobil-caravan-zelt-zelten-luxus-lagerfeuer-fitness-see-pilgern-pilgerwege-berge-biergarten-restaurant.jpg
800
1200
Lisa-Marie
/wp-content/uploads/2023/08/fiv-magazine-logo-news-influencer-fashion-interior-travel-real-esates.svg
Lisa-Marie
2020-07-25 07:00:35
2020-07-25 07:00:35
Camping Süddeutschland: Camping and travel tips for Bavaria and Baden-Württemberg