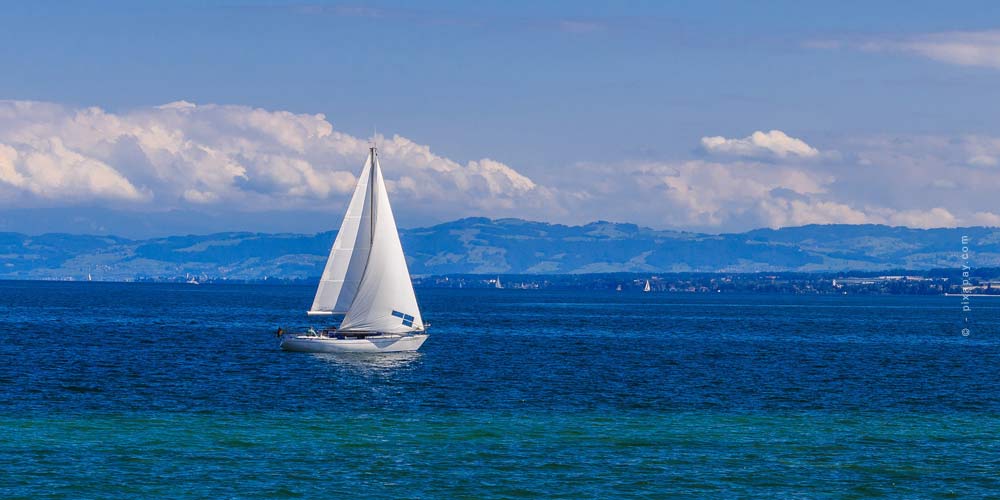 Holiday at Lake Constance – luxury or in the middle of nature
Once around Lake Constance by bike; From Germany, to Switzerland and as far as Austria? Sleeping in a luxury hotel or experiencing a lot on a farm? At the 63km long lake in the foothills of the Alps, Lake Constance, there is something for everyone. Every summer people from all over the world come here and sail, windsurf and swim in the lake or relax on beautiful beaches. Fancy pure romance in the mountains with a bottle of Prosecco? Sounds like the perfect gift for a wedding anniversary. A family holiday combines culture and nature – in such a way that even the little ones are thrilled, because it is guaranteed not to be boring here. Find out everything about accommodation, camping, real estate and events on Lake Constance.
Accommodation at Lake Constance: Whether Germany, Austria or Switzerland
Holiday at Lake Constance sounds tempting – but where is the best place to stay? Whether holiday apartment, hotel, guesthouse or luxury hotel; because everyone hopes for something different, there is an individually perfect accommodation for everyone. We have presented the different accommodations to you here, you just have to know what suits you best.
Holiday flats at Lake Constance: Between everyday life & holiday
Holiday apartment at Lake Constance – your own home, just somewhere else. It is nice to feel undisturbed in your privacy, to cook what you like and to change your place of residence for several weeks or months at a reasonable price. We love the individual and comfortable equipment of holiday apartments and in most holiday apartments there is also room for our four-legged best friends. The only thing that bothers us is the washing up. But since most holiday apartments have a dishwasher, this problem is practically solved. My personal problem in hotels is that as a late riser I usually miss breakfast. This problem does not exist in a holiday flat – I decide when I eat and when I go to the restaurant. Our FIV-tip: Ask your landlords for places you absolutely have to see, where you can get the best food and where you shouldn't waste your time in the first place. They usually know even better than yelp.


Germany - Spain - USA
Hotels at Lake Constance: Real holiday – pure relaxation
A hotel is as uncomplicated as possible and it provides 100% holiday feeling. Mostly you book a package tour, which includes flight, transfer to the hotel and the overnight stays. And as soon as one has checked in, the staff takes care of everything that could cause stress. Clean rooms, cooking is done and there is always a contact person at the reception. A break from the kids? In a hotel with a Mini Club this is also no problem. At Lake Constance you will also find various organic hotels, for true nature lovers who value sustainability. The hotels are divided into different categories:
Right by the lake
In the middle of nature
City hotel
Family hotel
There is really something for everyone at Lake Constance. The hotels are generally a more expensive option than the holiday flats, but therefore many tasks are simply omitted. So: less everyday life and more holidays.
Pensions at Lake Constance: Cheap overnight stays
An inexpensive short holiday at Lake Constance – it couldn't be easier than spending the night in a guesthouse. There is a familiar, personal atmosphere because guesthouses are accommodation facilities that are usually run by one person or a family. If you have any questions or tips, you can contact the landlords, they will help you with their own experiences and give you good advice. What is unfortunately often lacking in guesthouses is comfort, but the simple furnishings are sufficient for those who are on the move a lot during the day and are only looking for a place to sleep. In return, there is a little more money left in the wallet. The service in guesthouses is exclusively limited to the breakfast, thus one has to take care that one does not leave too much money in expensive restaurants, as otherwise, the money saved in the guesthouse is quickly spent again.
Wellness Hotels at the Lake Constance: Wellness for body & soul
Just relax – in your bathrobe with a glass of wine and take a romantic break from everyday life. Don't worry about anything, swim in the panorama pool with a view of Lake Constance. Still no idea for a birthday present? What does your sweetheart get for Valentine's Day? And when was the wedding anniversary again? And – have we convinced you yet? Staying in a luxury hotel is a little more expensive, but it's completely carefree. Enjoy a multi-course menu and an excellent wine selection – wellness for the soul. Or relax in the sauna and treat yourself to a massage – wellness for the body.
Lake Constance: map
Camping at Lake Constance: In the middle of nature
The bed always with you, spontaneously sleeping in and late breakfast – camping has many advantages, but it requires a little more planning than a hotel stay. More "in the middle of nature" than with a caravan or caravan is not possible and a lot of money can be saved compared to a hotel. And if you don't like the place, you can just keep on going. And the pets don't have to stay at home either – our four-legged best friends would have just as much fun at Lake Constance as we do.
For information on different camping options, take a look at
Our top 3 camping regions at Lake Constance
With so many campsites around Lake Constance, it's hard to decide: We have listed our top 3 for you.
Camping ground Allenplatz
Camping ground Helmsdorf
Camping site Alpenblick
Living on Lake Constance: Buy your own apartment or house
A house by the lake – even Peter Fox dreamed of it. Simply own a house by the lake, go there every summer and enjoy the time in his own four walls. In addition, real estate is always an investment and can be rented out excellently at times when you are not at Lake Constance yourself. Here you will find your potential new home at the beautiful lake, whether in Germany, Switzerland or Austria.
Activities at Lake Constance for the whole family
Have fun for young and old at Lake Constance – we have picked out a few cool ideas for you that will inspire us. Whatever we want to recommend to you is to ask locals for their insider tips; most of the time you'll find better stuff than you'd think. Whether it's sightseeing, a water spot or a bike tour with the whole family, there are many different ways to have fun at Lake Constance. Here are a few ideas for you!
Water sports on Lake Constance: sailing, canoeing & Co.
Sailing, water skiing, canoeing, diving, surfing, wake board and boat tours – there are numerous possibilities to have fun with water sports at Lake Constance. And if you need a day off because of sore muscles you can relax on the beach. There are courses for beginners, but also professionals can let off steam here. Have you ever tried stand-up paddling? Why don't you rent the equipment and give it a chance? Maybe you will find your latest hobby at Lake Constance.
Cycle tours around the Bodensee: Familytime
A bicycle tour with the family around Lake Constance – here Familytime is written in capital letters! You can choose either the route from 40 to 50 km or the route with up to 70 km per day, it depends only on your personal preferences and the sportiness. Because of the shape of the lake it doesn't matter where you start and if you need a shortcut, trains, buses and ships are there for you. Or you can divide the route into stages, travel with your tent and discover the various places and sights in the vicinity of Lake Bodeen at your leisure.
Excursions around Lake Constance: Salem Castle & Co
Did you know that the Rhine Falls is the largest waterfall in Europe? With an impressive width of 150 metres and a height of 23 metres, the waterfall on Lake Constance fascinates young and old alike. Would you like to go skiing? No problem – the Pfänder is the first mountain in the Alps and with its height of 1064 metres offers excellent skiing opportunities. What you also have to see is Salem Castle, Meersburg Castle and the pilgrimage church of Birnau. The FIV loves the sights at Lake Constance and we are sure that they would enchant you too.
Weather: Lake Constance Temperature and Trend
Weather today / in three days
Questions & answers
Which countries lie around Lake Constance?
Three countries have a share in Lake Constance and the Lake Constance region: Germany, Austria and Switzerland. While there is a recognised border between Germany and Switzerland in the Lower Lake, the countries bordering the Upper Lake have never agreed on a border.
What can you do at Lake Constance?
Here you can not only experience the great nature, but also visit many churches.
Some of the most popular excursion destinations at Lake Constance are
Island of Mainau
Birnau Basilica
Lake Dwelling Museum Unteruhldingen
Rhine Falls near Schaffhausen
Meersburg Castle
Ravensburg playground
Dornier Museum Friedrichshafen
Where is Lake Constance at its deepest point?
The total shore length is 273 km. Of these, 173 km are in Germany, 72 km in Switzerland and 28 km in Austria. At its deepest point Lake Constance measures 254 m. It lies between the German town of Fischbach (near Friedrichshafen) and the Swiss town of Uttwil near Romanshorn.
What can you do with children at Lake Constance?
Outings Bodensee for bad weather with children:
Zeppelin Museum in Friedrichshafen.
Inatura – multimedia and interactive museum in Dornbirn.
The Lake Constance sight par excellence – the island of Mainau.
The UNESCO excursion destination on Lake Constance – the historic pile dwellings in Unteruhldingen.
Where does Liechtenstein border on Lake Constance?
The House of Liechtenstein provides the Reigning Prince. Sovereignty in Liechtenstein is divided equally between the Reigning Prince and the people. The Alpine country of Liechtenstein lies on the Alpine Rhine and borders Switzerland in the west and Austria in the east.
https://fivmagazine.com/wp-content/uploads/2020/01/bodensee-entspannung-urlaub-see-blau-segelschiff-segeln.jpg
500
1000
Lisa-Marie
/wp-content/uploads/2023/08/fiv-magazine-logo-news-influencer-fashion-interior-travel-real-esates.svg
Lisa-Marie
2020-02-12 15:36:16
2020-11-11 11:46:04
Holiday at Lake Constance – luxury or in the middle of nature