Roof tent 5 people (family with children): Tips for camping, price & assembly explained!
Roof Tent 5 – Camping in a roof tent with the whole family – a summer adventure you won't soon forget! Don't know what a rooftop tent even is? Don't worry, I'll explain it to you! My article is all about everything you need to know about this ingenious way of camping. From the different manufacturers, quality and equipment to practical extensions and accessories. Here you'll learn how to get the tent on your car in the first place and how quickly you'll feel at home in it. So get ready for the ultimate camping fun with the roof tent and go discover the most beautiful destinations together! You can also read more about the roof tent here: Roof Tent.
Camping in the roof tent: with 5 people!
Are you planning your next vacation with five people? Then you should definitely get a spacious roof tent! With a roof tent you can fully enjoy your time together in nature and experience unforgettable moments as a group. Whether you choose a trip to Sweden, France, Canada or a camping adventure in Germany at the North Sea, Baltic Sea or Lake Constance – a roof tent promises fun or pure relaxation for all of you! Make your vacation an unforgettable experience and dive into the world of camping happiness.
First, what is a roof tent anyway?
Camping with a rooftop tent is an option for a family of 5, while offering numerous advantages for an unforgettable camping adventure.


Germany - Spain - USA
The roof tent is easy to set up and take down, saving you valuable time and effort. You can stop anytime and anywhere without having to commit to pre-booked accommodations. Your family can experience the wonderful flexibility of spontaneously exploring the most beautiful places and discovering new adventures. The freedom and mobility that a roof tent offers you is unbeatable.
Whether you decide to go on a weekend trip or a longer journey, a rooftop tent is perfect for both short and long term trips. It offers you the comfort and convenience of traditional accommodation, while allowing you to enjoy nature in its full glory. Otherwise, a rooftop tent offers protection from any weather conditions. Rain, wind or shine, you can count on the roof tent to keep your family dry and safe in any weather.
The roof tent at a glance:
Roof tents: tent on the roof of the car
Effortlessly unfold: Easy to assemble & disassemble
Freedom & mobility camping for four
Suitable for: Short & long term travel
Protection from any weather conditions
Video. 10 advantages of camping with children
Find out how to pack cleverly, save space and make the campsite comfortable. With practical boxes instead of bulky suitcases you keep the overview and save time when packing and unpacking. In addition, this video shows you how gaffers and cable ties are real problem solvers and how an electric blanket ensures comfortable nights, even in cooler weather. With these ingenious tricks, you'll be prepared and ready to enjoy your family camping trip to the fullest!
More space and living space? Tent extension or trailer!
When you're traveling with your four favorite people, things can get pretty cozy at the campsite sometimes, right? But don't panic, we have the ultimate trick for you: Tent Attachment! You can either use an awning or an additional tent trailer that folds out just as easily as a rooftop tent. And the best part? You'll gain even more space to relax, cook and play with the kids!
With these clever add-ons your camping adventure will be a real family fun:
So you can expand the space in the roof tent a little:
Tent extension
Awning
Tent trailer
The advantage of an additional tent trailer? When you use a roof tent, your trailer hitch is usually free. Therefore, you can hitch a tent trailer to the car. So that you already know what such a tent trailer looks like and how you can set it up in no time, you can watch this video.
You additionally want to learn how to also make sure that your additional living space is also cozy? Then read on here!
Models, supplier & price: find roof tent
Now that you know what a roof tent looks like and the benefits it brings you, here are many tips to help you find the right roof tent for you. There are so many designs and models for you to choose from. Get comfortable and take the time to check out all the different options. This way, you're guaranteed to find the perfect rooftop tent that fits your needs and preferences exactly. So jump into the search and off you go to sleep in a tent on four wheels!
With these 5 tips you will quickly find the right roof tent:
Discover a model in the right size
Find a suitable provider
What is the price of the roof tent?
What is the installation and setup process?
What extra equipment do you need to get?
Family in roof tent: 2, 3, 4 or 5 people
First, you should consider how big your roof tent should really be. There are roof tent options that can even sleep five people. It is of course also an option to take a smaller roof tent and for that still a tent trailer. The advantage, when the children are too old for the common vacation, you can sell the tent trailer and continue to use the roof tent relaxed.
Don't need a five-person rooftop tent yet and want to look for something smaller first? That's no problem, there are rooftop tent options for every family size. There are roof tents for families with one to two children or just for a parent's break for two.
Read more about a roof tent for two, three or five people here: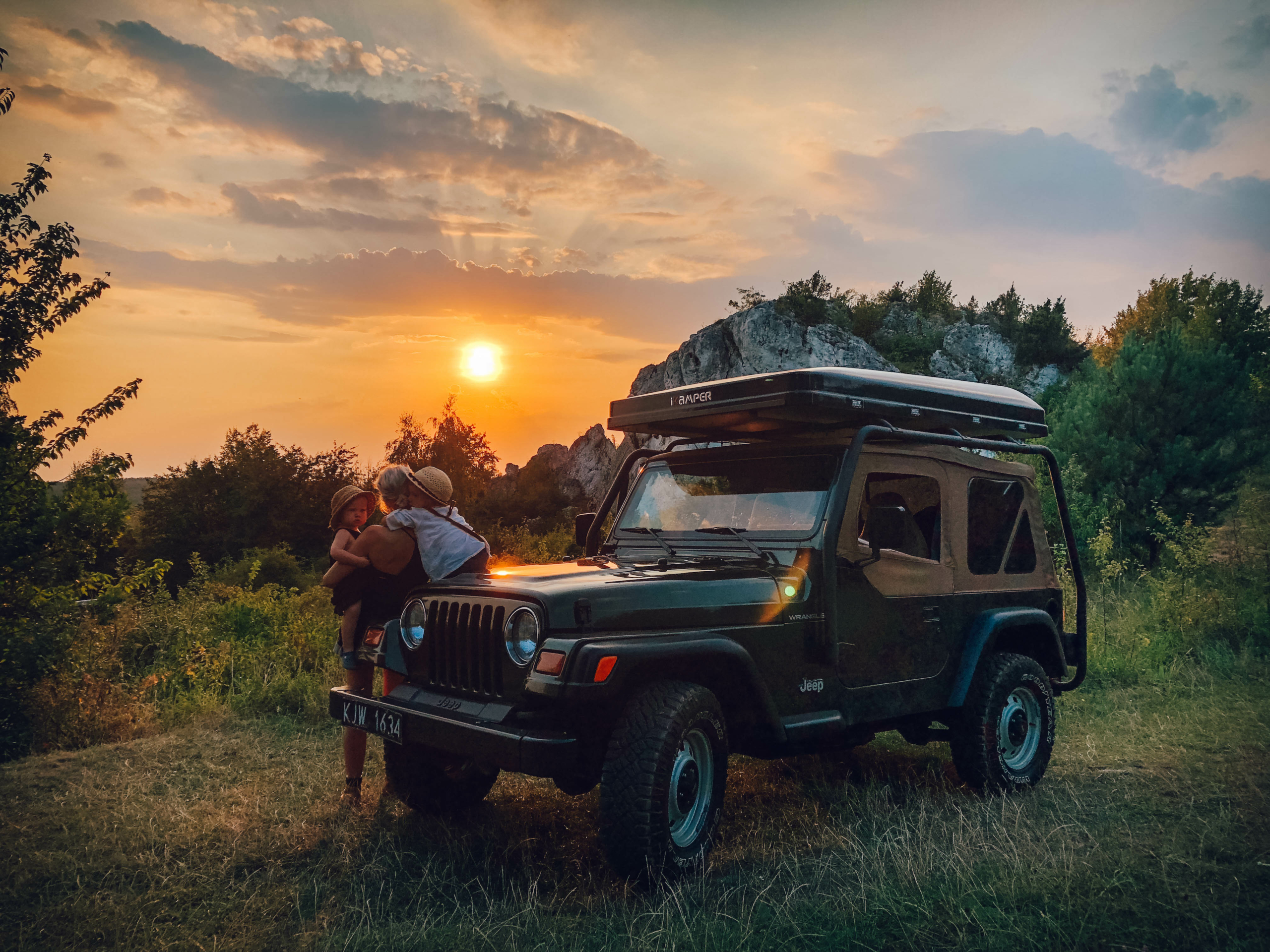 Roof tent supplier: Pay attention to quality & equipment
Remember that every roof tent manufacturer is unique, just like your own camping needs! So in addition to quality, it's also worth checking out the different manufacturers for additional features and equipment options that can make your camping experience even more comfortable and practical. When it comes to roof tents, however, quality is also important. After all, you want to be sure that your tent won't get wet from the inside during a rain shower or buckle in a strong wind. Pay attention to materials and workmanship!
Go on a journey of discovery here and find the perfect roof tent that suits your preferences and requirements!
Is the price worth it? Roof tent costs and their advantages!
Prices range between 1000 and 4,000 euros, depending on size and equipment. Larger roof tents are more likely to be found from 3,000 euros. Consider despite the higher price that you can travel with a roof tent flexible, independent and cost-saving, because you always have your mobile home with you. Many roof tents also include a bit of equipment, such as a comfortable mattress and a practical ladder, which saves you additional purchase costs. This makes the price really worth it!
Fully equipped hard shell roof tents:
from 2.999 Euro for roof tents for 4 or 5 persons
Assembly & erection: child's play even with children!
But how do you get the newly purchased roof tent on the car? Usually the dealer does it for you. This mounts suitable roof racks, attaches the tent and maybe even a forklift to use! And when you arrive at the campsite and full of adventure, you have the day behind you, in less than five minutes, the roof tent unfolded. With a single movement you can unfold the roof tent and fix it. A little setup for the entrance area and the ladder, and off to the cozy oasis on the roof. So then also the children do not get crotchety!
The structure quickly summarized:
Unfold & fix roof tent with one handle
Entrance area & set up ladder
Enjoy the cozy oasis on the roof!
Equipment & Facilities: Better living
When a family of five goes camping with a rooftop tent, they will hardly be able to avoid additional accessories. With more people on board, the need for livability and organization increases. With the right accessories, the camping adventure becomes an unforgettable experience for the whole family.
These six ideas for camping accessories can make your trip significantly more enjoyable:
Where to go? Tips for destinations
Discover the freedom of rooftop tent camping! With flexibility and closeness to nature, you can explore picturesque landscapes together and experience unforgettable adventures in these three top locations. Enjoy your time together as a family and be enchanted by the beauty of nature.

https://fivmagazine.com/wp-content/uploads/2023/07/kinder-strand-urlaub-baby-meer-sand-wasser-familie-natur-camping-spass.jpg
800
1200
Team
/wp-content/uploads/2023/08/fiv-magazine-logo-news-influencer-fashion-interior-travel-real-esates.svg
Team
2023-07-26 12:10:45
2023-09-10 14:38:33
Roof tent 5 people (family with children): Tips for camping, price & assembly explained!