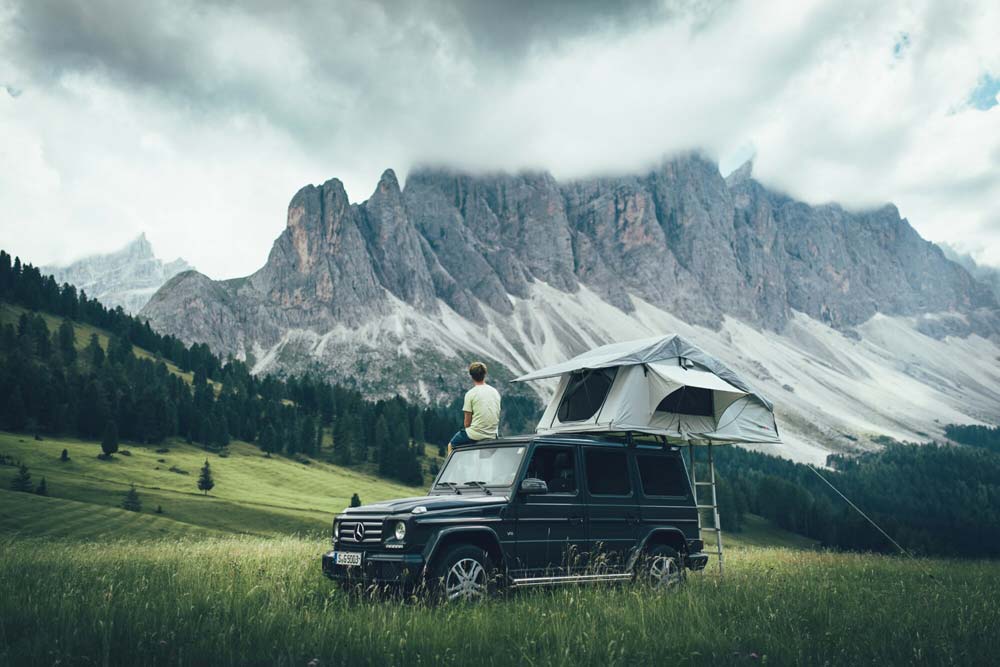 Roof tent manufacturer: list, models & prices – Buy roof tent
Autocamp, Campwerk, Darche, Front Runner, iKamper & Co. – Since camping with your own car and a tent on top is becoming increasingly popular with young and old, there is also a wide range of roof tent manufacturers. Roof tents generally impress with their amazing value for money, easy set-up and flexible travel, with models from different manufacturers differing in appearance, design, features, price and size of roof tents. Nevertheless, they all aim to guarantee you enormous comfort, easy handling and, above all, fun on your camping holiday. Back to overview: Roof tent.
Roof tent guide: Couple or family holiday
FIV Feature X CM Models
Before we get to the list of manufacturers, here are guides for your first or new roof tent for 2-3 people for couples or 3-5 people for the whole family.
What should I consider if I want to buy a roof tent? Where can I stand everywhere, on which car does a roof tent fit and how do I actually get a roof tent on the roof of my car? Here you will find two informative and exciting articles on the subject of roof tents, in which all the important questions are clarified and you will find out all the necessary information on the subject of roof tents, in order to be optimally prepared for your next camping holiday.
Which roof tent is best for couples and which for families? Find out more here!
Roof tent 2-3 persons: Singles & Couples
Camping for singles and couples – No other holiday option allows you to enjoy togetherness as much as a camping holiday with a roof tent. This guarantees you a flexible trip, easy handling and above all an excellent price-performance ratio. So if you have always wanted to experience the feeling of freedom in nature as comfortably and conveniently as possible, then you can find out all the other advantages of travelling with a roof tent, especially for couples, here. In addition, in this article you will get all the information you need to know about travelling with a roof tent, as well as tips for popular places for couples!
Roof tent 3, 4 and 5 persons: Camping with the family
Family camping – planning a holiday with 3, 4 or even 5 people? Here, too, a large roof tent is super practical, as it offers an enormous sleeping and living area that can be easily folded up during the day and on the road. There is even room for 5 people in the matching tent! If you want, you can add partitions to the whole thing so that parents and children sleep separately, for example, and everyone can have their bit of privacy in the evening. Which roof tent variant is most suitable for families, what you should consider on a family holiday and which places are ideal for a holiday, you will find out in the following article.
In the following video you can get an exciting overview of what a camping holiday with the family looks like. How much space do you really have in the roof tent and what should you keep in mind when on holiday with children? Here are ten tips and tricks for a relaxed and unforgettable camping holiday with a roof tent and the family!
Tent trailer / folding caravan: alternative or extension
Additional living space and usable space – If a roof tent is not enough, you can expand your space even further. With a tent trailer attached to the back of the car, individual sleeping areas can be created. For example, parents and children can each enjoy their own sleeping area, or the extra space can be used for playing, relaxing or cooking. A tent trailer also takes up very little space, as it is already on a trailer when folded and only needs to be unfolded when needed at the campsite.
If you are only travelling for a few days, a tent trailer can also be used instead of a roof tent. It still offers the same comfort!
List of manufacturers – overview
Now we come to the list of recommended roof tent manufacturers! Which roof tent manufacturers are there and which roof tent is the best? Depending on your travel route, region, duration of the trip, budget and number of people, one or the other model may be more suitable for you. Here you will find a summary and detailed overview of all manufacturers and, in the best case, instructions for assembly and handling.
These popular roof tent manufacturers exist:
Airpass: Large space & high lying comfort
The roof tent brand Airpass belongs to the manufacturer Autohome and offers numerous roof tents, which are all characterized by an enormous amount of space and a high sleeping and lying comfort. In the following video, you will be shown a brief overview of an Airpass hard-shell roof tent, where you can get a first impression of the assembly and disassembly, the advantages and equipment.
from 2.289,00 Euro
Autocamp: experience for over 50 years
With one of the oldest roof tent manufacturers in Germany is Autocamp. Autocamp convinces with 5 different roof tent models, which are all unique and differ in size and equipment. If you need as much space as possible, a roof tent is recommended, where the sleeping area can be easily enlarged. You can also extend the tent walls or add an awning to other variants. In the following video, you will learn in a short, informative interview with the managing director of Autocamp what makes the company so special, how easy it is to set up their roof tents and what other advantages there are with the roof tents from Autocamp.
from 3.295,00 Euro
Autohome: Enormous durability and weather resistant
The renowned Italian roof tent manufacturer Autohome offers you seven different and unique roof tent models in numerous different variants, colors and sizes. The Autohome roof tents are characterized by an enormous durability and withstand even very extreme weather conditions. But on which vehicle do the roof tents fit? How many people can be accommodated in each version and what other accessories are needed? Here you will find a video with all the information you need to know about Autohome roof tents.
from 2.539,00 Euro
Bundutec Bundotop: Electric hard shell roof tent
Next you can take a look at the Bundotec Bundotop roof tent. Very popular among passionate camping fans! You want it to be as simple and uncomplicated as possible? Then an electric hard-shell roof tent might appeal to you. Feel free to check out the video below for a helpful review and pros and cons on the Bundotec Bundotop.
from 3.945,00 Euro
Bush Company: Hard shell aluminium roof tents
The roof tent manufacturer Bush Company is an expert for 4×4 vehicles and produces mainly hard shell aluminum roof tents. The roof tents are sold in Australia, but some shops in Germany also offer these roof tents. If you are interested in a unique roof tent from Bush Company, you will get an overview of a roof tent of the popular manufacturer, the uncomplicated handling and the advantages and disadvantages in this video.
3.699,00 Euro
Campwerk: "Space miracle" for couples or the whole family – qualitative & practical
Enormous sleeping and living area in the roof tent – Campwerk roof tents are among the most popular. The company specializes in roof tents and tent trailers as well as their accessories. Depending on your travel route, number of people and preferences, you will definitely find the right roof tent for you! Campwek has roof tents for every vehicle – from small cars to off-road vehicles. When unfolded, the roof tents, which are already equipped with an integrated mattress and ladder, offer an astonishingly large and comfortable sleeping, living and usage space – in other words, a true "space miracle". Whether as a couple or with the whole family – there is something for everyone here!
If that hasn't convinced you yet, then the following video will give you an exciting and informative overview of one of Campwerk's most popular roof tents. In addition, the playfully easy assembly is shown within a few seconds and explained what other advantages are offered to you.
from 1.689,00 Euro
DTBD Outdoor (Dare to be Different): Simple structure & high quality level
The roof tent manufacturer DTBD Outdoor is still relatively new, but places great emphasis on quality in all its roof tent models. In this video you will get an insight into one of the DTBD roof tent models and an overview of all the information you need to know for a holiday with one of the DTBD roof tents.
from 1.999,00 Euro
Darche: Quality in production
The Australian outdoor brand Darche attaches great importance to quality, especially with their roof tents, which already starts in the production. How easy the handling is and what enormous space the roof tents of Darche offer you, you will learn in the following video. In addition, you will get an overview of the advantages, features and individual materials of the roof tents.
from 1.399,00 Euro
Front Runner: Roof tent setup in a few minutes
The outdoor manufacturer Front Runner offers roof tents, roof racks, drawer systems, tents, awnings and much more. Here you will definitely find what you are looking for if you are looking for a roof tent for you and your loved ones. In this video you can find out what one of the Front Runner models looks like from the inside, what equipment is included, what the advantages of a Front Runner roof tent are and how easy it is to set up and take down.
from 1.094,99 Euro
Howling Moon: More than 40 years of roof tent experience
With more than 40 years of experience, the roof tent manufacturer Howling Moon is also one of the older companies. The company is based in South Africa and the tents are sold in Africa, Europe and the USA. How easy, uncomplicated and fast the assembly of these roof tents works, you can see here.
from 2.009,00 Euro
IKamper: Hard shell roof tent (4 persons) – Robust, high quality & water resistant
The Korean roof tent manufacturer iKamper convinces especially with a hard shell roof tent for 4 people. This definitely recommends it for a holiday with the whole family. The roof tents are very robust, stable, high-quality and water-resistant and have large panoramic windows all around, so that you can enjoy nature and the starry sky even late at night. The iKamper roof tents are sold in Germany by Campwerk. In this video you can find out how easy it is to set up this XXL roof tent, what features it has, what advantages it offers and what you should look out for.
from 3.580,00 Euro
Treeline: Features, tough exterior & windows
The Canadian roof tent manufacturer Treeline also offers a variety of roof tents for camping holidays. The tents are particularly characterized by the numerous features, the robust outer material and the many windows that provide sufficient light. In this video you will get a detailed all-round overview of everything about roof tents and especially one of the Treeline models. How the setup works, what advantages the tent offers, how the interior is equipped and how large the lying area on the mattress is shown here.
from 2.690,00 Euro
Tuff Trek: Structure, equipment & advantages
The British manufacturer Tuff Trek has its own roof tents and also sells roof tents from other brands, such as the electric hard shell Bundutop roof tent. Here you get an overview of one of the Tuff Trek models as well as an exciting insight into the construction, handling, features and advantages on the road.
from 1.790,00 Euro
Roof tent comparison: 7 roof tents in the test
After all the roof tent manufacturers presented, you now have a rough insight into the roof tent world and an overview of the most popular models. From Autohome and Campwerk, to Darche, iKamper and Front Runner, the selection is large, so you can find your roof tent individually according to your wishes. In some shops, for example Campwerk, you can also configure your own dream roof tent individually according to variant, size and equipment!
If you want to have another look at a comparison of roof tents, this video presents 7 roof tent suppliers and their models in a direct test.
https://fivmagazine.com/wp-content/uploads/2020/12/campwerk-test-camping-vergleich-mobiles-zuhause-urlaub-erfahrungen-dachzelt-auto-aufbau-adventure-berge-camping-wiese-camper-mercedes-g-klasse.jpg
667
1000
F_kinski
/wp-content/uploads/2022/08/fiv-magazine-news-fashion-interior-real-estates-2022-logo-black.png
F_kinski
2021-03-05 10:49:45
2021-07-17 17:07:47
Roof tent manufacturer: list, models & prices – Buy roof tent