Roof tent 2 persons (singles & couples): Prices, manufacturer & setup for your car
Roof tent for 2 persons – If you are planning a holiday alone or as a couple, a camping trip with roof tent is definitely worth it! This guarantees you a flexible trip, easy handling and above all an excellent price-performance ratio. If you have always wanted to experience the feeling of freedom in nature as comfortably and conveniently as possible, then you can find out all the other advantages of travelling with a roof tent here. You'll also find instructions on how to set it up, costs involved, tips on manufacturers and models, and popular places for couples in this article. Back to the overview: Roof tent.
Camping with roof tent: For 2 people!
Comfortable and luxurious camping for two! Are you planning your next holiday with your partner? Then you should definitely buy a roof tent. No other type of holiday allows you to enjoy togetherness as much as a camping holiday with a roof tent. Whether your trip takes you to Sweden, France or Canada, or you want to stay in Germany and go camping at the North Sea, Baltic Sea or Lake Con stance – a rooftop tent promises luxury, comfort, fun and pure relaxation!
Here is a quick first overview of the roof tent.
Did you know? Roof tents fit all cars
Whether for your Audi, BMW, Ford or Mercedes – a roof tent fits on just about any car, as soon as you have mounted the appropriate roof racks. In the best case, you can also pack an awning or travel with a tent trailer in the back to expand your living and usage area by a lot. This way, even if you spend several days at the same campsite, you'll have enough space to relax in your camping chair, play games or cook a delicious meal in your camping kitchen!
Flexible travel: weekend getaway or long-term trip
Especially as a camping beginner you should know that camping in a classic tent is a good option for an overnight stay in nature, but for several days or even weeks a roof tent is more suitable. Sleeping in a rooftop tent is the best way to enjoy the feeling of complete freedom and closeness to nature, and not only travel comfortably and conveniently, but still get the feeling of sleeping in the open air at the same time. Most rooftop tents offer you a panoramic window so that you can look up at the starry sky late into the night and experience an intense and unforgettable time with your partner.
Where do you want to go on your trip? In this video you can accompany passionate campers on their road trip with a roof tent to Sweden and get an impression of how carefree, uncomplicated and relaxed a holiday with a roof tent can be!
Which roof tent? Structure, prices & manufacturer presented
But how much does a roof tent cost? Which is the best roof tent and which car is actually suitable for a roof tent? To make sure you are as well informed as possible, you will find everything you need to know about roof tents for 2 people as well as frequently asked questions.
Instructions: Assembly of the roof tent
First, suitable roof racks must be mounted on your car, on which the roof tent can be attached. The complete tent is lifted and pushed onto the rails, possibly with the help of a forklift if the car roof is too high. However, this is all done during assembly and you have nothing to do with it yourself. After that, however, the journey can already begin!
When you come back to the campsite after a long day of adventures, all you have to do is open up the tent, which is already in the right position, with a flick of the wrist and fix everything in place. The entrance area and the existing ladder may still need to be set up, and then you can climb up and enjoy the luxurious sleeping space.
Equipment and handling in less than 1 minute
With an integrated mattress and comfortable living space, the roof tent can be set up in just a few seconds without much effort and ensures a comfortable and carefree night, so you can start the day fit and alert the next morning. Most roof tents are very robust and waterproof, so you don't have to worry about that. Once folded away, you won't need any unnecessary storage space, as the roof tent will simply stay on the car while you continue your journey.
This gives you complete flexibility with your own car, allowing you to park anywhere and stay at any campsite. You can go shopping with your car without a big load to get in the way. Nevertheless, the tent is unfolded in a few seconds and with just one hand movement and is then super large and comfortable! This makes it much more practical and advantageous than, for example, a caravan or motorhome, with which you are much more limited on the road.
Set up in just a few steps:
Parking the car at the campsite
Open the protective cover and detach it from the roof tent
Completely unfold the roof tent with one hand movement
Attach stem with rods
Secure ends if necessary
Lock and climb the ladder
Video! Set up roof tent for 2 people
If you can't really imagine the super quick and easy setup, I found an informative and exciting video here, in which everything is explained in detail. This way you are well prepared if you want to buy a roof tent.
How much does a roof tent cost? Price & Accessories
Prices – The prices for a roof tent are, depending on size, equipment and model, about 1000, – to 4,000, – euros. Usually a mattress and ladder are already included. However, costs for an inner tent, a mattress underlay, mosquito nets for windows and door, further interior fittings and, if necessary, an add-on tent are also included. Sounds like a lot of money at first glance, but the investment is well worth it, as you have to pay it once and can use the roof tent for several years afterwards without any problems. In addition, you always have your house on wheels with you, so to speak, and save costs for accommodation on the road.
Prices for durable, high quality roof tents:
from 1.550 Euro for smaller roof tents for 2 persons
Fully equipped hard shell roof tents:
from 2.999 Euro for roof tents for 4 or 5 persons
If only a small weekend trip or a short trip is pending, the basic equipment is often enough for many. However, if you want to take on larger trips, you will sooner or later need additional accessories that make the trip easier.
Accessories and spare parts
Even though most tents already come with an integrated mattress, ladder and the most important features, you will still need a few more accessories to get the most out of your camping holiday. Here you will find a list of essential equipment that you could use on a longer trip.
Standard accessories and extras:
Awning / Sunshade
Extension tent or awning
Mosquito / mosquito net for window and door
Inner tent
Protective cover / storm protection
Mattress pad
Wall cabinets for order in the tent
Now let's recap what the benefits of rooftop tents are and why you should buy one:
Advantages of a roof tent
Advantages – A roof tent is therefore super comfortable, excellent value for money and also extremely quick and easy to set up. You don't need any unnecessary space for the folded tent, because it is on the roof of your car the whole time and is only unfolded when needed, whereby mattress and co. are already in the right place to be able to sleep directly in it. Especially for 2 people, a roof tent is ideal to take all the advantages of camping, enjoy the idyllic nature and at the same time sleep as comfortably as possible on the campsite.
All advantages at a glance:
Excellent price-performance ratio
Can be flexibly mounted on almost any car
No unnecessary transport
Takes up no space / storage space
Simple and fast assembly
Large sleeping and living area
Extendable with extension tent, awning, etc.
Robust, waterproof and durable
Vacation can start directly
Combines all the advantages of camping
This gives the roof tent a clear advantage in terms of price, time and comfort, even in comparison to motorhomes or a self-built car or van. Low purchase costs, quick assembly and you can start your holiday at any time!
Which is the best roof tent? Variants & Models
Of course, there are roof tents from different manufacturers and in different sizes. Depending on your travel route, how long you will be on the road and how many people you are travelling with, one or the other variant may be more suitable for you. If you are travelling as a couple with your partner, you won't need quite as much space and can choose a smaller model accordingly. The best thing to look for when buying a roof tent is that it has an integrated mattress and ladder and that it is robust and stable. A distinction is also made between normal and hard-shell roof tents, whereby you can again decide individually which variant suits you best.
This is what you should look for when buying:
Are there suitable roof racks mounted on my car?
How big should my roof tent be? (How many people should have room?)
Hard-shell roof tent – Yes or no?
Is the roof tent robust and stable?
Do I need any other accessories?
Which car for roof tent? BMW, Audi & Co.
Can a roof tent actually be mounted on any car? As a rule, yes! As long as the roof load is at least 50kg, which is the case with most cars. No matter if Audi, BMW, Ford and Co. – you only need the appropriate roof racks, which are mounted on the roof of your car at the beginning of your trip and the roof tent can be set up and easily opened if necessary. Here you will find an overview of all car models that are definitely suitable for a roof tent for 2 people.
These car models are definitely suitable for a roof tent:
Audi
BMW
Ford
Jeep
Land Rover
Mercedes
Mitsubishi
Opel
Suzuki
Toyota
VW
Popular roof tent manufacturers
Autocamp, Campwerk, Front Runner, iKamper & Co. – Since camping with your own car and a tent on top is becoming increasingly popular with young and old, there are also a variety of roof tent manufacturers. These differ in appearance, design, equipment and size of the roof tents. However, they all aim to guarantee you enormous comfort, easy handling and, above all, fun during your camping holiday.
Read more about the different manufacturers here:
Among the most popular manufacturers are:
Airpass
Autocamp
Autohome
Bundutec
Bush Company
Campwerk
DTBD Outdoor
Darche
Front Runner
Howling Moon
IKamper
Treeline
Tuff trek
Alternative to a motorhome? Cheaper, more flexible & more comfortable
A camping holiday with your own car and a roof tent is becoming increasingly popular, especially for couples! Simply because of the high comfort and the level of convenience, but also because it is cheaper than a motorhome or camper van and is quicker to set up than a classic tunnel tent.
Especially compared to a motorhome, there are some advantages. First of all, you save a lot on the purchase. While you have to budget around 35,000 euros for a motorhome, a roof tent only costs around 1,500 euros. In addition, you are much more flexible with a roof tent, as you can use your car normally, i.e. you can drive as fast and as far as you want and park even in the smallest parking space without any problems. When folded, the roof tent takes up no space and is not even noticeable on the roof of your car. When folded out, however, it offers you a true "space miracle" that is not only huge, but also super comfortable!
These are the advantages compared to a motorhome:
A lot cheaper to buy
More flexible travel is possible
Space in every parking space / on every parking space
No restrictions in driving speed
Easier to drive (hardly noticeable on the roof of your car)
You can drive off directly at any time and start your vacation
Holidays for two: destinations for couples
On a camping holiday for two, you can once again intensively enjoy the togetherness in the idyllic nature. With a roof tent you are super flexible and can always drive to any place you want to see. In the evening, you can simply stop off at the nearest campsite and head straight for a new destination early the next morning. There are a variety of destinations that are perfect for couples!
Here are the 5 most beautiful destinations & regions for your romantic camping holiday for two:
Paris
Rome
Amsterdam
Black Forest
Hartz
Paris: The City of Love
If there's one city that's considered romantic, it's definitely Paris, or "the city of love". It attracts many newly in love couples who want to get away from the stressful everyday life and enjoy a relaxing holiday. Of course, it is also a good idea to arrive with the roof tent and to look for a nice, secluded place where you can camp in the evening. A little further away from the hustle and bustle, there are some beautiful campsites where you can enjoy the evening hours as a couple and explore the fairytale city during the day.
Rome: Romantic holiday in the city
Also a classic for a romantic holiday for two: Rome! There is also a lot to see and discover here, which is ideal for couples. It's best to rent bicycles to explore all the beautiful places and streets! In the evening, you can of course make yourself comfortable again with your roof tent on a campsite or pitch, in order to set off again early in the morning.
Amsterdam: City walk and boat tour
German tourists are also often attracted to Holland. If you travel with your partner, you can do some sightseeing here. The capital of the Netherlands is considered one of the most beautiful cities in Europe and is therefore definitely worth a visit. Amsterdam is recommended for walks through the beautiful streets and alleys or a boat tour alone.
Black Forest: walks and idyllic nature
If you prefer to stay in Germany, there are some beautiful and romantic places here as well. The Black Forest scores with picturesque landscapes that are perfect for extensive walks and hikes. Here you can even approach some places directly with the roof tent and sleep in the middle of idyllic nature. A view of the starry sky and the surrounding nature from the panoramic windows – if that's not pure romance!
Read more about a holiday in the Black Forest here:
Harz: Sightseeing and natural landscapes
Last but not least, the beautiful Harz Mountains! Also not far away, a popular destination awaits you and your partner. The Harz Mountains also score points for their fairytale nature, which invites you to go on extensive exploration tours. If you spend the night in a rooftop tent, you will be woken up by the chirping of birds and the first rays of sun in the morning and experience the feeling of being completely close to nature, which will make your holiday as a couple something very special.
Read more about a holiday in the Harz mountains here:
Roof tent for 3, 4 or 5 persons
You have already enjoyed some romantic holidays as a couple and love camping in nature? Maybe you'll be joined by other family members in the long run, or you already have children and are planning a camping holiday with the whole family. It doesn't matter whether it's for 3, 4 or even 5 people – there's a roof tent to suit them too. What you have to consider on a camping holiday with the whole family, which roof tent variant is most suitable for this and what costs you will have to pay, you can read here alternatively in the following article!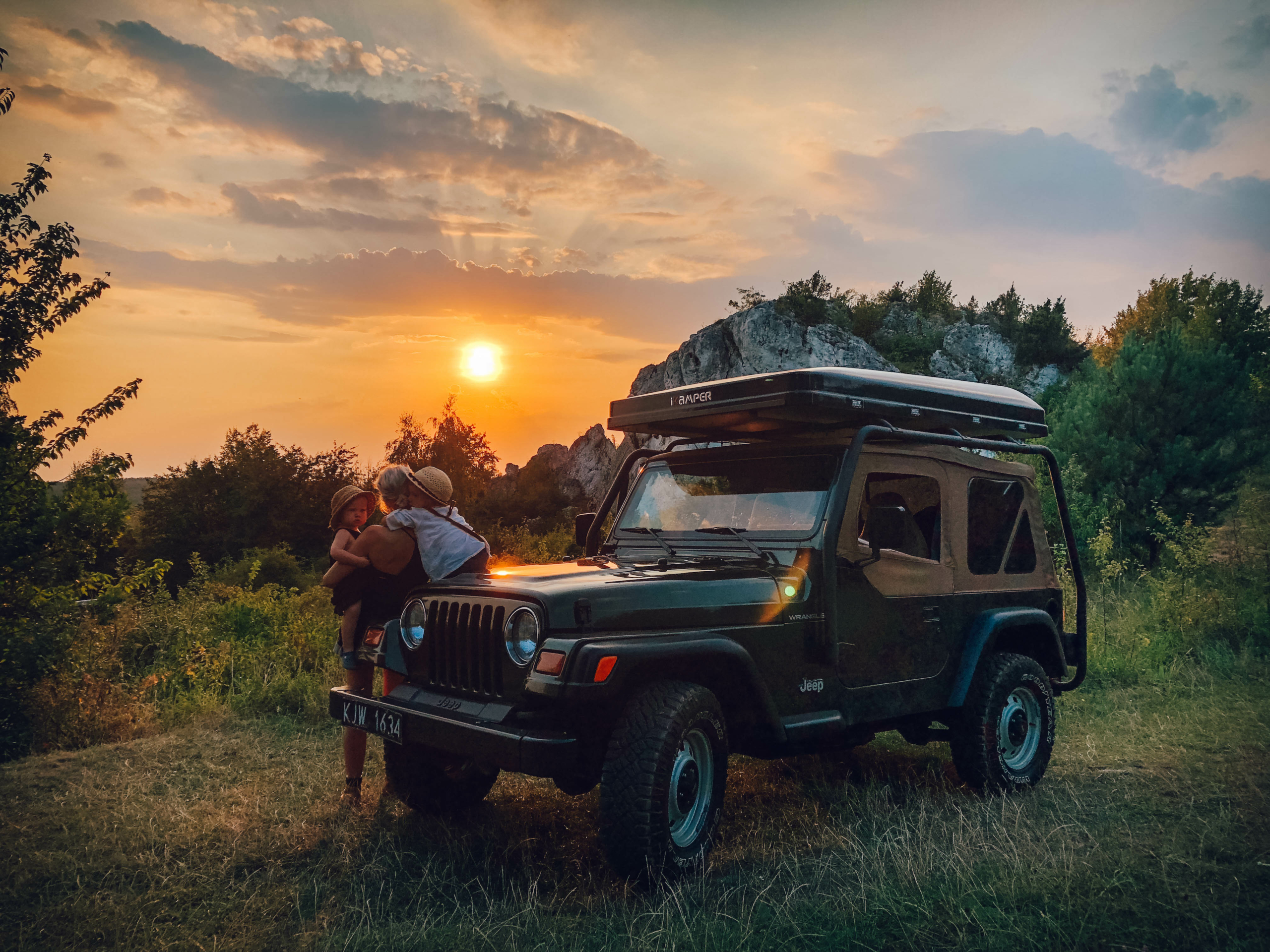 https://fivmagazine.com/wp-content/uploads/2020/12/campwerk-test-camping-vergleich-mobiles-zuhause-urlaub-erfahrungen-dachzelt-auto-aufbau-skycamp-mini-single-einpersonenzelt-automobil-kfz-dachtrager-montage-meer-irland-camping-reise.jpg
667
1000
Lisa-Marie
/wp-content/uploads/2020/07/fiv-magazine-news-instagram-youtube-tiktok-influencer-fashion-interior-jewelry-real-estate-tips-help-logo.png
Lisa-Marie
2021-02-26 13:53:35
2021-02-26 13:53:35
Roof tent 2 persons (singles & couples): Prices, manufacturer & setup for your car