Cheap camping & travel: Roof tent vacation with family
Cheap Camping & Travel – Vacation doesn't have to be expensive! With a rooftop tent, you can enjoy camping and travel inexpensively by saving on all overnight costs after purchase. Our expert reveals tips on how families can save money with a rooftop tent, such as nearby destinations, seasonal deals and cheap campsites. Plus, rooftop tent camping offers the chance to enjoy nature-based activities and discover places away from the tourist hotspots. So go ahead, get off the campsite, discover nature and save your travel budget!
Vacation is always expensive, right?
The vacation season is just around the corner and you didn't manage to save that much this year? Don't worry, vacations don't always have to be expensive!
You get off particularly cheap with a roof tent, because after the purchase price you save all travel costs. Our expert (from Campwerk roof tents) will tell you exactly how to do this. Campwerk sells roof tents, tent trailers and camping accessories, so our expert knows the subject really well and has answered some questions with a lot of joy on the subject.


Germany - Spain - USA
Want to bring the kids along? Then you'll find more helpful tips for camping trips with your offspring here:
Cheap camping with the family: roof tent & accessories
FIV: Thanks for letting us meet for the interview. What tips do you have for families who want to save money on vacation and still have an unforgettable experience?
Campwerk: One idea to save money and still have a great camping vacation is to choose nearby destinations with your family first to reduce gas costs. You can save further with seasonal deals and cheap campsites, as well as by planning your own meals and free activities. You can also learn more little tips and hacks by sharing with other campers.
Accessories & Equipment: What you need in any case!
FIV: What camping equipment and accessories do you think are indispensable for a successful trip with the whole family in the roof tent?
Campwerk: Even if you want to save money, there are some things you should definitely take with you. These include a spacious roof tent, comfortable sleeping bags and sleeping pads, a folding camping table with enough chairs, cooking utensils, a camping lamp or headlamp, a cooler or cooler bag, a tool and repair kit, mosquito repellent, a well-stocked first aid kit, and sun and rain protection. If you choose high-quality products, you have more chance of them lasting a long time, even if they cost more at first.
Advantages of the roof tent: No hotel costs
FIV: What advantages do you see in traveling with a roof tent, especially compared to traditional accommodations?
Campwerk: Compared to other accommodations, rooftop tent camping offers cost-effective lodging options because you don't have to book expensive hotels or vacation homes. Traveling with a roof tent is a great way to save money during your adventures. Moreover, you save on travel expenses and at your destination you still have to spend money on bus and the like. This way you can reduce other expenses and use your travel funds for other activities and experiences.

Destinations & campsites: Tips for places & how to get there
FIV: First, prospective campers should pick a destination. What routes or destinations do you recommend for families who want to travel budget-consciously with a roof tent?
Campwerk: In Germany, natural areas such as Saxon Switzerland in the east and the Black Forest in the southwest offer inexpensive or free campsites for an intensive nature experience. With impressive rock formations and spectacular mountain scenery, these regions allow for inexpensive camping along scenic routes. Travelers can explore rural areas and avoid tourist strongholds. Find destinations and camping tips here: Camping in Germany.
Choosing campgrounds outside of expensive major cities and using permitted wild camping options offer additional savings opportunities.
You can read more about it here:
Search for the right campsite: planning
FIV: In order for a camper to find a suitable campsite, he should plan well. What experiences have you had when it came to finding inexpensive campsites or overnight accommodations for families?
Campwerk: It is often helpful for families to use online platforms to search for cheap campsites and accommodation. There are dedicated websites and apps that list campgrounds, RV sites and cheap accommodations and offer user-friendly search functions. Additionally, travel blogs and forums can provide valuable information and recommendations from other families who have had experiences with cheap campsites.
It is advisable to plan and book early, especially in high season, to get the best prices and ensure there are enough available sites. Camping outside of tourist hotspots and taking advantage of wild camping opportunities in countries where it is allowed can also save you money. For that, you just need to do thorough research beforehand.
With these 5 steps you should find a cheap campsite:
Special websites & apps list campsites
Search travel blogs & forums for valuable recommendations
Choose campsites outside of tourist hotspots
Take advantage of opportunities for wild camping in permitted countries
Early planning & booking in high season for best prices
Get off the campsite: Cheap vacation activities
FIV: As a rule, a camper doesn't just stay at the campsite. What inexpensive activities and attractions in nature offer families with a roof tent to keep their travel costs low, but still have unforgettable experiences?
Campwerk: You can go hiking and walking in nature, have leisurely picnics and barbecues, or swim in natural waters. Stargazing under a clear sky or wildlife watching are also inexpensive ways to discover the beauty of nature. You can also find natural playgrounds for your kids, try geocaching, or check out local festivals and events for cultural experiences.
These inexpensive activities lend themselves to nature:
Hikes & walks in nature
Host cozy picnics & barbecues
Bathing in natural waters
Stargazing under clear sky
Wildlife watching
Discovering natural playgrounds for children
Geocaching as a cheap leisure activity
Cultural experiences through festivals & events
Arrival & car ride: save fuel
FIV: What are some ways families can reduce the cost of fuel during their rooftop tent trip while minimizing their environmental impact?
Campwerk: You can do this by carpooling, driving more economically, and traveling in the off-season, when fuel prices are often cheaper. Additionally, drive moderately on the highway, have your vehicle regularly updated to new standards, choose campsites close to your destinations and environmentally friendly means of transportation such as bicycles. Not only your wallet will be happy, but also the environment.
Cooking & living on the campsite
FIV: How can families make their meals inexpensive yet delicious during a rooftop tent trip?
Campwerk: For this, you can rely on simple recipes and use staples such as rice, pasta and legumes. You can often buy fresh and local produce at affordable prices at local markets. Good supplies and the use of a camp stove allow you to prepare meals yourself, while disposable grills create an inexpensive barbecue experience.
Camping-friendly foods like canned goods and snack bars are convenient, and using shared kitchens at campgrounds can further reduce costs. Through smart planning, recycling leftovers, and additionally using water sparingly, families can conserve their travel funds.
So you can cook economically even on the campsite:
Simple recipes with staple foods (rice, pasta, legumes).
Buy affordable, fresh & local produce at local markets
Use camping stove for home prepared meals
Disposable grills for cheap barbecue experience
Camping-friendly food (canned food, snack bars)
Use communal kitchens at campsites
Clever planning, use of leftovers & economical use of water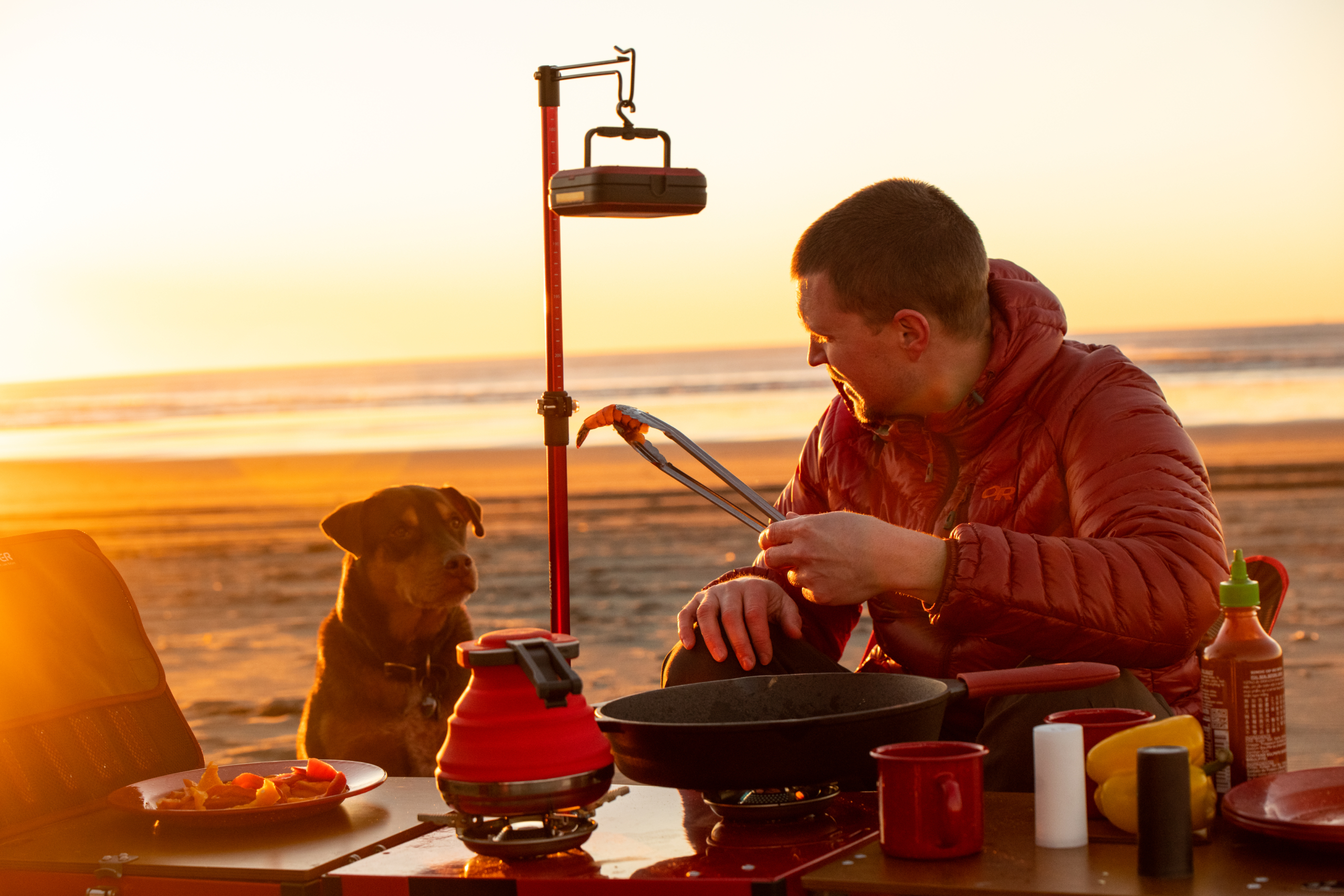 Special Tip: Organization & Do-It-Yourself Ideas
FIV: What special tips do you have for our readers at the end?
Campwerk: For cheap travel you need above all careful planning and organization. When camping, you usually have less space than in a hotel. That's why you should only take what you need, but also make sure that you don't have to buy too much new to save money. Find out about the fees for sanitary facilities and toilets. At most campsites they are free, but at some you will have to pay for them.
In addition, weatherproof clothing and a sturdy tent should be kept on hand to be prepared for unpredictable weather. If you invest once in good quality, you have less follow-up costs.
Extra tips for DIY campers: Everything self-made
FIV: What creative solutions and DIY ideas are there for making inexpensive and comfortable camping gear yourself?
Campwerk: There are plenty of creative DIY ideas to make inexpensive yet comfortable camping gear for families with a rooftop tent. Homemade storage solutions, camping furniture made from pallets, DIY insulation, mosquito screens and curtains can organize storage space and improve comfort. Plus, families can create a DIY camping kitchen and assemble a DIY repair kit to make their rooftop tent trip more enjoyable and affordable.
Well, curious? More about Campwerk & Roof Tents
Would you like to get to know Campwerk even better? Then learn more about these camping specialists below:
Furthermore, you will find additional links to Campwerk, where you can get comprehensive tips on your first camping equipment and assemble it individually:
More camping! Cooking in the fire, roof tent & more insider tips
Imagine: the tantalizing scent of flickering campfire in the air, the lively rustle of canvas tents, and adventurous hikes under a glittering starry sky. Whether you're looking for comfort or need that adrenaline rush, camping holds something for everyone and promises pure bliss. And the best part? You can explore numerous breathtaking places on a small budget.
Here you will find everything about the latest high-tech gadgets for cozy living and enjoyable cooking under the open sky!
Explore the perfect campsite, travel to exciting destinations and get exclusive insider tips:
You want to explore sparkling mountain lakes? Quite simply, camping fun for young and old, full of water fun and hiking adventures for the whole family!

https://fivmagazine.com/wp-content/uploads/2023/07/dachzelt-camping-see-berge-urlaub-reise-natur-schwimmen-wasser-reise.jpg
795
1200
Team
/wp-content/uploads/2023/08/fiv-magazine-logo-news-influencer-fashion-interior-travel-real-esates.svg
Team
2023-08-01 06:35:45
2023-09-10 14:36:59
Cheap camping & travel: Roof tent vacation with family