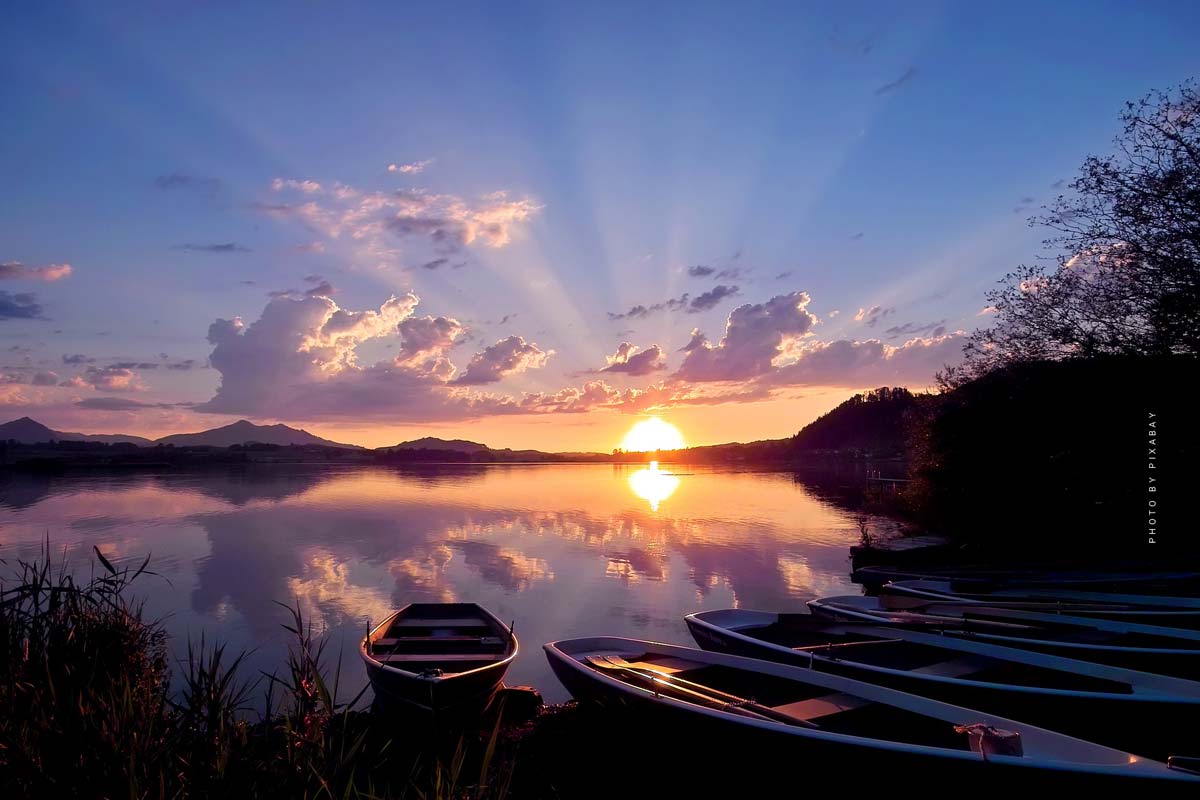 Holidays at Lake Hopfen: Fresh air at the mountain lake – Hotels, Camping & Co. in Bavaria
Holiday at the Hopfensee – The holiday at the Hopfensee promises a real adventure, because with a journey to the dreamlike lake one must count on a small round trip and the surrounding towns. While one walks, bathes, surfs on the first day at the lake and tries afterwards the plain cooking of the best Fischerhütte of Germany, the second day offers only more fun. The castle Neuschwanstein in Schwangau, the Lechfall in Füssen or a chilled day at the camping site directly at the Hopfensee. There is probably not enough time during a short vacation to discover everything. Therefore we have summarized the best of Hopfensee and surroundings in this article.
Hopfensee – facts & attractions at the lake
Lake Hopfensee is located in the district of Ostallgäu, Bavarian Swabia, Bavaria. With a maximum length of 2.5 kilometres and an average depth of 10 metres it is a relatively small lake. This does not mean, however, that one can see or do little there. The journey to the Hopfensee is worthwhile alone because of the indescribable view. Understandable why it is also called 'Allgäuer Riviera'. Actually the Hopfensee is known as an air and Kneipp spa. The quiet location, the fresh air and the lukewarm water in the lake is really inviting. Already in May you can throw yourself into the coolness after a walk at the lido, because the allegedly "coolness" has the advantage that it belongs to the warmest pre-alpine lakes.
How big and deep is the hop lake?
The Hopfensee is a lake with a maximum length of 2.5 kilometres and a circumference of 6.8 kilometres. It had an average depth of 10 metres and with an area of 1.94 square kilometres it manages to attract thousands of tourists every year.


Germany - Spain - USA
Length: 2.5 kilometres
depth: 10 m
Area: 1.94 km²
Map: Hopfensee
The lake lies about 6 kilometres north of Füssen in the district of Ostallgäu, Bavarian Swabia. In the north flysch mountains and in the west the drumlins of the ground moraine hills border the lake. As a result of the melting process of the Lechvorland glacier, the Hopfensee is a relic of the northwestern bay of the late glacial formed Füssener See.
You want to go directly to the lake? Then enter Google Maps – Directions: Uferstraße 21, 87629 Füssen-Hopfen am See, Germany
Bucket List: 5 tips +1 insider tip
Swimming / beach bath
Surfing/kite surfing
Sailing/boat rental
Hiking
Fishing
Insider tip: Eating in a fishing hut
At the Hopfensee you can have a lot of fun depending on the weather conditions. A walk takes about two hours at a comfortable speed. The 4-kilometre hiking trail ends at the lido, where you can either take a bath, sunbathe on one of the numerous sunbeds or linger in the shade on one of the benches. For the swimmers there are shower facilities, a swimming island and a ladder. For sports fans there is the possibility of kitesurfing, as well as sailing. Renting a boat at the Hopfensee is very worthwhile, because in the middle of the lake there is the perfect opportunity to fish in peace. So you do not have to worry about what is eaten today. Fishing is not your strength, is it? Then you can fill up with Bavarian and Swabian food at the fishing hut, which is located directly on the lake. Delicious food at sunset with such a panorama! What more could you want?
Cities in the immediate vicinity: Füssen & Schwangau
In the immediate vicinity of the Hopfensee there are several towns that you must have seen. The Hopfensee with a circumference of 6 kilometres is quickly completely visited. But what else can you do if you have planned a trip of several days? After 2 to 3 rounds at the lake you might get tired of it. The towns in the direct vicinity of the Hopfensee offer unbelievable attractions, exciting museums, magnificent castles and even more idyllic nature. How about a carriage ride in the sweet old town of Füssen, which is famous for its small colourful houses? Or would you prefer to get to know the boundless nature that has given people peace and quiet for thousands of centuries? In the surrounding cities you can experience history as well as pure nature. The world-famous Neuschwanstein Castle is definitely on the must-see list. More about this right now!
Füssen: Romatic Old Town, Lechfall & Basilica St. Mang
Füssen is a small town in Bavaria, which lies west of the Hopfensee. With its romantic old town, numerous castles, impressive mountains and lakes, Füssen is the soul of Bavaria. Whether you want to go on a boat trip on warm days in the Alatsee or the Forgsee or you want to spend the typical tourist vacation at sights like the Basilica St.Mang is up to you. It is clear that the city is perfect for nature lovers as well as for city explorers. For the big appetite the regional cuisine is in any case recommended.
Füssen Old Town
Alat Lake
Lechfall
High Castle
Basilica St. Mang
Forgsee
The Lechfall is an approximately twelve-metre high, full-width overflowing dam on the Lech River on the southern outskirts of Füssen. About 12,000 years ago, the gorge was created, which was responsible for the name "Lechfall". It was formed at the end of the Würmian period, when the melt water of the Lech glacier formed a large lake that stretched to what is now Pfronten. As the outflow of this lake, the Lech initially plunged about 100 m deep over the riegel into what was then Lake Füssen and then eroded the narrow rock gorge.
In the legend about Saint Magnus, he jumped over the Lechfall at its highest point when he was pursued by a poisonous dragon. The Mangtritt, a footprint-like depression in the rock, is a reminder of this.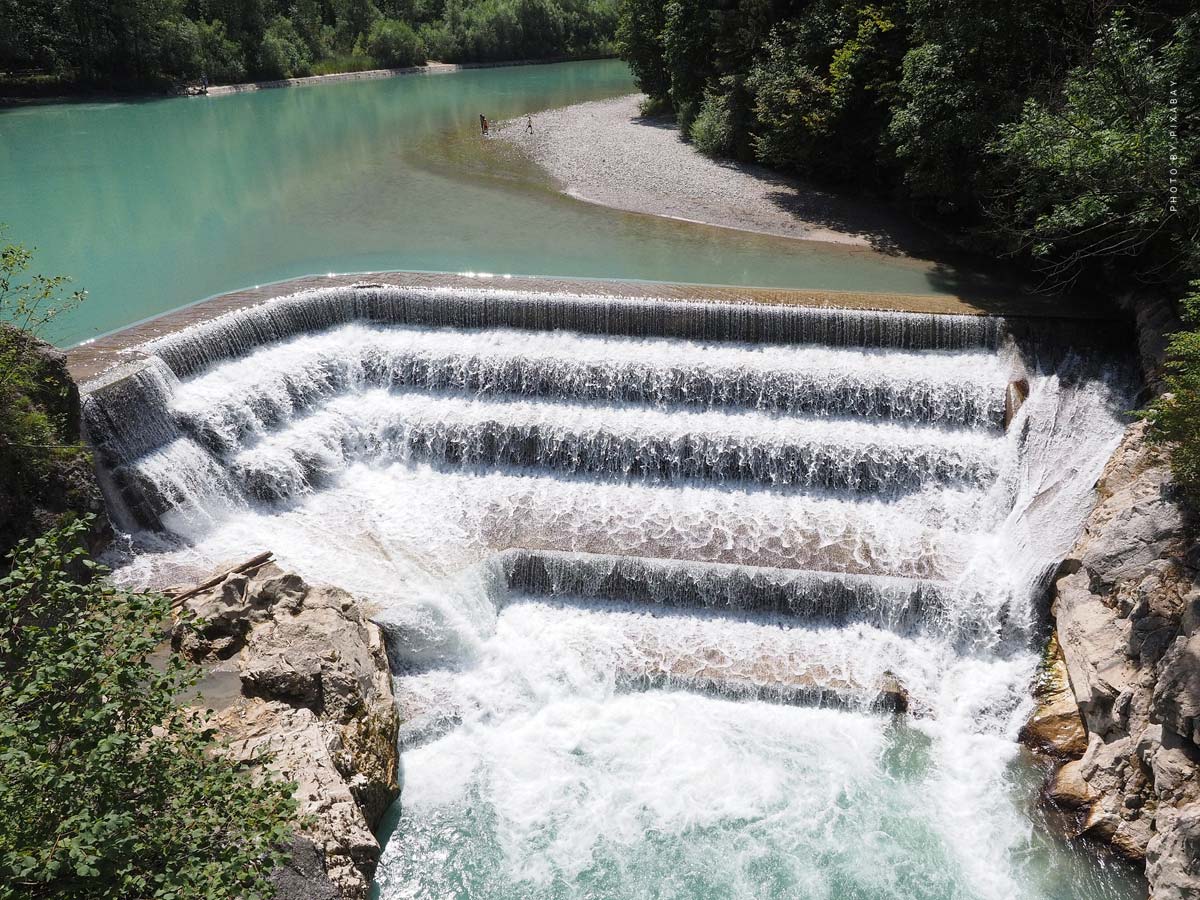 My tip: Regional cuisine in Füssen
Allgäu specialities are usually made from milk, flour and eggs. Bavarian and Swabian cuisine play a very important role in Füssen and the whole Allgäu. Whether Maultaschen or Spätzle, a visit obliges to have at least tried the regional cuisine. If you want to try out the German dishes in a nice ambience, you should definitely try the renowned restaurant Madame Plüsch. Between tartar, goat cheese and fillet of beef there is something delicious for everyone. The restaurant in the style of the twenties offers only high quality products, specially concerning animal products. Don't worry – there is also plenty for vegans, vegetarians and gluten-free lovers.
Madame plush – Top recommendation at Tripadvisor!
Drehergasse 48, 87629, Füssen, Bavaria Germany
Price range: upscale, inexpensive
Schwangau: Neuschwanstein Castle, Museum of the Bavarian Kings & Schwansee
Castles and palaces as far as the eye can see. When you leave the big city, you will find castles and palaces in the most rural regions all over Germany. All have their own story to tell. In the long run this may be boring, but Neuschwanstein Castle stands out from the other castles in all the cities and regions of Germany. The world-famous castle reminds of a fairy tale, that's why there are so many legends about the castle. The Museum of the Bavarian Kings is also definitely worth seeing. Not only does it give you an impression of history, but the gilded antiques make your eyes shine.
Neuschwanstein Castle
Hohenschwangau Castle
Marienbrücke
Alpsee
Tegelberg
Museum of the Bavarian Kings
Swan Lake
Is this a dream, a scene from a Disney princess movie? Some people wonder that after these pictures. No, this impressive castle really exists and fortunately it is in the middle of Germany. Neuschwanstein Castle was completely finished in 1886, only seven weeks after the death of King Ludwig II. His wish was to create a retreat from the old castle ruins of Vorder- and Hinterhohenschwangau.

The foundation stone for the new castle was laid on 5 September 1869. In a letter, the king at the time stated that he could hardly wait to rest there in three years. Unfortunately the conditions on the mountain were very hard and the completion took almost 20 years, which the king did not live to see because of his mysterious death. Until today incredible legends are still being told about the castle and his death.
1886 only seven weeks after the death of King Ludwig II – complete completion
retreat from the old castle ruins Vorder- and Hinterhohenschwangau
5 September 1869 – Foundation stone for Neuschwanstein Castle
Completion took almost 20 years
Prices and facts about Neuschwanstein Castle today
His wish was that no stranger should ever enter his castles, but since the death of Ludwig II, these have been visited by more than 130 million people. With 1.4 million visitors annually, Neuschwanstein Castle is one of the most popular castles in Europe. For a price of 13 Euro adults can take a closer look at this architectural masterpiece from the inside and join thousands of other visitors who explore the numerous rooms and perhaps set off in search of the truth of the many legends. A ticket in combination with Hohenschwangau Castle costs 25 Euro.
Price: 13 Euro for adults
Price in combination with Hohenschwangau Castle: 25 Euro
Wish: No trespassing by strangers

30 million

people already visited
1.4 million visitors annually
Rules at Neuschwanstein Castle
What is important during a visit is that one can only visit the castle during a guided tour. This usually lasts 35 minutes. Photography is prohibited due to the possible destruction of the paintings by the millions of flashes per year. It is also not allowed to bring a pet with you.
Physically handicapped people can also visit the castle. The castle has its own elevator exclusively for physically handicapped visitors. Reservations must be made in advance!
No photography allowed
No carrying of animals
Sightseeing only possible in the form of a guided tour (35 min)
Reservation necessary for physically limited persons
Approach and location
Accommodations: Hotel, camping, holiday flat & Co.
An important part of a journey is the accommodation. Therefore, the question of all questions always arises when planning your holiday. What kind of accommodation do I book? Where exactly will I stay? Fortunately Lake Hopfensee is a very small place, therefore the choice of the surrounding accommodation is limited. Nevertheless some people wish to have an accommodation in the immediate vicinity and maybe they only want to see the Hopfensee as one of many sights in the Allgäu. You can find more information about this in our article about lastminute holidays in Germany.
Here we have searched for you advantages and disadvantages of camping, hotel as well as holiday flats together:
Hotel: Wellness & Kur
Would you like a quiet location with a view of nature, or a more central location to keep up with history? At the Hopfensee you will find everything your heart desires. It is also the perfect place to relax. Do you need a break from the hectic city life with crowded streets, a never sleeping city and noisy garbage collection in the morning? In the numerous hotels with a focus on wellness you will find one thing above all else – peace and quiet. The peaceful atmosphere lets you melt completely with nature. It is not for nothing that the place is a health resort.
In addition to spa and wellness hotels, you will find very rural hotels with home-style cooking and a great love of nature in the area.
Advantage:
No stress when booking your holiday
Transfer to the hotel included in the price
Completely cared for by the staff
Ideal for cooking muffle
The cleaning is done by others
Cons:
Significantly higher price
Extra payments for internet, parking, etc.
fixed location, no spontaneity
Mostly no washing, cooking etc. possible
Camping at Hopfensee: Camping sites and destinations
The camping ground at the Hopfensee is the only one with direct location. It is a 5 star camping site, which above all tries to create a harmonious combination of sport and leisure fun, fitness training and health care. On the one hand it tries to convey peace and relaxation, on the other hand it offers movement, activity and mental stimulation. For more than 60 years it has been owned by the Mayr family. Starting with an empty site and a kiosk, the campsite now has its own indoor swimming pool, sauna, restaurant, various sports and gymnastics grounds, as well as sanitary facilities with showers, bathtubs and changing rooms of the highest standard.
It offers a pleasant stay both in the warm summer days and in the cold winter with special offers like the "Crystal Days" or the "Snowflake Cloud"!
Advantages:
In the middle of nature
cheaper alternative to hotel
More comfortable for children and four-legged friends (nobody complains about the volume)
Freedom: not bound by time and place
greater social interaction with other families, campers
Cons:
Bugs
no 100% relaxation like in a hotel; shopping, cooking, washing under more difficult conditions
very popular camping sites: crowded, not quiet, annoying neighbours
Holiday apartment, holiday home & country house: enjoy the peace and quiet alone
The holiday flats and holiday houses are rather in the surrounding cities Füssen and Schwangau. There it is more typical to find an apartment in the romantic old town. Directly at the Hopfensee itself one finds country houses and rustically furnished accommodations.
Nevertheless a vacation home is suitable ideally for the family. Because an apartment offers great comfort at attractive conditions: a good price-performance ratio for families who want to remain flexible also in the vacation. A typical apartment is spacious and has family-friendly, practical furnishings and a fully equipped kitchen. Mostly there is also a balcony or a garden where children can play undisturbed and let off steam. More space needed? This is where the typical country house is particularly suitable. Especially if you want to travel with several families.
Advantage:
Privacy
Fully equipped
Independence
Flexibility with meals (no getting up early as with package tours)
Cons:
Tied to one place
Limited comfort compared to hotel
Cooking, cleaning and shopping for yourself
Increased need for luggage (bed linen, towels, etc.)
More expensive compared to camping
Weather: Hopfensee
Hopfen am See is situated at 779m above sea level, so the climate in this place is mild and generally warm and temperate. However, one must expect a lot of rain, regardless of the season. This also applies to the driest month.
Today / in 3 days
Q&A: Hopfensee
Before a planned trip to the desired holiday destination, there are a lot of questions that need to be answered. "Which equipment & services do campsites at Lake Hopfen offer" or "Are pets allowed there?" are important components in a planning. Here are the answers to the most frequently asked questions:
Which equipments & Services for companies offers Camping Hopfensee?
Popular facilities and services offered include indoor pool, restaurant and lounge
Offers Camping Hopfensee parking facilities?
Yes, free parking spaces are available for guests.
Which restaurants are near Camping Hopfensee?
Nearby restaurants include Cafe Bistro Seaside, Restaurant Maucher's and Olive Grower's.
Yes, during their stay guests have access to fitness rooms and indoor pool.
Are pets allowed at Camping Hopfensee?
Yes, pets are generally allowed. However, we recommend a prior call.
Are there historical sites near Camping Hopfensee?
Many travellers visit Füssen's old town (3.8 km), Hohenschwangau Castle (6.3 km) and ancient Roman villa (6.5 km).
https://fivmagazine.com/wp-content/uploads/2020/03/sunset-sky-boat-hopfsee-bayern-allgaeu-deutschland-germany-clouds.jpg
800
1200
Lisa-Marie
/wp-content/uploads/2023/08/fiv-magazine-logo-news-influencer-fashion-interior-travel-real-esates.svg
Lisa-Marie
2020-04-10 06:00:35
2020-11-10 16:24:02
Holidays at Lake Hopfen: Fresh air at the mountain lake – Hotels, Camping & Co. in Bavaria