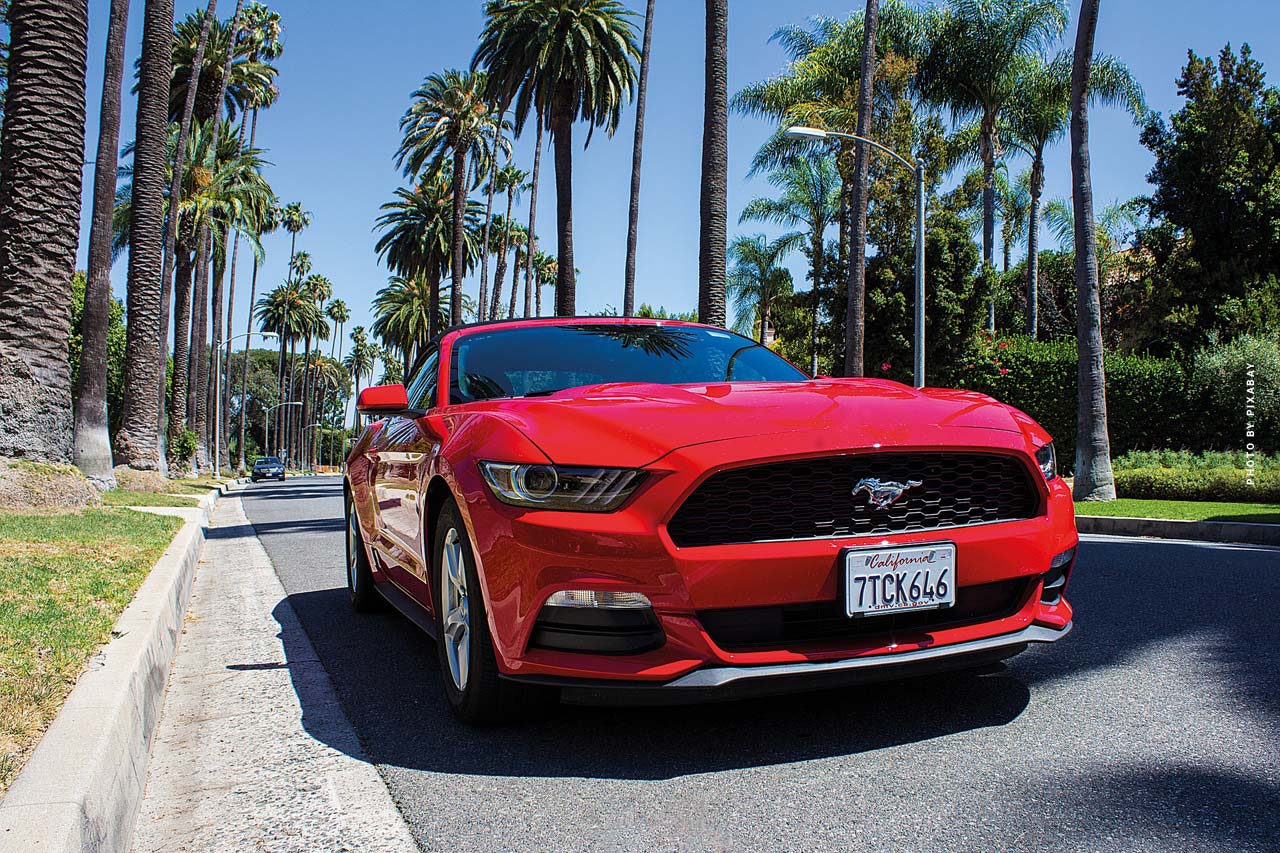 Los Angeles: Accommodation, attractions & weather in Hollywood, Beverly Hills & Co.
Sunbathing on Venice Beach, walking on the Walk of Fame and swimming in the pool with a view of the Hollywood logo – this is Los Angeles, the city of angels. In California's largest city, it offers many hours of sunshine and mild water temperatures. In LA you can meet stars like Justin Bieber or Brad Pitt while shopping, because many big names live in the city in the western USA. A vacation in LA is the dream of many – we tell you how it is possible and what you have to see on site.
Accommodation in Los Angeles
Holiday in LA – but where do you sleep? Does a hotel suit you better so that you have to take care of as little as possible? Or do you prefer to feel at home in a holiday apartment? The different types of accommodation suit different types of travel and meet different requirements. We have listed the advantages and disadvantages of the different types of accommodation.
Hotels in Los Angeles
Whether it's a luxury hotel overlooking the Hollywood Sign or a budget overnight stay close to downtown for a packed and well-planned city break – there are hotels in Los Angeles that cater to a variety of needs. An overnight stay in the City of Angels is relatively expensive compared to other cities in the USA, but a trip to LA is worth it. The offers range from rooftop whirlpools to restaurants with open campfires – in the hotels in LA you can read almost every wish from your lips. FIV Magazine has compiled a list of the best hotels in Los Angeles for you. Take a look.


Germany - Spain - USA
Holiday apartments in Los Angeles
A cheaper option would be a holiday apartment in Los Angeles. The advantages of a holiday apartment are, for example, that you can choose yourself when there is food and when the alarm clock should ring. You can't miss breakfast if you prepare it yourself or eat it in a café. A holiday flat lets you be as independent as you want to be. And it is also somehow a small home of one's own, with a lot of flair, but somewhere else. By the way, the landlords are mostly really nice people who also like to give insider tips about sightseeings and restaurants.
Los Angeles: city map
Los Angeles attractions
If you're ever in Los Angeles, you probably plan to see as much as possible. Downtown or Santa Monica, LA has a lot to offer. You probably already know a lot of sets from various movies or series. So that you don't waste your time and definitely see all the most important spots, we have compiled a list of sights that you shouldn't miss. Remember to take pictures for Instagram, LA is guaranteed to make all your followers jealous.
Beverly Hills
Beverly Hills is known for the famous shopping street Rodeo Drive and has also convinced many celebrities of its beauty. It is the home of
Taylor Swift
Jennifer Aniston
Mila Kunis and Ashton Kutcher
Katy Perry
Chrissy Dough and John Legend
Jessica Alba
Jennifer Lawrence
and many more. Beverly Hills is worth a visit because it boasts world-class shopping, expensive hairdressers and world-class spas. Besides sweet cafés, good restaurants and nice hotels, Beverly Hills has a lot of beautiful palm trees and a very special flair. 
LA Downtown
Downtown, you should not miss out on your LA trip, as it is practically downtown Los Angeles. Here you will find many interesting neighborhoods, such as Chinatown, the Arts District, Little Tokyo and the Fashion District. There are many notable sights such as The Cathedral of Our Lady of the Angels, an American church whose construction cost about 200 million US dollars. There are also the Walt Disney Concert Hall, The Broad Museum, Grand Park and Los Angeles City Hall. There it is worthwhile to go to the 27th floor, because here you can find a free uppervation deck from which you have a great view of the city.
Venice Beach
Colours everywhere – the colourful graffiti in Venice Beach definitely leaves an impression. Venice Beach is also known for its shopping street and many know the Muscle Beach from movies and articles. At the beach you can find young and old with dumbbells, jogging and experience the typical Californian fitness spirit. The Santa Monica Pier is the end of Route 66 and there you'll find a small, somewhat overpriced but very famous amusement park. There you can ride a little roller coaster and eat sweet cotton candy. Our tip for Venice Beach is: Rent a Beach Cruiser bike! By this way, one gets comfortably from A to B or can drive alongside the beach with a music box on the luggage rack.
Walk of Fame
The Hollywood Walk of Fame is probably the most famous sidewalk in the world. The first star was awarded to director Stanley Kramer in 1960. The Walk of Fame is a sidewalk that extends over 18 blocks on both sides of Hollywood Boulevard. It was inaugurated in November 1960 to revitalize the city of Hollywood. Here you can admire for example the stars of Elvis, Marilyn Monroe or Mariah Carey.
Los Angeles dinner
When we think of the USA, fast food chains shoot us in the head first. Whether McDonalds, Burger King, Kentucky Fried Chicken or Taco Bell and Five Guys – fast food is not only popular with the Americans, many chains are known and represented worldwide. But besides fast food there are a lot of other dishes that are very common in LA, or which you should try here. The reason for the varied cuisine are influences from all over the world. The FIV Magazine has taken a closer look at the cuisine of Los Angeles for you.
Latin and Hispanic influences
Because of California's predominantly colonial European Spanish roots, Mexican territorial history, and original population of Meso-Americans, Spanish colonizers, and Mexican ranchers, Mexican and Spanish cuisine is very influential and popular in California, especially in Southern California. Commercial Mexican Taquería-style fast food, consisting of offerings such as burritos, fried beans, tacos, nachos and quesadillas, is widespread. Taquerías are found throughout California.
Asian and oceanic influences
As one of the US states closest to Asia and Oceania, and with a long-standing Asian-American and Oceanic-American population, the state tends to adopt foods from these national styles. The American sushi madness undoubtedly began in California; the term "California Roll" is used to describe sushi with avocado as the main ingredient. Nowadays, items like mocha ice cream and boba are very popular.
California Style Pizza
California-style pizza focuses on non-traditional pizza ingredients, but on fresh produce and grilled meat. First it was popularized by Wolfgang Puck's Spago restaurants, later it was brought to the masses by restaurants like California Pizza Kitchen.
Barbecue
Barbecue has been a part of Californian cuisine since the Mexicans started grilling beef on ranches in pits in the 1840s. Santa Maria is famous for the tri-tip, a special type of beef that can be grilled, baked, braised or fried. The California barbecue style is also influenced by the regional Southwest American styles of Arizona, New Mexico, Texas and Oklahoma, brought by thousands of Dust Bowl migrants. Chicken, ribs, sausages and steaks are also routinely grilled or smoked in a pit. The barbecue sauce used in this state is tomato-based, as in all other western states. However, the Santa Maria barbecue does not use sauce, but the taste of the tricorn and the slow, lively oak fire over which it is cooked. Compared to the pork spare ribs popular in the southern United States, baby back ribs from the western region are popular for barbecue.
Sandwiches, burgers and fast food
Southern California's auto culture and the population's dependence on the car as a means of transportation in California's huge cities has greatly contributed to the popularity of classic drive-in and modern drive-thru restaurants. Restaurant chains like McDonald's, Jack in the Box, In-N-Out Burger, Carl's Jr. Wienerschnitzel, Del Taco, Taco Bell, Panda Express, Original Tommy's, Fatburger, and Big Boy were all established in Southern California.
Weather Los Angeles: Temperature and Trend
weather today / in three days
Questions & answers
What country is Los Angeles in?
Los Angeles is located in Los Angeles County, in the United States of America.
How do they speak in Los Angeles?
One speaks Spanish! For those who firmly believe they can get by in California with English, Los Angeles is the turning point. Whether you go to Disneyland, the Hollywood Studios or just to a restaurant, it helps a lot to speak Spanish.
How long and wide is Los Angeles?
The city extends over the coastal plain. Los Angeles lies in a coastal plain of irregular shape, whose width varies from 48 to 96 km (30 à 60 miles). It is bordered to the west by about one hundred kilometers of beaches and cliffs of the Pacific coast.
How big is Los Angeles?
Los Angeles has a total area of 1,302 km².
What country is Hollywood in?
Hollywood is in Los Angeles County, USA.
https://fivmagazine.com/wp-content/uploads/2020/01/los-angeles-realtor-real-estate-makler-convertible-mustang-mustle-car.jpg
853
1280
Lisa-Marie
/wp-content/uploads/2023/08/fiv-magazine-logo-news-influencer-fashion-interior-travel-real-esates.svg
Lisa-Marie
2020-02-13 14:46:56
2020-11-11 11:34:58
Los Angeles: Accommodation, attractions & weather in Hollywood, Beverly Hills & Co.