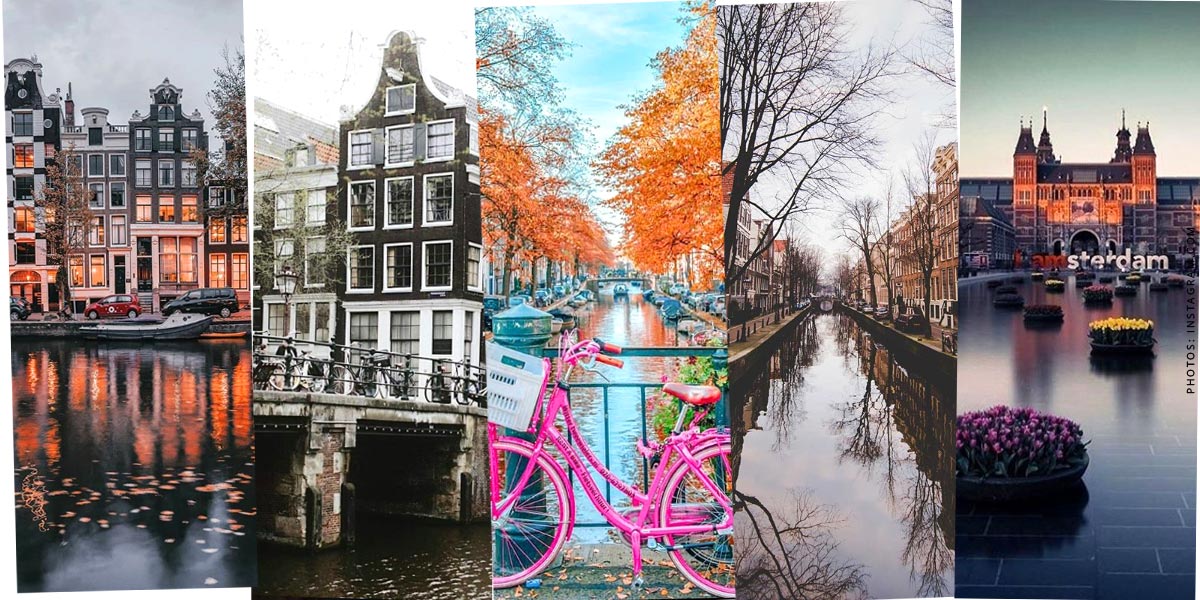 Holland: Holiday with child & dog – Sightseeing, Hotels & Sea
Holland is a very popular destination, especially with the Germans, because we don't have to travel far to get to know this multi-faceted country for a few days. Whether relaxing by the sea or sightseeing in the city – a holiday in Holland is definitely a guarantee for a varied holiday! So if you are still looking for the perfect destination, close by and on a budget, then Holland is the right choice for you! The FIV Magazine has put together all the important information to show what Holland has to offer!
Holland: cheap and central hotels & hostels
The overnight stay in a hotel is probably the easiest option! Check in and come to a room that is already prepared. It is best to take food included so that you don't have to worry about food anymore. In this case, you can enjoy your holiday to the full and don't have to worry about doing the laundry and washing dishes. For further suggestions we have selected the top 3 hotels in Holland where value for money is definitely right:
Adam the First – City Boutique Hotel Amsterdam
7.4 Recommendation / 570 Ratings
address: Singel 462, 1017 AW Amsterdam
Telephone: +31 6 46647337
Hotel De Looier (Amsterdam)
6.6 Recommendation / 1025 Ratings
address: Derde Looiersdwarsstraat 75, 1016 VD Amsterdam (5 minutes walk from the lively Leidseplein)
Telephone: +31 20 625 1855
Fletcher Wellness Hotel Leiden (former City Resort Hotel Leiden)
7.8 Recommendation / 2098 Ratings
address: Bargelaan 180, 2333 CW Leiden
Telephone: +31 71 870 0260
Land map
Accommodation in Holland: Holiday homes & Camping
Those who do not want to dig too deep into their pockets can opt for a slightly different type of accommodation. The simplest option is to stay overnight in a classic holiday home. But who hasn't dreamt of trying something other than the classic accommodations? In Holland you have the opportunity to do so! If you are looking for something special, you can opt for a houseboat or a bungalow.
Holiday flats: Bungalow, houseboat, holiday home
Apartments are a good and cheaper alternative to hotels. Here you have more privacy and can enjoy your holiday with your family or friends. Holiday homes offer a more comfortable ambience and convey a bit of home despite the holiday. Because of the wide range of accommodation, they can enjoy their holiday according to individual preferences. Whether overnight stay in a bungalow, on a houseboat or in a cosy holiday home – here everybody gets his money's worth!


FragranceTip.com by FIV
Camping sites – enjoy your holiday in nature at a reasonable price
If you want to get away from it all completely during your holiday, gain new experiences and enjoy the outdoors, you should choose camping in Holland. A plus point: this option is also cheaper than sleeping in a hotel or holiday apartment. Sitting comfortably under the starry sky and exchanging old stories in the evening, getting to know different people and sitting together around a campfire – if this sounds appealing to you, you should take a closer look at our following 3 tips for camp sites:
Beach camping Groede
Camping site Der Kleine Wolf (Stegeren)
Camping site "De Zuidduinen" (Katwijk aan Zee)
The best restaurants: fast food or gourmet food
Food lovers will not be disappointed either, as Holland is one of the most culinary destinations in the world. From thick French fries, meatballs and fish, to crêpes and waffles – sweet or savoury, Dutch food makes gourmet hearts beat faster! So if you are planning a visit to Holland, make sure you allow enough time to sample a variety of traditional delicacies.
A typical Dutch breakfast usually consists of various types of bread with a sweet topping, such as honey, jam or chocolate sprinkles. For lunch, you can have sandwiches with a hearty cold cuts or small snacks. While at lunchtime there is usually only a small snack, the Dutch enjoy their main meal in the evening. They often sit together in a convivial group and enjoy a selection of traditional foods such as potatoes, vegetables, fish and meat.
The FIV Magazine has summarized here once again, which typical specialities you should definitely try on a trip to Holland!
Stamppot
Bitter bales
Kroket
Stroop cubes
Poffertjes
Vla
Sightseeing: Top sights and attractions
When visiting the Netherlands, there is much more to see than just a beautiful city. Depending on where you have booked your accommodation, you should consider a day trip to Amsterdam, Rotterdam and The Hague. It is also advisable to rent a bicycle and thus adapt to the approximately 17 million inhabitants who use the bicycle as their main means of transport. This way you can gather many impressions and explore some beautiful corners of Holland. In addition, Holland has other sights and attractions that could be interesting for tourists.
The Dam Square: photo spot, street artists & historical flair
Dam Square in Amsterdam is centrally located and is characterized by its historic buildings. If you just want to relax, sit down in a quiet place and watch the people, then this is the place for you! The square is also great for taking pictures, seeing street artists and meeting people, as there is always a lot going on here. Especially once a year the Dam Square gets crowded because there is a fair and attracts countless tourists with its attractions.
Cheese market in Alkmaar: Gouda, goat cheese & Co.
If you love cheese, this is the place to be! Holland is known for its huge selection of cheese – from Gouda to goat cheese, the cheese market in Alkmaar offers everything you can imagine! Thousands of traders come together to sell their cheese, so everyone should be able to find something! The cheese market is definitely one of the highlights of a visit to Holland!
Keukenhof botanical garden: flower shows, tulips & art
The Keukenhof botanical garden is located near Lisse and makes for a colourful day when the weather is good. During the main season in April, there are over 800 different species of tulips in a wide range of colours. Spectacular flower shows, idyllic gardens and unique art make for an unforgettable day! Enjoy your time here with family and friends and take a piece of Dutch nature with you on your trip.
Museums: history, art & culture
For those interested in art and culture, a book in Holland should also include a visit to a museum. Probably the best known and most visited museum is the Anne Frank House in Amsterdam. Get an insight into how Anne Frank and her family lived in those days and even examine some of her personal belongings and diaries. The house is both a memorial and a museum and is intended to commemorate the victims at the time of the persecution of the Jews. Every year, thousands of tourists are drawn to the museum. Therefore, tickets should already be reserved online to visit one of the main sights of Holland. Another museum worth seeing is the Van Gogh Museum, which is dedicated to the artist of the same name, Vincent Van Gogh. About 600 works of art are exhibited here, including "The Potato Eaters", "The Bedroom in Arles" and Van Gogh's self-portrait. For those with an artistic bent, this is definitely a must! Finally, the Cannabis Museum is worth mentioning, which gives visitors an overview of the versatile hemp plant. On the basis of about 1200 exhibits, the cultivation and distortion of the plant, but also its purpose in the medical sense, is vividly demonstrated and thus also combines science, art and history. Here I have listed once again the top 3 museums during a visit in Holland:
Anne Frank House
Van Gogh Museum
Cannabis Museum
Weather Holland: temperature and trend
Weather today / in 3 days
Amsterdam: The highlights of the European metropolis
When you think of the beautiful capital of Holland, thoughts like coffee shops, bicycles and the red light district come directly to mind. But apart from the clichés, the multi-faceted city gives a lot more! Between canals, nature, shopping and nightlife – in Amsterdam no one gets a raw deal!
Amsterdam's canals – city symbol & photo spot
Probably the most striking thing about the city are the many canals that run through the entire city. They are of great cultural and historical value and thus a symbol of the city. The best way to admire Amsterdam's charming canals is to take a canal cruise, for example on a pedal boat or a booked boat tour. Amsterdam's canals are also a very popular photo spot and provide numerous Instagram images. A picture on one of the bridges with the unique rows of houses and the canals in the background is definitely a highlight for all influencers and the social media enthusiasts among us!
Shopping: Markets, Outlets & Shopping malls
Shopping in vintage shops, strolling through the streets or in the middle of the action in one of Amsterdam's shopping malls – even the shopaholics among you will be happy in Amsterdam! The easiest way to shop for souvenirs and items and get a bargain or two is at one of the street markets near the city centre. Most markets are open Monday to Saturday and are visited by many tourists. The main shopping centre is Bijenkorf and is located in the centre of Amsterdam. Here you will find many international shops. Between clothing, jewellery and electronics you will find everything. For those who are not fans of department stores, the district De Negen Straatjes is more recommendable. Here you will find several small streets with individual shops. A personal insider tip from us is the Batavia Stad Outlet in Lelystad. Here you can go there for a day trip and get countless bargains with a huge selection of clothes. Around 250 international fashion brands are waiting for you – from children's fashion to sportswear and luxury brands, everything is there. On such a busy day you can of course take a break in one of the cosy cafés or restaurants. Amsterdam is definitely worth a visit, even for those who only come to Amsterdam to shop!
Nightlife: clubs & discos
If you are on holiday in Amsterdam, you should last but not least take the nightlife with you! Besides good food and shopping, you can also go out in the evening. Countless bars and discos invite you to spend an unforgettable night. Here we have listed the best clubs that should be visited during an evening in Amsterdam:
Bitterzoet
AIR Amsterdam
Disco Dolly
Jimmy Woo
Panama Club
The Netherlands: Questions & Answers
Is Holland and the Netherlands the same?
The official name of the country is the Netherlands. Even though many people use the term Holland when they actually mean the Netherlands, Holland actually consists of just two provinces, Noord-Holland and Zuid-Holland.
What all belongs to the Netherlands?
The official term is called the Kingdom of the Netherlands. The Kingdom includes the Netherlands, the Caribbean islands and the countries Aruba, Curaçao and Sint Maarten.
What does the name Holland mean?
The name Holland means "valley".
Is The Hague the capital of Holland?
The capital of Holland is Amsterdam. However, The Hague is the seat of the government and the royal house.
How much do you tip in Holland?
In Holland sales tax and a handling fee are already included in the invoice. An additional tip is desirable but not obligatory.
https://fivmagazine.com/wp-content/uploads/2018/06/amsterdam-city-tour-travel.jpg
600
1200
Lisa-Marie
/wp-content/uploads/2023/08/fiv-magazine-logo-news-influencer-fashion-interior-travel-real-esates.svg
Lisa-Marie
2020-02-17 07:00:59
2020-11-11 11:34:16
Holland: Holiday with child & dog – Sightseeing, Hotels & Sea