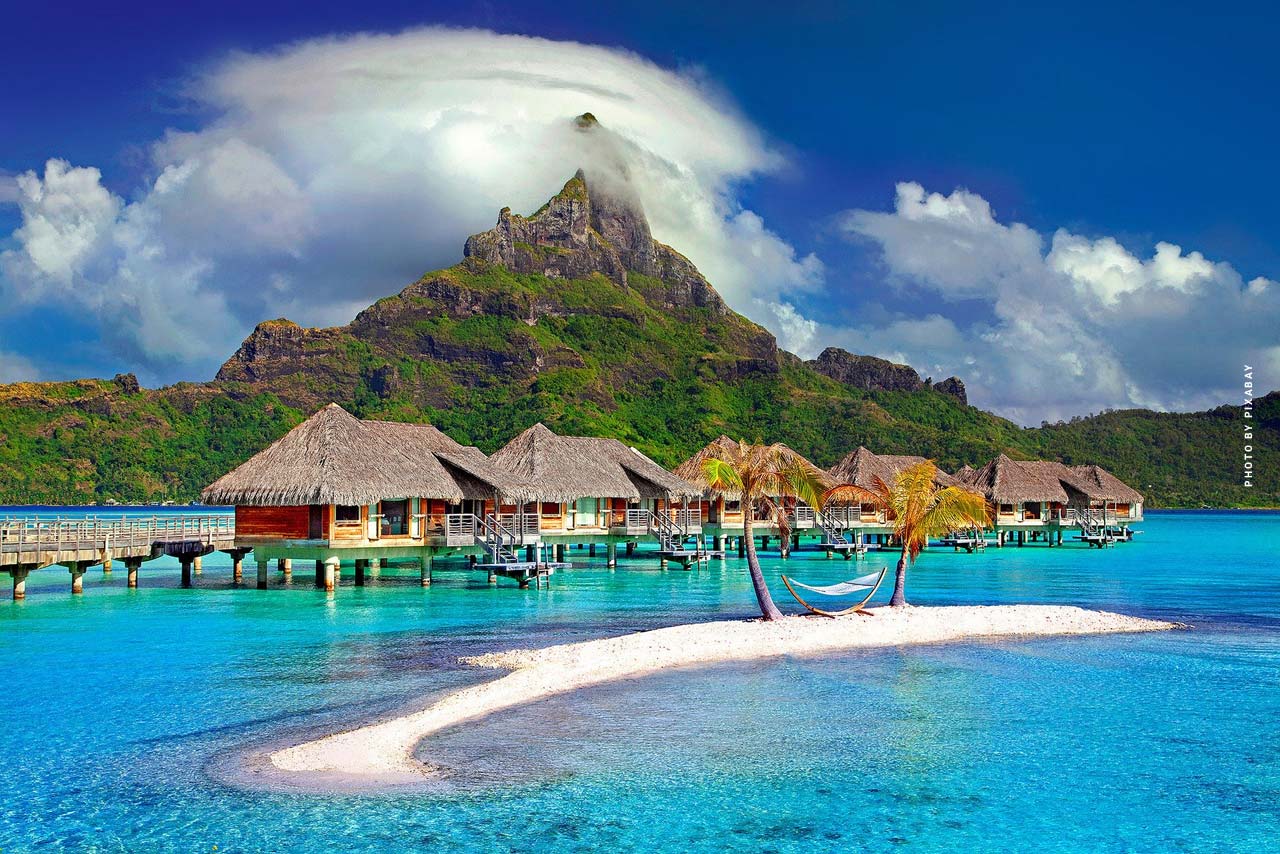 Cheap holidays: Travel to Brazil, backpacking in Thailand & booking via Holiday Pirates
How nice it would be now to get on the next plane and just fly away. Somewhere where the sun shines, the air tastes salty and the sound of the waves can be heard in the background. But unfortunately many people simply have no money left for holidays. Do pupils and students have to give up travelling because of little savings? No. FIV Magazine has found out where you can go on holiday for a reasonable price and how you can save money locally.
Cheap travel destinations: India, Turkey & Mexico
Great vacation for little money? Far away, but pay little money for the flight? The FIV has picked out a few beautiful and affordable destinations that are worth a visit. Here are our top 5 cheap destinations.
India: Sightseeing, beach holiday and temple visit
To South India or to the Malabar Coast the flight takes about 11 to 15 hours, but the long journey is worth it. This destination inspires with dreamlike beaches, numerous temples and cultural sites. Celebrating is also possible in India, the old hippie cult sites Anjuna and Arambol are real party paradise. The trip is especially cheap because of the good exchange rate and the low food prices. For half a kilo of white bread you pay about 40 cents in India. A packet of Marlboro cigarettes costs only about 3.30 euros, so there is a lot of money in your wallet.
Argentina: culture in Buenos Aires & relaxing on the east coast
It takes 14 to 20 hours to fly to Argentina, and the country is guaranteed to meet all requirements. Holidays in Argentina are particularly cheap due to the fall in the Argentine peso exchange rate. For half a liter of local beer one pays approximately 1,30 Euro. Culture lovers will find what they are looking for in Buenos Aires, beach lovers are better off travelling as far as the east coast. Whether families or surfers, in Argentina everyone gets their money's worth. Nature lovers are also happy in Argentina, because the national park and the glaciers are incredible experiences. hiking, ice trekking and kayak tours – there is a lot to see in Argentina.
Turkey: Monastery, ruins & Palaces or party in Bodrum
The long flights don't appeal to you? No problem – Turkey is only about 2 to 4 hours away. The falling exchange rate of the Turkish Lira makes the trip affordable. A box of Marlboro costs about 1.70 euros and for 0.7 litres of wine you pay about 3 euros. There is a lot to see in Turkey; from the blue mosque to monasteries, ruins and palaces. Relaxing on the beach and splashing in turquoise water is an indispensable part of a Turkish holiday. Party lovers should travel to Bodrum, the St. Tropez of Turkey. In Bodrum, however, the prices are relatively higher, there it is worthwhile to stay in a cheap hotel in the low season.


FragranceTip.com by FIV
Brazil: cheap holiday & sightseeing in Rio de Janeiro
The flight to Brazil takes almost 12 hours – then you have arrived in paradise. Brazil is a cheap destination if you don't spend much time in Rio de Janeiro. It is of course sad to miss Rio, but at several other beaches you can relax much cheaper. Celebrating is of course very important in Brazil, but sightseeing is definitely on the agenda. Concerning the prices in Brazil we can say that half a kilo of white bread costs approximately 1,20 Euro and for a coffee in a restaurant one pays approximately 1,30 Euro.
Mexico: Latino parties, Mexico City & Maya ruins
The flight to Mexico, our 5th place of the cheapest destinations, also takes 12 hours. Whether dream beach or Latino parties, Mexico City or Mayan ruins – Mexico offers many different impressions. A vacation in Mexico doesn't have to be expensive, 12 eggs cost about 1.30 euros and 0.5 liters of local beer costs only 90 cents. So a lot of money stays in your pocket although a lot is seen.
Cheap booking sites? Package tours for bargain hunters
On different booking portals you can find trips to far away dream beaches like the Maldives or Bora Bora for ridiculous prices – how is that possible? And which portals are the most popular? The FIV Magazine has selected everything about holiday guru and Co. Here you can find out what you need to know and how you can save a lot of money when booking.
Holiday Guru – Package Holidays in Paradise
A notification on your mobile phone: one week Menorca for only 391 euros. That sounds tempting, and makes many people want to jump at the dazzling offer. A bargain holiday that is only a few clicks away. The only catch is; you have to be fast. The offers are quickly sold out and often it is last minute travel. The staff scours the Internet all day long and puts together a package deal that is as cheap as possible. The trips are primarily offered via social media and are extremely easy to book. The employees only receive money if their own offer is booked. The operator pays the employees when a trip is booked via the site to which the holiday guru redirects visitors to his site. Since holiday guru does not earn anything from the offers themselves, they are offered at a low price. Differently than in the travel agency, where the coworkers claim a portion of the price of the journey for itself.
Vacation pirates – Last minute to the end of the world
The Urlaubspiraten platform is very similar to Urlaubsguru. The travel offers are ideal for students and freelancers who, unlike employees, do not have to announce their holidays months in advance. In addition, most offers are available for a maximum of two people. After booking, it is usually necessary to pack your bags directly, because last minute trips often start only a few days after booking. Thus, the hotels fill their vacant rooms. Because a guest who pays comparatively little still brings more money than an empty room. Holiday pirates also suggest destinations to the website's guests that they may not even have heard of before. This gives you the opportunity to discover something new and fall in love with new places without having to dig deep into your pocket.
Holiday tracker – flights, luxury hotels & package tours
Urlaubstracker convinces with low prices, package tours to the end of the world but also separate flight and hotel. The site provides a lot of information about the hotels, their location and facilities. On the website you will not only find last minute offers, but you can also choose the month of the trip and then see suitable offers. Luxury trips are often offered at unbeatable prices, for example through sites like secretescapes.com. So you can travel to far away dream beaches for little money and sleep in expensive suites and luxury hotels. It is important that you inform yourself about the destination. The savings portals do not give such good insider tips as the lady from the travel agency. How about a trip to Bora Bora? With Urlaubstracker it becomes affordable and guaranteed unforgettable.
Backpacking – cheap around the world
Independently backpacking through Thailand, Indonesia or Iran – that is backpacking. On the way in an old VW bus or hitchhiking, staying overnight in cheap hotels or sleeping in a tent under the open sky, small snacks between through and eating in cookshops. A world trip with a backpack is a real adventure and a very intense experience. Our top destinations for backpacking are:
Thailand
Malaysia
Bolivia
New Zealand
Australia
Backpacking: Asia or rather Europe?
If you are now wondering why Thailand is on our number one spot, let us summarize it for you. Thailand is a good country for backpacking beginners: there are many backpackers, the country has a great infrastructure, the food tastes good and you get away cheap. In Thailand it is always warm and the country offers a mix of beach, culture, leisure activities, party and seclusion. Thailand also offers interesting climbing and diving areas, there is something for every type of backpacker. Many guidebooks recommend as the first backpacking trip a trip to a country within Europe. Here it is more likely that there will be no communication problems as almost everyone speaks English. A prime example is Croatia: almost everybody speaks English or even German, there are plenty of cheap hotels and you can get everywhere easily by bus or by car. If you want to go far away, you have to consider that you often have to apply for a visa or book a flight to get to another continent. Within the EU, this problem does not occur.
Save money on vacation: Top 3 tips!
Now I have already booked a cheap trip, but I do not want to spend the money I saved directly on site. What can I do to save some money on site? Where can I eat cheaply and how can I see as much as possible of the city for little money? Here we have our top 5 tips for a cheap holiday.
1. Eat cheaply on holiday – Streetfood & Co.
In tourist areas, restaurants are usually overpriced and overcrowded – therefore it is worthwhile to eat in remote side streets and smaller restaurants or at street food stands. Cooking by yourself in the fitted kitchen of the holiday flat saves money, but unfortunately so much time is lost in which you could explore the city. Fast food restaurants are usually a cheap option and can be found almost everywhere. Also practical for a packed long day are packed lunches; enough food and water is important if you want to experience a lot.
2. Travel cheaply – by bus and train through the city
Rental cars on holiday are a relaxed solution and save a lot of stress. You can store all the necessary souvenirs in the car and always have everything important at hand. Unfortunately, however, rental cars in holiday destinations are usually extremely expensive – the money saved on booking is quickly thrown out the window. Therefore we recommend travelling by bus and train. The best sights are not always within walking distance and for a trip by bus you only pay a few euros abroad. With a day ticket, one is in any case in good hands during a city trip and sees as much as possible in a short time.
3. Free city tours: see a lot for 0 Euro!
Many cities offer free city tours, where for 0 Euro you can gather as many impressions as possible.  Often there are also private volunteers, called greeters, who give tourists a free tour of their home town. These so-called greeters also like to give insider tips and you can find them simply by googling greeters and the city name.
https://fivmagazine.com/wp-content/uploads/2020/01/bora-bora-luxus-resort-urlaub-reisen-wie-vips-stars-empfehlung-erfahrung-preis-1.jpg
854
1280
Lisa-Marie
/wp-content/uploads/2023/08/fiv-magazine-logo-news-influencer-fashion-interior-travel-real-esates.svg
Lisa-Marie
2020-02-13 12:06:54
2020-11-11 11:39:23
Cheap holidays: Travel to Brazil, backpacking in Thailand & booking via Holiday Pirates