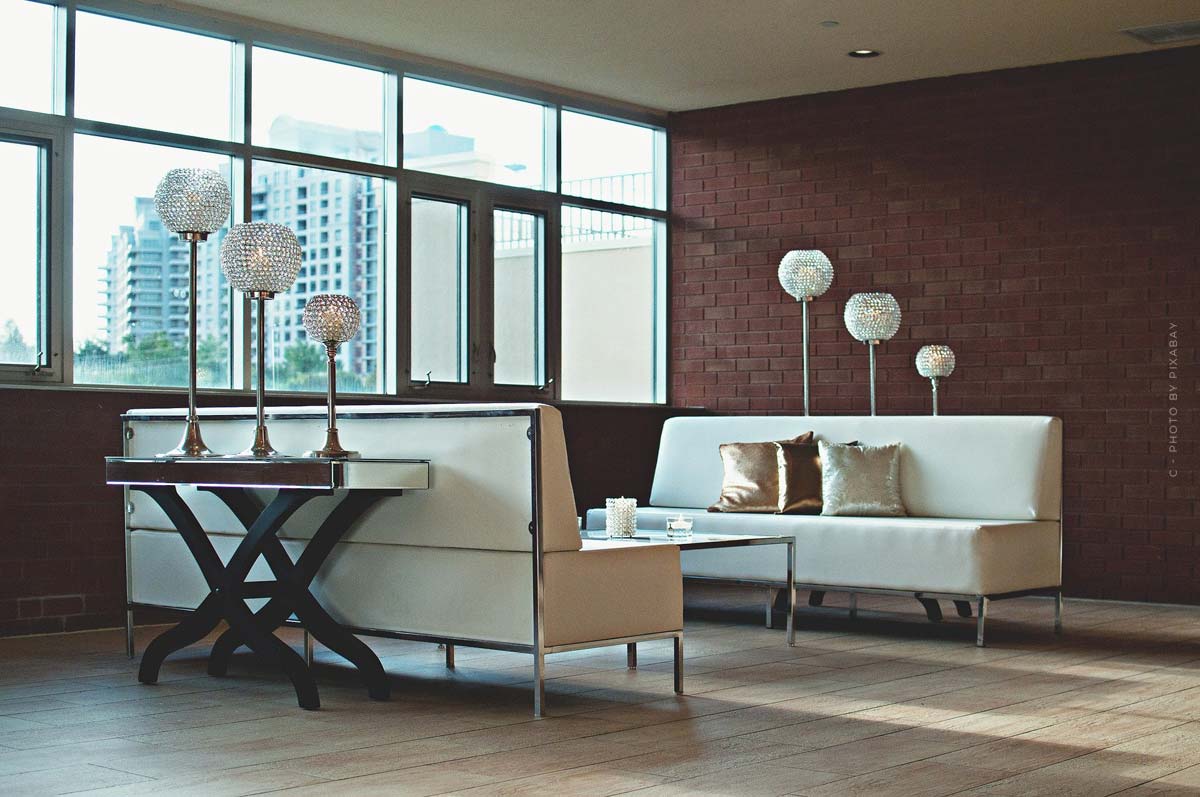 B&B Italia: Italian interior dreams and exclusive quality with sofa, armchair & outdoor furniture
B&B Italia – This company is no longer only known in Italy, but also internationally. The interior luxury company has also already moved into German living rooms. But not only in apartments the furniture like armchairs and sofas of B&B look good, also public facilities like restaurants and offices shine in the timeless elegance of the interior brand. Modern design with high recognition value and reliable customer service: B&B Italia is the perfect brand for lovers of exclusive luxury furniture. Editor's tip: Take a look at our guide to interior styles, where you'll find information, tips and trends on all aspects of furnishing: Interior Styles XXL.
B&B Italia: pure luxury – creative and innovative furniture
The Italian company B&B Italia has been on the market since the 60s and still stands for high quality standards and technological advances and innovation. With their industrial know-how, the company scores not only with creativity and comfort, but also with functionality and first-class materials. The designs are characterized by high experimentation, personality and a timeless elegance.
The successful company is represented in 80 countries around the world, and B&B has even opened large flagship stores in major cities. A company that anticipates trends, follows them and still pays attention to and responds to individual customer wishes. Trend-conscious furniture with your personal touch – Made in Italy.


Germany - Spain - USA
Would you like to discover even more from the world of interiors? Then take a look at our Pinterest page! Here we have collected the best and most exclusive interior brands for you. Of course, you can also find our pinboard on the topic of B&B Italia here.
Tip! All luxury brands for the perfect interior from A-Z can be found in our comprehensive XXL article Interior brands!
Store in London: Designer furniture store in the royal metropolis
Present all over the world – B&B is pursuing this mission by opening more and more stores in major cities around the world. In this video you can take a look around the London store:
Chairs: timeless elegance, comfort & quality
Modern chairs made of first-class quality – these are the chairs of the luxury brand B&B Italia. Many of the designs are available in both fabric or leather. Luxury chairs made of wood for the living area or chairs made of practical materials for the kitchen. The perfect symbiosis between Italian elegance and comfort.
The Metropolitan offers you many different combination possibilities. On the one hand, through the two different types of frame. On the one hand you can buy this chair with a chrome-plated or lacquered steel band, on the other hand with four spokes of polished aluminum. In addition, you can choose from a wide range of fabrics in terms of colour and feel.
Cutter Chair: Design by Mario Bellini
The Cutter Chair is a chair with a notch, a tribute to the artist Lucio Fontana. Check out the design by Mario Bellini here:
Beds: sweet dreams in the springs – Papilio, Charles & Co.
A bed should serve its owner as a place of retreat and as a place where we come to rest at the end of the day. In addition to the right appearance, quality and comfort are the most important factors. Because only in soft beds it is good to dream…
Like the other pieces of B&B furniture, the Richard model is characterized by a modern and original design. A high bed frame and special profile seams are features of the design. Due to high side parts, any type of mattress topper can be used. The bed can be purchased with a spring frame, slatted frame or manually adjustable mattress frame. While the interior is made of steel tubes and profiles, the cover can be ordered in fabric or leather.
Simple and comfortable – associations that come to mind when you think of the Papilio bed. A bed in which you immediately want to sleep. The Papilio range also includes a sofa, chairs and an armchair.
Comfort and stability, modernity and tradition – inspired by the Chesterfield style and the Capitonné technique, the Tufty Bed combines all these characteristics.
The base is characterized by a square pattern, the distinguishing feature of the series. The headboard is covered with fabric or leather in various colours, the slats are made of book plywood. The hollow inner surface provides plenty of storage space.
Charles: The bed in this range is available in two versions: one in which the bed frame is flush with the mattress and the other in a wider version. The significant feature is the base in the shape of an inverted L in polished or lacquered aluminium. Also available with castors.
Armchairs: relaxing evenings with upholstered furniture
Reading, watching TV or simply savouring the end of a long day with a glass of wine – you can spend hours in a comfortable armchair. Not only for people who have to stand or walk a lot for work, it is a real pleasure to be able to lean back in the armchair in the evening.
An example of these comfortable armchairs is the model Pablo. At first glance, you don't even notice the upholstery in the seat of the leather part. Armchair or chaise longue? This chair is a mixture of both. Clear design with structure. The seat, which is pulled over the back and armrests, softly cushions the body as if it were floating. See for yourself this contrast of straight lines and round shapes, light wood and strong leather.
Cult object Up: expressive must-have with ball stool
This armchair is a real bestseller. The armchair also comes with a stool in the shape of a ball, which is connected to the armchair. But this striking shape is no coincidence, behind the unusual shape is an interesting design concept:
The designer of the piece of furniture intended his design to be a metaphor of a large womb. The stool symbolizes a ball that is carried by the woman at the foot. With this he wants to represent a woman who is a prisoner of herself. Among other things, the armchair is also known as "Big Mama" or "Blow Up".
50 years Up – New colours in the old design
The iconic armchair is already celebrating its 50th birthday and is still as popular as ever. For the anniversary, the model is now also available in the following trendy colours: orange red, navy blue, emerald green, petrol and cardamom.
Up Junior: colourful luxury design armchairs for the children's room
The Up armchair is also available as a junior version. This bright, cheerful red designer armchair fits perfectly in the children's room and is also suitable for playing:
Sofas: ergonomic seating furniture with soft backrest
The Naviglio couch model convinces with curved, linear chaise longue and stool elements. The designers got their inspiration for this design object in nature, more precisely they oriented themselves on the river and watercourses.
Soft geometry – this is the concept behind this luxury couch. Although the backrest has a round shape, it is actually an irregular polygon with rounded edges. This unusual shape literally hugs your body! This sofa doesn't need any cushions, the soft upholstery of the sofa nestles perfectly against your back.
The design line also includes a service table with a transparent glass top. This is supported by a thin vertical axis made of bronze-coloured nickel and a base made of polished marble.
No less than five new colours are offered by the new bouclé fabric, the following colours work together in this dynamic pattern: White, Grey, Black and Tortora.
The Camaleonda is a contemporary classic. The generous polyurethane filling will make you dream! Behind this sofa is an innovative system of cables, hooks and rings with which you can combine the different modules as you wish. Seats, backrests and armrests can be hooked in and out again and again. The geometric natural landscape is available in every available material from B&B Italia.
Chaise Longue: Relax & Chill at Spa Level
Landscape '05: The perfect place to chill out. Harmonious, Elegant, Minimalist – the Chaise Longue combines an undulating shape with a high level of comfort. The light-as-air, agile seat is covered with a completely removable cover and is supported by a beam structure. The adjustable headrest makes this chair your absolute favourite place in the home.
B&B Outdoor: Furniture for your garden, terrace and co.
But you don't have to do without B&B's elegant furnishings outdoors either. This outdoor furniture for gardens and terraces is inspired by landscapes and objects and harmonises beautifully with its surroundings. This design embodies freedom and only makes nature look more aesthetic.
Chairs for your next barbecue: Erica 19
A component of the outdoor area are the chairs. Whether on the terrace, balcony or in your own garden, you need comfortable seating for yourself, but also for your guests. An example of this is the Erica 19 chair, made of extruded and die-cast aluminium, a chair with enormous lightness for outdoors and indoors. The ergonomic chair with seat and back cushions ensures a high level of comfort. The lacquered aluminium frame, available in three versions, is covered with a wickerwork of highly resistant synthetic fibre.
Tables for outdoor dining: Ginestra
The Ginestra tables, with structural details, feature a round or square teak natural tabletop with white porcelain stoneware inserts. Curved fluid lines give this elegant table its timeless design with synthetic fiber weave of ribbons.
Oh! It rains – armchairs and sofas with rain protection
Oh! It rains by Philippe Starck is a particularly innovative collection that offers comfortable armchairs and sofas for outdoor use. Protected by the generous backrest, you also get a bit of privacy outside.
Collection of sofa and armchair for the outdoor area. In addition to a timeless innovative design, this collection scores especially with functionality. In case of rain or bad weather, you can simply fold the backrest over the seat.
A look at the 2020 outdoor collection by Philippe Starck
We just told you about the sofa from the "Oh! It rains" series by designer Philippe Starck. Here you can get an idea of the described pieces:
Restaurant, office & hotel furniture: B&B Italia Project
B&B Italia has the right furnishings not only for the private sphere. Whether office, restaurant, hotel or for public areas – furniture and interior objects in the typical contemporary style of B&B fit into any environment. Visit B&B and discover sofas, chairs, armchairs and conference tables for your business.
https://fivmagazine.com/wp-content/uploads/2021/01/bb-italia-beb-interior-einrichtung-haus-wohnung-einrichten-sofa-outdoor-charles-bett.jpg
797
1200
Lisa-Marie
/wp-content/uploads/2023/08/fiv-magazine-logo-news-influencer-fashion-interior-travel-real-esates.svg
Lisa-Marie
2021-01-17 07:00:28
2021-07-17 17:41:02
B&B Italia: Italian interior dreams and exclusive quality with sofa, armchair & outdoor furniture