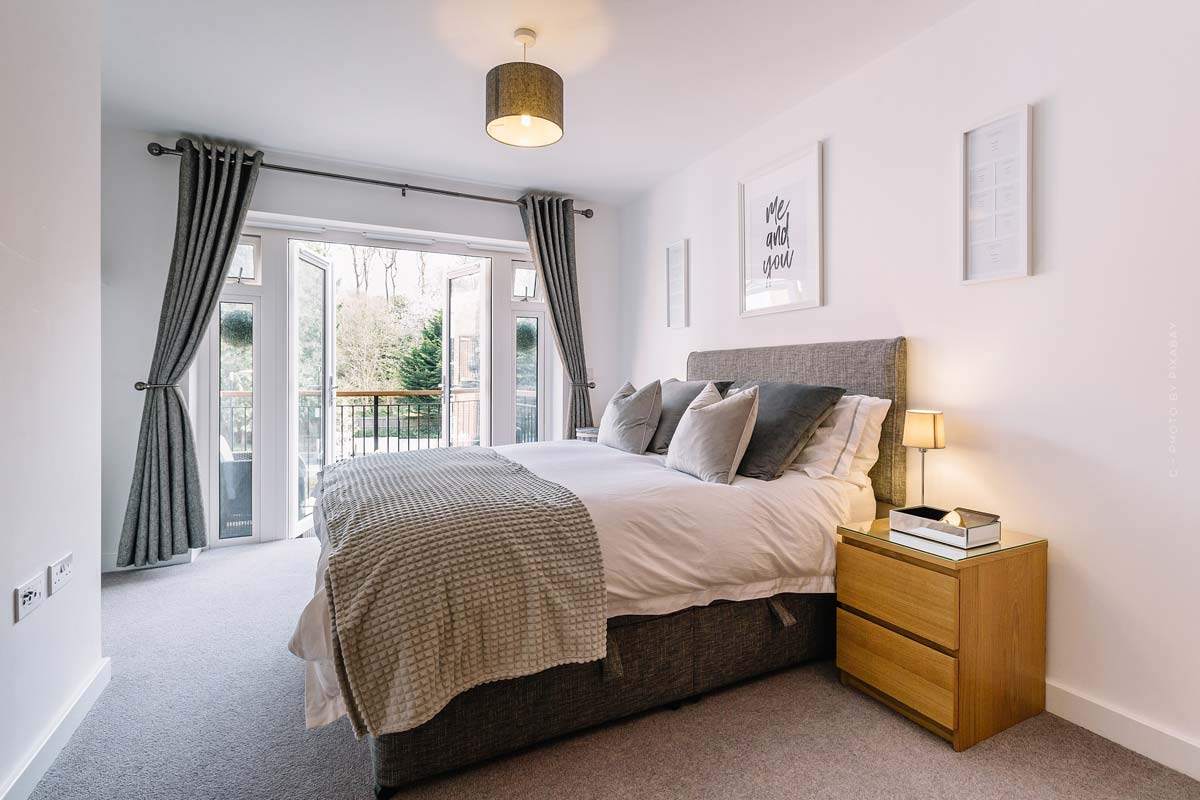 Vera Wang Home: plates, down comforters and co. in minimalist style
Vera Wang Home – "Home is a feeling, not a place!": the interior jewels by Vera Wang combine a modern aesthetic, modern minimalism and elegance to create the ultimate feeling of "home". Whether it's silky soft bedding, glass vases, plates with floral patterns or purist pillows – Vera Wang knows how to inspire the fashion world and fulfill their interior desires, whether it's kitchen or living room furnishings, or even designs for the bedroom! What does the signature of a designer for wedding dresses look like for interior items? What is the price range for Vera-Wang-Home articles? How the fashion designer herself lives in her homes? You can find out all that here! Tip: Are you interested in interior design and interior styles? Then take a look at the overview pages: Furnishing rooms & XXL interior styles.
Vera Wang Home: Minimalist aesthetics
Extravagant fashion, extraordinary dresses and breathtaking wedding gowns. Vera Wang has made a name for herself with these design creations. The US-American designer with Chinese descent inspires no one less than Mariah Carey, Jennifer Lopez, Victoria Beckham or Sharon Stone. But if you think that wedding dresses cover her entire design repertoire, you're wrong. Less known, but at least as aesthetic is her launched interior line. Bed linen, porcelain jewellery, picture frames and co. shine in the unmistakable Vera Wang aesthetic – see for yourself!
Tip. All luxury brands for the perfect interior from A-Z you will find in our comprehensive XXL article furnishing brands

Germany - Spain - USA
Origin: from wedding dresses to minimalist blankets and invitations
Hailed as a design talent, but didn't start out as one. She started her career in the fashion world as fashion editor at US Vogue. At the time, she was the youngest editor to date. After 16 years of writing about fashion, she switched sides. In 1987, she started at Ralph Lauren. Two years and 18 accessory lines later, while planning her wedding, Wang, with her image of a modern woman in mind, decided to enter the design world. In 1990, she opened her own boutique on Madison Avenue. Both evening and bridal gowns shine in her collection, which expanded in the following years to include jewelry, eyewear and housewares. Her love of simple, romantic and playful but at the same time extravagant, minimalist and modern design has formed the signature of Vera Wang.
"A lot more comfortable than you might think just looking at it. It's incredibly cozy."
Bed linen: Dreaming with blankets and pillows
Sleep like on clouds – Vera Wang designs bedding for the eye and for beauty sleep. The design talent knows how to inspire the fashion world with her minimalist and expressive aesthetics. Whether it's a floral pattern in Asian style, pure minimalism or a white all-over look – Vera Wang skilfully puts her minimalist style to the test in a wide variety of ways. See for yourself!
Zig Zag Queen: minimalist design, maximum style
Silky soft cotton satin in white with graphic details in black inspire the design eye. A purist aesthetic that finds its place in a minimalist household as well as a motley mansion. The tailored geometry of the black embroidered lines and edges add a sophisticated twist to this classic ensemble. With this duvet cover, any bed is an invitation to dream!
Ink Botanical Sateen: Tradition meets Vera Wang
Artistic brushstrokes create a floral pattern in the style of classic Japanese Sumi-e brush painting. The bedding, which becomes the canvas of her art, is made from luxurious 300-thread-count cotton sateen and created with state-of-the-art digital printing. Her love and dedication to minimalist design is evident in this creation as well, with onyx and white creating a color play that is both contrasting and harmonious. An accent pillow with loop weave and a gray duvet sheet with channel quilting break up the modern simplicity and clarity. Two additional pillows with quilted details in white create the unmistakable design signature of Vera Wang – modern, minimalist, traditional and yet new!
Ceilings: minimalist, modern and stylish
Grisaille Weave Bedding Collection (€168.61 – €492.78)
Layered Geometric Bedding Collection (€130.37 – €430.21)
Marbled Bedding Collection (€129.50 – €428.47)
Cushions and pillows in Vera-Wang heaven
Lapin Faux Fur Decorative Cushion (€86.91)
Collections: Bohemian chic, minimalist aesthetics and co.
Charcoal Vine
Obscura
Rice Papaer Weave
Tuxedo
Modern Bridal
Scattered Floral Emb
Intaglio Emroidery
Papers: Wedding invitation à la Vera Wang
Wedding dresses and Vera Wang are like the beach and the sea. An inseparable and dreamlike interplay. Her first designed wedding dress was the one for her own wedding. No one else could live up to her ideas. With her design flair and distinctive design signature, it didn't take long for the fashion world to find their dream ideas in Vera Wang's creations. Her love for weddings doesn't stop at the wedding gown design process. So you can also find elegant wedding invitations designed in a minimalist design in her design repertoire.
Chateau wedding invitation: luxury card shape by Vera Wang
Dreaming of a royal wedding with a luxurious yet minimalist Vera Wang aesthetic? Then these wedding invitations are your dream come true. Eye-catching monogram of the couple, gilded details, and hand-engraving create a unique, glamorous impression. Matching inner and outer envelopes, reply and reception cards, and a folded menu for table decorations are already included in this set. A design that perfectly heralds her dream day:
25 cards: €314
50 cards: 400 €
100 cards 595 €
250 cards 1.220 €
Tableware: plates, cups and glasses in Vera Wang style
Vera Wang has also got involved with porcelain and tableware and designs sets and ensembles that make every table look stylish and tasteful. Get an overview of some of her collections with exemplary products and prices here.
Glass, glasses and more glasses at Vera Wang
Metropolitan Tumbler Glasses (€45)
With Love Silver Toasting Flutes Champagne Glasses (€66)
Duchesse Iced Beverage (€37)
Plate: porcelain, flowers and gold details
Blanc Sur Blanc Oval Platter (157 €)
Jardin Salad Plate with floral details (19 €)
Jardin Dinner Plate with gold coloured flowers (29 €)
Cups: Coffee, Tea and Chai Latte in Vera Wang Aesthetics
Venato Imperial Mug (18 €)
Jardin Mug (18 €)
Blanc Sur Blanc Mug (€17)
Sets: plates, cups and glasses combined
Lace Gold 4-Piece Setting (€107)
Venato Imperial 4-Piece Place Setting (87 €)
Jardin 4-Piece Setting (€87)
Collections: Flowers, graphic lines and minimalist aesthetics
Ribbon
Blanc Sur Blanc
Grosgrain
Lace Platinum
Video: Vera Wang for Wedgwood
"The marriage of different whites provides depth, dimension and texture without the distraction of colour!"
Vera Wang shines with her minimalist design signature. Her tableware line shines in simple white, but no less extraordinary style. Below you will find an overview of the classic plate service, glasses and co. in white elegance! Convince yourself.
Home Decor: purist picture frames, vases and co.
Vera Wang inspires with her unmistakable purist design signature. Those who can't afford a wedding dress costing several thousand euros can bring her unique aesthetics into their lives with interior items. Whether picture frames, small boxes, a piggy bank, elegant vases or minimalist candles – the purist design perfectly complements any household. We like!
Picture Frames: Hugs by Vera Wang
With Love Noir 8×10 Frame (108 €)
Infinity Photo 5×7 Frame (91 €)
With Love NOuveau Silver Photo 4×6 Frame (68 €)
Boxes in minimalist style for maximum function
With Love Square Keepsake Box (€85)
Love Knots Purse Mirror (€51)
Piggy bank: saving Vera Wang style
Vera Wang Piggy Bank (€68)
Vera Wang Infinty Baby Piggy Bank (€68)
Love Always Elephant Money Bank (€68)
Vase: modern aesthetics made of glass
Candle: Vera Wang on fire
Love Knots Covered Candle (€68)
Love Knots Taper Candle Holders (€63)
Love Knots Tealight Holders (€51)
Vera Wang HOME: At home with the US design talent
The designer not only creates interiors and furnishings for clients, but also for herself. She also likes to use her own products to furnish her own properties and is thus her own best customer and probably her biggest critic at the same time.
New York: modern aesthetics in the fashion metropolis
Vera Wang not only creates a minimalist, unique aesthetic, she lives it herself. In New York City, she occupies a palatial Manhattan residence in a 1929 Art Deco building, where her parents already lived. While the "home" feeling hasn't changed, the same can't be said for the style of the apartment. What was once a sophisticated British setting with leather-bound books on large wooden bookshelves and a formal dining room, now shines with the typical minimalist Vera Wang aesthetic. There is nothing of the old-fashioned furnishings of the time here. Wang stripped the walls down to the limestone, tore off the moldings, and transformed the space into a cross between a photography studio, a gallery, and a white box. She raised the steel doors to the same height as the windows. She created a world entirely according to the following motto:
"I wanted something Egyptian – something like the entrance of the Abu Simbel Temples, with one single door framing my John Chamberlain sculpture."
Video: Los Angeles house dream in minimalist elegance
New York is all about cocktail parties, crowds and hustle and bustle. Los Angeles, on the other hand, lives for intimacy and is quiet.
"There is something about the luxury of space and light, you don't get in NY!"
Your LA home has been decorated in the style of minimalism and avoids any signs of opulence. The glass house shines in cool tones and minimalist architecture. This style runs like a thread from the garden gate to the pool. A true dream in the city where dreams come true – Los Angeles! Read for yourself!
https://fivmagazine.com/wp-content/uploads/2021/01/vera-wang-home-interior-einrichtung-haus-wohnung-einrichten-decke-kissen-deko-moebel.jpg
800
1200
Lisa-Marie
/wp-content/uploads/2023/08/fiv-magazine-logo-news-influencer-fashion-interior-travel-real-esates.svg
Lisa-Marie
2021-01-22 07:00:46
2021-07-17 17:38:24
Vera Wang Home: plates, down comforters and co. in minimalist style