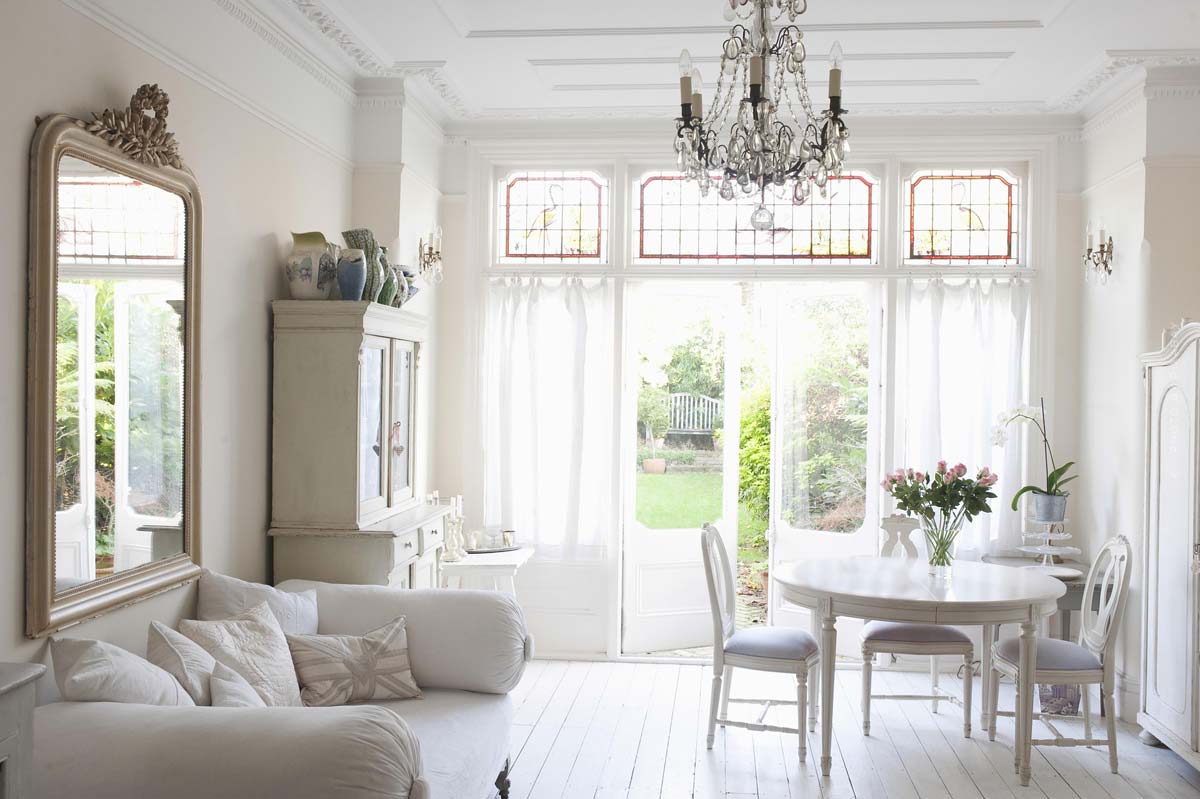 Living room furnishings: Modern ideas for decoration and furnishing with furniture such as sofas, tables & co.
Living room furnishings – Interior design is no longer only relevant directly after moving in. A place where you spend as much time as your own home can quickly lose its charm. To prevent this from happening, it is advisable to regularly redesign your own four walls and try out new furnishing styles. It is not necessary to buy new furniture every time. Especially the living room is often the center of every home, whether house or apartment. The living room is where people spend a lot of time, and cabinets, furniture and especially the sofa are an important part of this room. How you can (re)design your living room, and what living ideas and tips we have for you, you can find out here! Back to the overview here: Furnish your room.
Living room furnishings: Tips & tricks for the interior
To create a living environment that you'll feel comfortable in for the long term, you should approach it with thought. It's always worth looking for inspiration. Platforms like Pinterest are particularly good. For example, you can find us as FIV Magazine on Pinterest and browse through the interior design ideas we've put together for you.
Tip! Popular and luxurious interior brands and furniture are presented here: Interior Brands XXL!

Germany - Spain - USA
Vision, Ideas & Inspirations: What does your ideal living room look like?
It's best to start by finding out what you like and don't like. When researching ideas for your new interior, it's worth paying particular attention to what appeals to you personally or what you don't like at all.
Write down what you notice and hold on to particularly good ideas. If you feel like it and have the time, you can also create a vision board. You can do this either digitally or physically. To do this, you select your favorite images and create a collage from them, in which you set down the suggestions and thoughts.
Planning & budget: style, design and colour selection of furniture and wall colours
Once you have a rough idea of what you want the room to look like, or even a more specific idea, it's time to start planning. Point one: budget. There are two ways to approach the money question. Either you inform yourself about the rough costs of the measures, decoration and furniture you are planning for the new living room, or you set yourself a personal budget that you do not want to exceed.
Step number two is to review restrictions. Budget may also be a constraint, but we're talking more about things like landlord regulations, consideration for children and accessibility, but also structural constraints, like where do pipes run and which walls are difficult to drill into? So that nothing stands in the way of your projects or, even worse, you accidentally cause damage, this should be clarified.
Before you start looking for furniture, there's one last step to take, and that's choosing an aesthetic and color palette that you want to keep the space in. This step is particularly important in order to achieve a coherent interior that fits perfectly into the overall picture.
Furnishing styles: 3 types of room design
To give you a rough idea of what stylish interior design can look like, we would like to briefly present a few interesting options for a cosy living room. You can find more detailed information on the individual options in our magazine.
Modern: Contemporary design
This may sound a little confusing, but did you know that the most popular furniture right now is called Mid-Century Modern and is actually inspired by the style of the fifties?
Beauty of function, as well as beauty of form.
That was the motto with which designers created furniture. Simple, rounded shapes and creations that should fit into the room image and give the owners as long as possible pleasure. You can find furniture design in the popular style here:
Less mid-century, but just as modern and unusual are the furniture and decorative items from the Portuguese label Luxxu. If you are looking for eye-catching home accessories and high-quality furniture, you will find it here. If you want to learn more about the interior producer, take a look here:
Minimalist: elegant restraint with simple furniture & colours
Less is more' This is a simple way to describe the motto of minimalism. Ornaments and other extras are spared, so that furniture is reduced to the minimum. This creates a simple elegance that fits very well into a neutral living environment and is equally well received by men and women.
Minimalist design should not be confused with minimalism itself. Minimalism describes an attitude towards life in which one gets rid of superfluous belongings. While the two can go hand in hand, minimalist interior design is not synonymous with minimalism.
Country style: living room with natural fabrics, old pink and natural colours
Rustic, gentle and creative: that is the country house style. Over the years, different variations of the country style have developed. On the one hand, the Boho Chic, which is inspired by the gaudy Boho, but turns to muted colors. On the other hand, English country house style, which rather combines old pink and patterns. English country style is the mixture of country house and boho.
Especially wood, natural materials and plants fit well to the country style and provide a cozy home.
Furniture: sofa, armchairs, pictures and the decoration
A complete refurbishment definitely includes a general overhaul of the furniture. And a little more money can be spent on this. This ensures that the new furnishings not only look good, but that you can also enjoy them for a little longer, because high-quality materials and fabrics often promise better durability and greater comfort.
Sofa: comfortable upholstered landscape in many shapes & colours
We spend an average of four hours a day on the couch. To make that time relaxing, your couch should be just perfect. For this, a few decisions need to be made that will make up your new couch.
First you should decide on a material for the upholstery. The classic materials are cotton, velvet, linen and leather. Leather has the advantage over other woven fabrics that it is only partially permeable to water and is very robust, making it super easy to remove minor stains.
In addition, leather looks very high quality. If, on the other hand, you prefer a sofa that you can practically convert into a bed for your guests, for example, leather is less suitable. Overall, it is worthwhile in this case to go for a sofa with a foam core instead of standard springs and foam.
Lamps & candles: home accessories for a cosy ambience
Light is capable of literally transforming a room. You can create a cosy or romantic ambience with the clever use of lamps and candles that provide soft light. Ceiling washlights offer the option of distributing the light over a large area of the room, while smaller lamps offer the option of reading.
Candles are often used not necessarily to give light, but rather to transform the room into a warm, cozy environment. They also offer the possibility to bring pleasant scents into the house. This is possible, for example, through the exclusive scented candles of the Maison Christian Dior fragrance collection, which offers small olfactory wonders in the form of candles, room sprays, perfumes and more.
Christian Dior's fragrance, furniture, and decor collections have you curious? Then take a look at our article, which takes a closer look at the interior selection of the French fashion house:
Decoration: Add that certain something with little things like cushions or plants
Beautiful furniture is one thing, but without an appealing decoration even the most beautiful room looks bare and empty. Remedy for this are different decorative items that you can place in your living room to make it even cozier.
Cushions provide extra comfort, plants bring life to the place and mirrors make the room look bigger. Some decorations you probably do not even have to buy extra, but you already have them at home, because even books can decorate your room.
In short, this is the decoration that you should include in your room design:
Cushion
Plants
Ceilings
Candles
Books/Coffee Table Books
Mirror
Tables: Coffee table & Co – storage space and functional eye-catcher
Can you furnish a living room without a coffee table? The answer is yes, but you should be prepared for many annoying moments when guests or you yourself accidentally knock over the glass of red wine placed on the floor when getting up, or once again you can't find a suitable place for the book you've started.
For this reason, we highly recommend that you go for a coffee table, especially since there are so many exciting coffee tables on the market that are not only practical, but also a small work of art and thus visually enhance the entire room.

Living room design: Pictures, partition wall and wall paint
In addition to the pure standard furnishings, you can of course also start larger decorating projects that give you the opportunity to individualize your home and adapt it to your personal wishes and needs. In addition, with a few tricks of the trade, you can redesign rooms to make them feel like a new home. If you are looking for a bit of variety in your life, then you have come to the right place.
Partition walls: Personal room partitioning in many designs
Rooms that are too large are quickly overwhelming and make the apartment look uncomfortable. A simple way to create structure without major construction work is to use partitions, open shelves and screens.
You can either build your own rollable partitions or buy them ready-made. Another great advantage of these room dividers is that you can get creative with colours and applications, regardless of the regulations in the rental contract.
Open shelving is often used to divide rooms into areas with different purposes, for example, it is a great way to separate the living area from the dining area without making the room look smaller or oppressive.
The last option is represented by screens. Screens are medium-high, foldable walls that are often decorated with patterns and colors. Screens are especially good for covering unsightly corners or creating a more private workspace.
Home Bar: Perfect for hobby bartenders
Whether for a relaxed drink alone or with friends, a home bar quickly becomes the highlight of every get-together. But be careful: with your own bar, it could be that in the future all meetings take place at your place.
So, having set that warning, now a little more about what a home bar can be. After all, either it is simply a cabinet with spirits, glasses and a cocktail mixer, but we want more! The best home bars are the ones with all the trimmings: bar counter, bar stools like the ones from Cassina and of course ice maker, various alcohol glasses and a fridge filled with the best beers, wines and champagne!
No idea about cocktails? No problem! Here you'll find the best cocktail recipes with and without alcohol for fun evenings with friends:
Café Bar: Starbucks & Co. at home in your living room
Cold Brew, Dalgona Coffee, Pumpkin Spice Latte: coffee is trendy! Even if you're not a fan of the sweet coffee specialties, the thought of having your own coffee bar warms the cockles of many a heart. The pleasant tart-nutty aroma has simply become an everyday luxury that you just don't want to give up, because many of us literally need the bitter drink to survive.
So how about a coffee bar in the living room? Not only will you benefit from the practical set-up, but your guests will love it too. All you need is a medium-height chest of drawers and shelves, a multi-plug if necessary, a coffee maker or kettle, coffee, cups and a few hooks to hang the cups.
You can also add different syrups, sugar, condensed milk and more to your coffee bar to increase the variety. The bar is a fun project that you can start alone, with your partner, parents, or whomever you want to have with you. You won't want to leave your living room!
Are you still looking for inspiration for what great creations you can conjure up in your own new coffee bar? Then we have a few warming coffee recipes for you that you can easily recreate!
Repaint: These are the trends for wall colors in any living room
Choosing a colour for the living room is often a tedious task. Do you prefer a calm, neutral colour or a tone that brings some life into your four walls? Of course, this depends entirely on the chosen interior style and personal preferences. Nevertheless, we tell you here the most modern colors for your living room.
First, an understated gray. The trend is more towards cool medium-dark grey, but feel free to use lighter, warm tones if it fits better with your room setup. Don't be afraid to combine grey with one of the other colours to create beautiful effects.
The next color is gray-green. A deep bottle green is mixed with gray to create a cool, modern color that stands out especially well in industrial interior designs and pairs great with brick red. A true dream combination.
The last colour is old rose. It is soft, feminine and brings a splash of colour to both light and darker living environments. The pastel color is great to combine with natural tones, as well as mixed, more colorful colors. Particularly beautiful combinations are:
Old pink/grey
Old pink/beige
Old pink/sky blue
Discover luxury worlds: Shopping for high-quality designer furniture – Guide & Advisor
If you can't get enough of designer furniture and interior design, then you've come to the right place! We've put together a huge list of interior labels so you can easily find your favourite brands and styles. Just check it out here:
For even more furniture inspiration and decorating ideas, be sure to check out our XXL Guide to Interior Brands!
https://fivmagazine.com/wp-content/uploads/2021/02/wohnzimmer-einrichten-haus-wohnung-sofa-couch-sessel-bilder-deko-schrank-regal-vergleich-tipps-idee-gestalten.jpg
799
1200
Lisa-Marie
/wp-content/uploads/2023/08/fiv-magazine-logo-news-influencer-fashion-interior-travel-real-esates.svg
Lisa-Marie
2021-02-16 07:00:36
2021-07-17 17:35:35
Living room furnishings: Modern ideas for decoration and furnishing with furniture such as sofas, tables & co.