Tips for your home: Living concepts, looks & materials
One trend chases the next. This is also the case with living and furnishing trends. But it is often not easy to keep an overview and decide on a suitable style. Especially with smaller furnishings, it can often come to a jumble and conglomeration of different styles that do not harmonise as well as one might think. Nevertheless, with a few tips and tricks, it is easy to combine new trends with existing furnishings. In this article, you can find out what will be totally hip in 2020 and how you can bring a breath of fresh air back into your home.
The most popular home trend: Boho-Chic
Boho chic is probably the hottest trend of 2020, with natural materials and a relaxed, cosy atmosphere being the main factors. This is created in particular by the popular and decorative pampas grass, but also with the help of macramé, woven flower pots or wicker chairs. Boho is inspired by the two styles of bohemian and hippie and is therefore perceived as airy and light. Many elements associated with Boho chic are slightly playful, such as lace fabrics. They also include:
Furnishing trend: Living style – Skandic Look
For some years now, the Nordic or Skandic look has been an integral part of furniture stores and most homes. This is mainly because the look is not only easy to combine, but also radiates cosiness and homeliness. Thanks to the light and natural colour scheme, rooms usually appear open and inviting. Simple materials such as clay, ceramics, earthenware and glass ultimately round off the popular furnishing trend. In contrast to many other styles of living, Nordic furnishing only sets specific accents, for example with a large vase or colourful cushions. The advantage of the Skandic Look: it is easy to combine and easy to implement. The following factors define the style:


Germany - Spain - USA
Minimalistic look for the apartment
Similar to the Skandic Look, the Clean-Chic is also characterized by reduction and clear forms. The main aim is to use less visible elements – in other words, to "hide" things as much as possible. Many decorative objects, photos on the walls or different patterns are rather less part of clean chic. Rather, it's about clear color combinations and muted hues, as well as simple elements that don't distract with "knick-knacks", but rather form the center of attention themselves.
Thus, above all, cabinets and chests of drawers with high-gloss fronts, stainless steel, glass and black and white combinations are to be assigned to Clean-Chic. Matching the modern and minimalist look are great kitchen gadgets, crockery and cutlery from the Italian designer. The big advantage: Due to the reduced shapes and colours everything looks very tidy.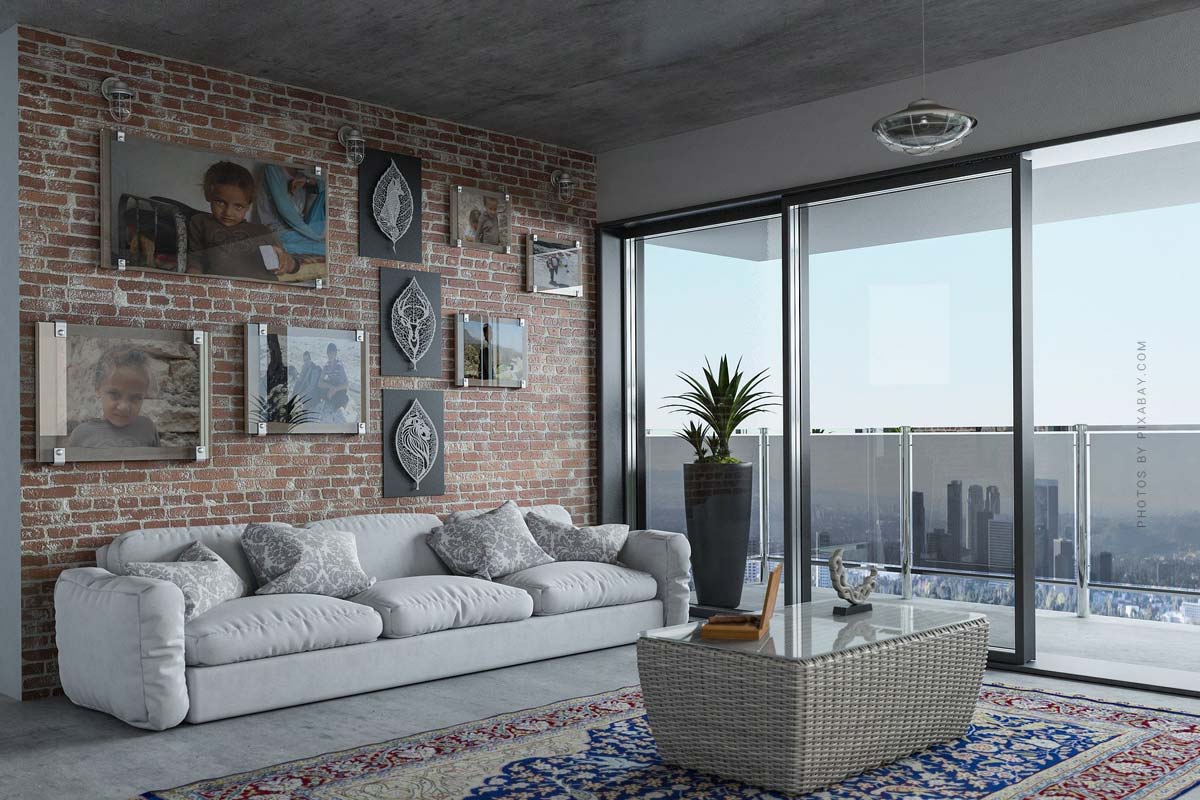 Natural look: plants, furniture & other materials
The Natural Living trend is also particularly popular in 2020. This involves natural materials, fabrics such as cotton or – similar to the boho look – earthenware and ceramics. What makes a natural style is above all the combination of many different styles, the mix of natural materials and that perfect, flawless objects are not what matters. The look is much more beautiful when even small flaws, such as unevenness on a vase or wooden furniture with knotholes, are highlighted and thus conjure up a very uncomplicated natural charm. Natural Living is also about upcycled things or building furniture yourself. Because sustainability, upcycling and DIY are key aspects of the natural lifestyle. If you still need upcycling ideas or simply want to be inspired, you will find great DIY ideas for your home here. These elements belong to the Natural Living trend:
Bright shades, as they occur in nature
Fashion- & Living world: Vintage Look
Another trend that has not let go of the fashion and living world is the so-called vintage look. This is often equated with the retro trend, which also deals with elements from past years and decades. The vintage or retro style lives above all from expressive furnishings that make a statement. Usually a single keypiece is sufficient – for example a large velvet couch set in the 80s style – which takes centre stage and thus already occupies the entire room. Popular retro and vintage elements include
photo-wallpapers in 60s, 70s or 80s look
velvet, especially for stools, armchairs, sofas or cushion covers
Golden decorations and coloured glass (e.g. for lampshades)
No matter which style of furnishing you choose: The most important thing is that you feel comfortable with it and you don't feel like you're in a sterile hotel room. Make yourself comfortable and find a style that suits you. You can find even more inspiration for interior styles, trends and colour ideas here.
Living concept for rooms: windows, wall design & posters
Often it is not individual ideas that are lacking, but a concept for the entire apartment. The aim is not only to furnish the rooms in the same style, but also to bring a uniform line into your own four walls that ensures peace and order. The easiest way to achieve this is to think about which colour scheme should be repeated in all rooms or which decorative elements can be incorporated in several rooms. This can work with the following things, for example:
windows: Install similar or the same curtains, flounces or pleated blinds in all rooms.
Use materials repeatedly: For example, always use the same type of wood and avoid combining too many woods or
to vary between different oilings. This also applies to fabrics and colours.
Choice of flooring: Tiles, laminate or parquet flooring uniformly laid throughout the apartment or house
Wall posters: In the same style or with similar motifs, posters and art prints are not only decorative, but also create a connection between the
different rooms. You can find out more about wall posters here
LED light, deck lamp & lighting concepts
Finally, to create the right atmosphere in your home, lighting is of great importance. Many people find it difficult to choose the right lamps and often leave the socket with a light bulb hanging for a long time. But here you can create a lot of cosiness and comfort with little effort. Apart from simple ceiling lights, spots that are embedded in the ceiling, as well as small lights in the skirting boards, are one way to conjure up beautiful light. Dimmable light sources are also particularly popular, as they can be adapted so quickly to the current mood. Those who prefer something a little more modern may prefer to use colour-changing light bulbs or LED light strips. These change colour at the touch of a button and can thus also provide the right party mood. Tip: The very ambitious can think of complex lighting concepts that can be controlled by a smart home.
https://fivmagazine.com/wp-content/uploads/2020/05/einrichtung-trends-modisch-stylisch-tipps-beleuchtung-designer-wandfarbe.jpg
800
1200
Lisa-Marie
/wp-content/uploads/2023/08/fiv-magazine-logo-news-influencer-fashion-interior-travel-real-esates.svg
Lisa-Marie
2020-06-01 07:00:45
2020-11-10 16:16:58
Tips for your home: Living concepts, looks & materials