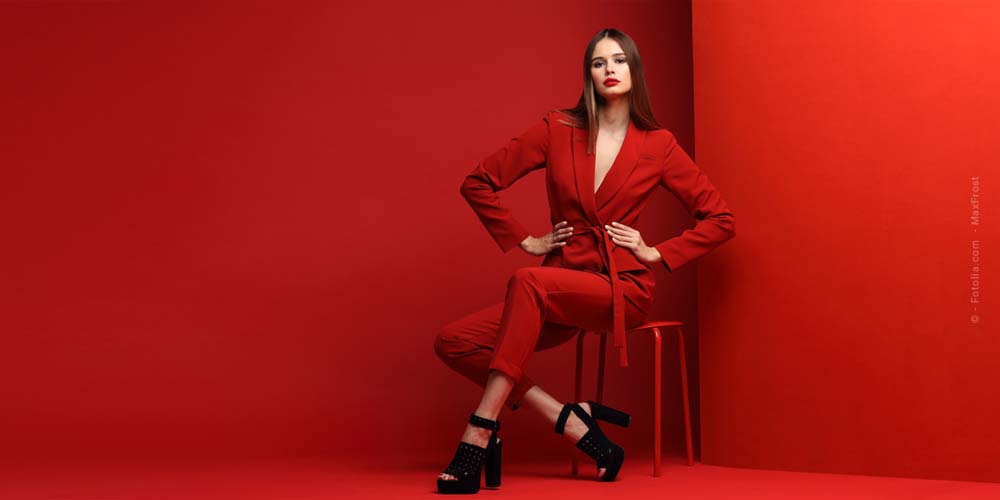 Renovate apartment: Decoration & Colour trends
You want a significant change, but other cushions on the sofa are not enough for you? Okay, then we need to add some color! Coral, petroleum and mustard yellow shades are very much in vogue, but natural shades, pastel and metallic are also very popular with furniture lovers. You can change small details and with new furniture and other decoration you can change a lot of things. However, if you want to change the whole look of the room or apartment, we advise you to make a drastic change in the colour of the walls.
Wall colours & colour accents
Coral: modern female colour
Actually, you prefer light and natural colours in your living room, but now you are longing for a splash of colour! Then "coral" is exactly what you need now. Set accents and still keep your style! You can freshen up white and beige with coral-coloured pieces and you'll even be totally trendy! Coral is a milder form that has a red tinge. It usually looks like a mixture of red and rosé. Not obtrusive, but nevertheless determined, this nuance is the centre of attention and will transform your four walls into a true oasis where the warmth of the sun is reflected and slumbering holiday memories are brought back to life! As a wall paint, it is definitely in focus and warms up the entire living space.
Ideally it can be combined not only with tones such as white and beige, but also with blue, green and yellow. Actually you are very flexible with the rest of the furniture. So you can find a way for you not to change the whole furnishing, but to direct the attention of the visitors to the details. In the interior decoration coral is often used as a colour tone in combination with the image of a coral itself.


Germany - Spain - USA
However, coral is available in different colour shades! The brighter variant slightly plays around the peach colour, the other one rather rust-brown. Everyone has to find his own individual way to find his own colour nuance and to integrate and combine it in his own home! But this colour does not restrict anyone by far, that is for sure!
Colour for interior design: Petrol – mix of green & blue
What exactly does petrol actually mean? All in all, you can say that it is a mixture of blue and green. It looks rather cool, but very pleasant and is suitable as an eye-catcher. No matter whether it has a blue or green tinge, petrol harmonises in both colour directions and looks noble, but at the same time playful, in any case super stylish! The contrast between light accents and dark wall colour makes the room look much more interesting. If you choose a wall colour in this direction, a pleasant room and living atmosphere is guaranteed. The advantage here is also definitely that you have complete freedom with the rest of the room design. In combination with the current trend colour, mustard yellow, as well as natural tones, petrol looks great!
As a wall color this eye-catcher is a little "too much" for you, then direct the focus on sofa cushions, curtains or individual pieces of furniture from this color family. This way you also create an interesting living space. You do not commit yourself immediately and can slowly approach the daring trend colour! Not only this year petrol will turn our heads, but also in the following years the mixture of green and blue is a great way to bring the forest and the sea into your home, into your own four walls!
Mustard yellow – the trend colour for rooms
With THE trend colour 2019 / 2020 summer will move into your home. You would think that this colour tone is a real challenge and not easy to combine! The warm shade harmonizes perfectly with other natural shades such as grey, beige, brown and white and natural materials also fit perfectly with the boho style. For the more adventurous among us, the combination of mustard yellow and petrol is a hip must. With cushions and other small things you can conjure up great accents in a very dreary room and give it that certain something. The mix of a light brown and yellow is also very suitable as a wall paint! Unlike the cool petrol, you can bring the room to new life with mustard yellow on your walls and breathe warmth and harmony into the whole.
Pieces of furniture, such as corner sofas, but also textiles, such as carpets, cushions and curtains are a great way to bring in the warm nuance! Also materials, such as marble and wood make a great combination and your living room immediately becomes a trendy setting. You can keep it rather simple, or use different patterns and shades of colour to create an interesting mix that will amaze the viewer! Who does not have the feeling of summer?
You still don't know exactly how to combine this colour ideally and integrate it into your living space? Don't worry, we have the right tips and tricks to help you freshen up your four walls! With small vases and tea lights you can set great accents on a table or windowsill! The eyes of the visitors are automatically directed to the great colours, no matter how you have combined them!
room colour: emerald green – that's how stylish a room looks
You are an absolute lover of nature and you definitely don't want to miss the green around you in your home? No wonder, because the colour green is known to have an extremely calming effect and create a positive atmosphere in the entire living space. It looks lively and inviting, the perfect combination for a harmonious home! The trend colour was already super popular in 2013 and was just about to shine with its unique charisma! Especially the noble subcategory "emerald green", looks super glamorous, especially in combination with golden details. However, if you want to create an uncomplicated style of living, you should prefer wood elements rather than metallic accents.
But be careful! Be careful to use this colour shade in a targeted manner so that your home doesn't quickly become dark and cramped. Especially in small living rooms you have to dose the paint carefully! If you have a large sofa or a comfortable armchair in green, we recommend you to choose light shades to achieve a great balance: white, beige and light grey, but also pastel shades are ideal and highlight the It pieces in the trend colour even more! This way you automatically direct the viewers' field of vision to the eye-catchers in your home. All the better if you can kill two birds with one stone, right? In 2019 and also in 2020 we will gladly combine everything with everything else! So if the it-pieces are also made of velvet at the same time, so much the better! Even the kitchen can be stylishly integrated into your living concept with just a few simple steps! Here too, in the example below, you can see the golden elements ideally implemented.
Everything looks even trendier if you put a picture gallery on the wall! Pictures with black frames are ideal, so you can create a cool look and "emerald green" is also a great wall color and looks very stylish. But also here, enjoy this color nuance with caution! Especially on the walls, whether in the outdoor or indoor area is less clearly more! So that everything appears harmonious and not overloaded, combine here also gladly with bright color nuances and and "cool" literally the total concept somewhat down and create harmony filled premises, with absolute recovery factor!
To make your feel-good atmosphere even more harmonious, go for botanical accessories! Small plants, such as cactuses, but also palms achieve a great effect! They not only look super cool in the overall concept, but also clean the air inside your living room, great side effect. A small tip from us to give your living room the last touch of a botanical garden is a palm wallpaper! Not for everyone, but especially in small rooms it unfolds true wonders and gives a great individual touch! But not only as a piece of furniture, or wall paint is this color nuance applicable. Textiles, such as sofa cushions, or curtains, ceramics and vases look super noble and harmonize great in any living room. The appealing colour tone also radiates clarity and renewal and is therefore the ideal basis for a great living concept on the legs!
Gold & metallic colours for the home
Versatile and beautiful to look at! Yes, we are talking about golden or matallic accessories. The trend of the last and also the coming period! Since they match every style of furnishing and every colour, we love to have them around us like no other detail. Especially gold harmonizes with the whole colour palette and gives a certain warmth to every room! But of course you should use the shining eye-catchers purposefully, so that the furnishing does not look overloaded, but selected It-pieces decorate the living room. No matter whether they are used in wallpaper, as small accents or as embellishments in the bathroom, we love them!
But no matter in which room they are used, they do not only give warmth in combination with different colour categories, they are also real eye-catchers and look good as a vase, toothbrush cup or lamp everywhere! Especially in the simplest, but also most beautiful form, paired with simple beige and innocent white, they catch our eye and set beautiful and stylish accents! So the living room no longer remains just the boring day room, but becomes a real highlight in no time at all! But also on a summery laid table, golden accents, cutlery or tea lights make themselves simply great.
Interior: Blue – the colour that suits everyone
You want to bring a breath of fresh air into your living space and you rely on the colour blue. No matter if azure blue or navy – you can be sure that you will land a real hit with the complete colour palette in blue! Especially on the walls of your living room the cool tone makes itself really super good. So a holiday feeling is definitely pre-programmed! The maritime look brings a breath of fresh air into your home and the combination of sky and sea creates the right harmony. It has a refreshing effect and is intended to promote concentration, which is why it is a popular colour choice for office spaces. However, the shade should be chosen with care. If it is too dark, particularly small rooms will appear even more cramped and will not let the room shine. But apart from that, a room that has such an attractive wall colour can be designed in all variations and to one's heart's content. Not only the classic, light colour combinations harmonise here, but also dark berry tones and green nuances. But also make sure that you set a few light accents and make sure that enough daylight illuminates the room. This way you avoid constructing a dark, cramped room and not being satisfied with the result. If you pay attention to these small details, nothing can really go wrong and your room can shine and impress in all possible shades of blue! If you prefer to use blue as a contrast in your bedroom, you will increase your chances of finding a calmer sleep. By the way, of course it looks super classy and stylish! In order to create the holiday flair a little more, we recommend botanical accessories. Lavender or small boxwoods fit perfectly and harmonize great with white accents. Light shades, such as white and beige, let blue shine as the colour tone and thus create a pleasant atmosphere.  Ideally it can also be combined with natural materials, such as wood and rattan, and brought into the Mediterranean style of Greece.
Not only on the walls do blue tones shine and unfold their wonderfully harmonious effect. Especially in the form of small details such as vases, tea lights, but also in kitchen utensils, crockery and glasses, blue is a popular eye-catcher. No wonder! In the most diverse patterns and variations it not only looks stylish, but also has a considerable influence on our eating habits. Not yet known? Yes, blue crockery is said to have an appetite-suppressing effect, while colours such as red, orange or brown are said to stimulate the appetite. No matter how you turn it back and forth, we simply love blue!
White and beige – Natural shades
A trend that never gets boring! The combination of white and natural tones, such as grey and beige, looks timelessly elegant. It creates space and opens up possibilities! But not only new possibilities are opened up by the classic modern room concept, but the entire living area appears very structured and spacious. White as a basis does not bind you to certain specifications, such as colour concepts or wild pattern variations when furnishing your rooms. So you can create a cosy living space in a super uncomplicated way. A clean white, or light beige or grey is also ideally suited as a wall paint! It creates a minimal contrast to the rest of the furniture and accessories in the room and has a positive effect on the perception. It is clean and looks tidy, but never boring or less creative! Because not only colours can always create interesting room creations, but also, for example, individual art objects or designer furniture can create unique living situations. Not infrequently, the stylish and modern furnishing option white-beige is used! Especially in the bedroom the cool nuances create a pleasant atmosphere and bring peace and relaxation into the entire living room! In the other rooms, too, the classic combination with a modern flair creates a harmonious construction. Perfect for the minimalist touch are trendy materials such as linen, rattan and wood, but also metallic details. A high-quality linen bed linen looks noble but simple and fits perfectly.
https://fivmagazine.com/wp-content/uploads/2019/07/beitragsbild-farbakzent-trends-wohnen-farbe-modisch-stylisch-dekoration.jpg
500
1000
Lisa-Marie
/wp-content/uploads/2023/08/fiv-magazine-logo-news-influencer-fashion-interior-travel-real-esates.svg
Lisa-Marie
2019-10-07 14:53:39
2020-11-11 10:16:49
Renovate apartment: Decoration & Colour trends