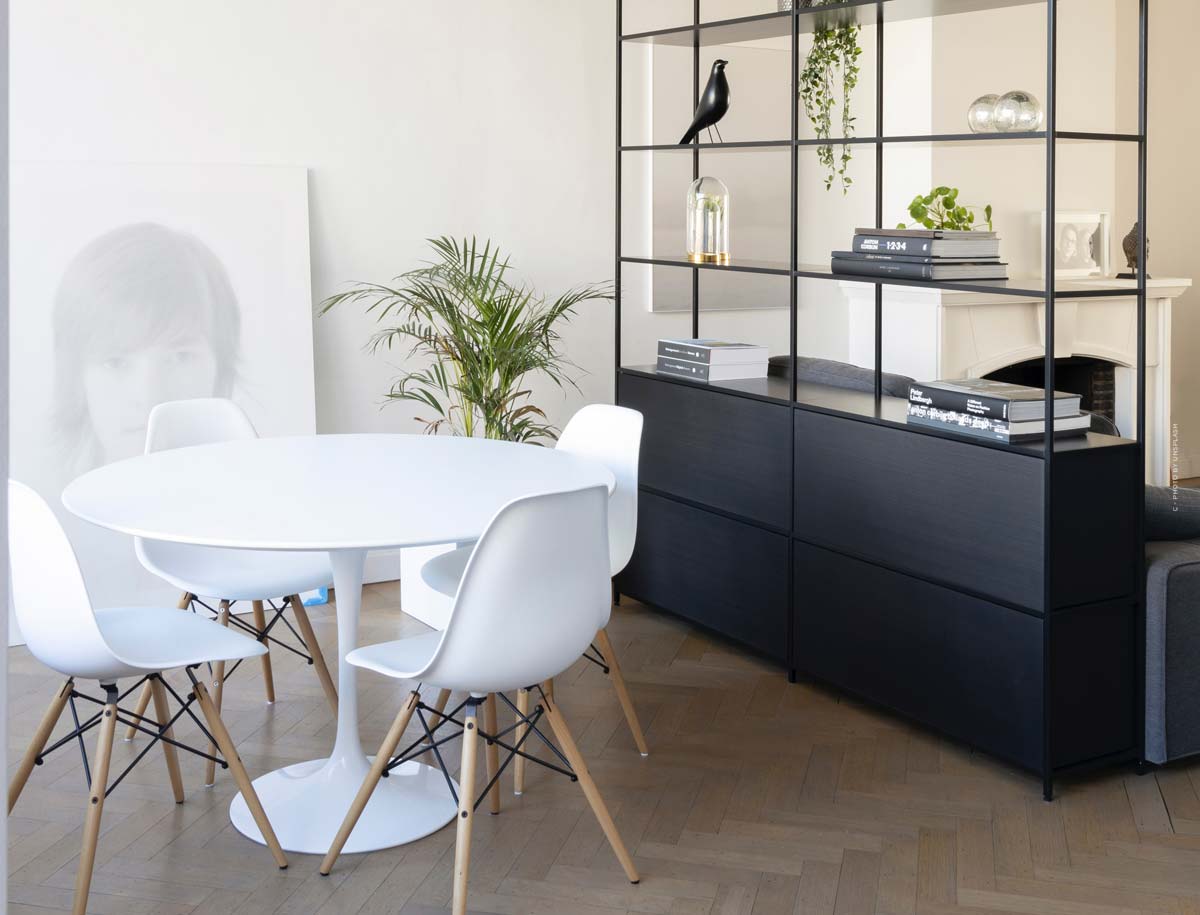 Vitra Living: Home collection with iconic furniture pieces such as sofas, armchairs or chairs
Vitra Living – Living room, bedroom, study, kitchen furnishings: You think your home could use some new furnishings? Then take a look at Vitra Living! Here you will find armchairs, desks, chairs or vases in contemporary design. The architects and designers of the Swiss company work to turn your own four walls into your personal dream home. Turn your home into your own feel-good paradise in no time at all. Tip: Are you interested in interior design and interior styles? Then take a look at the overview pages: Room furnishings & XXL interior styles.
Vitra Living: Home collection by great designers
Vitra Living stands for furniture, lighting and home accessories with a classic and contemporary character. The Swiss family business creates interiors that encourage us to feel good. Sustainability is a firm focus of the third-generation company.
The Vitra Home Collection includes classic and contemporary furniture, lighting and accessories for the home. Since 1950 Vitra has been working with international designers and architects, such as Ray and Charles Eames. Since then, the Vitra Design Company has focused on design objects ranging from classic everyday objects to extravagant individual pieces.
Are you fascinated by the world of interior design? Then take a look at our Pinterest page! Here we have put together the best and most exclusive interior brands for you. Of course, you can also find our pinboard on the topic of Vitra Living here.
Tip. All luxury brands for the perfect interior from A-Z you will find in our comprehensive XXL article furnishing brands
Home Stories by Vitra: A look inside a design studio
Karin Sander, artist and designer from Berlin gives in this video an exclusive insight into her studio, where she lives and works daily. Equipped with the fascinating furniture from Vitra:
If you don't want back pain, you should buy the right chair. Comfort and convenience is the name of the game here. At Vitra Living you will find an enormous selection of comfortable but stylish chairs. Behind the Panton Chair Classic is a full art chair from a single mould. The award-winning chair is still available today as an original version. Glossy lacquered in white, black, red or green.
None other than Frank Gehry is the designer of the Wiggle Side Chair. The chair from the Easy Edges series is made of corrugated cardboard and has a sculptural character. Nevertheless, this chair is in no way inferior to other chairs in terms of stability and robustness.
The Plastic Chairs come from the pen of Charles and Ray Eames. The Rocking Armchair Rod Base (RAR) is the star among the chair family and is available with a seat or full upholstery. This armchair convinces with its iconic shape and offers comfortable seating even for taller people. The rocking chair base on wooden runners makes this chair something very special.
Office chairs: comfortable chairs with backrest and chic design
Especially when sitting for hours in the home office, it is important to get a comfortable chair that is easy on the back. Vitra Living presents you with comfortable solutions for this problem and brings the professional office feeling to your home with its office chairs.
With its compact cushion, sandwich construction and lumbar support, the ID Trim L provides enormous comfort when working at the desk. Relaxation for the neck and neck region is guaranteed by the high backrest.
With a round, forward backrest and comfortable upholstery, the Pivot Counter Stool brings the right comfort and a special design to your home. Sideways sitting positions can be perfectly taken in this chair. This chair can also be used as a support or leaning aid with two different selectable foot bases for carpet or hard floor. Light grey, dark grey, black, red or brown – what colour will your Pivot Counter Stool be?
Aluminium Chair: Design by Charles & Ray Eames
This Alu Chair is a chair from the Aluminium Group, designed by Charles & Ray Eames. Try the unique comfort of this chair and lean back:
Tables: dining tables, desks or table as desired
The Dining Table – The design by Isamu Noguchi is considered one of the most elegant designs in the field of dining tables of the 20th century. A ring-shaped base made of cast iron supports the numerous chrome-plated rods of the underframe, which are extremely stable despite the optical lightness. The table top made of laminated wood with hard surface is available in two sizes.
Contract Tables – These tables with universal base are perfect as bistro tables for indoors, but also outdoors due to their small size. The round or square table top can be purchased in four different materials: Melamine direct coated, smooth plastic top, veneer in oak, solid core top or with hard surface.
MedaMorph: personalised tables with Storm connections for Vitra customers
MedaMorph is a table system created in collaboration with the engineer Alberto Meda. The table system works through the ingenious underframe construction, which allows a modular method through which one can bring the table in any shape and size. VCS, short for the free Vitra Configuration System planning software, is a visualisation tool for customers.
Here, personally adapted products can be created on the basis of parameters such as size, table shape, table top surface or number of seats. The resulting price of the desired product is determined directly. Even points such as the number of power and data connections can be taken into account here.
Visitor, meeting and conference tables according to your needs.
Desks: functional & elegant in the home office
Good, functional desks are becoming increasingly important as home office options and relevance continue to grow. The Home Desk by George Nelson is a true gem among desks.
A ladies' secretary, which is made of high-quality walnut wood and sets colorful accents through small, colored compartments. Especially suitable for the days in the home office.
Tyde Workstations: sitting and standing table with sound insulation
The basic models of the Tyde workstations include round columns, feet, table tops and frames made of different surface materials. In addition, there is a fleece cable tray, which serves to dampen noise and cover the technology. You can choose between the calming colours grey/stone, green, sea blue and granite grey for the fleece cover.
The great advantage of this desk is the height adjustability and the possibility of the double function as a sitting and standing table. You can choose between an electric motor (adjustable from 65 to 125cm), a crank (adjustable from 65 to 85cm) or grid columns (only adjustable from 68 to 76cm). Tyde workstations are therefore not only suitable as single workstations, but also ideal for double workstations and meeting tables.
Living room: armchairs, sofas and more for a stylish ambience
Even if Vitra Living is mainly known for its comprehensive range of various chairs, the company also has other seating in its repertoire: Especially armchairs and sofas are particularly popular and enhance every living room or study. Of course, Vitra also offers matching couch or side tables. Find out more about collections and products here.
Couch and side tables: small works of art made of cork and sheet aluminium
Couch and side tables are the perfect addition to your living room. The Cork Family offers you five different models, which can be used as stools as well as side tables. The small pieces of furniture are made entirely of cork and are therefore noticeable for their lightness, enormous toughness and pleasant velvety feel.
Inspired by the Japanese art of paper folding, the Prismatic Table is an absolute eye-catcher thanks to its pure geometric design. The three-legged table made of coated aluminium sheet is available in black or white.
More than an armchair: a small island of relaxation for the home
A comfortable armchair is the relaxation oasis after work. Here you can end the evening with a good book or an exciting series. Perfect for this is the armchair Amoebe with its cheeky 70s design. This armchair fits into any interior, because it can be ordered in every possible colour – from red to lime green.
The Heart Cone Chair is particularly unique with a heart-shaped silhouette of the seat shell. The design from the end of the 50s shines with a pleasant upholstery and a restrained base made of stainless steel. The heart chair made of glass fibre reinforced plastic is available in different shades of red, classic black or a summery meadow green.
Fabric samples free of charge: Colour & Material Library
In the Colour & Material Library you will find a wide variety of themed worlds: A true paradise of colours, patterns and fabrics. Four different colour worlds are waiting to be discovered by you: Reds, Greens, Darks & Lights.
In addition to these colourboards, you will also be introduced to duo tones. A duo-tone binding has many advantages: On the one hand, the double binding makes us pay more attention to the colour and thus brings it to life. You have to look twice because the colors look different depending on the light. On the other hand, the interweaving of two colors causes a certain softness and intimacy. Just the right flair for your home!
Here you can also order free samples of fabrics and leathers to find the perfect material for your new piece of furniture. On average, the delivery time is 3 days for the up to five samples that you can order per day.
You can find out more about the designers' colour palettes and what bridge colours are all about by visiting the Colour & Material Library on the website.
https://fivmagazine.com/wp-content/uploads/2021/01/vitra-living-interior-stuhl-tisch-wohnzimmer-pflanze-wohnung-haus-schrank-regal.jpg
915
1200
Lisa-Marie
/wp-content/uploads/2020/07/fiv-magazine-news-instagram-youtube-tiktok-influencer-fashion-interior-jewelry-real-estate-tips-help-logo.png
Lisa-Marie
2021-02-01 07:00:32
2021-02-01 07:00:32
Vitra Living: Home collection with iconic furniture pieces such as sofas, armchairs or chairs