Feel good outdoors: With these 5 measures the terrace becomes an outdoor living room
Feeling good outdoors – When the days start to get longer again and the sun draws us outside, the desire to spend as much time as possible outdoors and swap the living room for the patio increases. Whether you're enjoying the pleasantly warm evening air after work, relaxing on the patio on Sunday afternoons, or spending quality time together with friends, there are plenty of ways to make the most of your patio. And best of all, with just a few simple steps you can be at least as comfortable outside as you are on your sofa at home.
Five measures for a cozy terrace
To make your own terrace cozy and stylish, you need only a few well thought-out furnishings and matching accessories. The basis for a cozy terrace is stylish lounge and garden furniture, which is enhanced by high-quality outdoor textiles. Whether boho style, wood look or stylish lounge in metal look – beautiful is what pleases.
What should also not be missing in any case is a suitable sunshade and, if necessary, a privacy screen, which can be made particularly natural, for example, by plants. Otherwise, plants and flowers as well as light sources in the form of candles, fire bowls and fairy lights are also the best way to make the terrace cozy and according to your own taste. So you are guaranteed to feel comfortable, whether with friends, family or just relaxed for yourself.
Lounge and garden furniture: stylish and cozy
The basis for your outdoor living room is beautiful lounge or garden furniture. It is a question of personal taste whether furniture in wood look, rattan, polyrattan or metal is the best choice for you. In addition, it makes a big difference for which occasions you want to use the furniture mainly. Hammocks, deck chairs and garden loungers are the right choice if you mainly want to relax on the terrace. Whereas garden benches and a large table are ideal for social gatherings. A lounge corner with a large side table is a good compromise and can be used both for relaxing and spending time with family and friends.


Germany - Spain - USA
Ideal for family, friends & to relax is a lounge corner
Those who like it more extravagant and are looking for something very special, can put a luxurious garden bed, a cozy hanging chair or an idyllic beach chair on the terrace. Last but not least, for the selection of suitable furniture, the available space and, of course, the budget plays a major role.
Interior design tips summarized:
For relaxation: hammocks and deckchairs
For social evenings: Garden bench and large table
For the extravagant: Garden bed, hanging chair & beach chair
Ideal for both balcony, garden, and terrace – the hammock: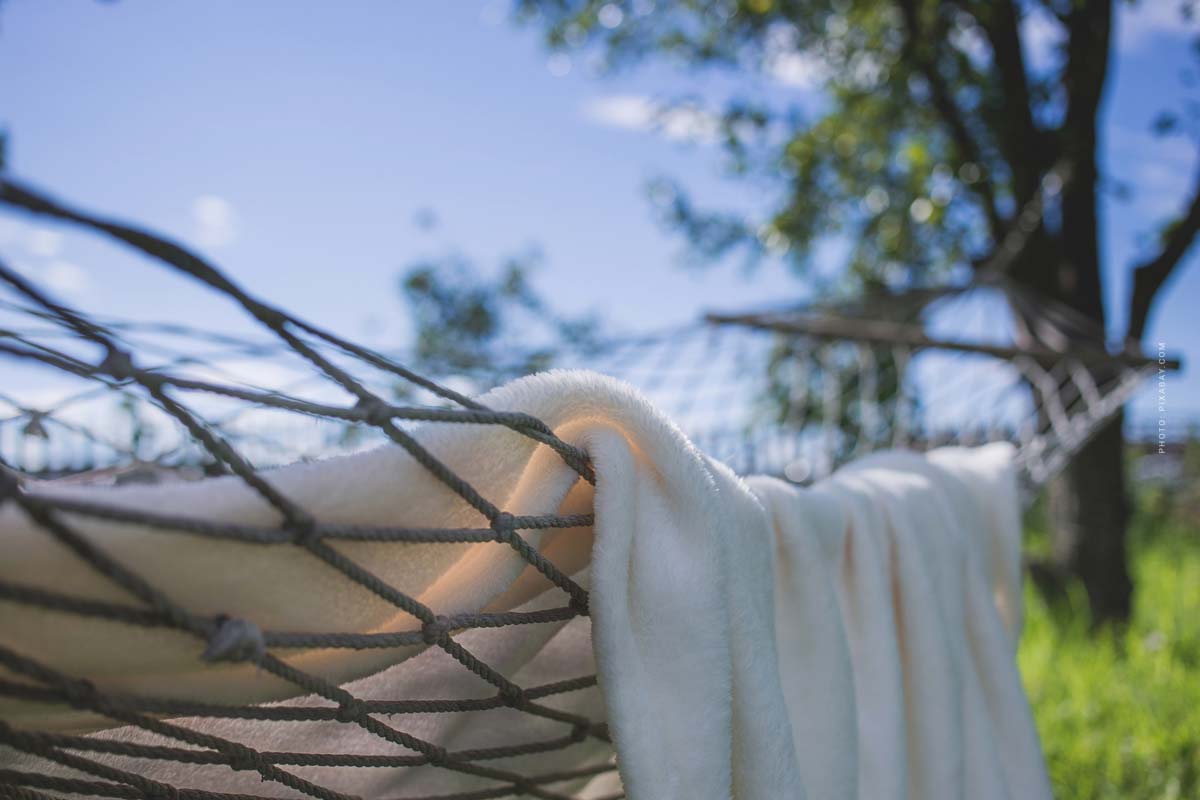 High quality outdoor textiles: weatherproof seat covers and fluffy blankets
Once the furniture is chosen, it's time to decorate the terrace. Here, high-quality outdoor textiles play a major role. On the one hand, they can be a real eye-catcher, and on the other hand, of course, they should be particularly cozy and practical. Fluffy blankets and soft cushions, for example, are a must for relaxing evenings under the open sky.
Blanket, cushion & seat pads are cozy & practical
In addition, outdoor textiles such as seat covers, blankets and cushions should fit well into the overall picture and match the style of the selected furniture. Bohemian-style textiles, for example, go very well with wood and natural materials, while metal garden furniture in combination with simple colors like gray or beige can look very classy. In addition, it is important that the outdoor upholstery is weatherproof and can withstand the occasional rain shower.
For wood & natural materials: bohemian style textiles
Metal garden furniture: cool colors, such as beige and gray
Suitable sun protection: awning, sun sail and co.
Every patio furnishing includes a suitable sunshade. If the terrace is large or the lounge area is in the middle of the garden, a large parasol or a sun sail may be the right choice, while a terrace that is directly adjacent to the house can be well protected from the sun with an awning. While awnings can be expensive, they last all the longer for it. You can benefit from a high-quality awning for decades.
Tip: Invest in awning, sun sail & parasol
But it is also worth paying attention to good quality parasols and sun sails. Free-arm umbrellas, for example, offer maximum flexibility, as they can be swiveled into the right position and adjusted in inclination. In addition, the material plays an important role. The fabric should keep out sunlight, be light-resistant and withstand rain.
Lush planting: from flower beds to screens
To really feel at home on the terrace, plants and flowers should not be missing. Especially if there is no garden adjacent to the terrace, a little greenery works wonders. You can choose from typical terrace plants such as hibiscus, bamboo or angel's trumpet, as well as herbs, tomato plants and other vegetables.
In addition, plants can be a good natural privacy screen. Especially bamboo, holly and cypress are very popular here. If you have a larger garden, you can plant your own tree or create a flower bed full of roses, lilacs and hydrangeas.
The most popular plants for garden & terrace:
Hibiscus
Bamboo
Angel Trumpet
Herbs
Vegetable plants
Flowerbed
On smaller terraces, it can be a good idea to plant on top of each other or prefer hanging and climbing plants such as climbing roses or climbing hydrangeas. In addition, the color and smell of flowers make a lot, because what could be better than a floral scent of jasmine with your morning coffee.
Not only the planting affects the atmosphere of the terrace, but also the lighting:

Romantic lighting: rustic fire bowl or sustainable solar lamps
In addition to the plants, the lighting is important for the feel-good factor. Especially when you sit in the garden for a long time in the evening and enjoy the pleasant cool evening air, the patio lighting makes a lot of difference. For those who want it romantic, candles, lamps and fairy lights should not be missing in any case. Particularly beautiful and environmentally friendly are solar-powered light chains and lights, which charge during the day and give off their light until late at night.
If you prefer something more rustic, you can use a fire bowl or a fire basket. These are also available in a beautiful, elegant design and some can even be converted into a grill.
Fire basket, fairy lights & Co. provides romance
Conclusion : How to turn your terrace into an outdoor living room
With a few tips and tricks, your terrace can easily be transformed into a beautiful and cozy outdoor living room, which, especially in summer, can replace the living room at home and be at least as comfortable and stylish. Whether with friends, family or for yourself, you can enjoy the sun during the day and spend a nice time and relax until the evening hours.
Our five tips summarized:
When choosing furniture, pay attention to coziness and function
Blanket, cushion and seat cover should be waterproof
Invest in sufficient sun protection
Plants and flowers provide greenery
The right feel-good factor can be achieved with lighting
But before you start choosing the right furniture, outdoor textiles, lighting, plants and flowers for you, you should think about what you mainly want to use your terrace for and what style suits you. Whether it's a wooden set with a large table and long benches for evening dinners with the whole family or a cozy hammock to enjoy a book or two – there are no limits to your imagination. If you have enough space, individual elements and styles can be wonderfully combined.
https://fivmagazine.com/wp-content/uploads/2022/03/terrasse-outdoor-wohnzimmer-ratgeber-tipps-einrichtung-dekoration-moebel-pflanze-beleuchtung-holz-stuhl-treppe.jpg
800
1200
Laura
/wp-content/uploads/2023/08/fiv-magazine-logo-news-influencer-fashion-interior-travel-real-esates.svg
Laura
2022-02-15 18:53:19
2022-06-14 09:17:59
Feel good outdoors: With these 5 measures the terrace becomes an outdoor living room