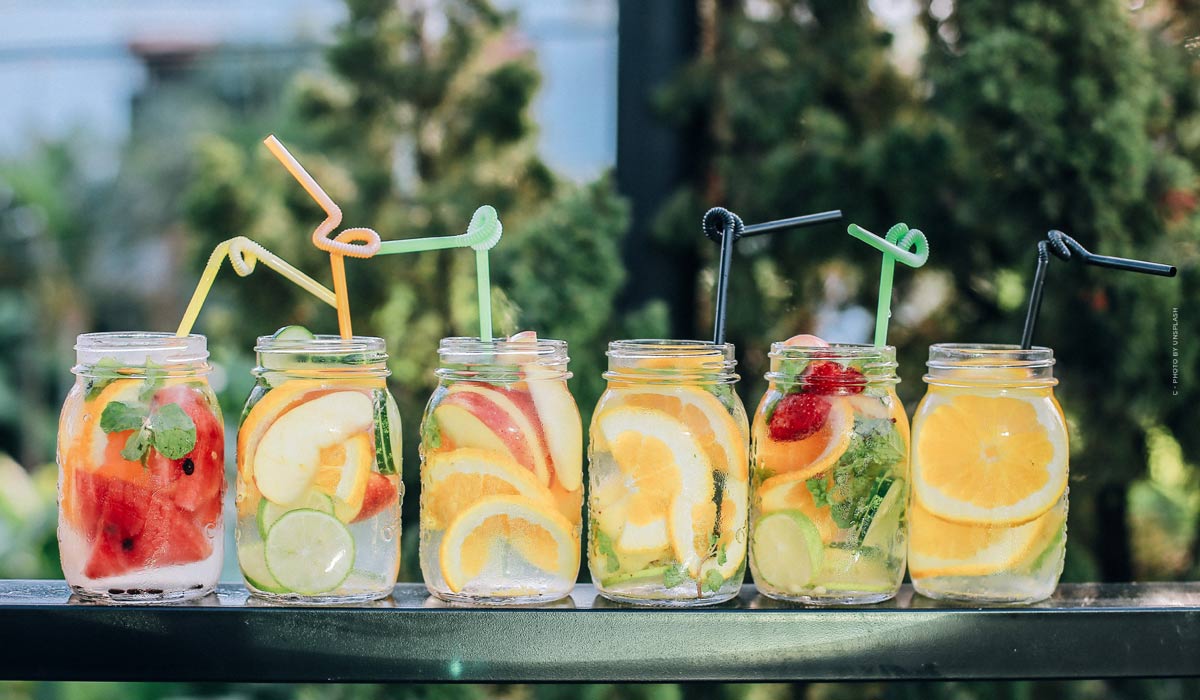 Delicious & simple drinks for the summer: to make yourself, with and without alcohol!
Summer, sun, sunshine: fantastic weather lifts the spirits, promotes motivation and good spirits. Now all you need is a tasty drink and the summer day is perfect. Often you can conjure up a tasty drink with just a few ingredients. We have picked out the most diverse recipe ideas for you, which anyone can copy. The good thing is that you often don't have to do much, don't have to spend a lot of money and can still have a delicious drink in your hands.
Cocktails without alcohol – mocktails, iced tea, smoothie & co!
Summer is here! The days are getting longer, the nights shorter! What could be better than a delicious drink in your hand? Even if you're not necessarily a professional chef, you can still conjure up these delicious drinks! Maybe you'd like to take a picture of your result and share it with your friends? Then take a look at our tips for a good photo! Here you can find out how to take the best possible photo of your drink.
Cold soft drinks for young and old
You would like to abstain from alcohol, you do not like alcohol or you just do not feel like an alcoholic drink? Then take a look at these five summer drink ideas! You can easily copy them and enjoy them at home in the living room, on the terrace, on the balcony or in the garden.


Germany - Spain - USA
Make your own lemonade: The Classics
Sometimes you don't feel like having fancy drinks or you just prefer classic. A refreshing lemonade gives you the necessary energy boost for the day. Either you choose the classic lemonade or a more special version of lemonade. Stop by and have fun making it!
Lemon Lemonade: With mint and without sugar
Sally shows you in this short video a quick and easy way to make a fresh drink yourself!
Raspberry-Lemonade: Simple recipe with few calories
Maybe you'd like a little more variation. Then try the raspberry and lemon lemonade! Sounds spectacular, but it's really easy! In just a few minutes you will have a delicious lemonade!
Starbucks at home: Frappuccinos & cold drinks
Starbucks drinks are absolutely hip. Unfortunately they are very expensive. If your wallet doesn't allow it, you can easily prepare your own Starbucks drink yourself.
Make your own iced coffee, latte macchiato & co.
What are the top 3 summer drinks this year? With this video you can quickly make a delicious Cool Lime Refresher, a S'mores Frappuccino or an Iced Guava Passionfruit Drink!
Fruity DIY Starbucks Drinks: healthy, colourful & cheap
Fruity, colourful and delicious: These are the DIY Starbucks drinks for the summer! Check out the recipes!
Isotonic drinks after sports: Electrolytic & cold a pleasure
You want to enjoy a tasty drink, but at the same time make sure that this drink is healthy? Then we have just the right thing for you! You can enjoy delicious iced teas in summer with a clear conscience, because they are healthy and tasty on top of that!
Vitalizing teas without sugar & with great effect
Iced tea to make yourself! It'll be done in no time, so you can do it too!
Detoxifying detox tea with lots of lemon
Suitable for your fitness program a refreshing drink for afterwards! Just tasty!
Cocktails for the summer with and without alcohol
Would you like to try something new? Are you tired of drinking the same drinks over and over? Then try these recipe ideas!
Rainbow Cocktail: Simple recipe with colourful layers
Colourful, colourful and funny! With or without alcohol simply a pleasure!
Cocktail fast, delicious & simple – within a few minutes
XLaeta shows you how to prepare the coolest cocktails in 3 minutes. Don't you think? Then click yourself in!
https://fivmagazine.com/wp-content/uploads/2020/08/summer-cocktais-mocktails-drinks-with-without-alcohol.jpg
700
1200
Laura
/wp-content/uploads/2023/08/fiv-magazine-logo-news-influencer-fashion-interior-travel-real-esates.svg
Laura
2020-08-19 16:59:33
2020-11-10 15:54:36
Delicious & simple drinks for the summer: to make yourself, with and without alcohol!