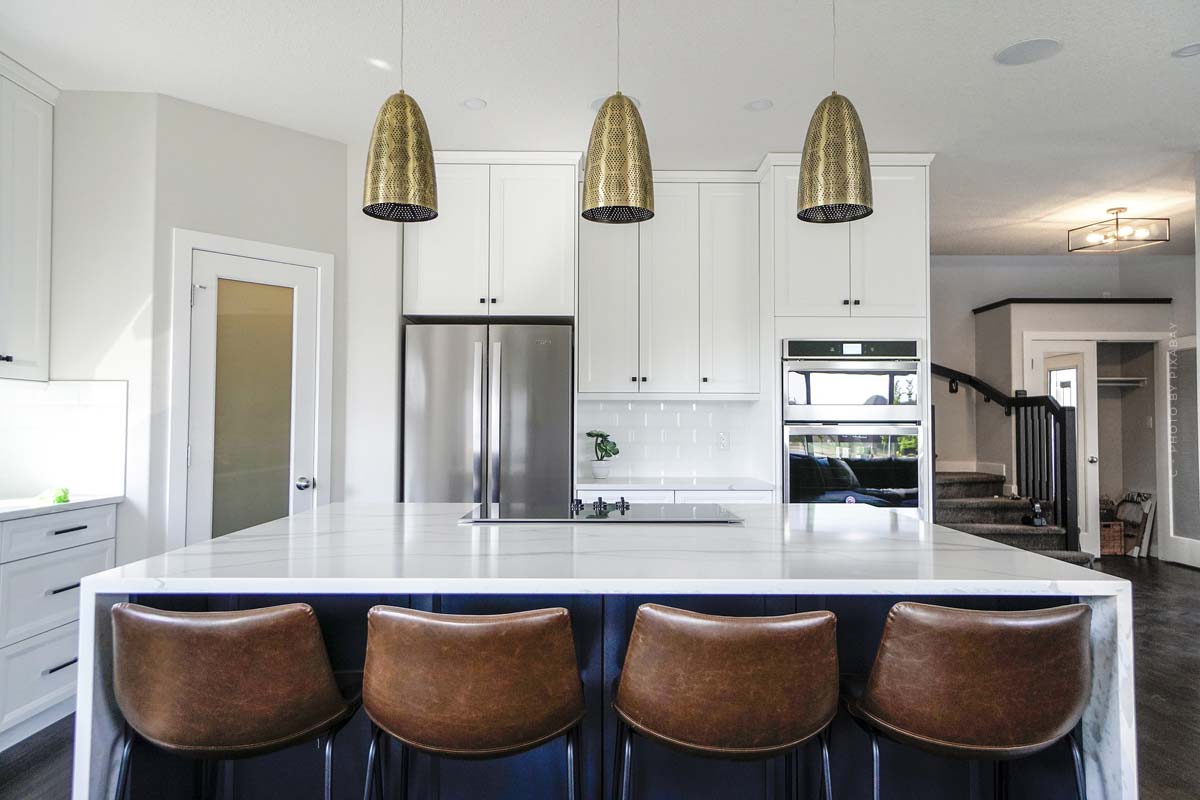 Minotti: timeless, modern design from Italy for furniture like beds, sofas & armchairs
Minotti – The label tries to combine modern design with high-quality materials and timelessness. To put a piece by Minotti in your home is not only an expression of good taste, but also the promise that you really love the object, because you will not have to get a new piece of furniture so soon. This is guaranteed by the great workmanship and the exclusive material, because only the best metals and woods have the honour of being processed for a furnishing object by the label. Get to know Minotti better here. Another tip from us: whether it's a bedroom, living room or even a garden design, you'll find the interior style that suits you!
Minotti furniture inspirations: modern sofas, beds & co.
Muted colours, clear lines and simple elegance are the hallmarks of modern interior design. Decorative elements are selected specifically and used in a restrained manner. Lamps are also often very simplistic and not very elaborately designed, although especially smaller home accessories are often used to liven up the room.
If this sounds like a style you're interested in, feel free to check out our Minotti Pinterest board, it might help you make your modern home dreams come true. We also have a number of other interior brands with very different styles on offer. So even if you're still undecided, it's worth taking a look!


Germany - Spain - USA
Tip! All luxury brands for the perfect interior from A-Z can be found in our comprehensive XXL article Interior brands!
Minotti showroom that makes you dream – Video
More ideas come to mind when watching what Minotti offers you in the form of videos. Bright, open spaces, muted colours and soft upholstered furniture characterise the showroom setup and reveal what modern luxury furnishing means to the label. It's not just about following trends, they also want to offer sustainable creations that still look good after years.
Living room & Bar: Furnishing with Minotti
A choice that many of us face: What's the best way to end the day? There really is no universal answer to this question. But sometimes the choice is pretty easy. Certain evenings just cry out for a little get-together with good friends to vent one's frustrations, or just to spend some time in good company. The best way to do this is in a cozy living room or a small bar that you have set up.
Having your own little bar sounds excessive? There are so many reasons to do so, so think twice about whether it's something you'd be interested in, because the benefits are clear: your personal bar always has your favourite drink in stock, you don't have to leave the house to get there, and you save money too. Plus, even a small counter with bar stools and a wall of spirits behind it will almost always impress guests, and maintenance is so much easier than a pool or sauna.
Sofa collection: single in the room or corner sofa?
Seating is without a doubt a must-have for any apartment or home. And what better way to do that than to throw yourself on a soft couch loaded with countless cushions? The questions are: Put the couch against the wall or set up a couch landscape more in the middle of the room? Obviously, this depends on the space available, and secondly, it depends on what other areas are covered in a living room. Is there a separate dining room?
If not, it makes more sense to choose a room layout that divides the space into individual 'quarters' instead of one large centrepiece. Whatever the choice, Minotti offers sofas for every situation:
Connery corner sofa
Tory Sofa
Daniels corner sofa
Tape Sofa
Side table collection: Practical everyday companions also in the home office
Side tables and coffee tables often complete a sophisticated couch combination, but it doesn't always have to be the table in the middle. Minotti, for example, offers a side table that extends over the back of the sofa and onto the couch. The perfect place to put a laptop for all those who like to be comfortable in the home office.
Bar stool collection: shaken not stirred
We've already tried to point out the advantages of a small, private bar, because let's not kid ourselves, many of us dream of exactly that. Of course, there's more to a fully furnished bar than just a few bar stools, but the stylish Minotti chairs are definitely the first step:
Amelie
Aston
Flynt
Bag Light
Dining room chairs collection: upholstered, round and square
I think we can all agree that chairs are an essential. Whether you actually use them to sit on or they just sit in the corner to hold our clothes doesn't matter. Having a few extra chairs for guests is a fact of life in almost every household. Besides, dining tables without chairs look incredibly empty and make the room look bare. Therefore, Minotti offers some solutions that can be perfectly combined with the chairs of the brand.
Dining table collection: sitting together at the table
Whether you cook it yourself or order it, food tastes best when you eat it together with your loved ones. It doesn't have to be an elaborate dish that you have in front of you. It's more about the 'ritual' of eating together. When you eat with others, you often eat more slowly, especially if you're having a conversation while you're eating. It is best to sit at these table models:
Linha
Wedge
Van Dyck
Toulouse
Bedroom: ready for deep sleep and power nap
In the bedroom and dressing room, you take your first and last steps almost every day. These can determine whether you start the day with a good or rather negative feeling. It's not for nothing that they say someone got up on the wrong side of the bed when a person exudes a bad mood. To avoid this, the furnishings in these rooms should also be chosen to be as practical and appealing as possible.
Bed Andersen: refined simplicity
The Andersen bed is one of the absolute bestsellers of the house Minotti and has therefore earned its own section in this article. Because this bed model is the epitome of modern design: straightforward, simple and yet elegant. The bed comes with an upholstered frame, which stands on a restrained metal frame and thus fits into any room.
Bench, armchair and stool collection: dress comfortably
The luxury offered by an armchair, a bench or a stool in the room where you dress is often underestimated. A seat to put on socks, tights or shoes, for example, is a little piece of everyday luxury. The upholstered pieces of furniture from Minotti cut a particularly good figure here and are also ideal for this purpose.
Mattia
Albert & Ile
Suitcase Line
Aston 'Chaise Longue
Office furniture: Work comfortably from home
Through digital solutions, working from home is becoming more and more popular and widespread. As a self-employed person or even as an employee working from home, it is nice to have an environment in which the effort is a little easier and you also get the feeling of being housed in an actual working environment.
Shelves and chests of drawers collection: plenty of space for important documents
Despite the digitalization of work processes and the resulting data volumes that no longer need to be stored on paper, there are some things and documents that still require storage in paper form. In addition, things like books and folders are no longer purely functional objects, but can also be decoration for the workspace. Whichever way you look at it, Minotti storage furniture is an elegant solution.
Boteco
Carson "Bookcase"
Caron Dine
Aylon
Desk 'Carson': 2-in-1 desk
A simple and practical desk can be found in the Carson 'Writing Desk' model by Minotti. The desk not only offers enough space to comfortably work on the PC for a few hours and sip your coffee or tea, but also keeps the most important objects, pens and paper within easy reach thanks to the attached drawers. The small table is especially suitable as additional separate seating in the living room or bedroom.
Swivel chair: At the dinner table and in the office
Swivel chairs often awaken the child in us. Memories of merry-go-round rides, or even the first time we were allowed to sit on mum's or dad's desk chair come up and we don't want to stop spinning in circles. Ok, that may be a bit of an exaggeration, but swivel chairs are definitely a creative solution when it comes to interior design. That's why we have summarised the options from Minotti for you here:
Russell
Russel 'Dining'
Reeves 'Small
Jensen
Blake Soft
Outdoor: Garden furniture for the green kingdom
First the work, then the pleasure. After talking about ideas for the study, we now turn to the slightly more pleasant sides of life, the garden and pool area. Because Minotti does not only cover the interior, but also everything outside in the furniture area. Benches, tables, sofas and pool loungers, it's all there, even without a pool and just for sunbathing, the luxurious garden furniture looks great.
Exterior furniture with vision – Video
To give you an idea of what a building equipped with the interior solutions of the premium label could look like, Minotti lets you take a look at their computer world. These are not only proposals for private homes, but also for hotels and other guest houses. Take a look at the brand's visions here:
https://fivmagazine.com/wp-content/uploads/2021/01/minotti-interior-moebel-einrichtung-sofa-sessel-haus-wohnung-einrichten-wohnzimmer-kueche.jpg
800
1200
Lisa-Marie
/wp-content/uploads/2023/08/fiv-magazine-logo-news-influencer-fashion-interior-travel-real-esates.svg
Lisa-Marie
2021-01-10 07:00:39
2021-07-17 17:42:11
Minotti: timeless, modern design from Italy for furniture like beds, sofas & armchairs