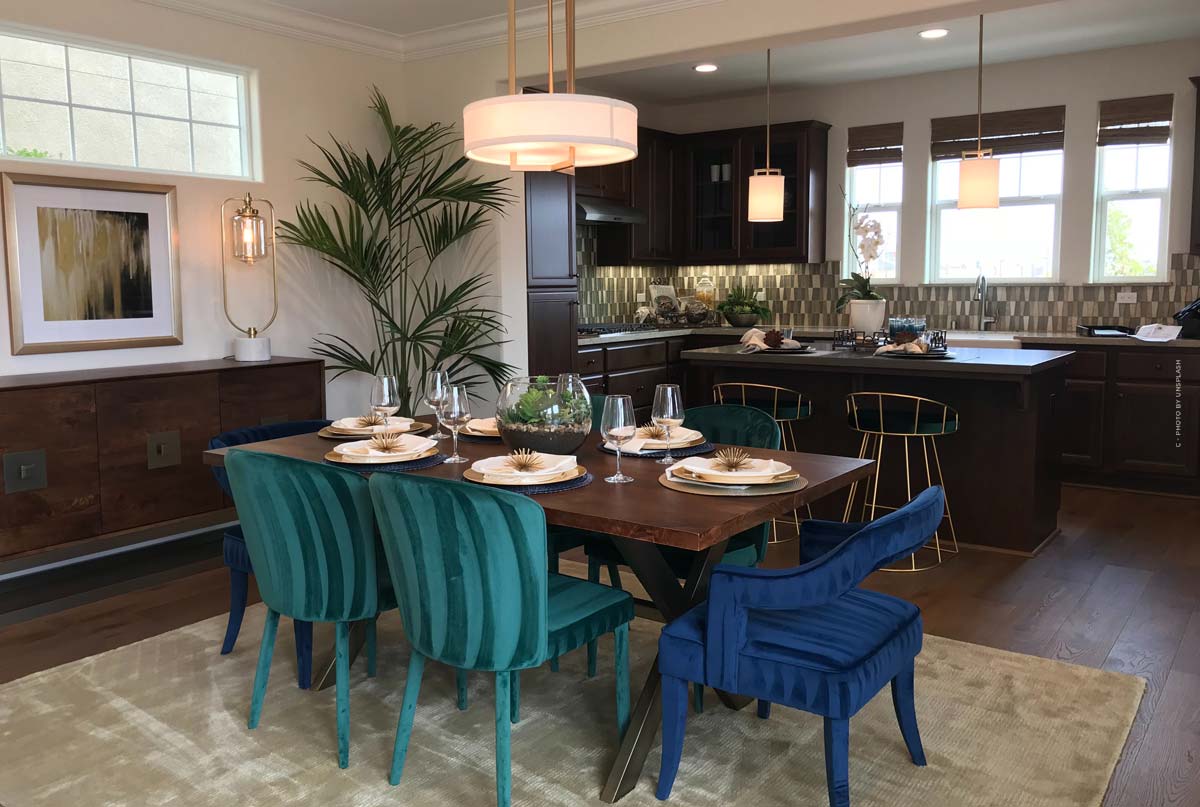 Tables: Dining tables, coffee tables and co. – materials and comparison, with decoration ideas for your home
Table – decoration and functionality are combined in tables. But they can quickly become boring if you choose the wrong model, or if you run out of ideas for table decoration. To awaken the true potential of different types of tables and create the perfect decor for your home, we would like to try to help you with this article. If you want to furnish your kitchen or make your dining room special, you need the appropriate dining table. But tables are not only used here: Storage tables, coffee tables and many other possibilities open up in the world of tables. Here you can find out which shapes are available and with which table you can upgrade every room. Are you interested in furniture and interior design? Then take a look at our comprehensive guide to furnishing styles or interior brands XXL!
Buying tables: Guide to the perfect table – Dining room, living room & Co.
Even with something as simple as tables, it is sometimes not easy to make the right choice. For this reason, we have taken care to compile a list for you that will help you find a quality table that meets your needs. For this, however, you also need to think about analyzing what you want and need.
What weight should the table have, for example? If you have to move it frequently, it can be advantageous to use a lighter material variant.


Germany - Spain - USA
Checklist: What a table should have – Sturdy table legs and resilient tabletop
For both the top and the table legs, there are different options open to you. A little further down we look at the advantages and disadvantages of different materials.
Before that, we'll give you a few points that are important to consider when buying your new table:
Dimensions
Price
Mounting
Load weight
Table tops: Perfect material for dining tables, desks and more
The right material is key when it comes to choosing the perfect table. After all, you want to avoid spending hours wiping the table to finally get it streak-free. Or even moving the heavy table regularly and risking scratches in the floor is just no fun. That's why we'll tell you what to look out for in the different materials.
Solid wood table: robust and easy to clean, with wooden or metal table legs
Solid wood furniture is of extremely high quality and requires regular care to maintain its condition for as long as possible. However, regular does not mean intensive at the same time. Applying a furniture care product in the form of an oil from time to time, for example, can already be enough to keep the piece of furniture in good shape and make the material permanently durable. Oils can penetrate into the wood fibres and make them supple on the one hand, on the other hand it increases the water resistance of the wood.
Glass table: cool elegance with transparent table top
Glass tops on tables are often considered particularly modern and sleek. While the optical aspects are of course not to be dismissed out of hand, a glass table can unfortunately also be very exhausting, if stains and even fingerprints are immediately recognizable on the smooth material and stand out unflatteringly. A regular cleaning is accordingly a basic requirement if one decides for this type of table.
Wood veneer: low-cost, lightweight solution for tables to match any decor
Another option is wood veneer. This is simply a thin layer of wood that is often applied to low quality wood and chipboard to enhance their appearance. For this reason, wood veneer table tops are cheaper to produce and the end products are often lighter than solid wood.
Unfortunately, veneer can have the problem of becoming detached from the base material in the long term. For this reason, this material solution is not recommended unless it is an extremely high-quality product.
Stone: Table tops made of marble and co. – heavy, but durable
A slab of stone is an extremely noble option to enhance any room, because the material is robust and there are particularly valuable types of stone such as marble, which in their own way have a positive impact on the room and are also very simple to clean. However, you should be aware that high-quality minerals such as marble do not like to come into contact with harsh cleaning agents.
Table Types: What are the types of tables? Desk, coffee table & more
Tables may be missing in actually no one at home. Of course, you're still inundated with options when you're searching. For this reason, we have thought for you about what you should look for when you buy your tables for different purposes. For example, what should a desk have so you can work on it for as long as possible without getting back pain, and how big should a dining table be so there's enough room for you and your family? We have found out for you.
Dining table: Table in dining room or kitchen – Small, large or extendable? Individual sizes possible
An invitation to a fancy dinner not only makes an impression on colleagues, but also allows you to have a nice evening with your friends or to finally get together with your family again. For this purpose, you need the right table. Preferably large and elegant. But how much space do you have available? Do you want to give the living room table a lot of space permanently? Otherwise, it makes sense to look for an extendable option that gives you a little more space in everyday life.
Desk: Tables made to measure from solid wood, glass and more – For office or children's room
Long days at the office desk can be nerve-wracking anyway, but it gets even worse when the desk simply isn't customized to your needs. Many people turn to custom office desks for this very reason, but is it even worth the financial outlay? We say yes, because if there are two things you should value and are always worth an investment, it's beds and desks. It came down to spending more time in them and they contribute significantly to our well-being. Here are a few reasons that will hopefully help convince you to get a custom desk:
Perfect height adjustment / height adjustability
Ideal fit for your office
Cable outputs as you need them
Individual material
Adaptation to your wishes
Coffee table / side table: round table on wheels or rather solid with marble? Storage space for every room
Of course, in the case of coffee tables, functionality should also not be disregarded, but here it is much more about bringing another visual aspect into the living environment. So instead of opting for a plain table, it's worth giving some thought to more striking models. Marble looks particularly good in a modern living environment and especially coffee tables in gold look can look exceedingly elegant when combined with a plain couch.
Bedside table: Perfect for bedside lamps, books or bedroom beauty essentials by the bedside.
Do you like to lie in bed at night and read a relaxing book before turning out the lights? The worst thing is realizing that you have to get up again to turn off the light. This situation can be easily avoided with the right nightstand and matching lamp. Moreover, the tables provide storage space next to the bed for skin care, books and more. In addition, decorations can be placed here to enhance the room, we'll tell you later how to do that.
Top 4 brands for exclusive tables, other furniture & furnishings – Suppliers
The right brand is the key to finding the right table for all your needs. We have already dealt with the assortments of various brands to give you an easier overview in the jungle of interior design labels. That's why we're presenting you with our exclusive favourites when it comes to tables. From simple, minimalist models to mid-century classics, there really is something for everyone!
Boca do Lobo: modern Portuguese design
The label promises handmade furniture of the highest quality. In addition to the high-quality sofas, the brand produces unique couch and dining tables that should not be missing in any home. The designs positively catch the eye and allow for a unique living experience without compromise. In addition, you are offered a wide selection of other designer furniture that is perfect for enhancing your living landscape. Classic manufacturing techniques interpreted in a modern way, you will find here:
Fendi: more than just luxury bags
The leather goods label from Italy has also been producing high-quality furniture in Italy since 1988. During this time the brand was able to optimize its craftsmanship, so that Fendi Casa is one of the absolute professionals when it comes to luxury interiors. Of course, leather goods are the expertise of the brand, but also coffee tables and office tables find their place. So if you are looking for an elegant, high-quality table solution for the living room and office, you should take a look here:
Minotti: Tables with Italian charm
Here, too, you will find tables that will stand the test of time. Not only the design is timeless, also the quality contributes to the longevity of the tables, because Minotti only uses high-quality woods, metals and stones. Good taste is not a question here. Because each piece is a specially created masterpiece of design and craftsmanship. If this sounds like a brand for you, then browse the range and our recommendations of simple furniture:
Essential Home: only the most important in Mid-Century style
Mid-century is an interior design style that combines the heyday of practical furniture design with architectural and artistic roots to create unique interiors. We're particularly taken with the tables from Essential Home, which is why we want to share them with you. You can read more about the luxury furniture from the master manufactory here:
Tip. Here you can find our guide with more than 30 trendy brands for furnishing in the luxury segment.
Table decoration: ideas and inspirations for your table decoration
Tablescapes are a very unique part of interior design and are extremely important in home staging as well as for private purposes, because the appearance of the table can have a significant influence on the feeling that the room conveys.
You don't believe that? Just do the test yourself. Look at some pictures with tables and think about where you see the table. Empty, barely decorated tables often give the feeling of cafes or even conference rooms, but definitely not home or living spaces. It's up to you in your home to decide what feeling you want to convey. We help you to make your guests and yourself feel really good in your home.
Fancy some more? On our Pinterest profile we present you a lot of home ideas. Take a look!
Basic concepts: simple rules for perfect room design – whether dining room or living room
Before we go into more detail about table design, we would like to share with you a few simple interior design rules that will not only take your table decor to the next level, but are generally applied in interior decorating to keep it chic and elegant.
We call the first design concept the golden triad. The number three is always a reference point for aesthetics in art and design. In painting, for example, the golden ratio refers to the division of a picture. In interior design and decoration, it is also used to arrange objects in groups of three.
Certain styles break this rule, for example maximalism. In these special cases, one nevertheless assumes that odd numbers are more exciting to the eye. In minimalism, the rule of three is simply broken down a bit. Instead of a plant in a pot or a vase and two books or a book and a candle, one considers the plant and the vase separately. Add a discreet coaster and the minimal decoration is ready.
Another design concept is contrasts. These can be achieved in different forms. On the one hand, contrasts occur naturally in the form of colours, when light tones are paired with dark ones, or two contrasting colours are used. You can also achieve this contrast through textures, by pairing smooth and matte surfaces. Contrasts that are not necessarily recommended are contrasts in shape from the base versus the decorative objects. So, if you want to place a round candle on a square table, it is recommended to place a square tray or a decorative book underneath it beforehand to join the individual pieces together.
Interior design rules that can enhance any space:
Golden Triad: drape objects in groups of three
Maximalsimus / Minimalism -> own form of furnishing with individual rules
Contrasts (colors, textures)
Contrasts in form require special staging
Decorate glass table: elegantly use possibilities – plants, candles and chrome elements.
Minimalist decoration is especially recommended for glass tables, because this type of table already radiates a restrained elegance. Plants and candles are highly recommended here. Especially if there is a storage area under the table, this should also be considered as a decorative surface. This means concretely that the rules explained at the beginning should also be applied here.
Decorate bedside table: calm decoration for relaxation – candles and cozy colors.
The bedroom is a very special place in terms of interior design, because especially here you want to be surrounded by as little clutter as possible. The focus is on calm and practicality. For example, a lamp, an alarm clock and a water carafe are optimal objects for the nightstand. Other things can be relegated to the drawers that your nightstand should come with. Also nice are two decorative books with a candle or plant on them.
Dining Table Decorating: Tableware, china, placemats, flowers or even centerpieces.
As is often the case, your table decoration is a matter of taste. Nevertheless, there are a few things that you should consider and also different options for your personal table design.
On the one hand, of course, you want to keep your table permanently set. However, you should be aware that dishes and plates quickly get dusty. So if you like set tables, you also have to be prepared to re-set the table or wash up before eating.
In addition, it is important to think about how the table decoration harmonizes with the lighting. If you've already decided on a striking, low-hanging lamp, the rest of the decoration may not need to be quite so expansive.
Coffee table decorating: Books and trays for a homely feel
Enhancing a sofa set is especially successful with a well-decorated coffee table. The limited space should be used optimally in order not to restrict the functionality and at the same time to bring looseness and style into your room. You can create structure on your coffee table with the help of trays, on which you can then arrange the decoration. Alternatively, books can help you to create different levels and thus bring interesting aspects to the table decoration. Plants, which bring a piece of nature into the interior, are also particularly beautiful here.
https://fivmagazine.com/wp-content/uploads/2021/02/tisch-tische-esstisch-couchtisch-esszimmer-kueche-einrichten-tipps-ideen-haus-wohnung-einrichtung-interior-design-bilder-tipps-tischarten.jpg
807
1200
Lisa-Marie
/wp-content/uploads/2023/08/fiv-magazine-logo-news-influencer-fashion-interior-travel-real-esates.svg
Lisa-Marie
2021-03-10 07:00:42
2021-07-17 17:06:54
Tables: Dining tables, coffee tables and co. – materials and comparison, with decoration ideas for your home