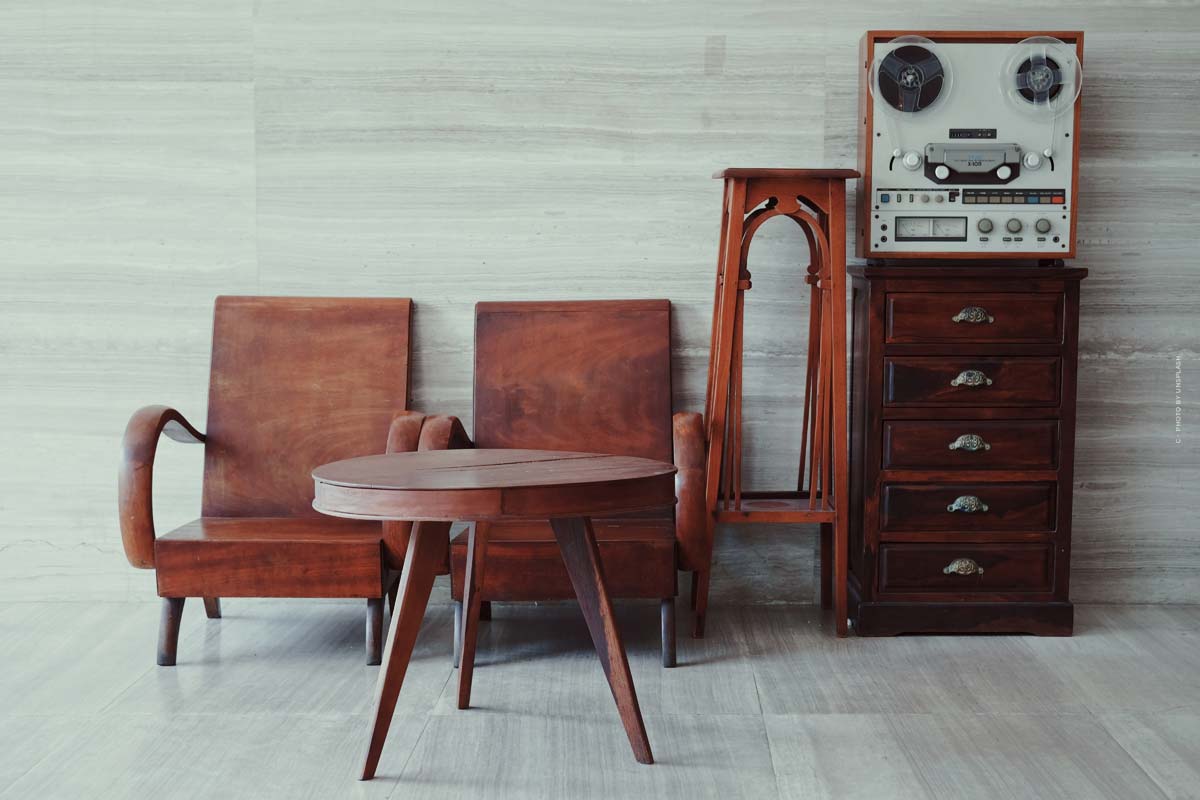 Essential Home Furniture: Mid-Century furniture like chairs, tables and decorative items from Portugal
Essential Home – Have you ever noticed that whenever we talk about interior design, we are very quick to use feeling adjectives to describe our surroundings or our ideal environment? We want it to be cozy, we want it to feel homey, and we don't want the space to feel too unfriendly. Just like these aspirations we convey when talking about interior design, the Essential Home brand paints a very clear picture of itself with its name. The range – as the name itself suggests – should be essential pieces that you need in your own home and should also help you create a home at the same time. Are you interested in interior design? Then you'll find even more inspiration, tips and trends here: Furnishing Styles XXL.
Essential Home: Unique furniture like chairs and shelves
Furnishing costs for a new apartment or a new house are often underestimated. So that you don't get completely blindsided by costs when moving into your first flat or house or apartment of your own, we've put together a few basics that you should definitely get before or during the move. After that, we'll introduce you to the options Essential Home has to offer. The Mid-Century style guarantees simple functionality of the highest quality.
It's definitely worth spending a bit more money on these essentials. That way, they'll last for years and you won't have to re-buy your furnishings every time you move. Also, if you're looking for some new home decor ideas, check us out on Pinterest. We've got a board specifically for Essential Home Pinterest, plus a bunch of other interior brands that are full of suggestions and inspiration.
Bed or sofa bed (often with storage space)
Table (desk/dining table)
2 – 4 chairs, stackable if necessary
Clothes rail, wardrobe, coat rack
Chest of drawers or shelf
Carpet
Lamps
Mirror
Tip. All luxury brands for the perfect interior from A-Z you will find in our comprehensive XXL article furnishing brands
Beds and sofas for restful nights & comfortable days
Moving house can be quite stressful! It is therefore advisable to make a point of having a decent bed or other form of sleeping accommodation that will provide a place to let the weight of the day fall away after a tiring move to the new home.
Sophia bed: double bed with soft upholstery
Especially for couples it makes sense to go straight for a double bed, but singles shouldn't shy away from the simple soft bed with headboard and footboard upholstery either, because a big factor in creating a cozy living environment is choosing fabrics that evoke a comforting feeling. The velvety upholstery cover that covers the Sophia Bed turns out to be just such a fabric.
Pearl sofa: large seating and lying area
As an alternative to a large bed, you can of course also choose a sofa. However, this should either have a reasonable size or be extendable to be able to spend the night comfortably on the couch. The Pearl Sofa is definitely suitable for this, because it convinces not only by its size, but it is also a great statement piece, which will also impress your guests.
Dimensions: approx. 250 x 150 x 80 cm
Novak sofa: Simple all-rounder
If you are looking for a couch that not only looks elegant but also offers enough space for friends and family, you might find it with the Novak Sofa. The sofa is upholstered all around and is rounded off by two large armrests.
Dimensions: approx. 340 x 100 x 90 cm
Tables: writing and dining tables for every taste
The preference, what height should have a table is different from person to person. But it is certain that an apartment without a table is almost impossible. Whether for a game night, to eat or to work on it: A table is simply an indisputable essential.
Always great are individually extendable tables that are customizable to acute needs. Unfortunately, there are none of these at Essential Home. But there is a wide selection of other models. We'd like to share our favourites with you here.
Vinicus Dining Table: a dream in glass and marble
The first table we have chosen for you is a marble base with a round glass top. A height of just under 80 cm and a diameter of 130 cm offer enough space for 4 people. These can then choose to eat together, play games or even work.
Ezra Dining Table: Dining table with space for child and cone
For those who need a little more space, the label also offers larger, long dining tables that can easily be converted into office tables and other things. The Ezra table is characterized by its completely wooden design, which is on the one hand elegant, but on the other hand is also not a bad match with rustic furnishing styles.
Dimensions: approx. 250 x 100 x 75 cm
Craig Center Table: coffee table with unbeatable mid-century charm
How comfortable you feel eating and working at a low coffee table is up to you, but to give you a good idea of the range and options Essential Home offers, we thought we'd give you a look at the centre table option. The table is made of stone and high-gloss metal and looks very noble and is also very robust.
Dimensions: approx. 113 x 113 x 40 cm
Chairs and armchairs: Exquisite upholstered furniture
The function of chairs is pretty self-explanatory, but especially when you start furnishing your own apartment, it's easy to underestimate how many chairs you actually need. Therefore, even with little available space, it makes sense to have a few extras available so that all guests can find their seats.
Perry Dining Chair: simple, solid seating
Walnut wood, brass and leather upholstery come together in this simple chair. In addition, the seat brings a huge advantage: the model is stackable and so the extra seats can be easily stored and do not require a large space.
Henry Dining Chair: Retro design inspired by the Italian countryside
Round, velvet-covered cushions characterize the chair and make it a unique piece. Hanry fits especially nicely u more simple tables and visually enhances the constellation. The velvet cover also helps to create a cosy atmosphere.
Loren Dining Chair with Sixties flair
The armchair is definitely more extravagant than the previously listed options. With its cushions, it reminds a little of the benches that you find in diners of the sixties. So retro lovers in particular are advised to go for this unique piece. The only drawback: the chair is unfortunately not stackable, but can be moved around the room as desired.
Cupboards: chests of drawers, wardrobes, shelves and co.
Of course, you want to offer all your belongings a proper place. On the one hand, this is possible with shelves in which you can display your favourite pieces, on the other hand, there is also the possibility to hide your chaos in the depths of a cupboard and to continue to present a tidy image to the outside.
From our own experience, we can tell you that especially when it comes to clothing, while we appreciate and love each and every piece, sometimes finding the perfect outfit just creates a bit more clutter than we would like. That's why we're showing you three different options to fit into a new home.
Collection: Minimalist bookshelves
Simple yet supremely modern, Essential Home's bookshelves offer display space for personal treasures as well as space for books. The shelves can also withstand heavier loads and look particularly good in the office.
Minelli
Mulligan
Craig
Blake
Collection: Practical wardrobes and closets
Back to the problem from the beginning: too many clothes, too little storage space. That doesn't have to be! Especially in your own apartment you want to avoid that everything looks too full, because that can quickly cause an uncomfortable and uncomfortable feeling. It's super easy to get around this with the wardrobes, chests of drawers and wardrobes from Essential Home.
Franco Closet
Monocles Cabinet
Hepburn Cabinet
Claire Console
Home accessories: rugs, lamps & stylish mirrors
You may have wondered why decorative items show up on a list that's supposed to be all about the essentials. The reason for this is that even small accessories can have a big effect. Especially rugs, mirrors and lamps help to enlarge the room, add mood and create a cozy atmosphere.
Mirror: Friendly light reflections
Essential Home mirrors come in natural and geometric shapes with frames crafted from brass. Reflective surfaces such as mirrors ensure that the light into a room is refracted differently and not easily swallowed up by the furniture and walls. This results in a larger and brighter looking room. Also, bare walls are quite a big drawback when it comes to new spaces. They can quickly appear sterile and create an unpleasant feeling.
Shirley
Diamond
Quantum
Wild
Carpets: Don't get cold feet!
Another element that does an incredible amount for a room is rugs. Round or square, colorful or solid, no one is completely blind to the impact of a rug. Plus, they offer the opportunity to add a little pop of color to the place. And a soft floor brings another very decisive advantage: feet get cold less quickly and walking barefoot is no problem at all.
Allen
Audrey
Spielberg
Kubrick
Lamps: atmospheric light
Finding the optimal lighting is sometimes not so easy. Warm lamps are often recommended for private rooms, as professional environments such as offices and hospitals often use cooler light, as bluish lighting contributes to alertness. Some interior designers also completely discourage ceiling lights, instead advising individual lamps that can create a much more comfortable living feel when used as a unit. So, it is better to go for floor lamps, table lamps and ceiling washers. Essential Home offers here some models from fancy to simple.
Armstrong
Coltrane
Janis
Atomic
https://fivmagazine.com/wp-content/uploads/2021/01/essential-home-furniture-moebel-sofa-stuhl-tisch-einrichtung-designer-haus-wohnung-einrichten-tipps.jpg
800
1200
Lisa-Marie
/wp-content/uploads/2020/07/fiv-magazine-news-instagram-youtube-tiktok-influencer-fashion-interior-jewelry-real-estate-tips-help-logo.png
Lisa-Marie
2021-02-04 07:00:47
2021-02-04 07:00:47
Essential Home Furniture: Mid-Century furniture like chairs, tables and decorative items from Portugal